This recipe is quick, easy and made using all natural flavor packed aromatic spices with a special introduction to our new fish seasoning!
Fresh fish was used here but you can use frozen fillets too, take a look at these pickled fish recipes Pickled Fish and Traditional South African Pickled Fish.
If this is your first time making pickled fish I would encourage you to read the other two recipes mentioned above for tips and suggestions.
Making this spicy pickled fish in advance is the best practice to maximize the flavors because it is very delicious!
A Few Tips Before You Start
Have all the ingredients ready before you start
2 large plates for flour and for eggs. The one for eggs should be a large bowl so it doesn't overflow.
Another dish to rest the fried fish while the sauce is being made (or you can make it last)
Kitchen tissue paper! For easy clean up as you go and for draining the oil in the fish after frying.
A Pyrex dish with a lid to store the fish.
There are a few ways to make pickled fish and you will notice that although recipes may vary the basis is fried fish and pickled onions in vinegar.  The flavors are a sweet, vinegary taste that get better with time.
How To Make Spicy Pickled Fish
If you're filleted your own fish before, then you know that having a sharp knife is essential. For a quick video on how to fillet fish you can watch it on my Instagram.
Once the fish is filleted you can cut it into the size that you want, a kitchen shears works best for this.
Clean and fillet your fish to start, or you can ask the person behind the counter where you buying it from, they normally always ready to help. Someone who sells raw fish and seafood is known as a fish monger.
Did you know that women who sold fish that was caught by their husbands were called fish mongers? Fish wives the derogatory term for wives who spoke their mind. A little bit of food history 🙂
Prepping The Fish
Season - I used our Smell and Taste Salt and Pepper
Dip into egg
Dip into flour
Fry in oil
I used our seasoned Paprika Dry Rub and Fish Spice in the flour for added flavor. Using a pair of tongs to coat the fish is ideal but so are your clean hands😀
Once the fish is seasoned, battered and fried, rest it on kitchen tissue paper and get the spice mix ready.
Spices
There are 2 parts to the spices - toasted and not toasted.
Toasted Spices Peppercorns, cloves, fennel seeds and bay leaves. Remove the leaves from the stem of the bay leaves, you can discard the stem.
Lightly toast the spices, it's very quick so watch them. Get them onto a plate or something cool like your kitchen counter to cool down. Getting them out of the hot pan is important so that they don't go from toast to burnt!
Grinding Once cooled down add them to a spice grinder, mortar and pestle or blender and break the spices down a little. Crushing them or grinding them after toasting releases unbelievable fragrance and flavors.
Now we need a little va va voom!
Un-Toasted Spices
Fresh Garlic I use a lot of garlic in this recipe but you can adjust it. No need to slice or mince.
Seasoned Paprika Dry Rub I used our Smell and Taste non irradiated range.
Vegetable Spice Also from our spice collection
Salt Any salt
Method
Add all the toasted and ground spices
Get the sugar, water and vinegar over the spicy onions.
Simmer for 8 to 10 minutes.
Add the Garam Masala
Taste while it simmers and adjust accordingly. If you want more of a zing from the vinegar, this would be a good time to add a dash more.
Just look at that gorgeous fish sauce! My heart....now we can return the fried fish and let this all refrigerate for a 24 to 36 hours.
The fish should be covered in the onions and sauce not just placed on top.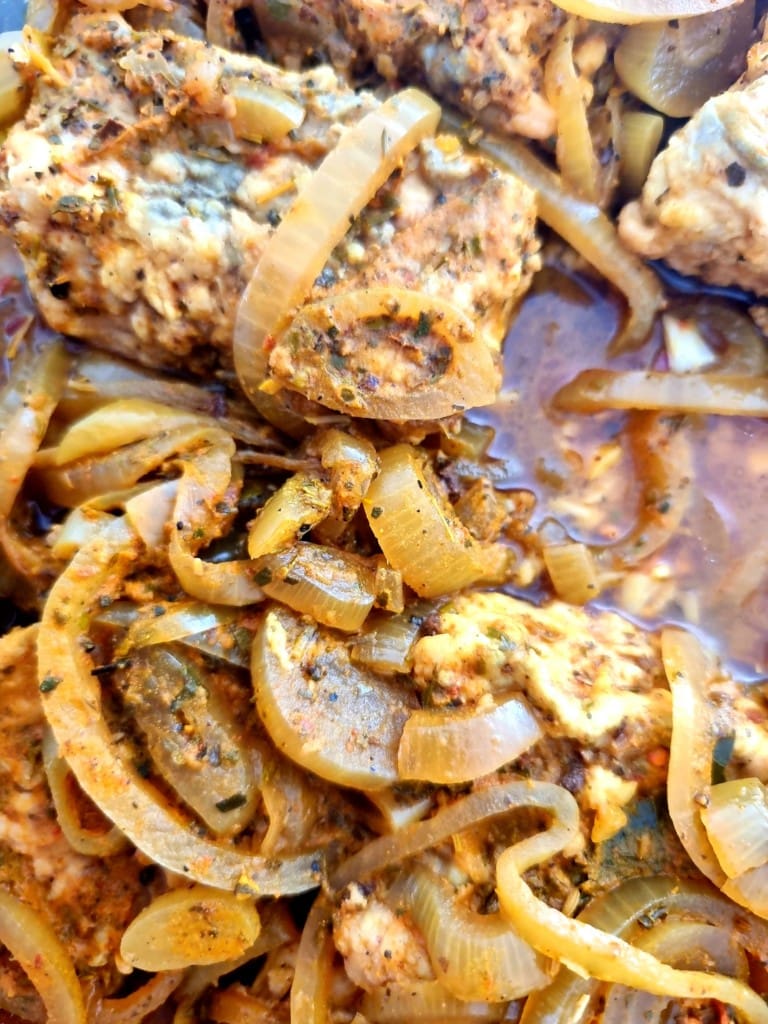 Spicy Pickled Fish
To round things up:
Thaw the fish thoroughly before starting
Season
Cover in batter, fry and drain on tissue paper
Toast the spices, allow to cool
Fry the onions, add the spices, simmer
Return the fried fish
Serve and enjoy!
Spices Used In This Recipe
Ingredients Irrespective which of my pickled fish recipe you're following, you will still need the following ingredients. The sugar is a personal choice, we prefer a little not a lot, just to balance out the zing in the vinegar.
Fish
Flour
Eggs
Onions
Garlic
Ginger
Salt
Sugar
Spices
Vinegar
Water
More Delicious Recipes
LOOKING FOR MORE RECIPES?
Subscribe to my free newsletter and follow along Facebook, Pinterest and Instagram for updates
Shop our Online Store for quality spices.
Recipe
Spicy Pickled Fish
A delicious spicy pickled fish recipe made using fresh fish, a toasted and ground spice blend, bringing out the fragrance and flavors of the dish. This recipe can also be made using frozen hake medallions. For best practice to maximize the flavors store in a sealed container in the fridge for 48 hours.
Ingredients
1.5

kg

Fresh hake

4

Eggs

1

cup

Flour

5

Large onions, sliced

½

cup

Vegetable oil

5

Garlic cloves

2

tbsps.

Sugar

1 ½

cups

Vinegar

1

cup

Water (more if needed)

Salt & pepper to taste
Spices for toasting
1

teaspoon

Fennel

1

teaspoon

Cloves, roughly chopped

1

teaspoon

Black Peppercorns

4

Bay leaves
Instructions
Make sure the fish is thoroughly defrosted.

Fillet the fish if using fresh and cut into large squares or cubes. Frozen hake medallions also work, follow the same recipe.

Season with salt and pepper.

Heat the oil in a large frying pan, once hot drop to medium heat.

Cover the fish fillets in batter by dipping first into the egg and then into the spiced flour and lastly into the hot oil. Fry till crisp and golden brown but don't overcook as they will continue to simmer with the onions and spices, About 3 minutes per side.

Add into a blender/spice grinder together with the garlic and 2 bay leaves and get them into a textured mix, not a powder. (Remove the bay leaves from the stem, discard the stem)

In a pan add the remaining oil and fry the onions on medium heat for 1 to 2 minutes.

Add the toasted spice mix. Combine and continue cooking on medium heat for a few more seconds.

Taste for sugar, vinegar and salt combination, the taste should be more vinegary Adjust accordingly.

Return the fish to the pan, simmer for 2 more minutes minutes. If your pickled fish recipe needs more liquid add a dash more water and vinegar and taste.
Nutrition
Serving:
1
serving
Calories:
432
kcal
Carbohydrates:
31
g
Protein:
24
g
Fat:
23
g
Saturated Fat:
4
g
Polyunsaturated Fat:
11
g
Monounsaturated Fat:
6
g
Trans Fat:
1
g
Cholesterol:
151
mg
Sodium:
92
mg
Potassium:
475
mg
Fiber:
2
g
Sugar:
9
g
Vitamin A:
170
IU
Vitamin C:
8
mg
Calcium:
63
mg
Iron:
2
mg