This Chimichurri Sauce is so versatile and pairs well with different cuts of meat and vegetables. Conveniently made from scratch in 10 minutes and the colors of freshness in this chimichurri sauce certainly do elevate your food.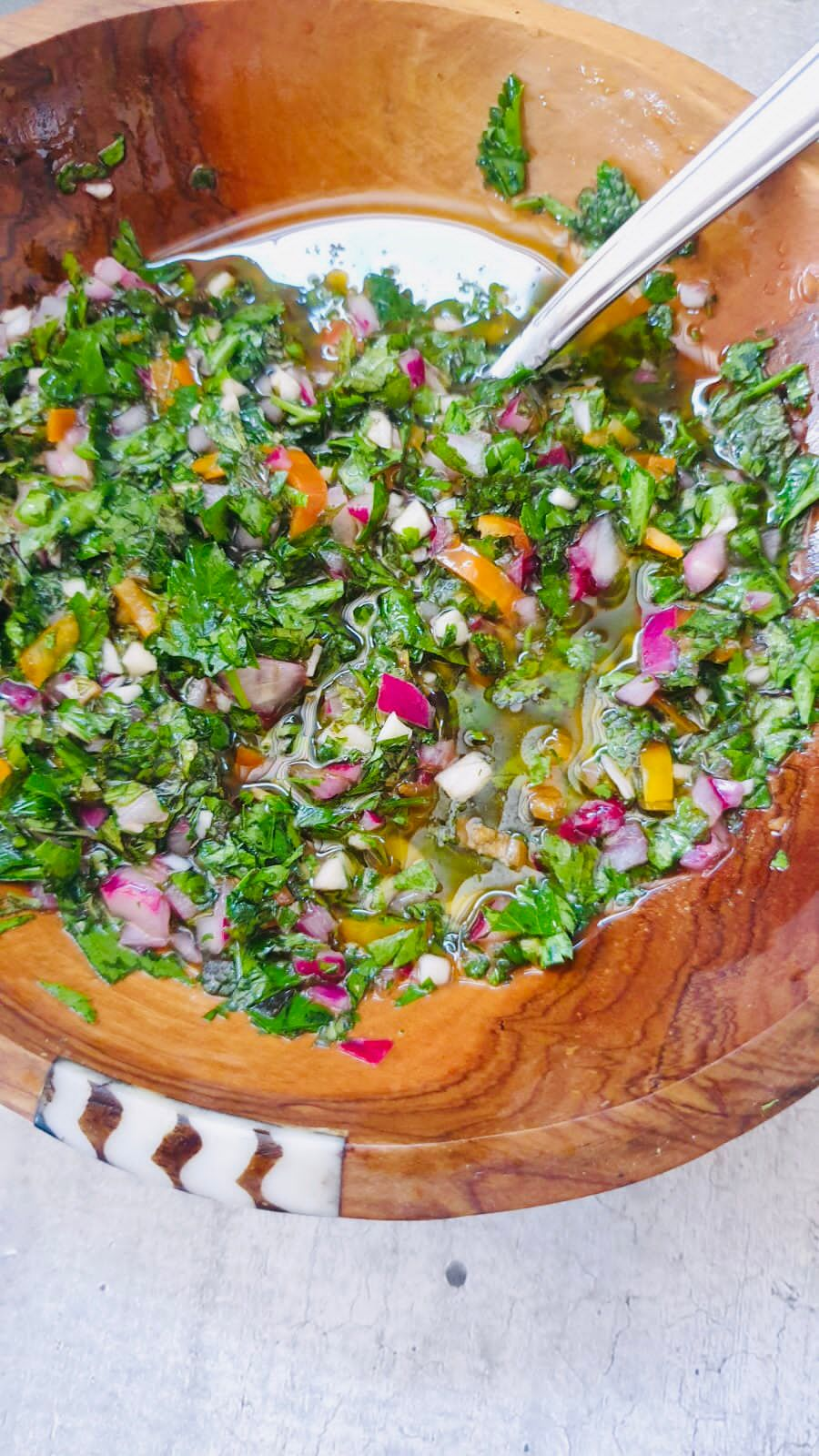 The origin of Chimichurri is Argentina and Uruguay and naturally no matter how you make it, it's not going to be authentic if the ingredients are not from Argentina or Uruguay because 'butter holds different flavors' if you get the gist. It is however, still amazing!
CHIMICHURRI SAUCE
The ingredients that go into a chimichurri sauce are;
olive oil
red wine vinegar
garlic
chilies
parsley
dried oregano
seasoning

Widget not in any sidebars


However, I've tweaked mine to suit myself and you can do the same if that's what you want. The full recipe card is below.
Some TIPS I can share with you:
Cut the herbs, garlic and onion (if using any) as small as possible especially the garlic
Don't mince anything because cutting it small still gives you a nice crunchy texture
If you don't have a particular herb, use what you have, here I've used mint and parsley
Use extra virgin olive oil because it will matter in the taste so make it a good quality oil if you can
Season as you go and then at the end again
Remember you can always add but you can't remove
how to make chimichurri sauce
When making this recipe I simply use a chopping board and a knife however I've also used my trusted old mortar and pestle for a very rustic look and taste. I've seen some recipes that use a food processor if you want to give that a try but I cannot report on how it tastes yet perhaps next time I make it I will give the processor a try.
MORE SAUCE RECIPES
I hope that you have enjoyed this post and my own take on a Chimichurri Sauce! Give it a try @anosmickitchen #anosmickitchen and make it your own because the kitchen is about creativity. If you try this recipe be sure to leave me a comment and rating below! Thank you.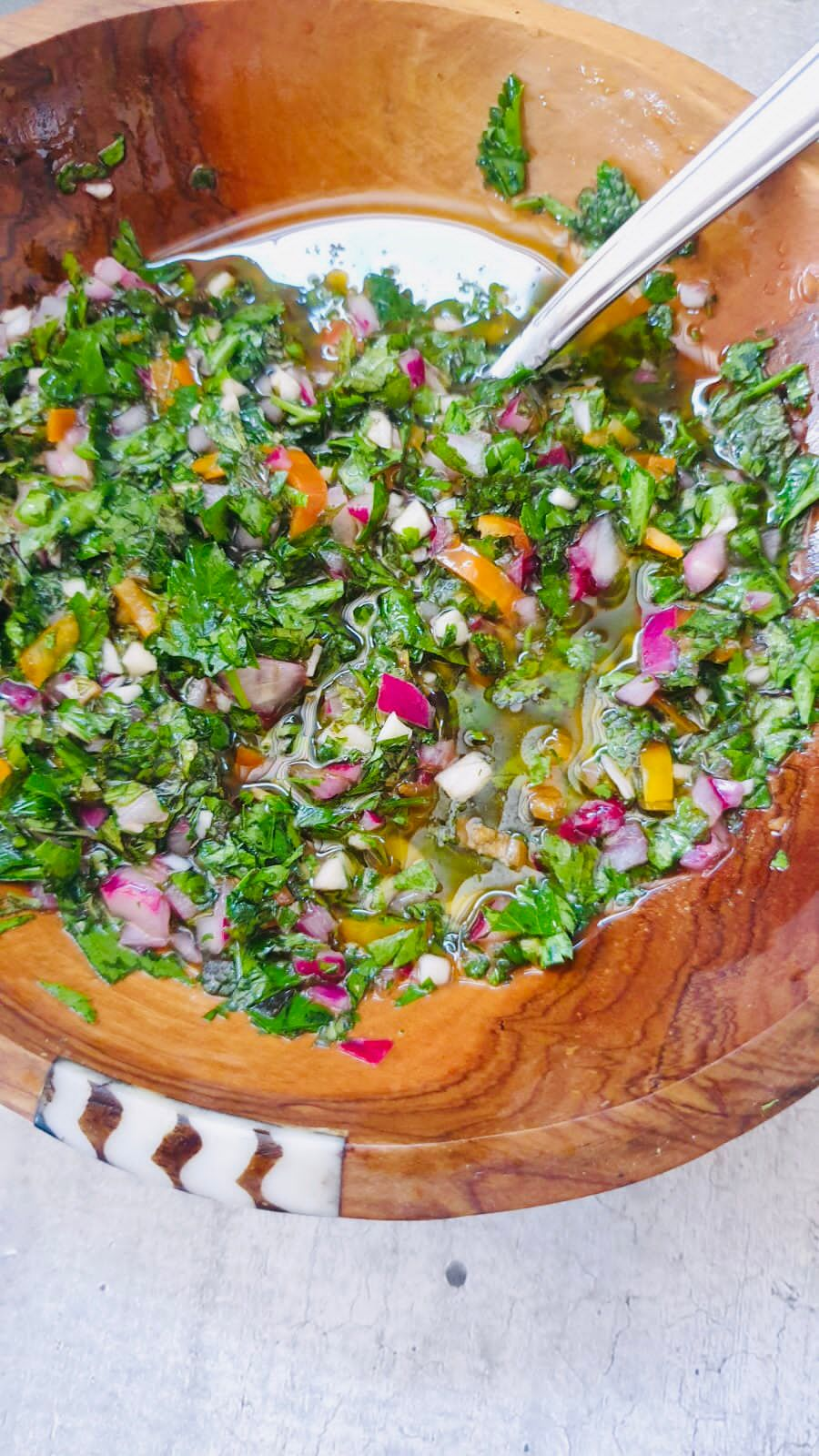 Do follow me on INSTAGRAM, PINTEREST, AND FACEBOOK and share you photos. Feel free to leave a comment and rating below!
Recipe
Chimichurri Sauce
This Chimichurri Sauce is tangy, so versatile and pairs well with different cuts of meat, veggies and can also be used as a dip.
Ingredients
1

cup

finely chopped fresh parsley

½

cup

finely chopped fresh mint

½

cup

extra virgin oil

2

Tbsps.

red wine vinegar

1

large red chili, deseeded and finely chopped

¼

cup

finely chopped red onion

1

juice of a small lime

salt and pepper seasoning, to taste
Instructions
Mix all the ingredients in a bowl and use for your meat and veggies.

If you can let it sit for a few minutes the flavors develop so if you have any left over, store in a glass container in the fridge and the next time you use it will taste even better! Add a little fresh lemon if necessary and mix it again.