This potato salad for your next braai is perfect for Sunday lunches, picnics, family gatherings or as a side to any main dish. Very popular across the globe and specifically in South Africa where potato salad is often served throughout the year. A great option for any event, this easy and creamy potato salad is versatile and family friendly.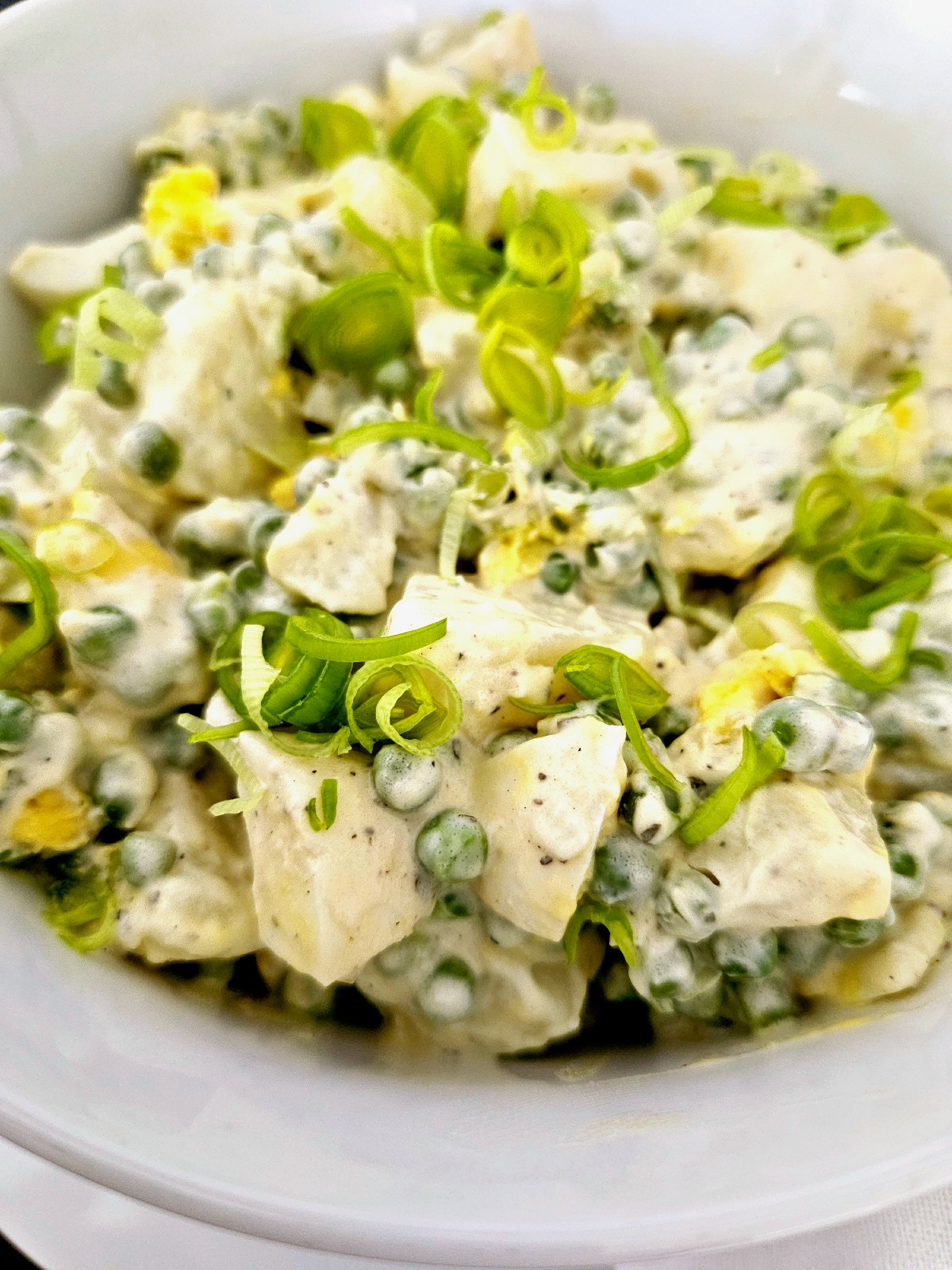 A wonderful summer classic, this potato salad is ideal for those summer braai's coming up and we cannot wait for summer! It's been a long winter so yes please to good weather. Potato salad is always best served cold when the ingredients have had time to settle in the fridge, just make sure to keep it covered.
Potato Salad Ingredients
Let's talk about the basic ingredients that you will need;
Potatoes: The potatoes (in South Africa) are not exactly labeled 'floury' or 'waxy' as you may have seen on so many recipes. The majority of our potatoes are sold as 'all purpose' 'everyday' 'roasting' or 'boiling' so make sure to read the labels. See the faq's below for more on the types of potatoes.
Mayonnaise: Thick and creamy mayonnaise is what I used here, not labeled tangy because I was still adding sour cream. Hellmans is probably my personal best choice but not sure I want to spend a pretty penny on it!
Frozen peas: Frozen peas are great, need a few minutes cooking and add a beautiful green color which works so well now in Spring. If you prefer to use fresh peas, go for it.
Sour cream: Adds a great balance with the thick and creamy maynnaise.
Eggs: Extra large boiled eggs. Hard boiled eggs will take 10 minutes. For everyday breakfasts, we love soft boiled eggs and those take 6 minutes.
Green onions: This is mainly for the finish so any onions like spring onion or chives.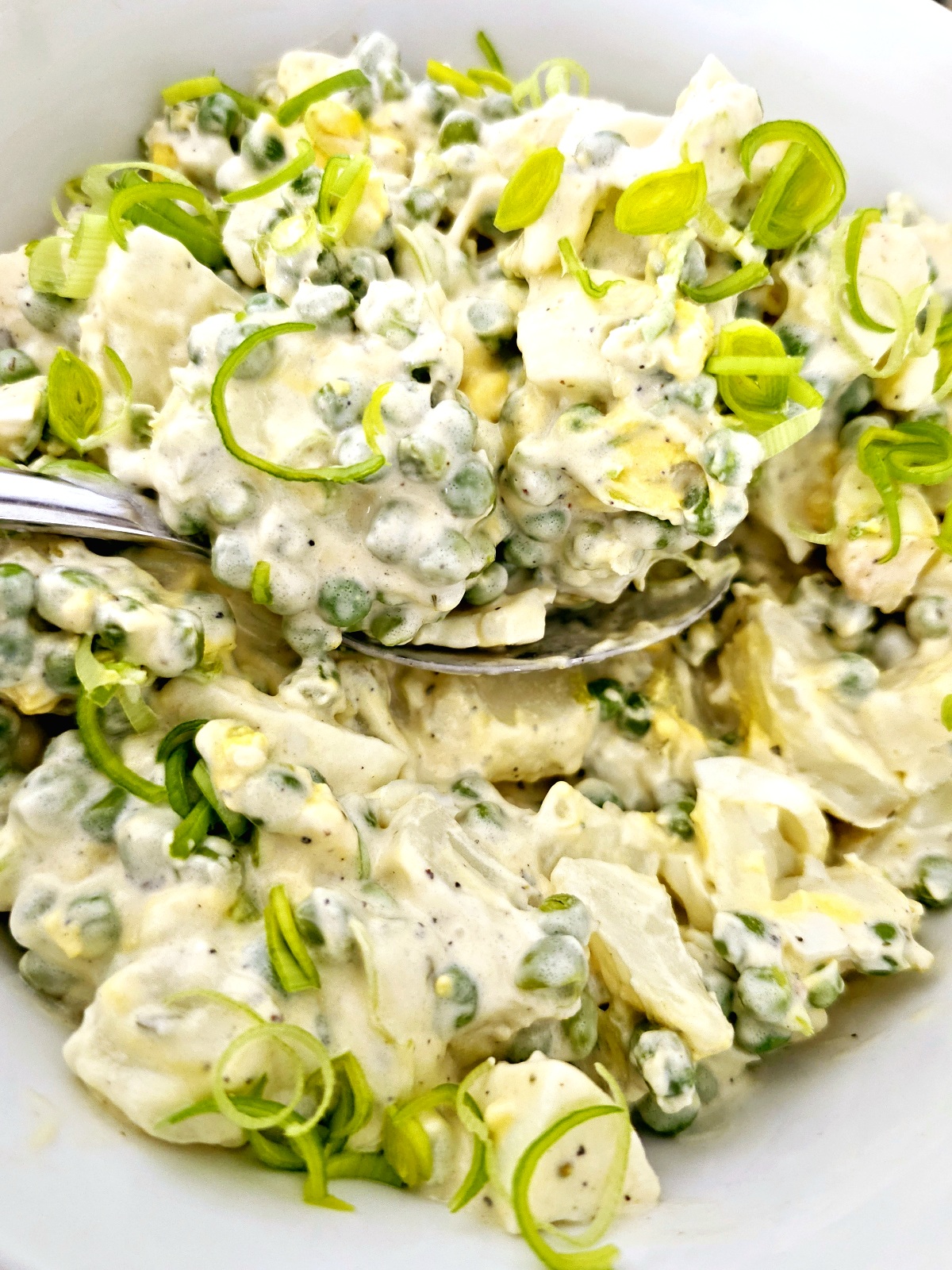 How To Make Potato Salad
Start by adding the dressing ingredients: To make the dressing, use a jug or bowl to combine the mayonnaise, sour cream or yogurt (if using yogurt), salt & pepper and milk. Mix, taste and adjust. It will not need a lot of milk so goes slowly and adjust to your taste. The dressing should be thick yet still pourable but not liquid! Set aside in the fridge while you prep the potatoes.
Prep the potatoes for the finish: Peel the potatoes (the peels should come off with ease) and cut the potatoes into chunks. You don't want to make the pieces too small otherwise they get mushy. Add the chunky pieced potatoes into a large enough 'work bowl' not a serving bowl. Do the mixing in a work bowl and when you are happy with it, only then pour it all into the serving bowl. Yes you have one extra bowl to wash but at least you don't end up with a messy serving bowl! We saved dirty dishes by using one pot so let's not skimp on presentation 🙂
Eggs: Peel and slice and add on the potatoes and peas. Chunky pieces since they'll break anyway but at least we see some of the egg pieces if you dont shred them!
Assemble: Over the potatoes add the peas and eggs, half the green onion or chives and pour half the dressing over. Use a spoon or fork to fold the dressing into the potatoes not mix. Add the remaining dressing in making sure the potatoes well coated but work gently to not break everything up.
Serve: Add extra thinly sliced onions and keep the potato salad in the fridge to serve chilled. Always cover the potato salad, either with cling wrap or a lid if in a sealed container.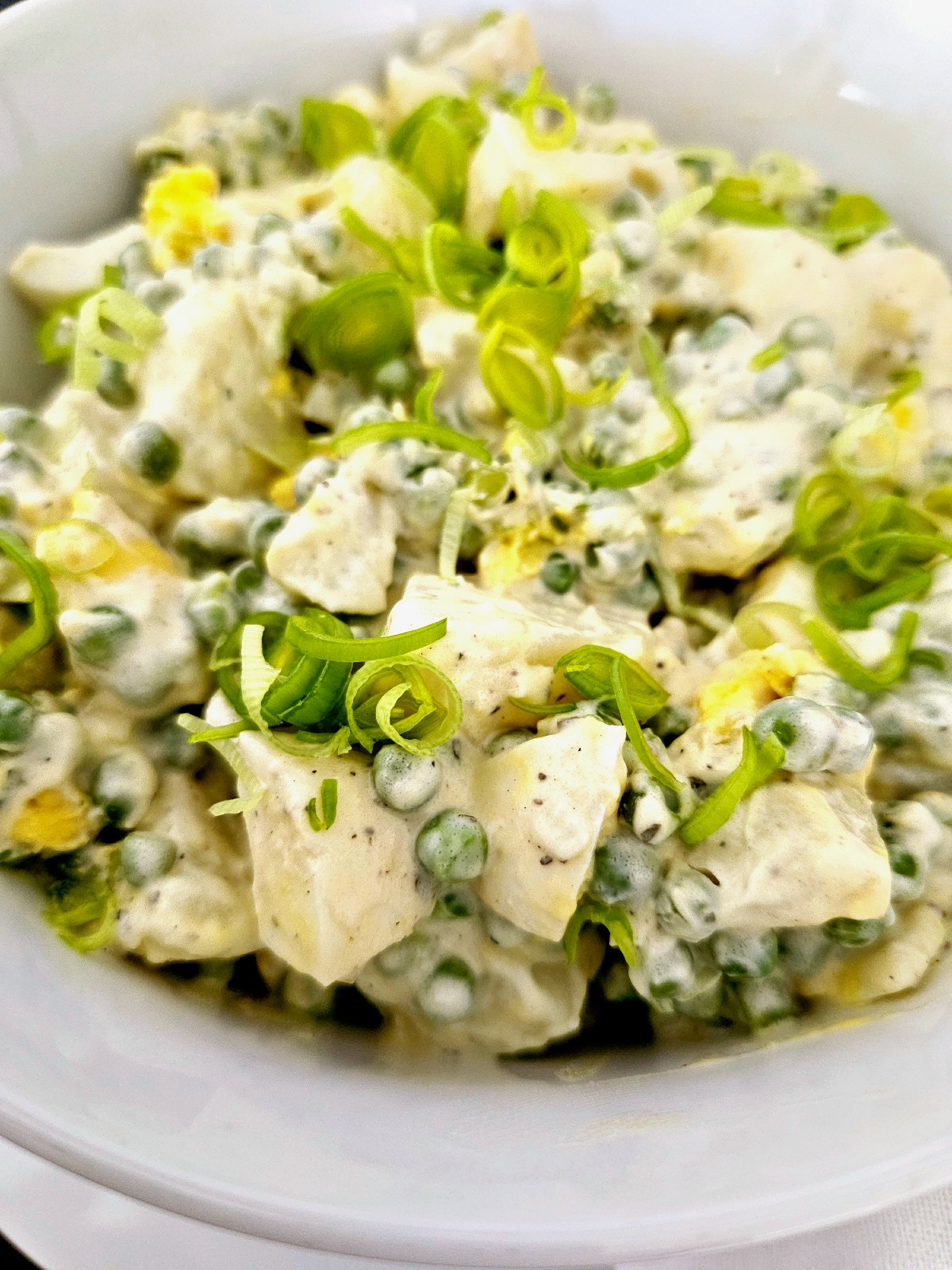 FAQ's Potato Salad
Skin on or off for potato salad?
Skin on or off is a personal choice. Red skinned and baby potatoes are good for skin on.
Should you peel the potatoes before boiling them for potato salad?
It's healthier to leave the peels on since the nutrients are not lost during cooking so if you can, it would be best to leave them on.
How can I tell when the potatoes are cooked through?
The potatoes are cooked through when a sharp knife can be inserted through the pototo without difficulty. You can also use a skewer or fork to test.
Can potato salad be made ahead?
Personal experience, potato salad tastes better the next day because the flavors really absorb all the seasoning and dressing.
How long can potato salad last in the fridge?
Once the potato salad is made and the dressing on, any leftovers can be stored in the fridge covered tightly (otherwise they lose color and the top will become a bit hard!). Once everyone has enjoyed the salad, make sure to get it into a container, sealed and into the fridge if you want to enjoy it the next day. Longer than 2 hours out of the fridge, begins to be a safety issue and it may no longer be safe to eat.
Cooked food should always be covered when stored in the fridge to prevent other foods from going off (referenced: cross contamination).
Variations
Potato salad can be made one hundred different ways so use this recipe as a guide and then make it your own.
Here are some delicious variations:
bacon because everyboddy loves bacon!
celery and tiny carrot pieces or corn
Olives, gherkins and capers
When it comes to herbs, dill is fantastic with potatoes if your family likes dill. There's also chives, different types of green onion, baby leek finely chopped, fresh parsley and mint.
Cook's Tip's
Dressing: Taste as you mix the dressing because it depends on which mayonnaise you're using. You can also add plain yogurt instead of sour cream. If you do use yogurt then it goes without saying, full fat or Greek yogurt works best.
Salt: Believe it or not, not adding salt to the potato water will make a difference and all these steps in cooking are the reason why your food tastes delicious!
Peas: That quick move from boiling to ice water stops the cooking process and the peas retain their crunch and color.
The Take Away From This Recipe
Anyone can make potato salad but let's take a look at these simple tweaks to make it an 'extra measure' salad:
Work in layers if you want a presentable finish without having an almost mashed potato salad!
Season as you go
Fold rather than mix" the ingredients.
Why You Should Read The Potato Labels
If you've ever boiled potatoes and you see the edges of the potatoes become a little fluffy after boiling, you probably using floury potatoes. These potatoes are typically used for roast potato. How To Make The Best Roast Potatoes You can also use waxy potatoes for firmer edge potatoes
Which Potatoes Can I find in South Africa?
The easiest potatoes to find in South Africa are 'all purpose potatoes' or 'boil'. Names of potato types are waxy, waxy-floury and floury and you probably haven't even noticed that you're already using them;
Best Potatoes For Making Potato Salad
Learn more about which types of potatoes you should use for different recipes.
Waxy potatoes are best for potato salad because they have a low starch content.
Waxy floury is more an 'all purpose' potato type.
Floury poatoes are the opposite to waxy potatoes since they have a high starch content. Want to make a great mashed potato? Floury potatoes are your best bet.
The above information has been referenced from a trustworthy website. If you want to read an article about my food journey this article was also published on the same website.
When Is Potato Salad Most Popular?
All year through is the response, however there are specific times that come to mind;
Very popular in South Africa for weddings and family celebrations
School functions
Picnics in summer
Braai's all year long
Easy Braai Salad Recipes
Here are a few salad recipe ideas that are just perfect for your next braai or barbecue.
Carrot salad for braai has great sour notes and the natural sweetness from the carrots makes it a really good braai side dish.
Cold pasta salad for braai: You are going to love this Italian side dish. Pasta, pesto, fresh mozzarella, cherry tomatoes and cucumber bring this salad to life!
Cabbage is a almost a given in households across the country and a firm family favorite.
Recommended Recipes
The first one is sausage and bean pot with charred bell peppers, saucy and delicious! The popular braai sauce is our family miracle sauce that goes on just about everything. Mascarpone cheese dip because it's super delicious and I tried it with this calabrese spice for aromatic flavors. Roast potato is always good but a little more time and some duck fat can elevate your next Sunday lunch. The roast potato recipe can also be found on the fifth sense website.
Looking for more recipes?
Subscribe to my free newsletter and follow along Facebook, Pinterest and Instagram for updates
Shop our online store for quality all natural spices.
⭐️⭐️⭐️⭐️⭐️
If you enjoyed reading this recipe with all the tips and suggestions or have tried my recipe, don't forget to leave a comment and rate this recipe in the recipe card below. Thank you.
Visti our shop here.
Recipe
Potato Salad (Perfect For Braai)
A creamy potato salad that's perfect for your next summer braai and a great recipe for picnics, family gatherings or as a side to any main dish. No fancy ingredients, we're talking basics here, like mayonnaise, eggs and potatoes. Toss in some peas and Sunday lunch is calling your name.
Ingredients
6

large potatoes, peels on

1

cup

frozen peas

¾

cup

mayonnaise

6

eggs, hard boiled

⅓

cup

sour cream or full fat yogurt

2 to 3

tablespoons

green onion, thinly sliced

¼

cup

milk

½

teaspoon

garlic and herb spice

green onion, sliced thin
Instructions
Start with washing the potatoes: Give them a good scrub or rinse and add into a large enough pot.

Cook the potatoes: Boil the potatoes in lighly salted cold water making sure that they are completely submerged in the water.

Bring to the boil and cook until a sharp knife can get through the potatoes easily. It can be anything from 20 minutes to 30 minutes depending on the size. Remove the potatoes once cooked through and place in a colander to cool down. Keep the water boiling.

6 large potatoes, peels on

Have a bowl of ice and water or just very cold water ready before cooking the peas. Cook the peas: Add the peas into a steamer and plunge the steamer into the boiling water. Put the lid on the pot to keep a rapid boil. After a minute or 2, remove the peas and submerge into ice water to retain the bright green color.

Cook the eggs: Keep the water boiling, same pot, add use a large spoon or pasta scoop to lower the eggs gently into the boiling water. If the water is too rapid, drop it to a decent boil before adding the eggs. Cook the eggs for 10 minutes for hard boiled. Remove and let them cool.

Make the potato dresssing: In a jug (easier to pour) or bowl add the mayonnaise, sour cream or yogurt if using yogurt, milk, salt and pepper,and garlic and herb seasoning and give it all a stir. Taste and gradually add the milk depending on how pourable you want the dressing to be. Set aside. The dressing can also be made the day before, cover with cling wrap and use when needed.

¾ cup mayonnaise,

⅓ cup sour cream or full fat yogurt,

¼ cup milk,

salt and pepper,

½ teaspoon garlic and herb spice

Combine: Peel the potatoes and slice into chunks so that they don't break easily. Place onto a large platter or serving bowl. Add the peas and peel the eggs, again slice into chunky pieces and add over the peas. Season with salt and pepper. Pour half the dressing over, gently fold the ingredients together covering them in the dressing. Add the remaining dressing, gently combine.

Serve: Best kept in the fridge to chill and serve with thinly sliced green onion, spring onion or chives. While refrigerating, keep it covered in a sealed container or plastic wrap.

2 to 3 tablespoons green onion, thinly sliced