Mediterranean Pasta Salad With Pesto is a burst of sunshine on your plate and a flavorful refreshing dish. Combined with a homemade basil pesto and seasonal juicy tomatoes coming together in under 20 minutes sharp. Great for picnics, healthy summer eating and all those family fun days. Serve it with chicken bites to amp up the flavor.
This salad is a delightful and refreshing dish that combines pasta just a little over al dente with a fragrant homemade basil pesto. This colorful salad is filled with cherry tomatoes, crisp cucumbers, bell peppers, fresh herbs and mozzarella cheese. The fresh herbs enhance the aromatic experience of the salad. Perfect pasta salad for picnics, braai's (barbecues) or anytime you crave a taste of the Mediterranean.
As we slowly approach summer in South Africa we are already looking for fresh seasonal produce for lighter meals. If you are reading this post and are planning a picnic, family gathering or lunch for the holidays, then there's nothing quite like this refreshing Mediterranean pasta salad with pesto to hit the spot. It's vibrant and diverse flavors with the rich and aromatic taste of homemade pesto is a simple, light and satisfying meal, making this recipe the perfect choice.
Particularly popular during the warmer months when fresh produce is abundant. While there might not be a specific holiday associated with this salad, its vibrant colors and flavors make it a great choice for any celebration, from a public holiday to family reunions.
Why This Mediterranean Pasta Salad Works
It comes together in about 20 minutes give and take.
Great to pack up for outdoor activities, family outings etc. and tastes even better the next day, just keep it sealed in the fridge.
The ingredients in this recipe capture the essence of Mediterranean cuisine.
Cherry tomatoes bring a burst of sweetness and color
Cucumbers add crisp freshness
Bell peppers contributes a touch of sweetness
Red onions provide a mild bite
Feel free to add other Mediterranean ingredients like olives, feta and parmesan. The homemade pesto, made with basil, Parmesan, pine nuts (or other nuts), and garlic, infuse the dish with a rich, aromatic depth.
Enjoy this as a pasta salad with pesto or to amp up the flavors even more, enjoy it as a chicken and pesto pasta salad!
What Type Of Pasta To Use
Used in this recipe is fusillotti pasta however, almost any pasta works even farfalle (bow-tie) pasta, penne, fusilli, rotini, macaroni are all good pasta options.
What is fusillotti pasta?
Just like fusilli but bigger hence known as 'the mother of fusilli'. The curves in fusillotti are obviously larger and are perfect for holding sauces. It does take longer than the regular sized pasta to cook by a few minutes.
How To Cook Pasta
Salted water. Pasta must be cooked in water that is generously salted (it will taste like the sea). Nothing like bland pasta! The general rule on this blog in all our pasta recipes, is that you cook the pasta until 'al dente' 'to the tooth' with a little bite left in it. However, for pasta salads, the rule changes in that you cook the pasta a minute or two more than the packet instructions.
Why You Should Cook Pasta Longer For Pasta Salad
If you do cook it until al dente and ignore cooking it the extra 1 to 2 minutes there's no problem if you like al dente salad. It's a personal choice, you either want a softer pasta salad or a firm pasta salad. Remember that pasta firms up (as it does) while cooking down.
Rinsing The Pasta After Cooking, Is This Correct?
No. This is my biggest gripe when I see people rinsing pasta! I understand it though because I used to do it too until I lived in Italy and my mother-in-law quite literally smacked my hand and grabbed the pasta from me when she saw me try to rinse it! That was the last time.
How To Keep Pasta From Drying Out For Pasta Salad
A good quality pasta hardly ever dries out after cooking it. However, not only to keep it from drying out but also to add flavor you should always add a drizzle of olive oil to it. Pour it from the colander to a wide enough plate so it's scattered as opposed to heaped up.
When To Season The Pasta While Cooking
Tip: If you are part of our community, follow the blog and don't miss a recipe then you know that we are all about building flavor. Here's when to season pasta:
Add salt to the water before adding the pasta to cook and;
In the case of a pasta salad, while it cools is the perfect time to season the pasta before it gets cold! Add a drizzle of olive oil while the pasta is still warm and a pinch of salt & pepper
You can also add your favorite spice now. We like a sprinkle of pasta spice. Why? Because the pasta has the best chance to absort the seasoning and spices with a coating of olive oil while it's still warm.
How To Revive Pasta Salad From The Fridge
The pasta oils will cause it to firm up once it's been in the fridge especially if you make it ahead. The best way to revive pasta is with pasta water.
Storing Pasta Water
Always take more pasta water than you need. Pour it into a jar, seal and keep it in the fridge. The benefits are endless and one of them is to loosen up your pasta salad the next day!
Ingredients For Mediterranean Pasta Salad With Pesto
These ingredients are part of a Mediterranean diet profile, specifically chosen for this recipe.
Cherry tomatoes: For the seasonal burst of freshness
Cucumbers: Adds a crisp freshness, we prefer them with the peels on but feel free to peel.
Bell peppers: Red or orange bell peppers are perfect, great color, crunch for texture.
Red onions: Have a mild bite, crisp edges and little sweetness to them.
Homemade pesto: This homemade pesto is incredible! Feel free to use store-bought but make sure you get the best quality or it will impact the quality of the salad.
Extra-virgin olive oil: The higher the quality the better the taste, flavor and overall dish. We used this cold pressed extra virgin olive oil.
Salt and pepper: For seasoning.
Bocconcini: Fresh mozzarella balls
Additional Ingredients For Mediterranean Pasta Salad
There is a host of other Mediterrranean ingredients that you can add to your salad. Feel free to add these to your Pasta Salad.
Parmesan cheese
Black olives
Feta cheese
Fresh basil leaves
Pine nuts or walnuts
Garlic
How To Make The Best Pasta Salad With Pesto
Here's the method on how to make Mediterranean pasta salad with pesto. You can find the full recipe in the recipe card below.
Cook the pasta until just past al dente, reserving a cup of the pasta water towards the end of cooking.
Prepare the pesto by blending basil, Parmesan cheese, nuts, garlic, olive oil, salt, and pepper in a food processor. See the recipe here.
Work in layers; so pesto first onto a plate then pasta, more pesto followed by the remaining ingredients and finish with the pesto again.
Toss everything together adding the pasta water as you go until you have the consistency you like and that's all there is to it!
Garnish No garnish was added since the chopped fresh herbs went in earlier.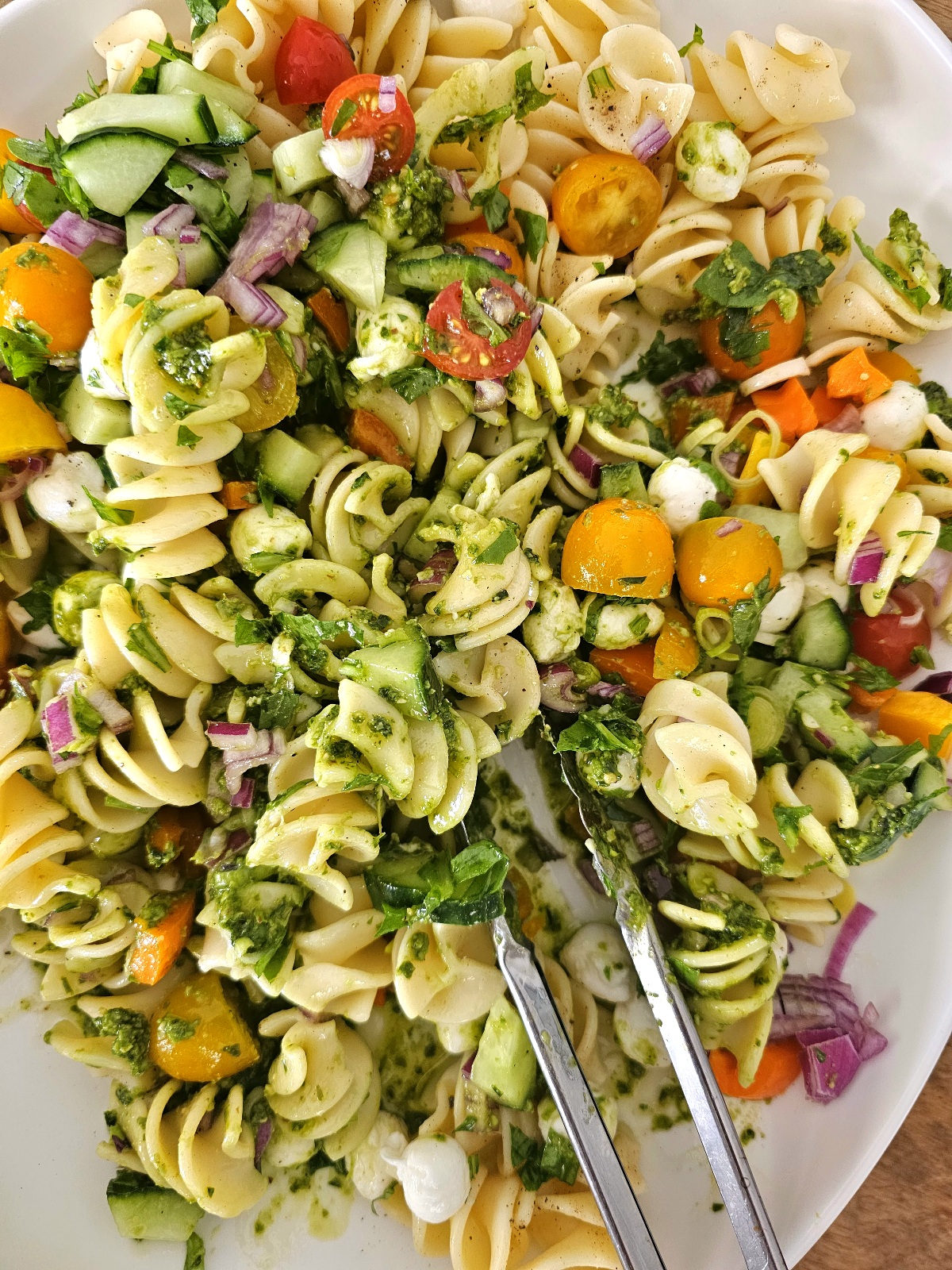 Substitutions: Feel free to make this recipe your own. You can use different pasta shapes, vary the types of nuts in the pesto, or switch out ingredients like artichoke hearts or sun-dried tomatoes for added flavor.
Variations: You can make a heartier version of this salad by adding grilled chicken, shrimp, or chickpeas for extra protein.
Equipment: You'll need a food processor to prepare the pesto and a large mixing bowl for the salad.
Storage: Refrigerate any leftovers in an airtight container. This salad is best when consumed within a day or two.
Top Tip: For an extra burst of flavor, try roasting the cherry tomatoes before adding them to the salad. It intensifies their sweetness and adds a smoky note to the dish.
Sauce Recipes
FAQ's For Mediterranean Pasta Salad With Pesto
Can I make the pesto in advance?
Yes, you can prepare the pesto ahead of time and store it in the refrigerator.
What's the best way to cook the pasta for this salad?
Cook it al dente, following the package instructions with 1 to 2 minutes more for a soft pasta salad.
Can I use a store-bought pesto?
Absolutely, but the homemade pesto really takes this dish to the next level.
Recipe: The full recipe for this Mediterranean pasta salad with pesto is included in the blog post above, are ready to be transported to the Mediterranean coast with every bite? Enjoy!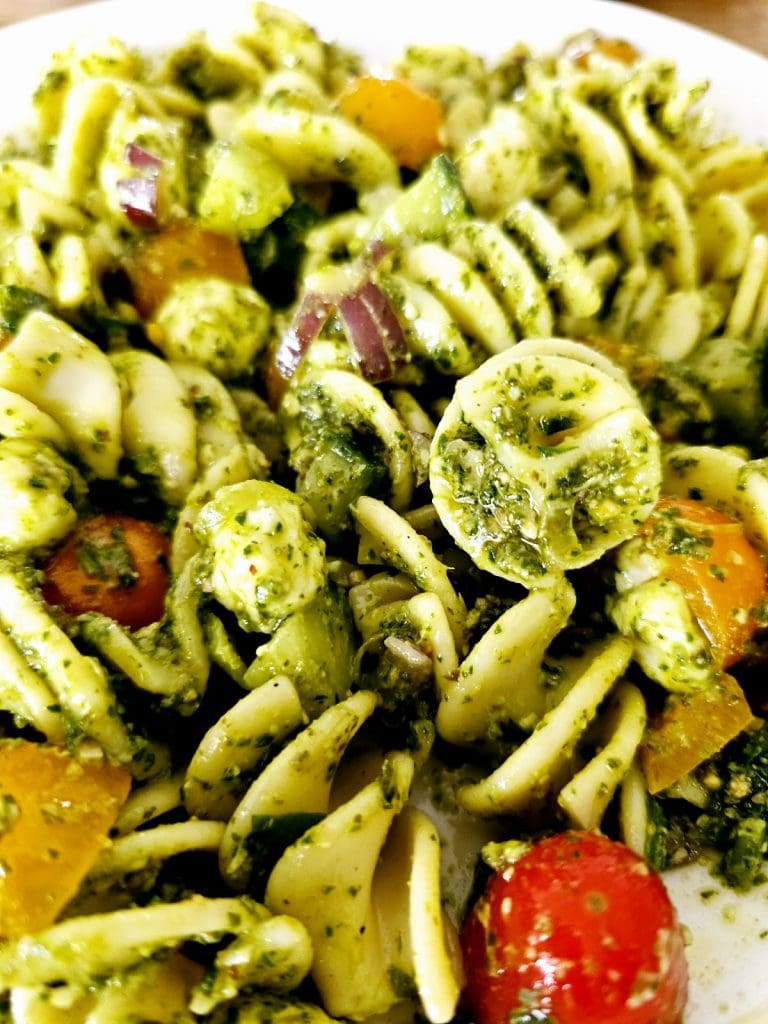 More Mediterranean Recipes
What To Serve Pasta Salad With?
Many side dishes and mains can be served with pasta salad. Here a few to get you started;
Looking For More Delicious Recipes?
Subscribe to my free newsletter and follow along Facebook, Pinterest and Instagram for updates
Shop our online store for quality all natural spices.
Recipe
Mediterranean Pasta Salad
Mediterranean Pasta Salad With Pesto is a burst of sunshine on your plate. Refreshing and combined with a fragrant homemade basil pesto.
Ingredients
For the salad
2

cups

fusillotti, or any: penne, fusilli, or rotini

1

cup

cherry tomatoes, halved

½

cup

cup cucumber, diced

½

cup

bell pepper, diced

¼

cup

red onion, finely chopped

⅓

cup

bocconcini or fresh mozzarella balls

3

tbsps

fresh herbs, chopped (parsley, basil, chives, green onion)
Optional Ingredients
black olives, pitted

feta cheese, crumbled

parmesan cheese
Instructions
Cook the pasta: Boil the pasta according to the package instructions until a minute or two over al dente (pasta type dependent, more on notes below)

Make the pesto: In a food processor, combine the fresh basil, grated Parmesan cheese, nuts, minced garlic, salt, and pepper. Pulse until the ingredients are well combined. See recipe.

Combine the salad: In a large bowl, mix the cooked and cooled pasta with the halved cherry tomatoes, diced cucumber, bell pepper, red onion and herbs. Toss the salad ingredients together.

Add the pesto: Pour the homemade pesto over the salad and gently toss to coat all the ingredients evenly. You can adjust the amount of pesto to your taste.

Garnish: Sprinkle chopped fresh herbs over the top of the salad for an extra burst of flavor and color.

Serve: Serve the salad as a side dish for a Mediterranean-inspired meal or as a light, refreshing main course. It's great for picnics or as a healthy summer dish.
Notes
Pesto:  The basil pesto is the ingredient and a poor quality store-bought will result in a poor quality salad.