This is how to make the EASIEST Butter Ghee Salmon. It's lightly seasoned, basted in melted butter then baked with lemon wedges, that's it! This recipe uses a few ingredients which are the exact same ingredients that I used for my fluffy naan bread recipe ! I mean why not? I had this rich ghee, butter, garlic and herbs all ready to go. Basted it over the salmon and had one of the best salmon dinners!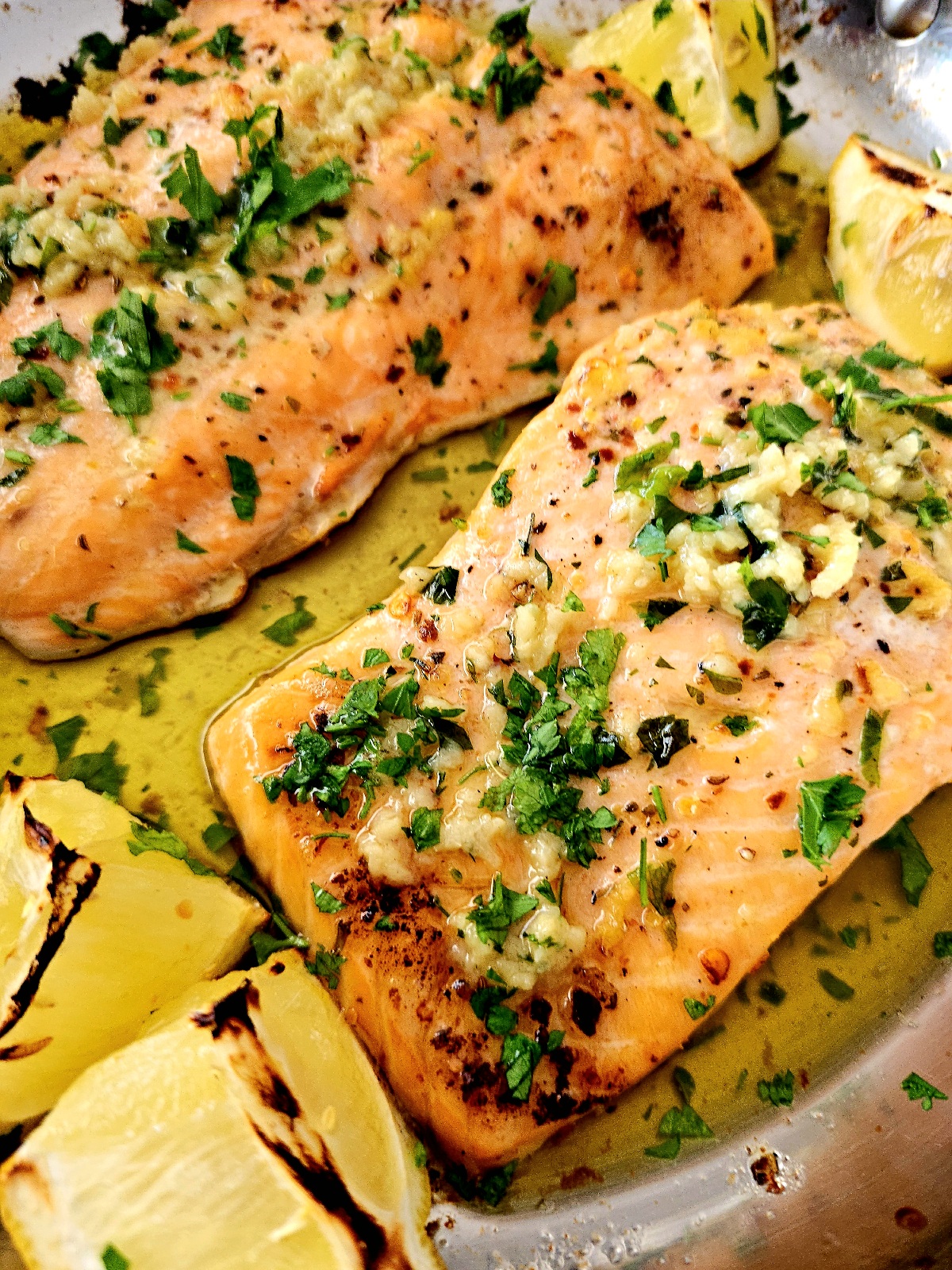 Any experienced cook will tell you how easy is to make salmon. If you haven't made salmon before, trust me, its super simple. It also tastes delicious and is a very healthy dinner. I'm about to say it's healthy when its not drowning in ghee and butter but no, truthfully, it's the best baked salmon! Healthy oils😉
Butter Ghee Salmon For Beginners
If this is your first time making oven baked salmon, follow this recipe for the perfect salmon. A tender bake with the rich oils from melted butter and flavored salmon awaits you!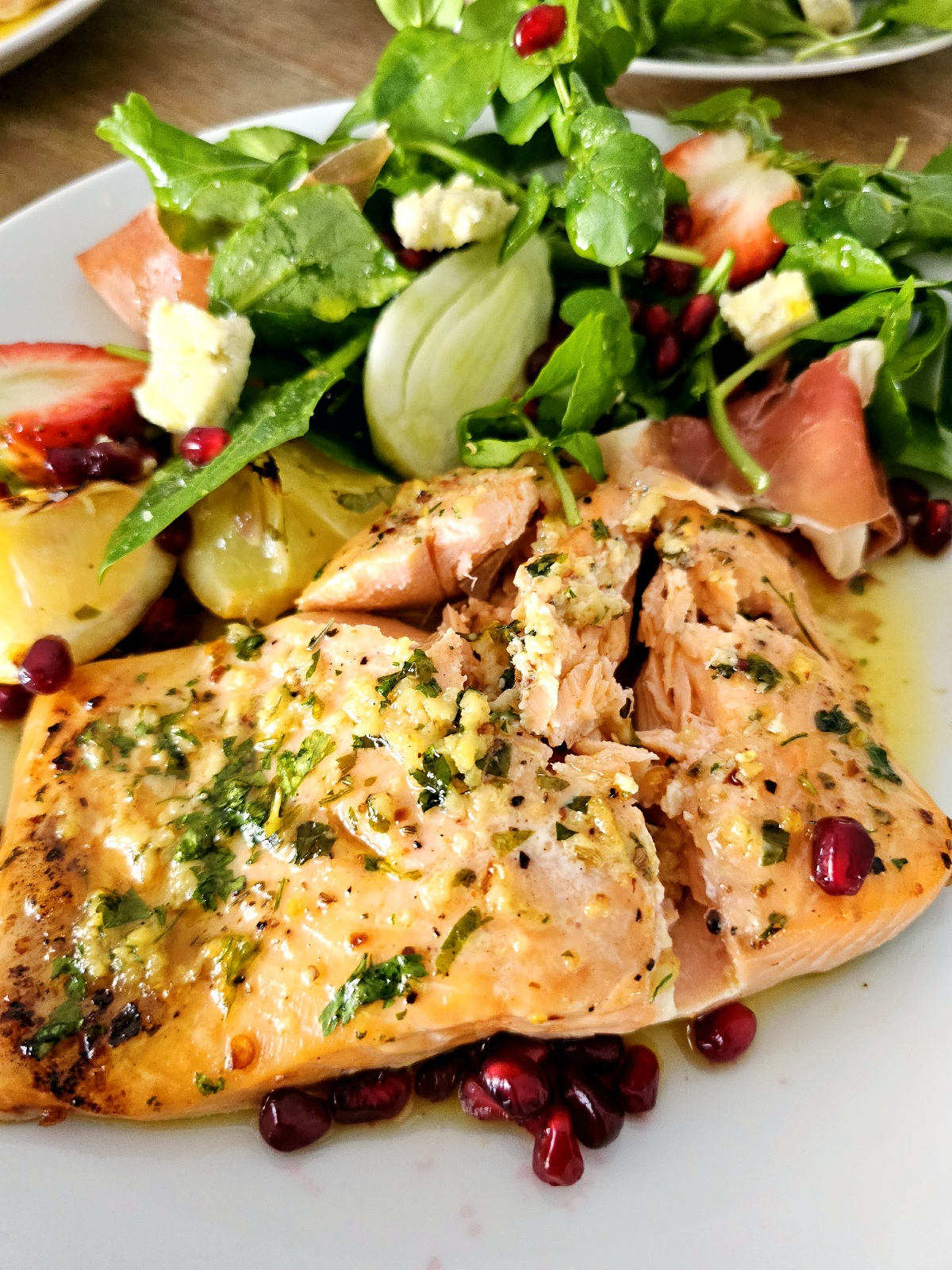 What to season and flavor salmon with?
Salmon will always be a classic serve with a simple seasoning lemon and garlic. However, you can add any of your favorite herbs and spices.
What temperature should you cook salmon?
I oven baked my salmon on 180°C. I add another one and a half to two minutes to put it under the grill. The grill 1 to 2 minutes is optional but suggested for a better texture on the top. There are a lot of recipes that bake salmon at 200°C /400°F but I find that too high for tender salmon.
What internal temperature should salmon be?
It should be anywhere between 58°C/135°F when using an instant read thermometer. The only reason I know that this is the right internal temperature for salmon is because after trying different temps this is for us, as tender as it should be.
Honestly I stick to the time first and foremost and check the temperature just before turning the grill on. By the time you've added the 1 to 2 minutes grilling time plus resting time, you have a safely cooked tender salmon.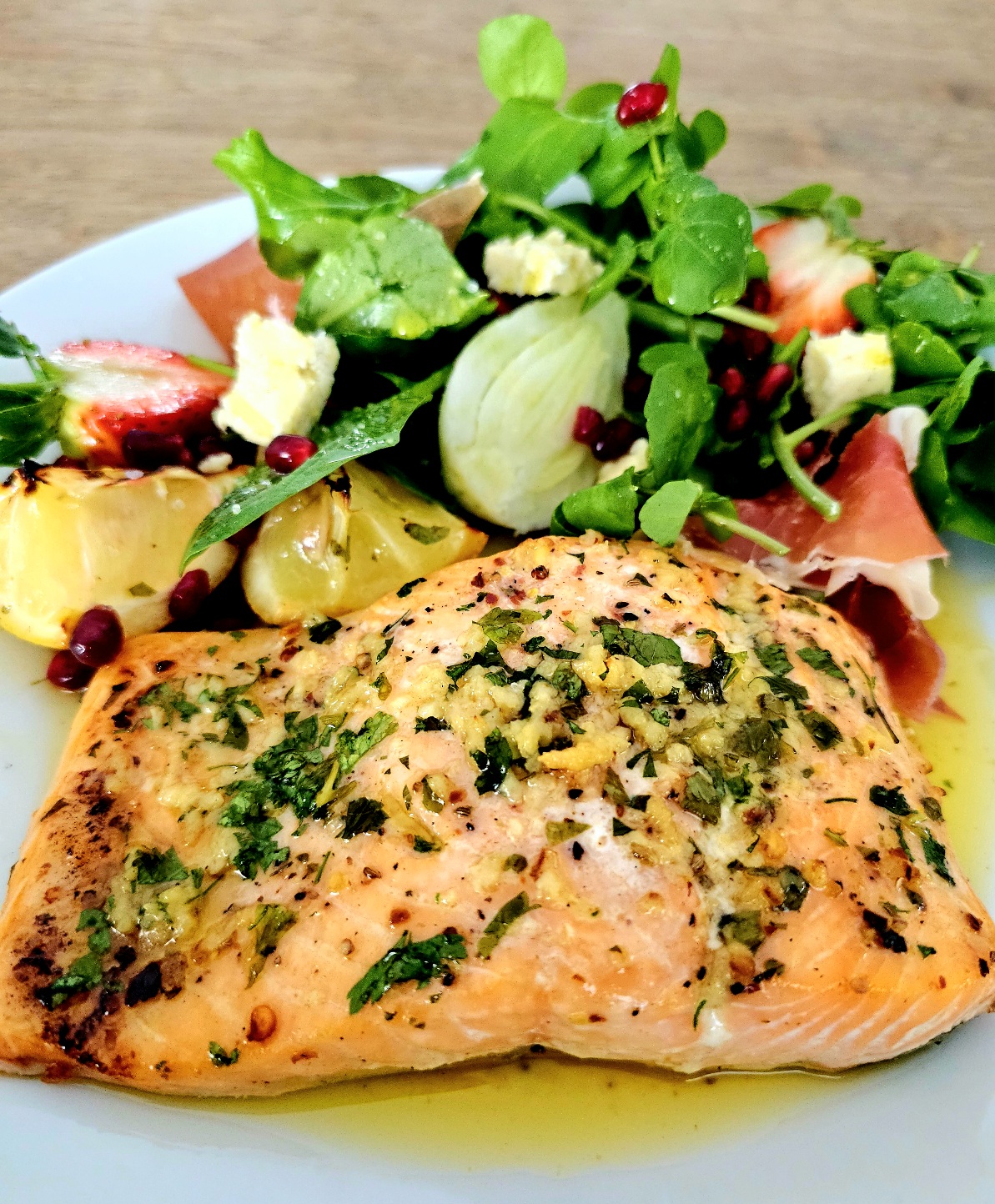 Serving Butter Salmon Ghee
You never have to worry about what to serve it with because it's as delicious on it's own. You can also serve salmon with anything from a side of Mashed Potatoes to a Tomato Cumber Salad anything goes.
More Seafood Recipes
Recipe
Garlic Butter Ghee Salmon Bake
A quick and easy way to make oven baked ghee salmon and have a delicious dinner on the table.
Ingredients
2

Salmon fillets

2

Tbsps

Ghee

2

Tbsps

Unsalted butter

2

Minced garlic

2

Tbsps

Freshly chopped parsley, divided

1

Whole lemon, divided

2

Tsps

All purpose spice blend
Instructions
Take the salmon out the fridge 10 to 15 minutes before cooking.

Preheat the oven to 180° Celsius

Place the salmon fillets on a plate/board. Dab dry by using kitchen tissue paper or kitchen towel. Season with all purpose seasoning.

2 Salmon fillets,

2 Tsps All purpose spice blend

Melt and combine butter, ghee, garlic. Add 1 tablespoon fresh chopped parsley.

2 Tbsps Ghee,

2 Tbsps Unsalted butter,

2 Tbsps Freshly chopped parsley, divided,

2 Minced garlic

Use a pastry to dip into the melted butter/garlic mix and spread a thin layer across the pan. Place the seasoned salmon into the pan and brush/pour half of the ghee butter mix over the tops of the salmon. Brush it over making sure the salmon is well basted.

Slice the lemon I'm half and cut the one half into quarters. Add into the pan. Use the other half to gently squeeze over the salmon reserving the remaining for later.

Bake the salmon for 12 minutes. Adjust the oven to grill for the last 1 to 2 minutes.

Cover the salmon losely with foil and rest for 5 minutes. Use the remaining ghee, butter, garlic and parsley mix to pour over the top just before serving. Garnish with remaining chopped parsley and lemon wedges.

Serve with a side of fresh salad or veg.