Mediterranean Salad served with a Garlic and Herb salad dressing, fresh herbs and extra virgin olive oil. A whole new level of deliciousness!
Such a few healthy ingredients can give you such maximum flavor! This is definitely one to make.
The veggies are fresh and crisp which is so important in a salad because you are not 'borrowing' off other ingredients for taste and flavor. As with any salad it's only as good as it's salad dressing right? I must agree unless you don't mind having no dressing. If you are someone that likes a light dressing then you would probably go for a red wine vinaigrette or even as we do in this house extra virgin olive oil, seasoning and balsamic vinegar.
Either way you are sure to get the most from this salad and talking of which when I made this Chickpea Salad the only dressing used was fresh lemon, salt and pepper. That combination is sadly undervalued. Lemon and salt are made for each other. Ah I just had a memory of my Dad sitting under a lemon tree with me and we would take fresh lemons from the tree start peeling them and eat them right there just with salt. Oh yes, it still makes my mouth water :)!
MEDITERRANEAN SALAD
So what goes into a Mediterranean Salad exactly? Well Mediterranean ingredients 🙂 There are some key ingredients that make it Mediterranean otherwise it's a Chickpea Salad.
INGREDIENTS
Chickpeas - use fresh or use canned but canned is a just so much more convenient when making a salad. Again, as with the rest of the ingredients, quality is everything. Rinse, drain and use.
Cumber - It's cucumber, use any.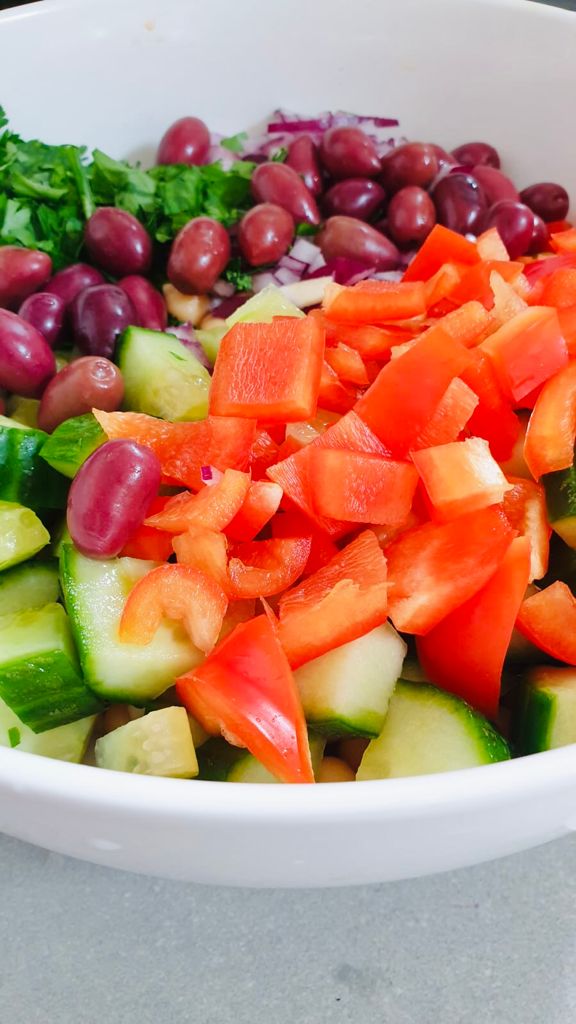 Olives and Feta- Remember when I spoke about typical Mediterranean ingredients? This is those key ingredients so don't leave them out. What about bell peppers? Hold your horses...
Kalamata olives are lovely in this salad and the feta cheese needs no introduction. Here's the thing however, feta cheese in this salad dressing is exactly what takes it over the top in terms of flavor!
Red Bell Pepper - Now, you can use yellow, green or red or all three for an even more colorful salad however, the reason that I went with red:
Left out the green bell pepper because I wanted to keep the flavors balanced and green is like raw veg whereas the red is almost like a fruity taste and well the yellow is just milder. So depending on what you like I hope the above can help.
Red Onion and Fresh Parsley - Again sweet than green onion so the crunch is a great texture. If you like you can soak your onion in water while you do your prep for the other ingredients it helps alleviate the onion bite. We love red onion so skip that part. Where oh where would I be without parsley? I love the stuff! I'm like a crazy woman when the store has run out of fresh parsley the very surprised assistant probably wondered what on earth my relationship with parsley was when I said " You don't have parsley? Why? How? When will get some more parsley?
It's safe to say that I now to plant my own. I cannot be held responsible for my reactions to no parsley so for everyone's sake including mine I'm happy to report that I've planted some. God is good.

Widget not in any sidebars

I hope that you love this salad, make it and enjoy it with your family because it really is amazing! I one hundred percent love to see your photos when you share to Instagram so tag me @anosmickitchen and hashtag me #anosmickitchen
MORE FAMILY RECIPES
WATCH HOW MAKE IT


Recipe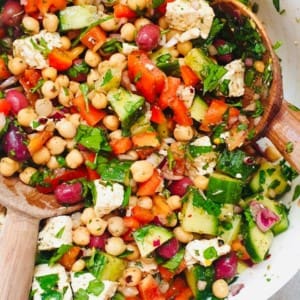 Mediterranean Salad
Mediterranean Salad served with a Garlic and Herb salad dressing, fresh herbs and extra virgin olive oil. A whole new level of deliciousness! 
Ingredients
800

grams

chickpeas canned (2 cans) rinsed and drained

½

cucumber, chopped

1

red bell pepper

½

red onion, sliced and cubed

1

cup

fresh parsley, chopped (reserve some for the dressing)

⅓

cup

feta cheese

Kalamata olives
Instructions
Prep the veggies - clean, chop or slice.

Add the chickpeas into a bowl followed by the rest of the ingredients (except the feta cheese).

Make sure to reserve some parsley for the dressing.
SALAD DRESSING
Add Smell & Taste Garlic & Herb Seasoning Add Smell & Taste Salt & Pepper Basics

Add the rest of the dressing ingredients and the reserved parsley into a jar and shake well.

Add the feta cheese into the salad and pour the dressing over the salad.

Give it a good but gentle mix to combine the flavors.

Enjoy.