A colorful, healthy Raw Carrot Salad that's alive with juicy flavors! I love how these ingredients work beautifully together and I'm so excited to be sharing it with you. When I shared it on my Instagram reels it got lots of love so here it is.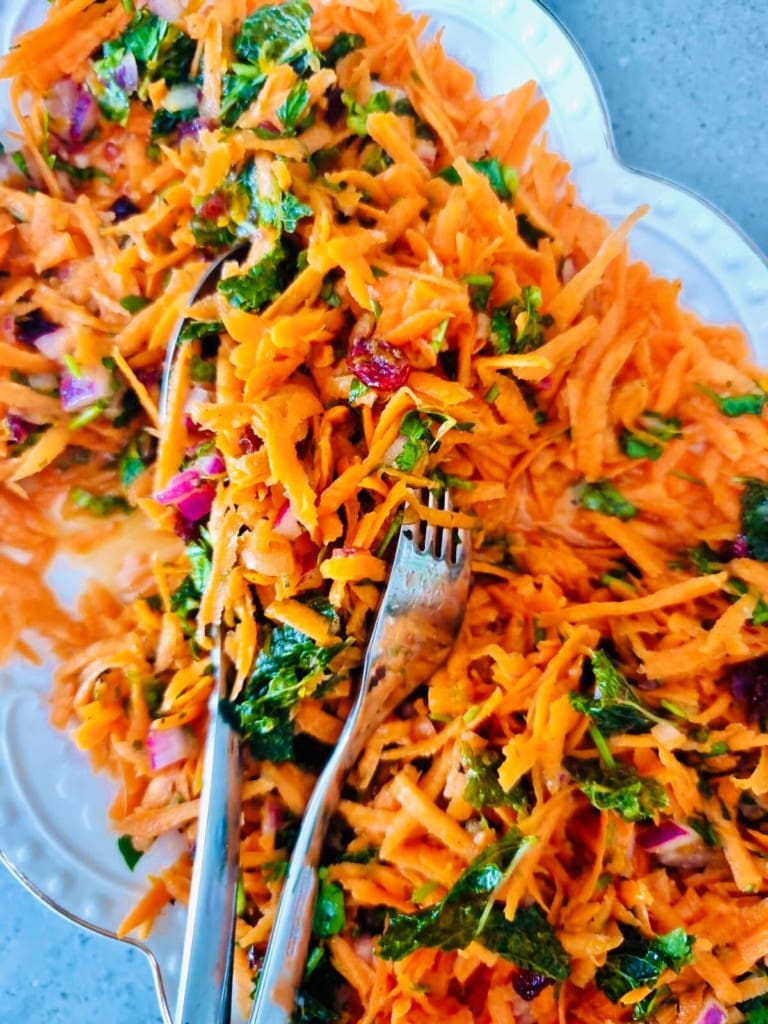 We are in the middle of summer which means cooking time in the kitchen decreases and meals get lighter. I seriously did think about cutting the carrots Julienne style because they look so elegant but I also wanted something different. Grating them is not different I get that, but the ingredients are my own take on how we prefer eating them.
I used an old fashioned box grater (old and trusted) and if you watch the video you'll notice that i grated them onto a sheet of baking paper. You don't have to do that I only did it because I always have that one odd sheet of paper in the drawer that I never put back in the box. Also it did a pretty neat job of picking up those grated carrots!
Grate Or Cut The Carrots
You can use your food processor attachments to grate your carrots or a special kitchen knife for Julienne carrots. You can also cut them Julienne style yourself using a small kitchen knife. As long as you have cut off the sides to create a flat surface to turn the carrot onto you just keep cutting slices from there. Anyway, what I want to say is this that I also said to my daughter when she called the other day and asked about roast potato:
Don't worry too much about how you cut in this case a carrot and in her case a potato. It's always nice to have a great shaped veg but it wont help much if the flavors are not there so rather focus more on pulling in the correct flavors.
That, and the fact that vegetables like carrots and potatoes, are such simple, affordable, easily grown vegetables that we shouldn't over think it. Work with the temperature and ingredients.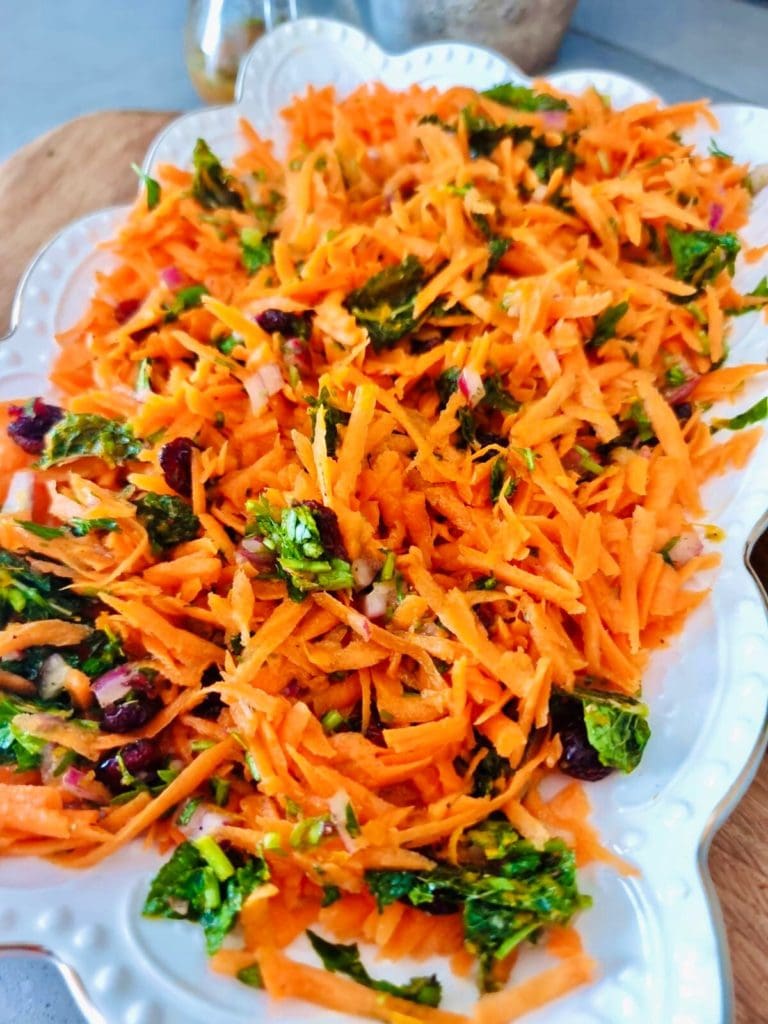 This recipe was created in My Anosmic Kitchen were all my recipes are prepared with nothing but love and flavor.
Carrot Salad
A very simple raw carrot salad that will take you all of 10 minutes to grate the carrots and mix the ingredients. Once you've done that combine them and enjoy!
Let me know in the comments below if you like this carrot salad. Try this Balsamic Glazed Carrots
NEED MORE RECIPES?
Subscribe to my free newsletter and follow along Facebook, Pinterest and Instagram for updates
Shop our online store for quality all natural spices.
WATCH THE VIDEO
Recipe
Raw Carrot Salad
This recipe features a raw carrot salad with cranberries, a touch of spice and juicy citrus that pulls it altogether into a healthy light and mouthwatering summer salad. Make it in winter to brighten up the mind and body too! Definitely worth a try.
Ingredients
12

Carrots (please use the measurements as a guide only because this is more a guide than a recipe)

¼

cup

Flat Italian parsley

¼

Red onion, very finely chopped

¼

teaspoon

Vegetable Spice Smell and Taste

2

strips

Fresh mint leaves (torn or chopped)

1

tbsp.

Olive oil

1

Handful of dried cranberries

1

tbsp.

lemon juice

1

The zest of an orange

1

Juice of the same orange

pinch of salt to taste
Instructions
Wash the carrots, chop the ends of and discard and grate them.

In a separate bowl add the rest of the ingredients including our Vegetable Spice, taste to adjust, top into the grated carrots and enjoy!
Notes
Vegetable Spice
In this recipe, for a finer spice blend pour into a blender, blend to a fine smooth texture and add a sprinkle of cinnamon to complement the citrus and cranberry flavors. 
Nutrition
Serving:
1
person
Calories:
189
kcal
Carbohydrates:
30
g
Protein:
3
g
Fat:
8
g
Saturated Fat:
1
g
Polyunsaturated Fat:
1
g
Monounsaturated Fat:
5
g
Sodium:
132
mg
Potassium:
792
mg
Fiber:
8
g
Sugar:
16
g
Vitamin A:
31420
IU
Vitamin C:
68
mg
Calcium:
113
mg
Iron:
1
mg