This recipe features The Best Roast Potatoes ever! The center is soft and fluffy, the exterior golden brown and the edges crispy and salty. They go with anything from meat roasts like this Slow Roast Lamb Shoulder With Potatoes shared on my Instagram to snacking them alone.
Have you ever met someone who is not a lover of roast potatoes? If so then you should definitely make this recipe for them and if they're already potato lovers you should still definitely make this recipe for yourself!
My daughter asked me "Mom how do you make your potatoes so irresistibly uncontrollably so good??? I said 'well, a few things and you need to do them all for the same results' She did and she called to say they were the best potatoes and they loved them! The next day she wanted more roast potatoes so she made them again only this time, she left out one part of the potato lesson and I got a sad WhatsApp 'they didn't come out the same, next time I must include that step' Next time was the next day 🙂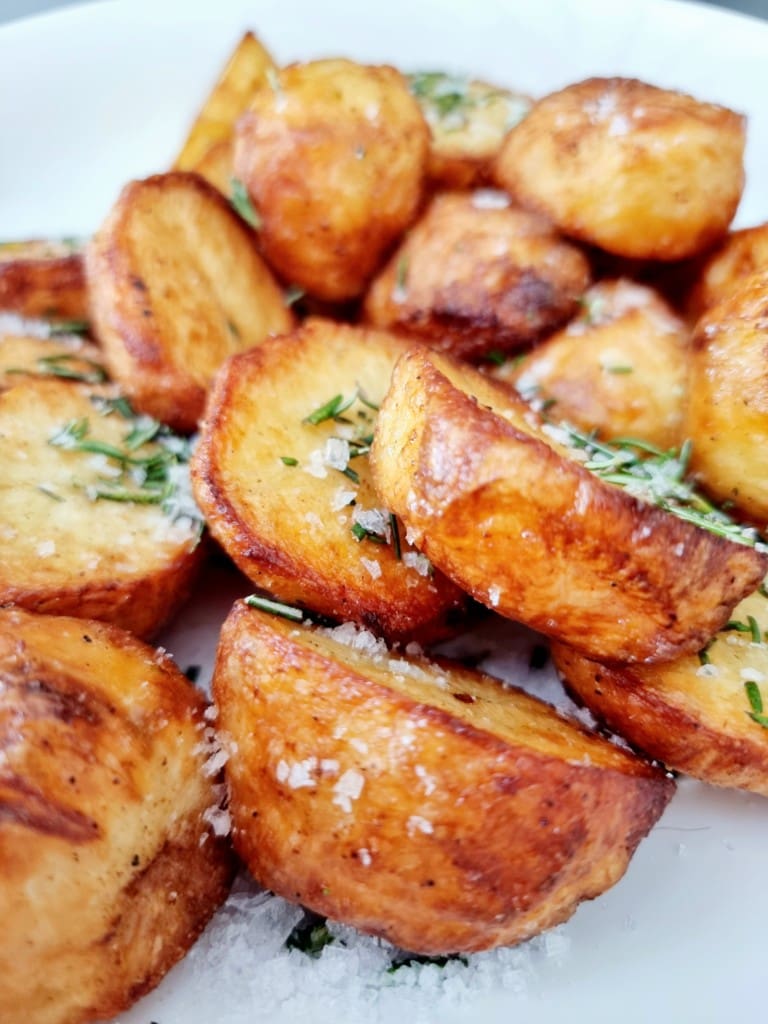 What Are The Steps For Perfectly Crispy Roast Potatoes?
Fat
That's what we need for crispy roast potatoes. The best oils for roast potato are ones with a mild flavor and a higher smoke point, so extra virgin olive oil, canola and grapeseed oil.
In saying that however, I've used all kinds of fat which include this recipe using a combination of duck fat and butter (the best!) you can use butter, olive oil, vegetable oil, duck fat, goose fat, just use fat and a generous amount.
So what's the big secret? HOT FAT!
Can you make roast potatoes with less fat? Yes you can. In the same way you can make it with any fat you can also make it with a lot less fat. The more fat the more flavorful, golden brown and crispy edges especially if you shake them in the colander.
How to get crispy edges? Shake them while steaming, lid on.
Par Boiling
You have to par boil if you want the edges ruffed up. You will notice equally delicious potatoes in this recipe but not roughed up. Really depends on what type of potatoes you're serving, sometimes change is good. Skin on, no boil potatoes.
Cold or Hot Water To Par Boil The Potatoes
I was asked this question once and now I know 🙂 I've always started boiling potatoes in cold water its how I learnt to do it. Cooking them this way allows them to cook evenly and not overcooking the outside before the inside is cooked.
With roast potato however you want the outside to cook quicker than the inside because you're looking for that crispy exterior.
My suggestion - I still use cold water unless I have the time to put the kettle on. In which case they will cook sooner than the 8 to 10 minutes you need to par-boil them.
Another HOT TIP! Once the potatoes start boiling, don't leave them on boil, drop the heat to a simmer and let them rapidly simmer with the lid off for about 8 to 10 minutes.
Steam Them
Once drained through in a colander pour them back into the pot and get the lid on immediately. I find that keeping the steam in while shaking them gives for fluffier edges.
Don't Fiddle
Once the potatoes are in the hot fat in the pan try not to fuss about with them. Lots of recipes say turn them around, although true it's very important to not touch them for at least the first 25 to 30 minutes. Let them create a crust and then turn them over once.
Salt
Roast potatoes need a generous amount of salt! Salt the water when they boil, a pinch of salt either when you shake & steam or when you have them in the fat. Personally I don't use fine salt for these potatoes but you can. I prefer coarse salt for par boiling and Maldon sea salt for serving, it's the best!
How To Make The Best Roast Potatoes
Ingredients
2 types of fat are used here for the best and ultimate roast potatoes! Duck fat and unsalted butter but please read the post to see what type of fat works best.
Season with salt and pepper and drizzle olive oil. Yes another form of fat, again and they still don't end up fatty. Mix this up.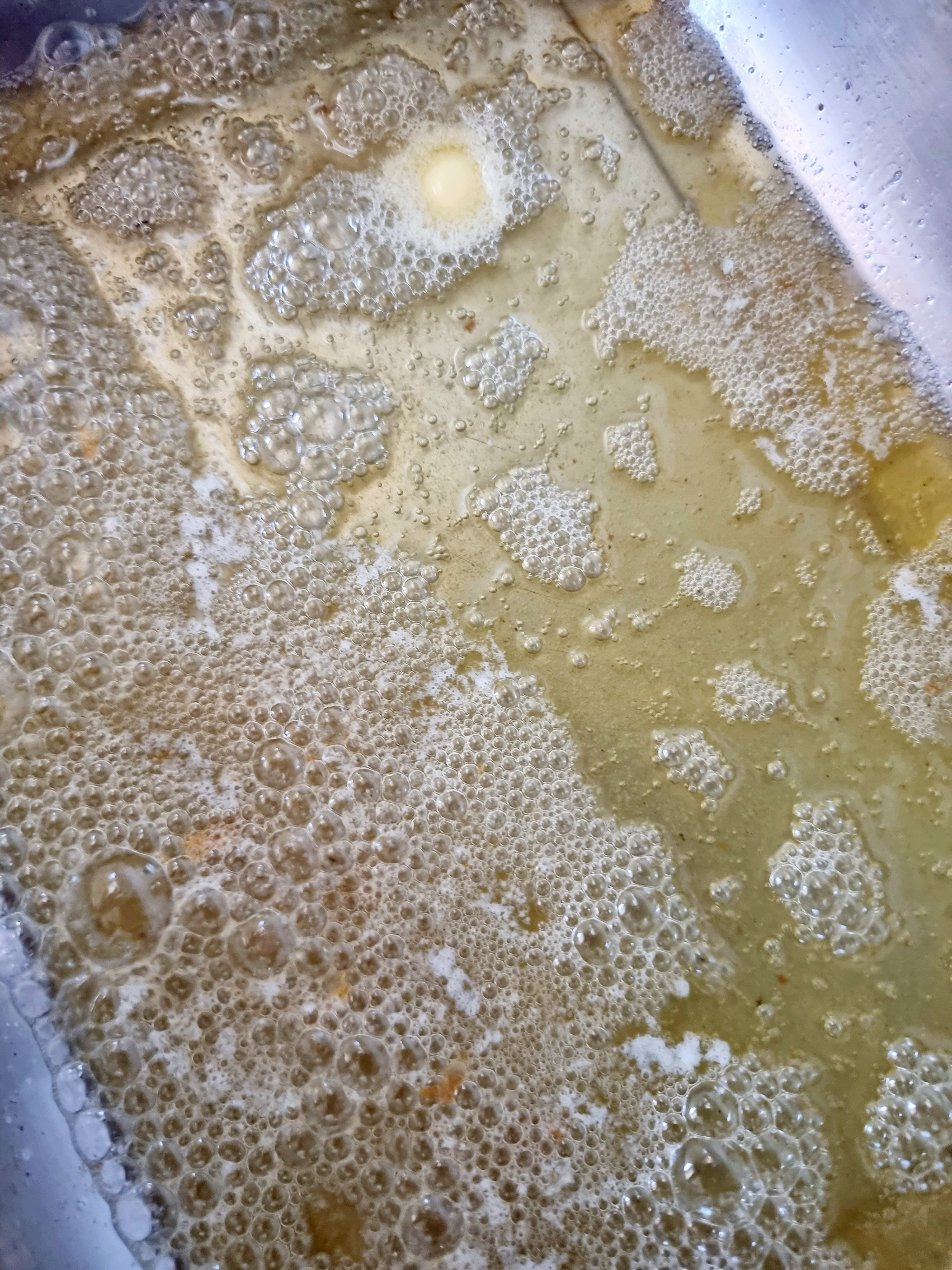 Par boil the potatoes in salted water, read up on hot or cold water.
Heat the fat until it shimmers and foams, perfect! We want it really hot.
Place the potatoes cut side down into the oil.
Add any remaining fat from seasoning them and roast.
Tip! Don't turn the potatoes! I know a lot of recipes say turn, however potatoes need to create a crisp exterior before being turned around. If you really must turn, do this in the last few minutes.
My suggestion would be to leave them to completely turn golden brown and then at the end, a last minute toss for a 3 to 4 minutes or so.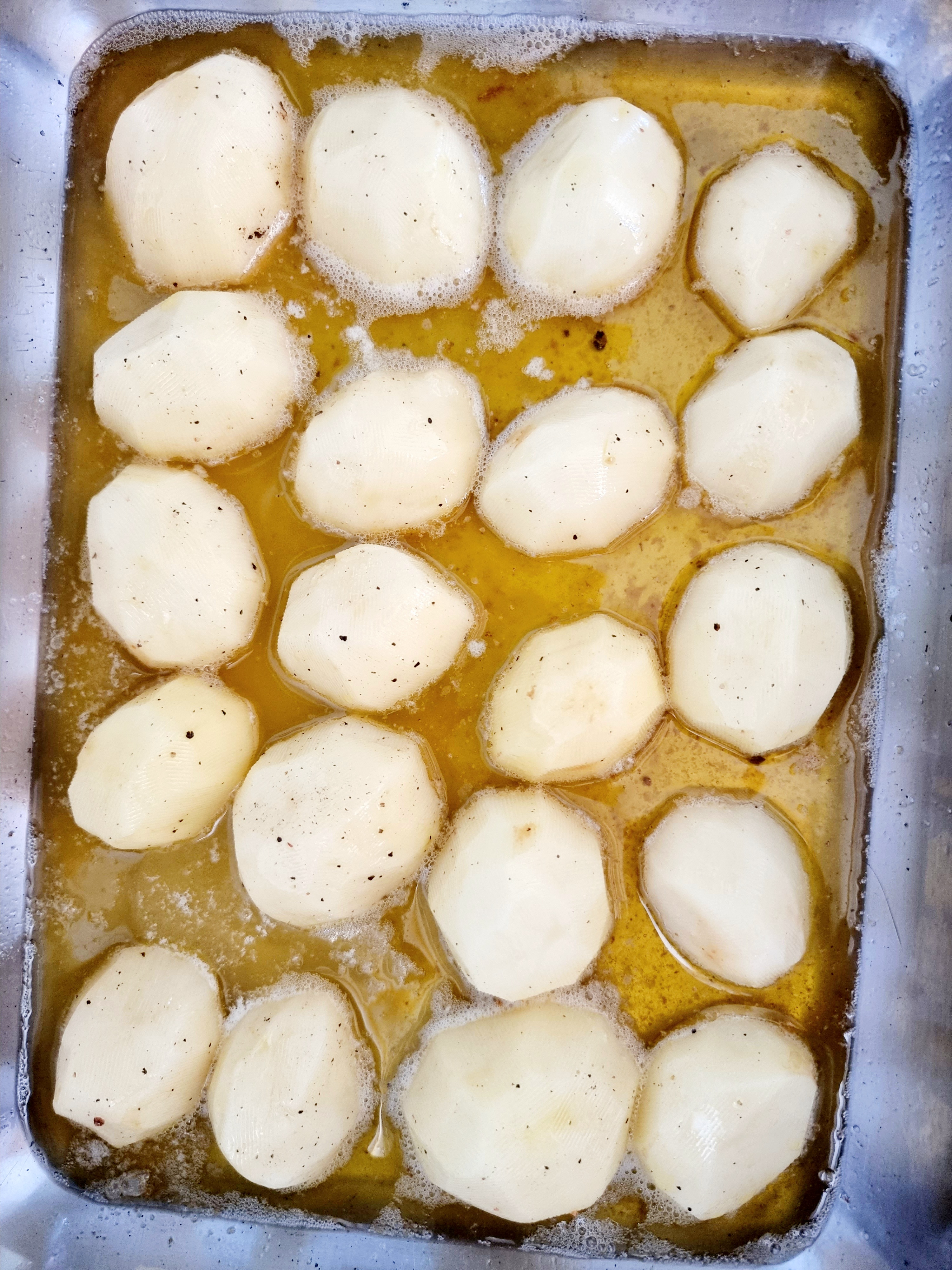 Oven Temperature For Roasting
Heat is as important as every other factor in getting the best roast potatoes. Just as the fat needs to be shimmering hot, the oven heat needs to be the right temperature. In this recipe we are roasting on 210°C. Preheating the oven is as important as not opening the oven unnecessarily because the heat drops hence my tip above on turning the potatoes.
How To Serve Roast Potato
Recipe for less fat in the potatoes but still equally delicious and ways to serve them.
Meat and Potato Roast Ideas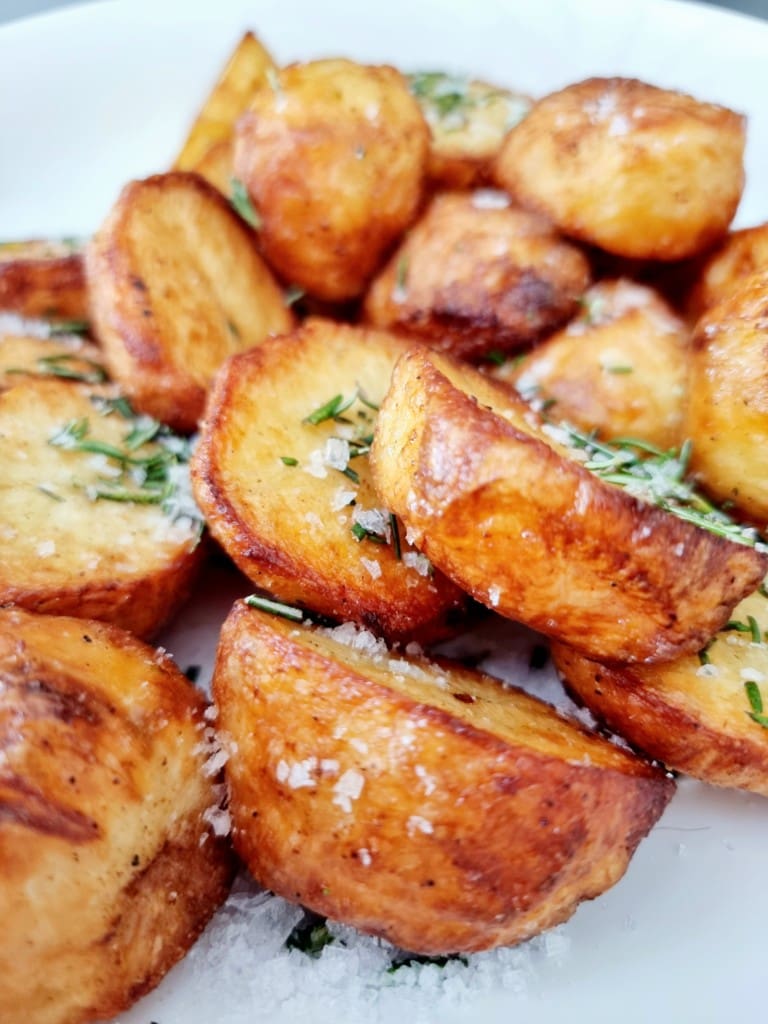 If you try this Roast Potatoes recipe, feel free to leave me a comment and a star rating! Should you take a photo of your chicken and drumsticks and share it on Instagram, please tag me @anosmickitchen and use the hashtag #anosmickitchen because I love seeing your personal remake! Happy cooking🙂
LOOKING FOR MORE RECIPES?
Subscribe to my free newsletter and follow along Facebook, Pinterest and Instagram for updates
Shop our online store for quality all natural spices.
Recipe
The Best Roast Potatoes
Perfect roast potatoes, soft and fluffy on the inside with crunchy bits surrounding the potato, so good! What do you need? Potatoes, fat and flaky salt equals food miracles! Let me take you through the steps.
Ingredients
Par Boiling
8 to 10

potatoes

½

teaspoon

coarse salt
Fat
¾

cup

duck fat

100

grams

unsalted butter
Prep
olive oil

salt & pepper, to taste
Serving
½

teaspoon

maldon sea salt

fresh rosemary, roughly chopped

fresh thyme
Instructions
Potatoes
Preheat the oven to 230 degrees Celsius.

Wash and peel the potatoes. Cut in half and half again so you have large cubes.

Season with salt & pepper and add a teaspoon of olive oil. Use your fingers to roughly combine.
Par Boling and Shaking For Crispy Edges
Bring a pot of water to the boil, once boiling add a pinch of salt, the potatoes and drop the heat to a medium simmer. Cook for 8 minutes, 10 minutes maximum.

Meanwhile place the duck fat and the butter into a roasting pan and heat until the fat is shimmering hot, it must be very hot. Heat the oil for about 10 minutes.

Drain the potatoes in a colander, shake off any excess water, then tip them back into the pot and immediately put the lid on and give them a good shake to rough up the edges.

Carefully remove the pan from the oven and carefully place the par boiled potatoes into the oil using a pair of tongs or spoon. Working quickly but also carefully, turn them in the fat placing each cut side down,

Roast for 20 minutes without turning. After 20 minutes turn them in the oil once and back in the oven for another 10 to 15 minutes until golden brown.
Nutrition
Serving:
1
person
Calories:
355
kcal
Carbohydrates:
22
g
Protein:
3
g
Fat:
29
g
Saturated Fat:
13
g
Polyunsaturated Fat:
3
g
Monounsaturated Fat:
12
g
Trans Fat:
1
g
Cholesterol:
46
mg
Sodium:
300
mg
Potassium:
529
mg
Fiber:
3
g
Sugar:
1
g
Vitamin A:
315
IU
Vitamin C:
25
mg
Calcium:
18
mg
Iron:
1
mg
PIN THIS RECIPE FOR LATER