A simple and delicious air fryer spicy herbed crust roast beef with gravy. Tender, fragrant, flavorful and always a classic.
Whether you oven roast or air fry your beef it remains a favorite Sunday meal. With the holidays upon us, classics such as these always seem to have a very special place at the table.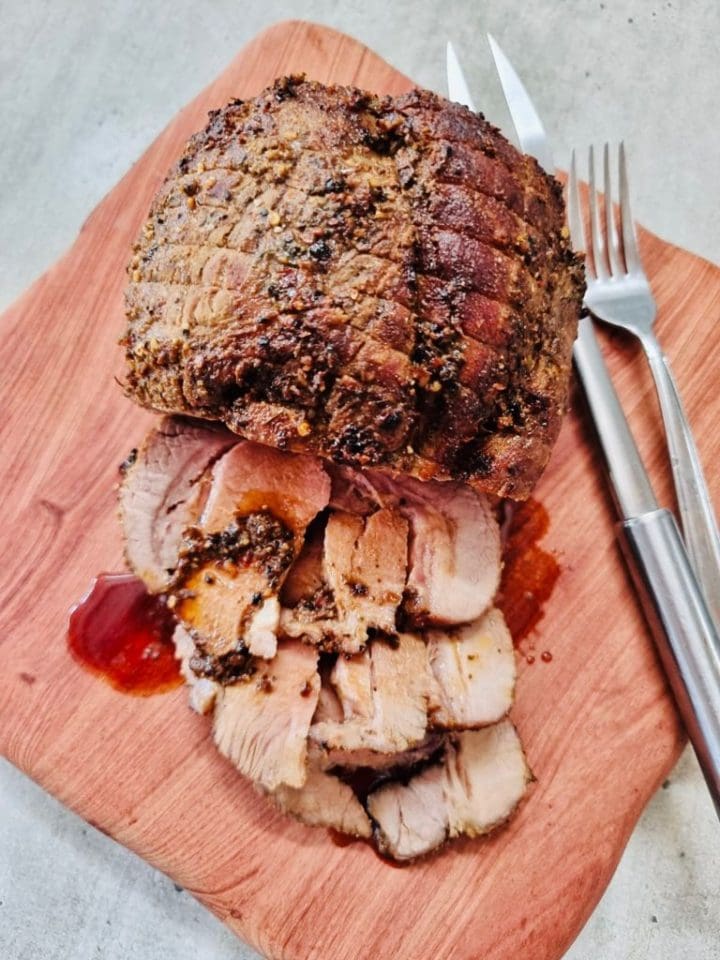 There's nothing quite like a roast firing away into a delicate crispy state of deliciousness. That is until we decided to invest in an air fryer and cut the cooking time to down to half!
I posted on Instagram about the air fryer that was left here by my daughter? Anyway, I think it was one of those purposeful mistakes (wink). When someone doesn't know how to get you to listen and just try the air fryer please mom! Well, it worked, I love it and have since invested in my own. This is the first roast that I am sharing with you, so let's do it!
Stay connected to see more air fryer recipes and just incase you missed it Air Fryer Potatoes.
Beef Roast
This beef roast was actually really simple to make, and it doesn't matter which air fryer you have, you will be able to also make a tender, delicious roast. A few thing to share with you right off are:
Pat the roast dry before you start
Mix your favorite natural Smell and Taste Meat Rub with oil.
Preheat the air fryer (set the timer on about 5 to 10 minutes while you prepare the roast).
Use a sheet of foil at the bottom of the air fryer to collect the juices. Those juices are the real thing, you don't want to lose a bit of flavor. It also helps the air fryer stay cleaner than not having it.
Tip: For a tender, flavorful roast make sure to give your beef a light rub with some of olive oil before adding the spice and oil mix.
Keeping The String On
Yes, we keep it on until after the roast has cooked. The string helps to keep the shape, helps to bring the roast to an even temperature and basically keeps it intact. Once cooled, simply snip the string off, be careful not to pull too hard and tear the meat in the process!
Now that you have those basics down, lets talk about time to roast.
How Much Time Does It Take To Roast?
I think this is an important note of discussion because just like every oven is different, every air fryer is different too. That along with the way in which we like our roast because not everyone likes the same doneness.
This roast went into a preheated air fryer at 180°C and then the heat was cranked up in the last couple of minutes. If you prefer the other method of roasting it first on high to sear and then lowering the heat, that also works. You have to do what works for you. Personally I find that getting the heat on 180 in the beginning allows the meat to cook at a steady pace and gives me less anxiety. I leave it inside for 30 minutes, with a high heat after for about 5 minutes just to try and get the browning all over.
Tip! Do random checks for doneness and the best way to tell if it's done is with a food thermometer. This is not like baking bread where you can test the water with the back of your finger if you don't have a kitchen thermometer. However, if you don't have one (get one) or check by poking a sharp knife into the thickest part of the meat. If the juices are clear it's probably over done so hope they run a little full of that brown roast color. That's why it's important to do random checks.
The idea here is get beef cooked to some point of medium. Whether you prefer medium rare, medium or medium well is your preference, each family is different.
How To Cook Beef To Medium
By cooking it for 20 minutes, checking, another 10 minutes, crank up the heat for 5 minutes more to sear. More on level of doneness, internal temperature and resting below.
Beef Roast and Gravy
If you love red wine, it works well with a slice of beef!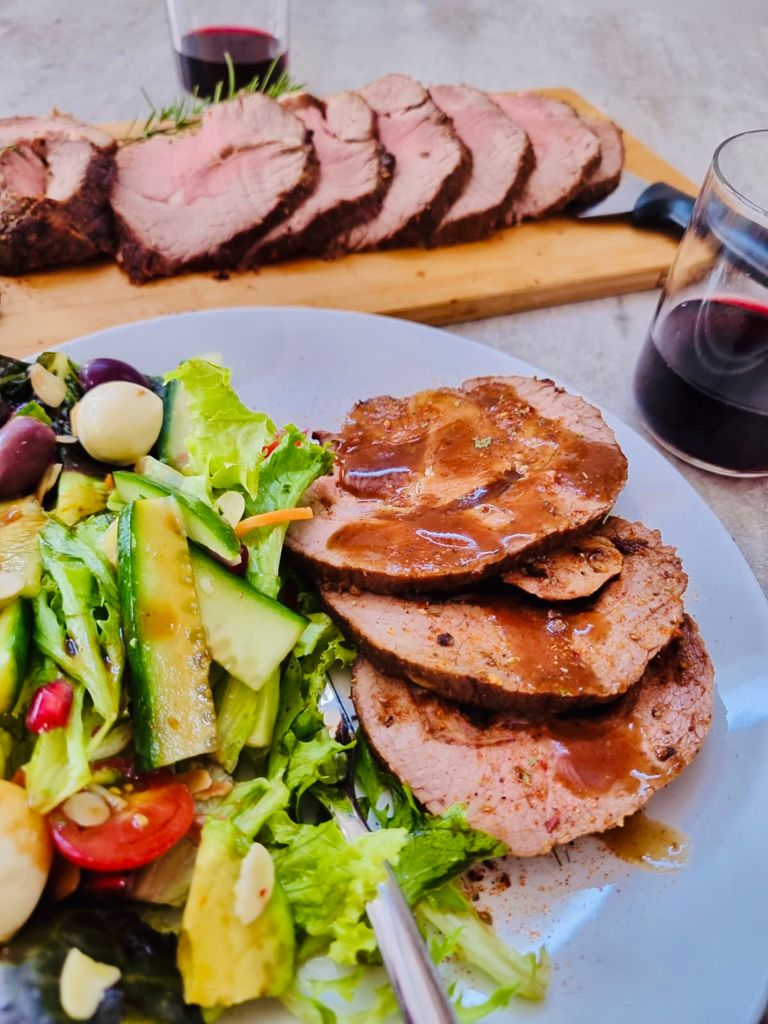 Resting The Beef
Rest it for a good 10 to 15 minutes at the least. This roast rested for 15 minutes and it collected loads of beautiful juices.
When you make an oven roast you can get quite a substantial amount of pan juices to make the gravy. From the air fryer however, the juices are not as much as oven pan juices, unless you add veggies in and then use that to make your gravy later.
Suggestion On Adding Veggies
This is if you want to add a few veggies to the air fryer while the roast is cooking, more like a one pot meal. You can use the veggies as a side dish or turn it into a gravy.
Use the 'drip tray' that's at the bottom of the air fryer, this is for the air fryer with trays (like an oven) although you can use the same method with the basket air fryer.
Wrap your choice of veggies in foil with a dash of stock or water (roughly ½ cup)
Place it on the 'dripping tray' to cook while the beef is roasting. The foil is to prevent any spillage because the tray is not too deep.
Not looking for a Gravy?
For air fryer roasted veg but no gravy, simply lightly season the veg and place them into the either the tray or the basket. Aluminum foil is not necessary if you are not using a liquid unless you want to keep the air fryer clean for easier clean up.
Remember that the veggies will be cooked a little before the beef so remove them until the beef is done. When the beef is done, drizzle a little olive oil, give them a gentle nudge "shake' to loosen them incase any or sticking to the bottom. Place them on the highest rack and roast on 200 degrees C for 2 to 3 minutes or until a little brown in color.
Making The Gravy
Pour all the juices collected in the tray or in the foil (if you used foil) into a pan to cook. There's probably not much so into that add wine, stock or water, add about a tablespoon of maizena/flour and cook it over the stove top into a simmer. Strain and pour over your now well rested tender beef roast!
As a safety measure to prevent any lumping: Add the maizena/corn flour/flour, into a small bowl and add water, mix it into a slurry first before pouring it into your liquid to thicken, stirring all the way.
Approximate Slurry Measurements
1 tablespoon powder to 2 tablespoons liquid.
Beef Internal Temperature
You can cook your beef to your own preferred internal temperature, depending on if you want more pink on the inside, less or medium.
One piece of advice I can suggest is that if you're not familiar with any roast meat temperature, always minus a few degrees off the recipe. You can always add the time to cook it more but you can't remove the time from a well done roast!
As a guideline, this roast beef, internal temperature was 65 to 69 degrees C (150 to 155 degrees F ) which is a medium well.
Tip: Remember that the temperature of the meat will continue to rise a few degrees while it rests. If you want it less cooked, pull it out earlier and tent it with foil.
More Delicious Recipes
Side Suggestions
Never Miss A Recipe
Join my free email list here to receive new recipes.
Shop our online store for quality all natural spices.
Widget not in any sidebars
OH and please, before you make this – Please leave a review and rating letting us know how liked the recipe, helps this blog provide more free recipes.
Recipe
Air Fryer Roast Beef With Gravy
Air fryer roast beef or oven roasted beef with gravy remains a favorite Sunday meal. In this recipe, we've used an air fryer to make a delicious and simple roast beef.
Ingredients
1.7/2

kg

beef roast

2 to 4

tablespoons

olive oil

3

tablespoons

Meat Rub

1

tablespoon

sea salt
Instructions
Preheat the air fryer to 200°C /400 F (Just turn the timer or set it for 5 minutes. The time that you're prepping the roast).

Pat the roast dry with paper towels getting it as dry as possible.

Get the meat rub onto a bowl, add the oil and combine. Use a brush or your clean fingers to rub the spice mix and the oil all over the beef making sure to cover it completely.

Don't forget the salt, rub it all round over the seasonings and oil.

Place the beef roast into your air fryer, either in the basket or the rack depending on which air fryer you have.

Drop the temperature to 180°C and roast for 30 minutes. You can take it out half way and turn it over.

Increase the heat back up to 200 °C and cook for a further 5 to 8 minutes.

Check in-between to see if your roast is cooked enough for you. Using a thermometer this roast was done at an internal temperature of 65 to 69 degrees C (150 to 155 degrees F ) which is a medium well. Tip: Remember that the temperature of the meat will continue to rise a few degrees while it rests. 

Remove the beef from the air fryer and cover with foil to rest for 10 to 15 minutes before carving.
Notes
More tips on adding your veggies to the air fryer while the beef is roasting and more on how to make the gravy, all inside this post.