Instant Pot Beef Stew is another delicious Instant Pot recipe! Packed with tender chunks of beef in a bold wine and stock sauce, aromatic spices and veggies, making this the perfect comfort food . Plus, with the convenience of the IP you can have a delicious meal on the table in half the time as slow cooking in the oven.
This recipe was inspired by my (have to make!) beef ragu and you can watch the video here. Though cooked in the IP it's also as wonderful on the stove top and a nostalgic reminder of a version of our South African stews enjoyed over the winter months.
More Comforting Recipes
Instant Pot Beef Stew
The heartiness of the beefy chunks of meat, together with the carrots, potatoes and the mere simplicity of the cooking process will make everyone think you're a Master Chef! This is the best beef stew in terms of these factors listed below so you don't want to miss out!
layered fabulous flavors
tips, tricks and suggestions
FAQ's
step by step method with images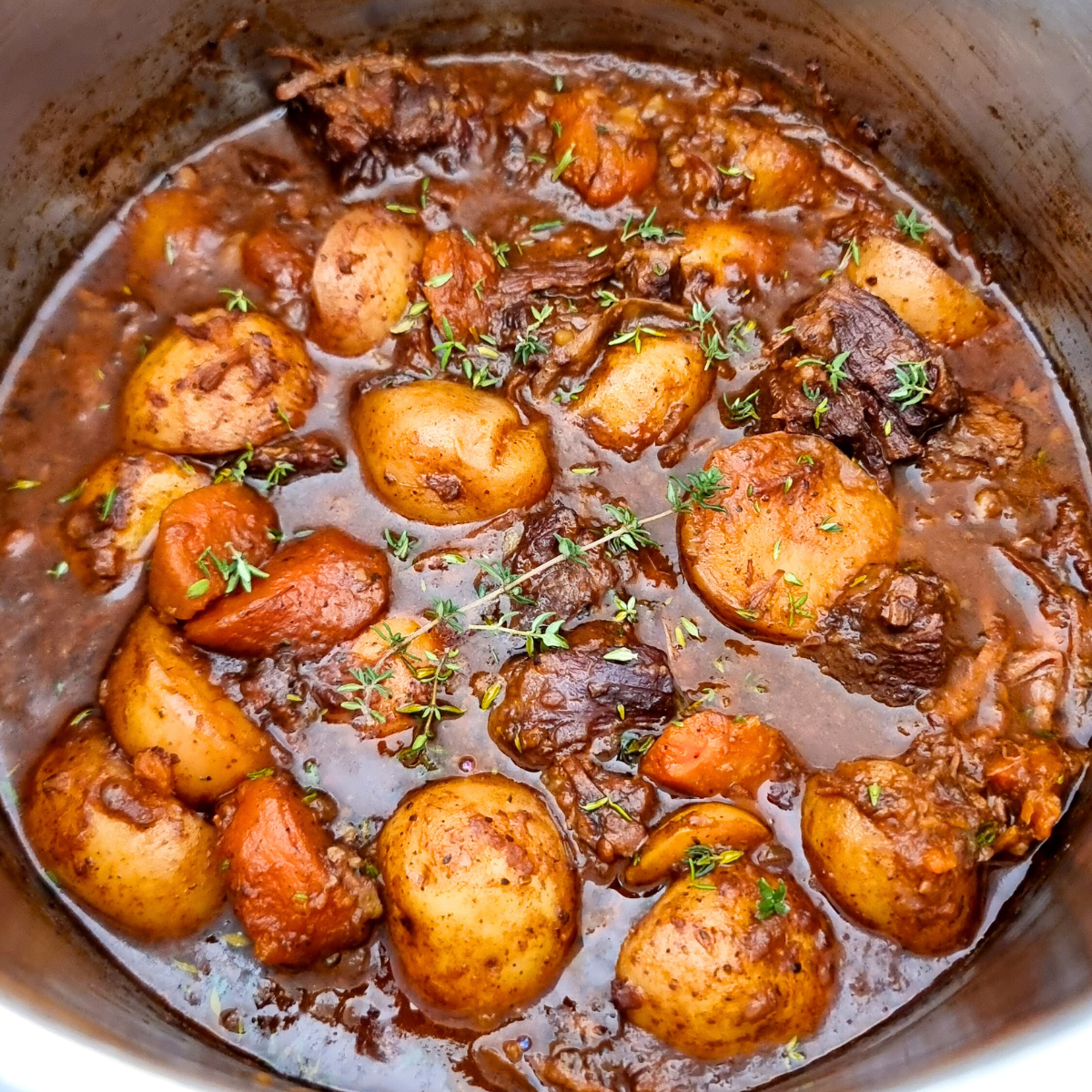 Why You Should Make This Instant Pot Beef Stew
If you need any more reasons to make this IP beef stew, here you go;
Cooking Tougher Meat Cuts: Making stew is a way of getting a tough cut of meat nice and tender using a slow cooking method. When you use the IP for a stew, you get the same tenderness but in half the time!
Costs: Saving costs on preheating the oven, cooking it for hours as opposed to using the IP which makes it ultimately cost effective.
Convenience: It's the instant pot, so it's not only quicker than the stove top it's also less hands on so you can get on with the rest of your day!
Easy Recipe, Simple Ingredients: The ingredients are the same as the classic homemade stew so simple ingredients.
Comfort Food: Any kind of stew is KING in winter!
Serve this beef stew with this Buttery Mashed Potatoes, another quick and easy IP recipe!
Jump to:
Ingredients
If your family is like mine, they are going to love this instant pot beef stew! Nothing in the world says comfort on cold days like a stew, curry or soup.
Beef Boneless chuck is what is used in this recipe which I left it whole. You can buy this pre-packed but if you speak to your butcher, you can also get chuck on the bone (which is how I bought this one). Simply cut it off the bone when you get home (use the bone for beef stock). Slice it into decent thickness, like these two flat iron pieces.
What cuts of meat to use for beef stew?
Beef chuck roast
Stewing meat
Marbled steaks
Flat iron steak, can be really well marbled (also known as top blade steak and top blade filet)
Onions and Garlic add depth and complexity to the flavor. 1 onion is good for this recipe, it measures out to about a cup of chopped onions and garlic.
Oil and unsalted butter I love adding butter to the onions as an extra layer of richness to this beef stew. The oil is to brown the beef.
You can cut the beef into cubes first and then brown it or, you can first brown it and then cut it into cubes. I find that when you brown it first, the meat is more tender and juicier.
It also tastes so good with salt and pepper! Just one or two pieces of this beef will keep give you that extra pop of protein in the day to keep you going!
Cutting the beef first into cubes may not produce the juiciest piece of meat but it definitely gives the same delicious flavors and tenderness.
Will my meat be cooked tender in the Instant Pot?
Instant Pot Tip Cooking in the IP really changes the way we knew cooking. Your meat is tender in less than an hour, so basically, because it builds up pressure in a closed environment with no moisture escaping, your meat is guaranteed to be tender"
The images below show you an example of cubed beef short rib in the instant pot.
Seasoning Salt and pepper, bay leaves and fresh thyme.
Tomato paste Such depth of flavors here, because tomato paste is concentrated, it adds flavor and balance that you cannot get from another ingredient
Vegetables: Carrots and potatoes
Red wine You can use beef stock here or water. If you use just water, season generously for full flavor.
See recipe card for quantities.
Is it okay to cook with red wine?
Yes it adds depths of flavor and especially to beef. Although the wine cooks out, depending on the quantity used, you may very well still taste remnants of it.
Which wine should I cook with?
It doesn't have to be an expensive wine, but it should be bold (my suggestion) and if you can drink it, you can cook with it.
Is tomato paste important in beef stew?
The acidity in the tomatoes paste helps break down the intensity of the red wine while at the same time
Potatoes and Carrots provide a hearty and filling element that makes this stew a complete and satisfying meal.
Serve this beef stew with this Buttery Mashed Potatoes, another quick and easy IP recipe!
Instructions For Instant Pot Beef Stew
Step by step instructions with images for a homemade, dairy free, instant pot beef stew with vegetables.
Set the Instant Pot to SAUTE, add oil. The IP will read ON and you might even hear a crackling sound or two, wait for the oil the heat up. When the oil is hot, place the beef into the hot oil and don't turn it until you have a good sear. Do this for both sides. You may have to work in batches if using cubed beef pieces. When the meat is seared all round, this takes 7 to 10 minutes, remove and set aside.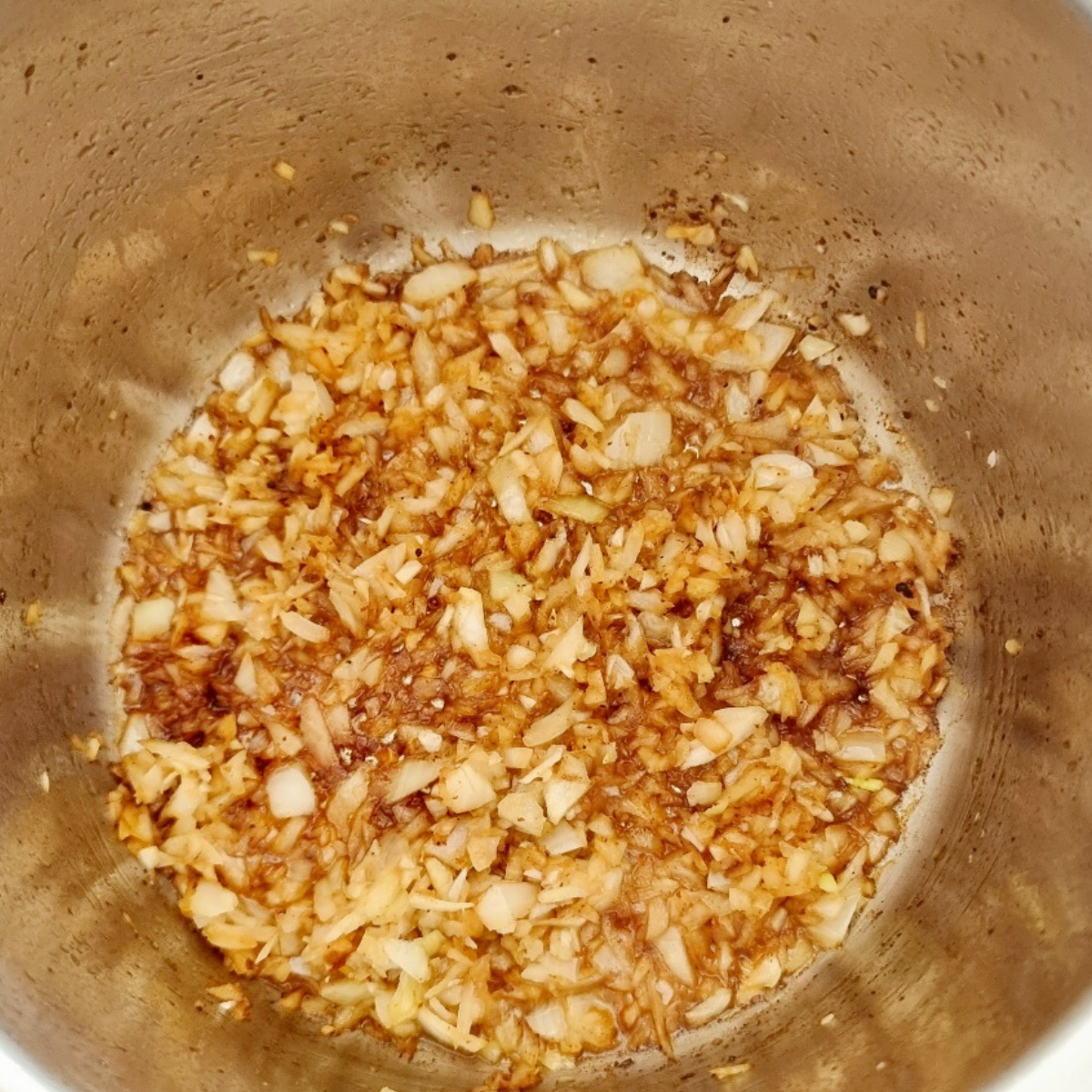 Add the onion and cook for a minute while stirring and scraping up the bits in the pot. Add a pinch of salt and pepper for seasoning before adding the butter to coat, followed by the garlic and mix it in.
Tomato paste, stir it into the onions and add half of the wine to help deglaze the IP pot. The wine will cook down quickly, so add the remaining half of wine.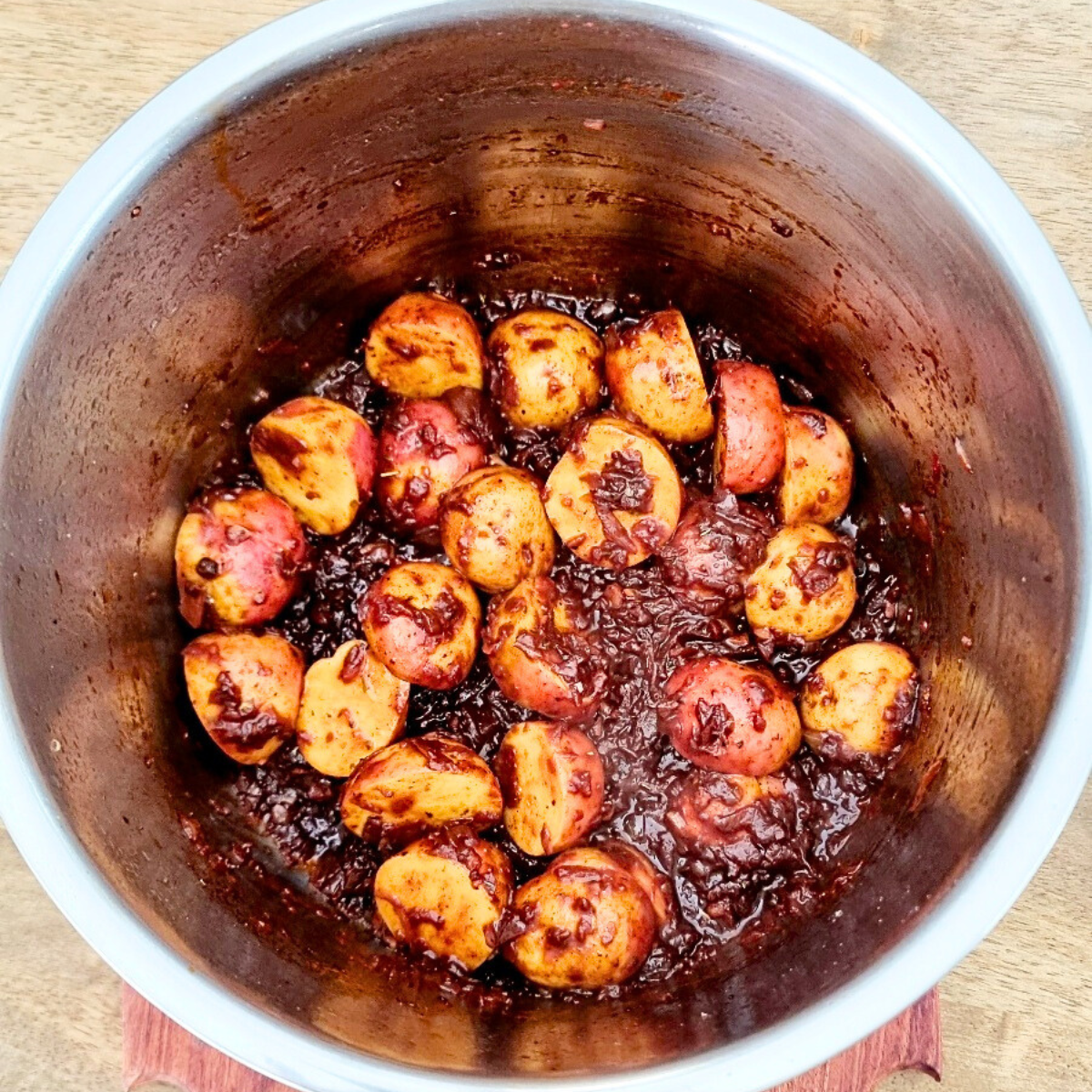 Next is the potatoes. No need to peel them and here we used baby potatoes. Mix the potatoes into the wine reduced onion mix. Season.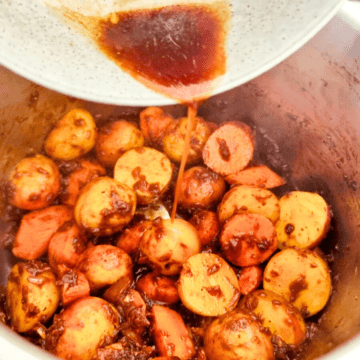 The carrots which you've cleaned and roughly cut go in. Chunkier pieces of vegetables are better in a stew so they don't over-cook. Add the juices that come from the beef while it rested.
Return the browned beef (make sure you've cut into chunky cubes), add the beef stock, seasoning and bay leaf. Season.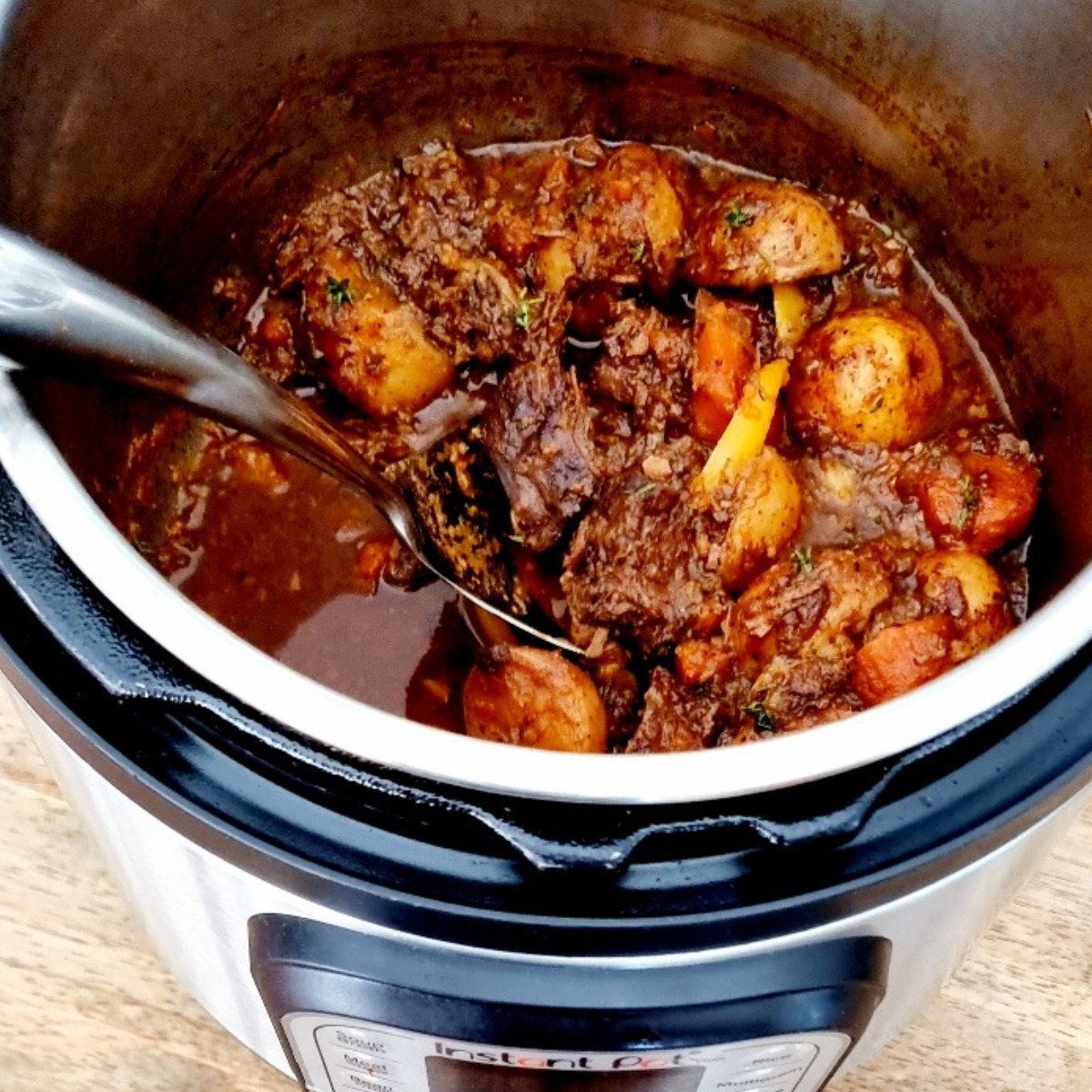 Put the lid on the instant pot, turn the valve to SEAL and set for 30 minutes on high pressure. The IP will take about 10 minutes to start. When the IP is done cooking, leave it to simmer down before trying to force the pressure out. Give it 5 to 10 minutes, turn the valve to release, it will now force the pressure out. When it stops, you will hear the PIN DROP, it's now safe to open the IP.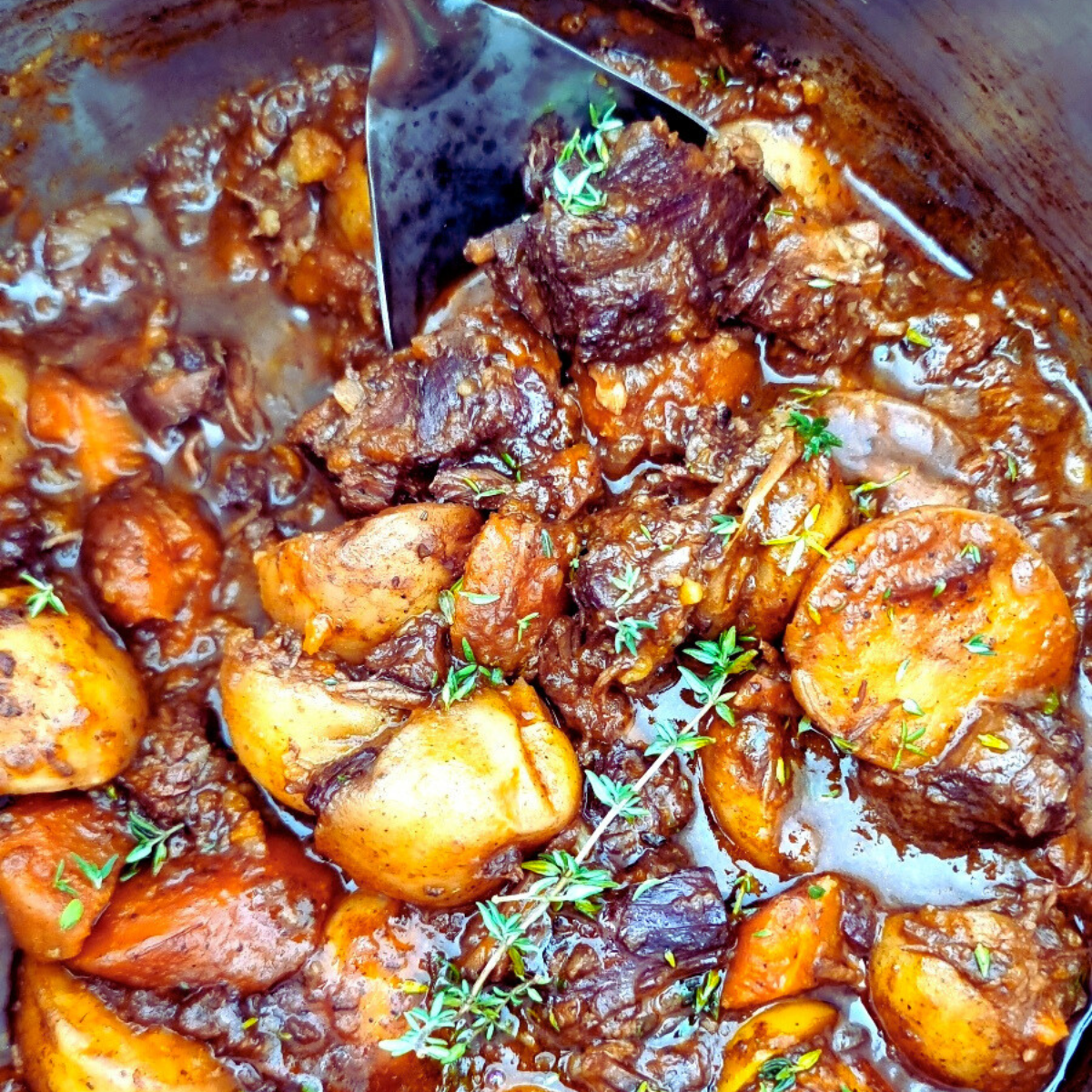 Serve this instant pot beef stew with mashed potatoes, rice, bread for dunking or use a spoon and get right in!
Hint: Just before you put the IP lid on and start cooking this beef stew, you can add a tablespoon of Worcestershire sauce for some umami stew flavor. Other options are also a dash of soy sauce, HP sauce it's entirely up to you and the taste you're going for. I left these out in this recipe for something different!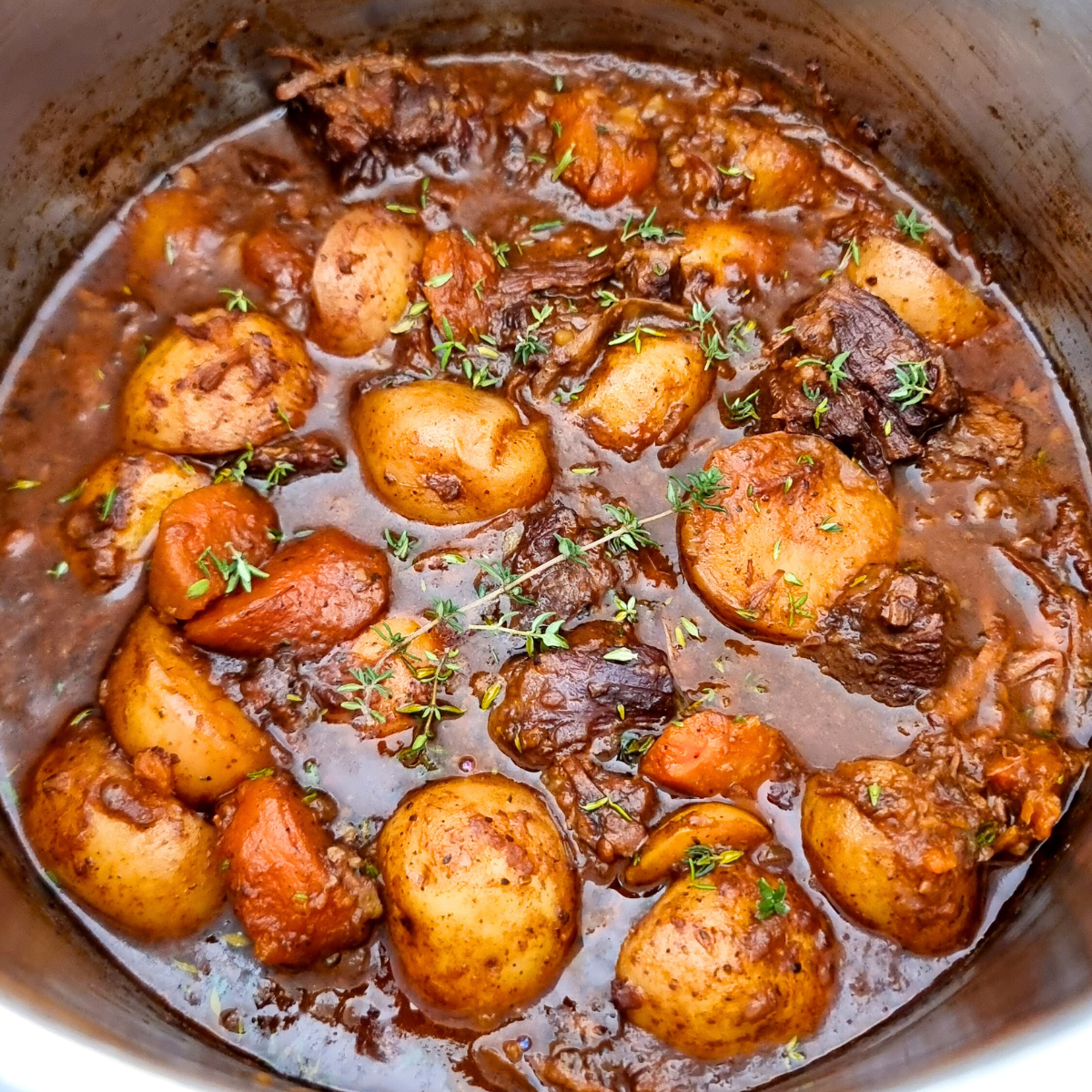 Instant Pot Beef Stew Tips
Brown the meat! Definitely brown the meat before cooking it, the flavor you get from browning you cannot get from the entire recipe. Something magical about when the beef hits a hot pan and for added measure, I add a little butter.
Is adding butter necessary while the beef is browning in oil?
Adding butter to the beef while browning, takes the flavors up a level and the 2nd reason is that it helps coat the onions, prevent them from burning and adds that extra touch of richness! It's always about layers and layers of flavor.
IP Liquid Cooking in the instant pot requires some liquid as mentioned in this IP beginner tips video but in order to cook the food you only need a little liquid. For more of a soup stew effect, increase the liquid by means of water, wine or stock.
Vegetables I think I have mentioned it somewhere in here, but incase I didnt, make sure to cut the veggies quite chunky because the instant pot pressure will smoosh them up if theyre too small. You want your veggies to still hold their shape after cooking.
Peas I did not add peas in this recipe, but when I do, I don't add them in with the other veggies, because that over cooks them. When the instant pot switches off and the beef stew is ready, open the lid and add the peas and stir. Frozen peas are best for this and they stay whole and cooked through without having to put the IP on again. Put the lid on to trap the heat, it will cook them.
Bell Peppers I've added bell peppers but in this case, once the stew is cooked, I press the sauté setting, and add the bell peppers for about a minute or 2.
What other ingredients can you add to already cooked beef stew for flavor?
I will include the ones I mentioned earlier and more;
Worcestershire sauce
Soy sauce
HP sauce
Sugar
Honey
A squeeze of fresh lemon
Spices like paprika, Italian meat rub and definitely Involtini for the ultimate umami flavors!
See this Beef Stew recipe on my website!
Equipment
Necessary equipment for this IP beef stew
Instant Pot
Tongs
Soup ladle
Cutting board
Veggies peeler
Veggies knife
Storage
To Refrigerate Let the stew cool down, transfer to a container with a lid and when it's properly cooled, transfer it to the fridge. It will store well for 3 to 4 days.
To Freeze: Always make sure that the food you're freezing is completely cooled down. Freeze in a sealable container for up to 3 months.
To Reheat: First let the beef stew come to room temp, heat it in the microwave or on the stove-top in a sauté pan, frying pan, skillet, Dutch-oven etc. and you may need to add a dash of stock or water to create a bit of sauce when reheating.
Top tip
I added fresh thyme at the end of this recipe but not while cooking because fresh herbs lose their punch in cooking. Add dried herbs for flavor in the cooking time and fresh herbs (parsley, tarragon etc) to finish in the heat of the pot. Fresh thyme is best when you sprinkle the pretty little thyme leaves on the stew for a pop of flavor and color!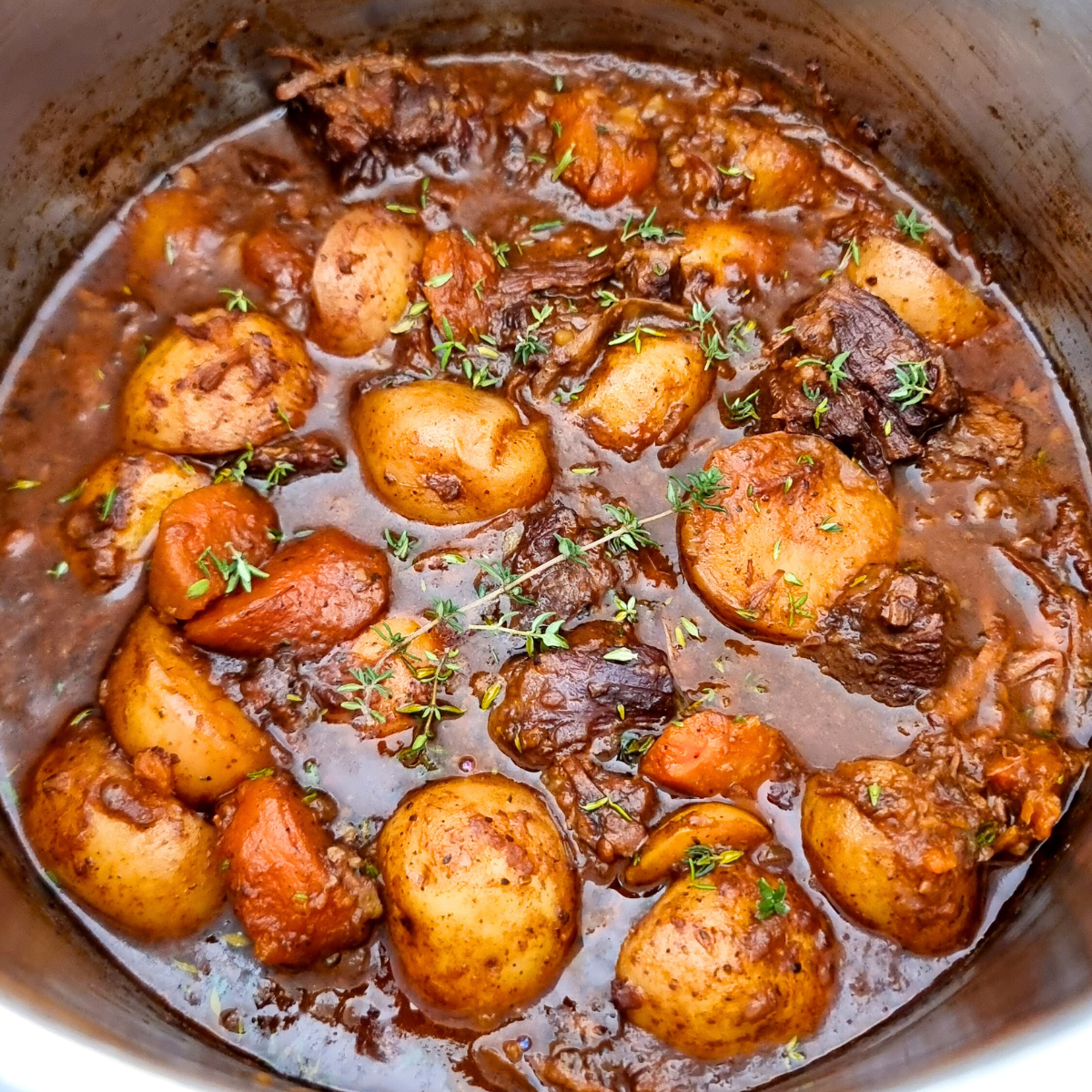 FAQ
Question 1
Can I cook beef stew in an Instant Pot using the MEAT STEW BUTTON?
Yes you can. In this recipe, I used the Meat Stew button only because I wanted to try it out since I've been using just the manual setting and HIGH PRESSURE! The meat stew setting takes 35 minutes which takes the guess work out in terms of time because when you press it, it will immediately go to 35 minutes.

The result is the same as when you use manual/high pressure setting.


Why is my beef stew meat tough in the Instant Pot?
It's best to leave the Instant Pot to release pressure naturally and not force pressure at the end of the cooking time if you want tender meat.
How long does beef stew take to cook in an Instant Pot?
If you are using the meat stew button it will automatically set on 35 minutes. If you press manual/pressure, you can set it at 25 minutes.
What's the difference in the meat stew button and the manual/pressure button on the Instant Pot?
The difference is the time which depending on what you set it at will be 5 or 10 minutes as opposed to using the meat stew button. Those 5 or 10 minutes make a big difference how soft the meat comes out, but there's a difference is tender and too soft so it will depend on what you prefer. If you want your stew with solid in tact but tender pieces then 20 to 25 minutes on the manual/high pressure setting will work. Use the meat stew button for fall apart soft meat.
Looking for more inspiration and delicious recipes?
Subscribe to my free newsletter and follow along Facebook, Pinterest and Instagram for updates
Pairing
These are my favorite bread sides to serve with this Instant Pot Beef Stew
I would love to hear from you, so if you like the recipe and try it, please rate and comment below and if you share it to Instagram, show me by tagging @anosmickitchen or use the hashtag #anosmickitchen.
Shop our online store for quality all natural spices.
Recipe
Instant Pot Beef Stew
Nothing else says comfort food in winter than stew and this Instant Pot Beef Stew ticks of all the boxes from easy, fast and delicious to cost effective and convenient.
Equipment
1 Instant Pot

1 Tongs

1 Plate/Bowl to hold the browned meat

1 Knife and cutting board

1 Kitchen tissue paper

1 Vegetable peeler

1 measuring cups and spoons
Ingredients
1

kilo

chuck flat iron steaks

2

tbsps

oil to brown the meat

2

tsps.

salt and pepper mixed

1

onion, chopped

4

cloves of garlic

28

grams

butter, unsalted or 1 tablespoon approx)

1

cup

bottle good dry red wine

3

carrots, washed, peeled and cut into chunky pieces

500

grams

baby potatoes (12 potatoes)

1

tbsp.

tomato paste

1

cup

low sodium beef broth

2

bay leaves

1

sprig

dry thyme
Slurry/Thickener
1

tbsp.

Maizena or flour

3

tbsps.

water
Instructions
Prep the vegetables
Dice the onion, mince the garlic cloves, wash peel and slice the carrots into chunky pieces and measure out a cup of peas. Set everything aside in bowls.
Measure the rest of the ingredients
Measure out the salt and pepper (or keep this jar next to you for seasoning as you go), measure out the paprika, Involtini spice, tomato paste and open the canned tomatoes.
Prep the Beef
Cut the ribs into fairly decent cubed sizes, not too small but also not overly large, removing any unwanted fat and bones. Leave some on for flavor!

Pat the meat dry, season generously with salt and pepper.
Turn the Instant Pot On
With the IP plugged in, press the SAUTE setting and wait for it to be hot, it will say HOT in a few seconds. Add the oil and give it a minute to heat up.

Brown the meat in batches to get a nice sear, don't pile the meat up, it will not sear, it will steam or boil and no browning. You can also do this step on the stove in a large pot or pan, then simply transfer the meat back to the IP in the steps that follow. Otherwise, brown the meat in batches, each batch will take 4 to 5 minutes. For a deeper sear, it will take 6 to 7 minutes per batch in the IP.

Set the browned meat aside on a plate and move on to the next step.

My suggestion is to keep the meat covered once seared and hot.
Add the remaining ingredients
Add the onion and cook for 3 to 4 minutes stirring continuously and add a pinch or sprinkle of salt and pepper. Add the butter, mix and scrape the bottom of the pan and add the garlic, cook for a couple of seconds.

Add the tomato paste and all the spices, Involtini spice, salt and pepper and paprika. Mix the tomato paste into the spices

Liquid Pour in the wine to deglaze the IP and let it cook for 1 to 2 minutes.

Add the carrots and seared meat Add the carrots, seared meat and any juices on the plate from the meat.

Set the Instant Pot to HIGH Pressure Place the lid on the IP, turn it to lock it in, check that the valve is set to SEAL and press the HIGH setting, adjust the timer by pressing the +- buttons and set to 30 minutes.

The IP will take about 10 minutes to start cooking.

Natural Release When the cooking time is finished, you will the IP beep and the pressure will begin to drop, give it 10 minutes for the natural release.

Make the slurry/thickener: Mix a tablespoon of Maizena and 2 to 3 tablespoons of water. Adjust the Maizena (flour/corn flour) and water if necessary but 1 tablespoon Maizena to 2 tablespoons of water is a good place to start. Mix it well, no lumps. Set aside for now and do a quick release on the IP.

Quick Release When the 10minutes is up you can quick release the remaining pressure by gently and carefully turning the valve from seal to VENT. If you have another 10 minutes or so, it will do a full natural release without you having to do a quick release, but both methods work.

Add the Peas When the release is done, press SAUTE on the IP and pour in the slurry, and pour it into the stew, stirring continuously, for a minute or so.

Serve Season to your taste, serve and enjoy!