Instant Pot Gammon made with a vegetable trivet and a stunning glaze! The gammon is tender and juicy and the glaze has a rich and smoky umami flavor profile that elevates both the gammon and your taste buds.
Still love oven baked gammon, they are both delicious just the timing is much shorter in an instant pot. It's so quick its hard to believe that it can be so good yet, here we are. This Instant Pot Gammon is tender and juicy, my family absolutely loved it!
It's an easy recipe but if this is the first time you are making Instant Pot Gammon then definitely read through for tips and information.
I can't say that I've eaten dry gammon, it's always been a centerpiece at our table on any given day and especially at Christmas. I love it and always make sure it's juicy, tender and delicious!
I'm in love with my Instant Pot and often say 'come here you miracle pot' because it quite literally frees up my time. Anything that you normally cook stove top or oven baked takes half the time in an instant pot. You would think that the flavors are comprised in such a short time but they really are not. In some cases, especially with meat, it's a lot more tender. I've made this comparison in my Instant Pot Lamb Shanks In A Rich Red Wine Sauce and my Braised Lamb Shanks (stove-top) recipes.
What You Will Need For This Instant Pot Gammon
Gammon: I've used a medium size of uncooked ham with a weight of roughly 1.6 / 1.7kg. Uncooked gammon is not as salty therefore doesn't need soaking the night before.
Carrots: I love adding vegetables they add loads of flavor!
Celery: You only need two stalks if they're small and one if your celery is large. Remember we have a 1.7kg gammon to fit into the instant pot so we don't want to overcrowd it.
Onion: Leave the peels on they give the stock a nice color. You discard the veggies later anyway.
You get a beautiful homemade stock from your vegetable trivet which you can use for any of your recipes that require stock.
What Is A Trivet?
A trivet is a selection of vegetables (onion, carrots, celery) which you use to elevate the meat while it cooks. A trivet is also the 'steaming rack' that comes with the instant pot. You end up with not just a delicious gammon but a beautiful stock too.
Spices: Peppercorns, fennel seeds and bay leaves.
Water or Stock: You need liquid in order to cook your gammon. Stock adds flavor to your food but you can also use water and make a new stock for your soups, meats and stews.
Glaze: Remember that a glaze can be as simple as mustard and honey, the ingredients are very versatile. Last year my oven baked gammon had a Frangelico glaze and another Christmas table gammon had a very simple glaze from the pan juices!
Instant Pot Glaze Ingredients
Muscovado sugar is absolutely wonderful in this glaze and you don't need to use both muscovado and demerara sugar, just one is good. Any soft brown sugar you can find.
Demerara Sugar Each year I use one or the other so this year I combined both. No particular reason besides a bit more caramelization.
Vino Cotto Again, I'm always trying something different and after adding this Italian condiment to my lamb shanks slow roast recipe it was not going amiss.
Sherry vinegar is necessary for a pop of taste especially because we have two types of sugar plus honey. The sherry vinegar cuts through all that sweetness adding a balanced taste.
Dijon mustard I've used non grainy Dijon mustard but if you want that grainy texture then go for the wholegrain mustard. Both work yes but I like the creaminess that the smooth mustard creates with the other ingredients. Mustard always switches up the flavor profile with a tasty tang!
Bourbon was the perfect addition to this sauce. It seemed to pull all the ingredients together and gave the glaze a rich savory sweet umami vibe. Loved it!
I'm sure you can substitute the bourbon with rum or cognac for a similar flavor profile.
Instructions For Instant Pot Gammon
Trivet: Place the trivet (wire rack/steamer that comes with the instant pot) into the inner pot of the instant pot.
Stock: Add the stock/water, veggies and spices.
Foil Wrap: Wrap the gammon in foil, it makes it easier to remove and lift the gammon when it's cooked. It also traps the moisture which makes it even more tender.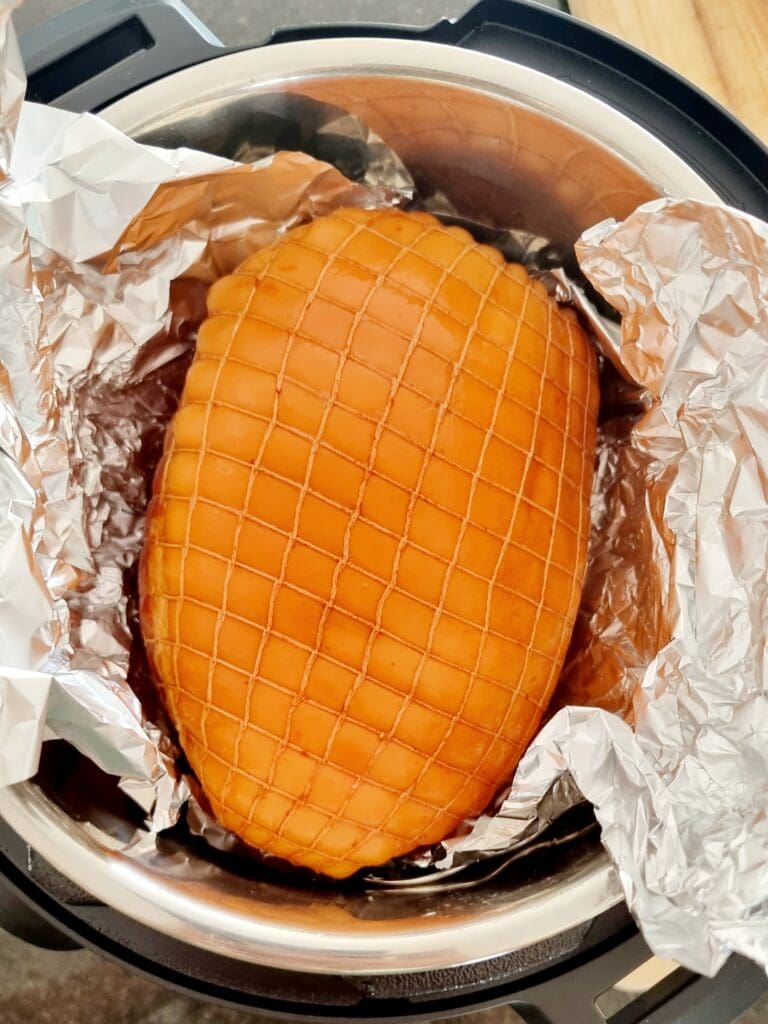 Lock and Seal
Lock in the lid with the steam release handle pointing to SEALED.
Press the manual button, adjust to the time to 5 minutes per 500 grams and leave it to start cooking. Mine was set to 18 minutes.
As long as the float valve (also known as the PIN) is still up that means your instant pot is still busy so let it be and leave it alone. When the pin drops your pot is ready to be opened. Remove the meat and let it cool down before removing the rind (skin). Watch the video to see how I remove the rind.
Preheat your oven: Preheat 190 degrees C. We need to finish off with the glaze and roasting of the instant pot gammon.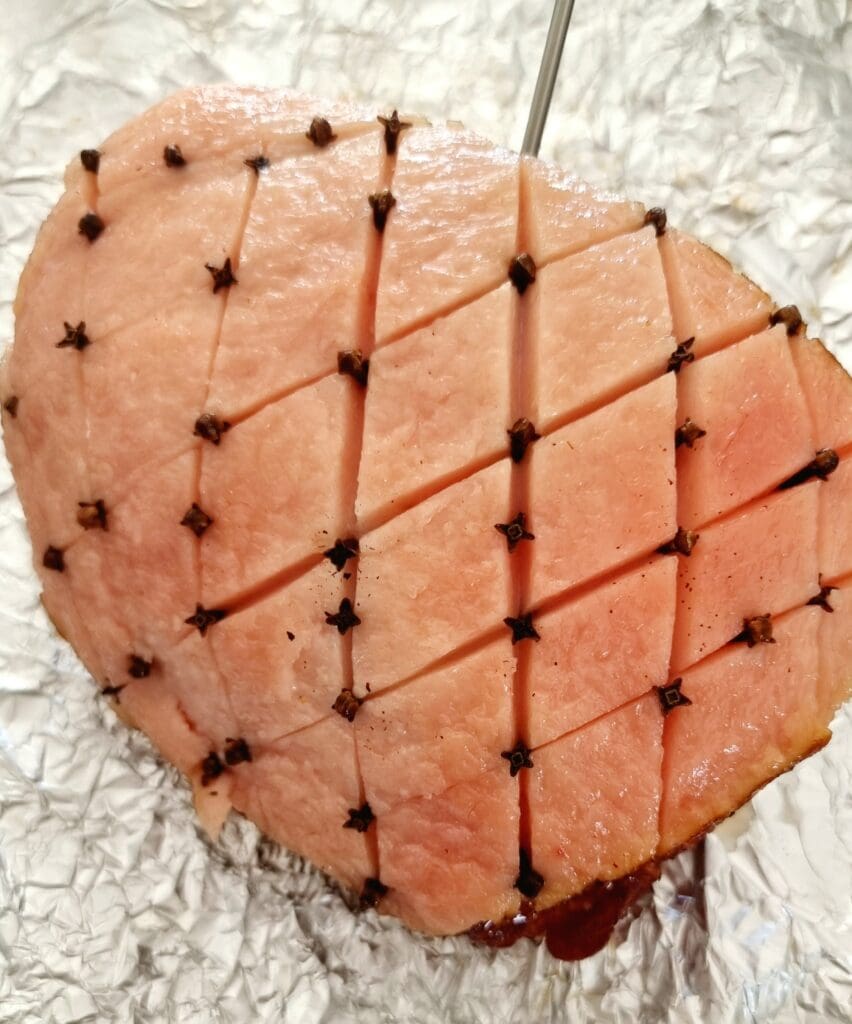 If you want to insert peppercorns place them in the corners of the diamond shapes. Some are randomly placed that's up to you. You can also make this recipe and leave the peppercorns out.
Note: You may find that the cloves are a little difficult to insert so it will take you a few minutes longer. Because we only cooked our gammon for 18 minutes plus release time its not yet ready to eat hence the meat is still a little tough. Just take your time finding softer places to insert the cloves.
Glaze: Pour the glaze over the gammon, half before it roasts and half 10 minutes before its done.
Helpful Instant Pot Gammon Tips
Gammon: I suggest using uncooked gammon if you don't want to have to have to soak it in water overnight to remove much of the saltiness. My 1.7kg uncooked gammon needed no soaking.
Is The Gammon Cooked After 18 Minutes?
No the gammon is not cooked through after 18 minutes in the instant pot but here are the reasons your gammon is the perfect internal temperature.
18 minutes plus the natural release time
oven roasting time of 30 to 35 minutes
By the time you've added the roasting time, your gammon will be an on point 63°C / 145°F temperature. That is the perfect temperature for a tender, safe to eat Instant Pot Gammon.
How Long Will Gammon Last
If you have any leftover gammon, simply refrigerate, it stays good for about three days. If it's not being used immediately then freeze it and defrost in the fridge overnight. Remember to cut it into smaller pieces when freezing so you can use what you need, when you need.
How To Use Leftover Gammon
Here are a few ideas how you can use your leftover gammon or ham, since it is ham now that it's cooked.
The best gammon sandwiches
Cheese and potato really are match, so any cheese loaded on baked potato is great!
Gammon salads are also a wonderful option
Pie crust and fill it with goodies, gammon included.
What's The Best Glaze
I'm not sure if I love the gammon or the glaze more but they are both absolutely delicious! There is not one cemented glaze recipe it's left to preference. I used bourbon. I had no idea if and how it would work when I stole 2 tablespoons from my husbands bourbon but let me tell you, everyone loved it! That smoky glaze sweet, savory and umami glaze was not to be missed.
Instant Pot Gammon Glaze Ideas
Orange or pineapple juice (because they both are fabulous with gammon!)
Recommended Recipes
If you try this Instant Pot Gammon please feel free to leave me a comment and a star rating! And if you take a photo of your dish and share it on Instagram, please tag me @anosmickitchen and use the hashtag #anosmickitchen because I love seeing your remakes! Happy cooking😀
Recipe
Instant Pot Gammon
Gammon is a true Christmas centerpiece and a delicious family tradition. This Instant Pot Gammon is made with a vegetable trivet and a stunning glaze! The gammon is tender and juicy and the glaze has a rich and smokey umami flavor profile that elevates both the gammon and your taste buds.
Ingredients
Gammon
1.7

kg

uncooked gammon

1 ½

cups

stock or water
Vegetable Trivet (and your stock for another recipe)
1

carrot, rinsed, unpeeled, stem bits removed and roughly chopped

2

sticks celery, chopped

1

onion, unpeeled and roughlychopped

1

teaspoon

peppercorns

3/4

tsp

fennel seeds

2

bay leaves

1

cinnamon stick
Glaze
3/4

cup

honey

2

tbsps

sherry vinegar

2

tbsps.

vino cotto (optional)

1

tsp

Dijon mustard

2

tbsps

bourbon (See notes below) (2 Tbsps. to ¼ cup)

1/2

cup

Muscovado sugar
Instructions
Prep your instant pot: Place the trivet (steam rack) into the instant pot. Add the vegetables, pour in the stock.

Foil Wrap the gammon in foil. Use two long pieces of foil in a cross like fashion. It makes it easier to remove when cooked.

Place your foil wrapped gammon on top of your trivet (that's the steaming rack and veggies).

Seasoning Add the spices and seeds.

Seal your instant pot Put the instant pot lid on, slide it in to hear the click sound to 'lock' your instant pot.

Set it on manual high pressure, make sure its set to SEAL and adjust the time to 5 minutes per 500 grams (my gammon was set to cook for 18 minutes). Your instant pot is ready to cook but will not show the time it until it has built up enough pressure.

When it has, the pin will drop and the time will show, in my case the 18 minutes cooking time starts.

Glaze: Make the glaze by combining all the glaze ingredients in a saucepan and bring to simmer. Once bubbly and simmering, remove from the heat. It will thicken too much if you leave it on the stove and it also thickens as it stands.

Taste and adjust your glaze.

Release pressure: When the timer goes off the time is up but don't do anything which allows the instant pot to release the pressure naturally giving you a more tender meat. This takes about 10 minutes by which time you can remove the gammon so carefully do a quick pressure release unless the valve (Pin) has already dropped in which case you can open your instant pot.

Remove the gammon with the help of the foil, set aside until properly cooled.

Preheat your oven to 180 C.

Prep the gammon and remove rind: Use a kitchen scissors to remove the string. Be gentle so as not to rip pieces of meat along with the string. Gently slide your ginger under the one corner of the gammon meat and skin (rind) and remove the rind. Again, do not rip it off or you will tear/remove the fat. Remove the rind/skin.

Use a sharp knife to score diamond shapes into the fat and push cloves into the corners of the shapes.

Oven roast: Pour half the glaze over the pork and bake for 20 minutes. Take it out, pour the remaining glaze and return to the oven to the oven to continue baking another 10 minutes until the top is deep golden brown and caramelized.

Rest and Serve: Remove from the oven and rest for 10 minutes before slicing.
Notes
Glaze
There are a number of glazes you can make depending on what you prefer.  Here are a few options;
For the bourbon, it is optional and you can use anything from 2 Tbsps. to ¼ cup! Substitute with sherry, Frangelico,  brandy, rum etc. 
Honey, a marmalade glaze, Frangelico glaze, soy glaze, mustard and honey, cranberry glaze and more. You can also add butter to your glaze for richness.
Use your kitchen thermometer to check the doneness of your Instant Pot Gammon which should read 63°C / 145°F for a safe to eat, tender gammon. 
Foil Wrapping
The reason why I wrap my foil in gammon before placing it in the inside pot is;
it makes it easier to get it out by using the end bits to lift the gammon
traps the moisture in making the gammon much more tender.