Strawberry Compote is a very easy recipe and extremely versatile. Use this recipe when making any other berry compote. It takes a few minutes to make and you can use it on so many wonderful and delicious treats.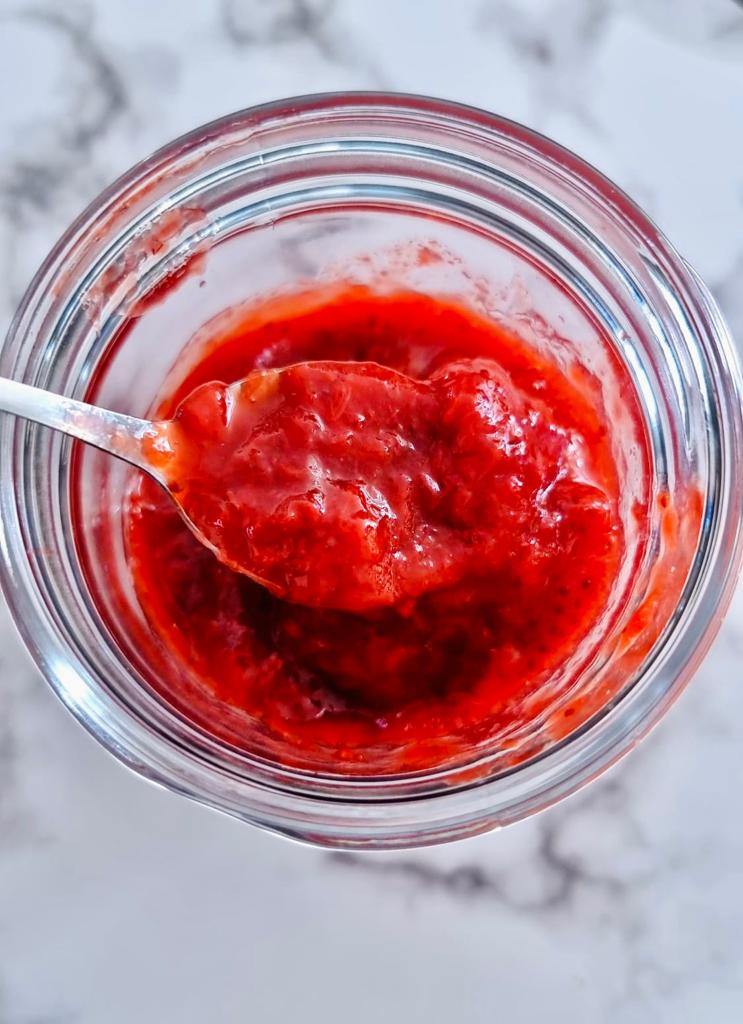 It's wonderful to find strawberry compote in the fridge, you can add it to pancakes, waffles and other pastries. My recent berry compote was used to serve with this instant gammon recipe. If you've never tried the combination it's delicious! Sweet fresh strawberries simmered down with this caramelized brown sugar glazed tender gammon, test those taste buds!
Strawberry Compote Ingredients
Strawberries: You can use fresh or frozen strawberries to make a compote. When strawberries are in season there's no question on which to use. They are fresh juicy and delicious with the best nutritional value at a very affordable price. The time to use frozen strawberries is when they are not in season. If you are using frozen strawberries, simply add straight into the pan, without any thawing.
Sugar: Regular granulated table sugar.
Lemon juice/zest: This strawberry compote needs the acidity to cut through the sweetness. Fresh lemon is always the best choice however any lemon will do. A fruit compote can also be made with fresh oranges and the zest of the orange instead of lemon.
Strawberry Compote Instructions
Combine: Add the strawberries, sugar, lemon juice and zest to a saucepan.
Simmer: Bring to a simmer stirring occasionally. Let simmer for 10 to 15 minutes.
Cool: Remove from the heat and allow to cool. Store in thw fridge in a sealable container or jar.
Tips and Suggestions
Strawberry Compote Simmer
Everyone's stove is different so regulate your stove to a low and decent simmer. The simmer should be high enough to cook the strawberries but low enough to not splatter! This way the berries simmer down gently without harsh heat and without breaking them down too much.
Strawberry Compote Consistency
You decide how your strawberry compote comes out. That's the beauty of homemade! This is how I've made strawberry compote over the years; and it goes for any berries!
Slice all fresh berries in half
Slice larger berries and leave the smaller ones whole
Add the larger berries cut in half to the pan and let them cook halfway through then add the smaller cut strawberries for last half of cooking time.
Spice things up with a stick of cinnamon and fresh lemon peels (remove after cooking). Use orange peel and cinnamon if making the compote with orange.
Want a thicker compote? Added too much liquid? Make a slurry with 1 teaspoon of Maizena and 2 teaspoons of water. Add it to the pan, stir and simmer for a thicker compote.
Serving Suggestions
Oh wow, let me count the ways! Any berry compote is a very versatile little weapon to have to serve and brighten up just about most dishes. How have you served a strawberry compote or how would you like to serve this pop of color strawberry compote? Let me know in the comments below. Here are some ideas;
How To Store Strawberry Compote
Refrigerate: In a sealable container in the fridge. I've kept my compote for up to 5 days and it was still good as new to use. After that it probably should be stored in the freezer.
Freeze: You should be able to freeze for quite a while I'm not sure because I've never frozen it. I use it up very quickly however I would suggest thawing it in the fridge overnight and into a saucepan to reheat the next day. I would also taste and add what's needed just to give it a bit of 'va va voom' again.
What Is A Strawberry Compote
A compote (it could be any berry compote) is a fruit and sugar cooked to make a sauce. When you end up with fruit pieces that have been cooked you have a compote.
A coulis is when you strain those fruit pieces you then have a sort of puree which in fruit is known as a coulis.
More Berry Recipes
Berries recipes that are simple and delicious. Fresh or frozen, simmered or not, they are always ready to make your recipe the star of the table.
If you make this recipe please let me know by leaving a comment below and if you do share your wonderful photo's on Instagram, do tag me @anosmickitchen or use the hashtag #anosmickitchen because we at The Anosmic Kitchen would love to see yours too!
Recipe
Strawberry Compote
Strawberry compote is a wonderful arsenal to your recipes. It's very easy to make and you can add it to a number of delicious treats.
Ingredients
500

grams 

strawberries , cleaned and halved

⅓

cup

sugar

1

tbsp.

lemon juice (half fresh lemon)
Instructions
Rinse your strawberries, drain off any excess water and start cleaning them. Remove the end bit and cut in half.

Cut the berries in half but leave the smaller ones whole for a more bulky texture.

Add the berries into a saucepan. Add the sugar and lemon juice. Bring it to a boil and then lower the heat to a simmer. The strawberries will start to soften and the liquid thicken, about 10 minutes.

Taste and adjust the taste. If it needs more sugar add by the tablespoon. If your compote is too thin you will need to make a slurry (1 tablespoon water + 1 tablespoon Maizena). Continue simmering until your preferred consistency.

Remove from the heat and allow to cool. Remember the strawberry compote will thicken as it stands.