I love this sweet potato chimichurri bowl idea based purely on the fact that it leaves you full of energy for the rest of the day! The combination of sliced roasted sweet potatoes drizzled over with a generous amount of chimichurri sauce and a bite of soft boiled eggs. Together with the leafy greens dressed in fresh lemon juice, flaky sea salt and cold pressed extra virgin olive oil, there is nothing better for lunch!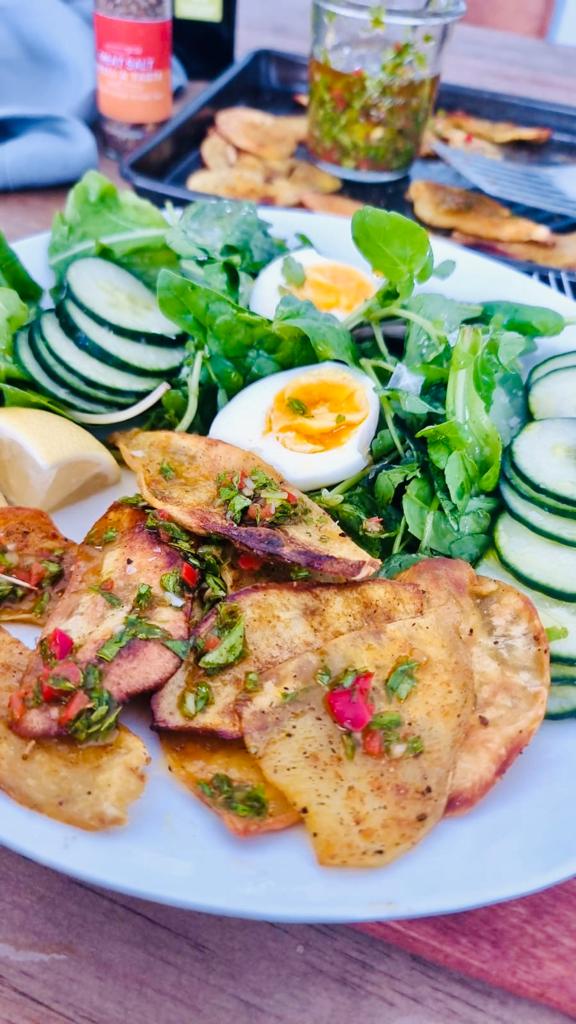 This sweet potato chimichurri bowl is the best lunch time idea! Leaving you full of energy for the rest of the day, is healthy and delicious!
There are so many healthy options that I've been making this month, with it being January and all that time to reset the body language. I am not and have never been big into any diets but choosing good quality foods and making healthier choices in eating, yes please, always.
Ingredients For This Sweet Potato Chimichurri Bowl
The benefit of healthy food is more often than not that it doesn't take you a day to wait for something to cook. The meal is always based around fresh and ready in a jiffy as in salad and salmon, fish and salad or in this case roasted sweet potato.
Sweet Potato: You can use the number of potatoes that you like based on the number of people you are preparing. I used 4 small to medium sized red skin sweet potatoes even though I was only making for myself, the rest is meal prepped.
Slice the sweet potato using a sharp big knife if your sweet potatoes are bigger or better still, a mandolin. It's so much quicker with a mandolin.
Leafy Greens: I just happened to have a mix of spinach, lettuce and herbs from my garden so that's what I used. You really can use any leafy greens as a side dish. You don't want to add a vegetable that needs cooking unless you've meal prepped it already.
However, this would be a good time to add into the oven any vegetable that you want to roast while the sweet potato is roasting.
Soft Boiled Eggs: I always have soft boiled eggs in the fridge for the whole family whenever someone is feeling peckish. This month of January has seen a lot of boiled eggs in our fridge 🙂
Herby Sauce: This is like a Chimichurri Sauce except that I used what I had. If you want my shortcut version, you can watch the video here.
And that's it!
How To Roast The Sweet Potatoes
I have a full post on Roasted Sweet Potatoes but here's a snippet in image form.
More Healthy Recipes
Grab my 5 Buddha Bowl Recipes which is part of the 3 eBooks that we give away on this blog to all subscribers.
Widget not in any sidebars
What Makes A Healthy Bowl?
It's more about the balance on your plate so good carbs, healthy fats and protein. In this bowl, we have;
Boiled eggs: Protein (if you need a larger portion, naturally add the amount)
Sweet Potato: Healthy carb
For the healthy fats, you can use avocado or nuts such as almonds, pistachios, and walnuts
In this recipe, I would normally add sunflower seeds and pumpkin seeds or toasted almonds but having them later as a snack is also an option.
Make Ahead Bowls
That's the best part of this bowl (besides the energy for the rest of the day!) is that you can roast the sweet potato, let it cool down and store in a sealed container in the fridge.
Sweet Potatoes
Sweet potatoes last a good few days (3 to 4) and it's a quick snack. They are extremely good for you, fiber rich, potassium and Vitamin A and they serve well with eggs for the protein.
Looking For More Recipes?
Subscribe to my free newsletter and follow along Facebook, Pinterest and Instagram for updates
Shop our online store for quality all natural spices.
OH and please, before you make this – Please leave a review and rating letting us know how liked the recipe, helps this blog provide more free recipes.
Recipe
Sweet Potato Chimichurri Bowl
This sweet potato chimichurri bowl is the best lunch time idea! Leaving you full of energy for the rest of the day, is healthy and delicious!
Instructions
Preheat the oven to 200 degrees C.

Bake for 30 minutes flipping half way through.

Prepare the eggs by bringing a small pot of water to boil. Once boiling gently lower the room temperature eggs into the water and let them cook for 12 minutes for hard boiled eggs and 6.5 minutes for soft boiled eggs.

Prepare an ice bath for the eggs once they are finished boiling,

Prepare the sweet potato chimichurri bowl by serving the roasted sweet potato, leafy greens, boiled eggs and chimichurri sauce in a bowl or plate.