This charcuterie fruit platter is here to make you fall in love with the power of fresh, healthy seasonal fruit! You know I'm an all or nothing human about color and flavor on food so right now my taste buds are very happy.
This fruit platter captures the true essence of taste with each bite having a different sweetness.
Whether your idea is a smaller more simple platter or a show stopping adornment of fresh seasonal fruit, it will still sufficiently impress your family and most certainly make you smile too😊 This Breakfast Charcuterie Board and this Italian Antipasti are some of platters I've enjoyed sharing here on the blog.
Making a charcuterie fruit platter is a wonderful way to use any seasonal fruit piled high or not, served on a platter with a dip or as a refreshing bite. It's colorful, fresh and a lovely way to either entertain guests or for your family to graze, on a warm summers day.
You don't need loads of fruit to make a charcuterie fruit platter, even a few ingredients can make a statement. Adding just one dip can already elevate your platter and add another dimension of zing to the taste.
When To Serve A Charcuterie Fruit Platter
The best time to serve a fruit platter is when you have all your seasonal fruit stock and are able to serve it immediately while the fruit is at it's most fresh. If you are serving summer fruit, you can take it our for breakfast or brunch since it requires no cooking.
What Fruit Goes On A Fruit Platter
There are so many varieties of fruit to choose from but the best is using only seasonal fruit. You get the highest form of nutritional value when the fruit is at its peak and has had minimal time from harvest to your table.
You can encourage a world of communication by presenting food that says 'wow' with ingredients that are simple, fresh seasonal and creative.
How To Make A Fruit Platter
This fruit platter is small and was just enough for the occasion, however, regardless of the size, your fruit charcuterie platter is always a great idea.
Pick fruit that is seasonal. It's no use paying an exorbitant amount for fruit that has less nutritional value for your family. When you buy in season, there's a shorter amount of time between harvest to your table, the prices are great and they even look more fresh!
Color. I cannot emphasize enough on how colors play a part in presentation unless you want a platter with just red fruit on, strawberries, cranberries and raspberries.
Wash. Rinse your fruit in a colander and let them drip dry. Fruit like raspberries don't get washed or you ruin them and ofcourse pineapple (goes without saying).
Cleaning. You don't always have to nip off the ends of the strawberries, sometimes they can come in handy for ease of serving.
Platter. Serving on a platter rather than a plate gives you the freedom to arrange without the fruit looking awkward🙈 It's okay to want to get a lot onto the platter, that's fine, just make sure you arrange it in terms of color, size, shape and texture. Don't ask me to elaborate here, you know when things don't look right 🙂
Fruit Platter, What Fruit Works
First off, you can use any fruit that's in season. There are some fruits that work incredibly well in terms of what we have mentioned like color, size, texture etc. like these;
Pineapples - Because of their size, they are a great foundation incase you want to scoop out and fill the base. You can use the inside or any left over fruit in a smoothie. If you working on height then this is a fantastic fruit to
Pawpaw - These are gorgeous, halved and you can arrange other fruits with it like kiwi and pineapple. Yes I know that I said you can add anything but it's always nice to have some kind of theme.
Apples - Not a great idea, they turn brown quickly and there's the dilemma of to peel or not to peel and it could be stuck in people's teeth too, no please. You can add some fresh lemon but that won't stop them from turning brown trust me.
Oranges - As much as these have color and zest they can be quite messy if not cut properly! Rather leave the peels on and provide a small side dish for peels. Always serve your platters with forks or teaspoons that you think will be needed.
Save the napkins and use disposable serviettes for a fruit platter! There are some very pretty ones too, you can even color code it with your fruit.
More On The Fruit Platter
There is such an enormous amount of fruit to choose from it's wonderful! Here are few more ideas.
Figs - Oh they are beautiful and on a platter they just might steal the show when cut in half to show off their stunning color.
Cherries - So special for a platter over Christmas. The robust red is everything and their sweetness is quite unique. Have a small bowl for pips.
Cranberries - These are not always easy to find fresh depending where you are, but make a stunning addition.
Edible flowers - Although the platter has loads of color already, it's amazing how edible flowers can add their own pop of color and beauty.
Fresh Herbs - Always. Mint and rosemary in particular but....fresh basil if you grown your own, make the most stunning little tiny flowers on them. That and chives (my favorite) especially when they flower those lilac petals, so gorgeous.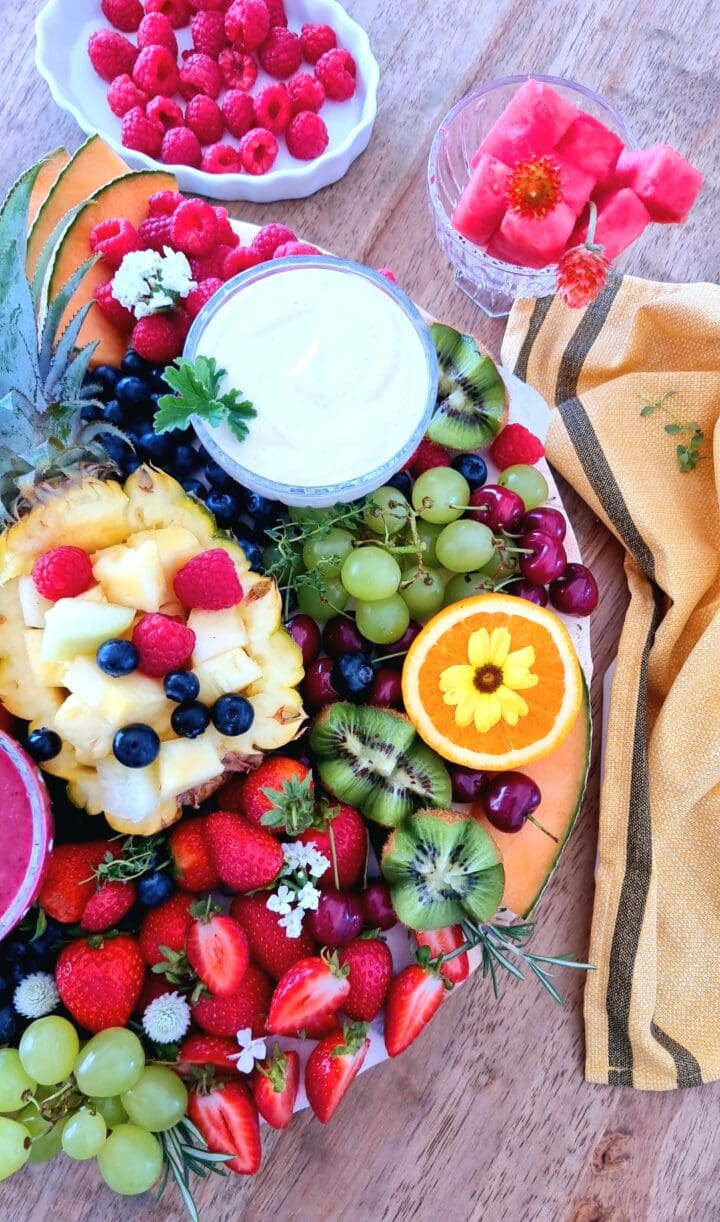 Tips and Suggestions
I think I've shared all that above in the post, but there's always room for more!
If you have already made my cranberry sauce, then serve it with the fruit in a small glass, teacup or bowl. If you prefer something less tart and more light for summer then yogurt and sour cream. You can also take a look at this dip collection.
Always add teaspoons, cake forks, empty bowl for pips and serviettes with your platters.
As mentioned above that apples are not a good one to add but that doesn't mean you don't have to add them. Leave them whole on the board and bring a bowl for peels.
Remember that there all sorts of gadgets you can find to cut your fruit fancy. You can find them in those shops where you find just about anything, and they are surprisingly very cheap. So next time you visit your favorite place look out for them.
Just because you buy an apple corker doesn't mean you must only use it for apples, experiment. I use mine for cutting fruit designs, just don't push it all the way down.
Strawberries, if you are not planning on using the fruit platter immediately, don't wash the strawberries or they go limp and lose their plumpness.
Fruit Platter Storing
You've gone to all the trouble of making this grand fruit platter, you should try and serve it immediately while everything is still fresh. However, I am fully aware of life, so, if you end up with only being able to serve it later or have lots over to store, let me share.
This is largely dependent on the type of fruit you have used, because a small platter like my strawberry and grape one makes it easier to store. The platter is small so you can slide it in over everything else in the fridge on the top. The further up you go in the fridge the colder it is. Actually it depends on the fridge type. If it's an ice maker for example then the coldest section would be further up.
I knew that we wouldn't be able to finish the fruit at one time since it was served with other foods. Leaving them whole was purposeful. When the fruit is whole, it makes it easier to store.
Storing on Ice and Packaging
Fill a large tray with ice, place your fruit platter over the ice and cover loosely with foil until you are ready to serve.
To store any unused fruit, keep in fridge containers. Again, me with my cheaper shops, you find really nice storage containers that have self drainage. They also compact because you can find ones that have two different compartments (so you don't have to mix the fruit).
Next time you out shopping, bear those tips in mind to help you choose the correct storage containers. Look for small and compact, with loose fitting lids, flat lids, same size containers so they pack on top of one another.
Naturally, most fruit like berries and grapes are sold in soft packages that already have holes underneath for drainage, so use those too.
Other than that, relax and enjoy your wonderful fruit platter and don't forget to show us your photo's if you post to Instagram. Use @anosmickitchen and the hashtag #anosmickitchen
looking for more recipes?
Subscribe to my free newsletter and follow along Facebook, Pinterest and Instagram for updates
Shop our online store for quality all natural spices.
A charcuterie fruit platter is a healthy and beautiful way to showcase all the seasonal fruit available. Learn how to create your display.
More Charcuterie Boards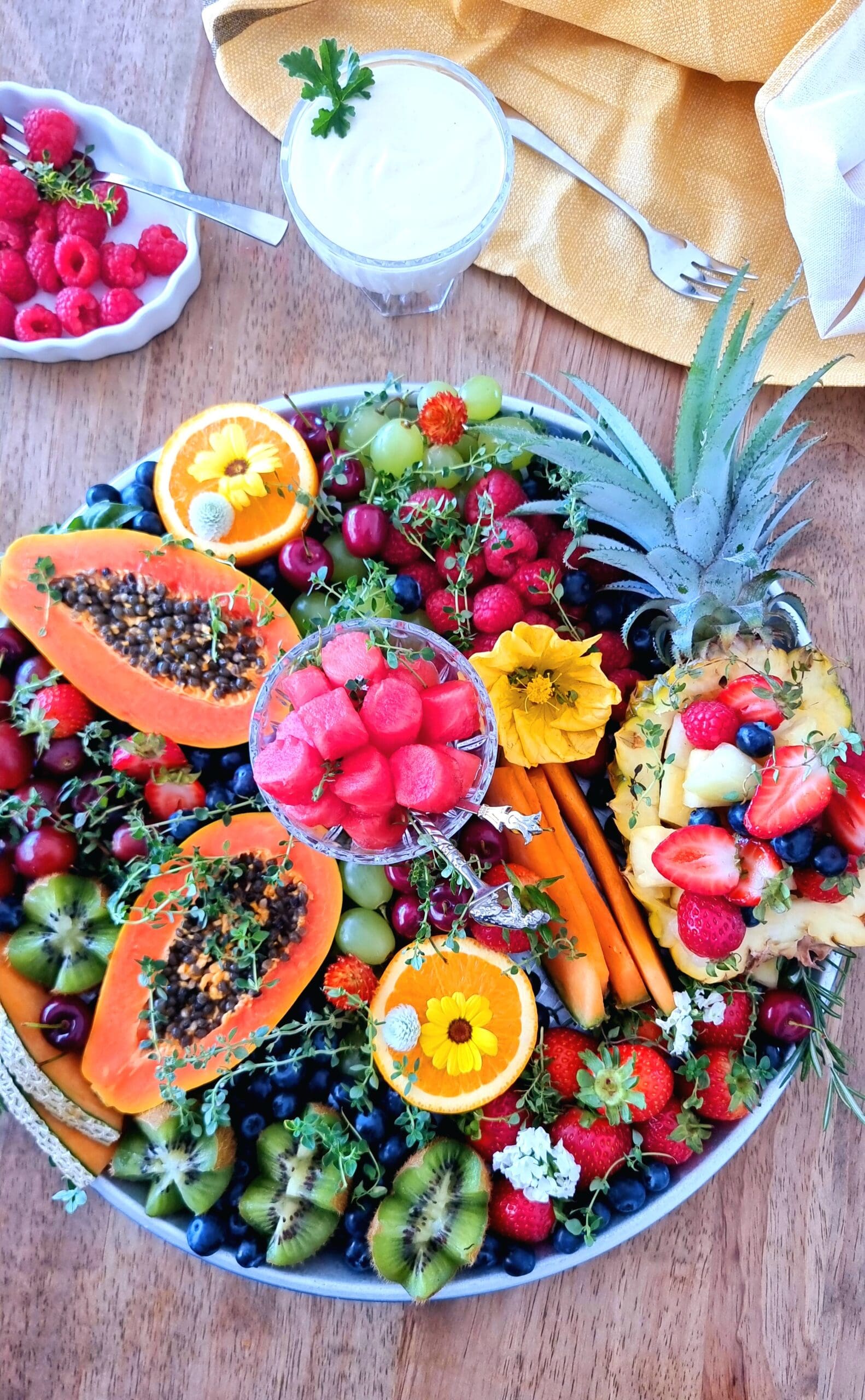 Let me know if you make this Charcuterie Fruit Platter by commenting below, your star rating is most appreciated and ofcourse, let us see by using @anosmickitchen in your Instagram post and the hashtag #asosmickitchen
Recipe
Charcuterie Fruit Platter
Seasonal fruit for any occasion that makes a stunning selection the centerpiece of your table.
Ingredients
pineapple

watermelon

kiwis, halved, sliced or shaped into flower patterns

strawberries

blueberries

raspberries

cherries

grapes

pawpaw

fresh herbs and flowers to garnish
Instructions
Slice the pineapple in half and scoop the center out or use a small sharp knife to cut squares and then scoop them out so you can fill them back into the pineapple. Place the pineapple on a large platter, tray or board.

Wipe the kiwi fruit before using to remove any unseen dirt or bugs. Slice the kiwi with or without the peel ( it's edible). You can also cut flower shapes into it.

Cut the strawberries in half and leave some whole, leave the green tops on for ease of serving. Cut and shape all the fruit accordingly.

Slice the pawpaw in half and place onto the board first with the pineapple.

Decorate your fruit on your chosen platter, tray, cake stand or board. Use the pineapple pieces that you cut out to fill it and keep adding the remaining fruit around the larger pieces making all the fruit visible. Use the blueberries or grapes to fill the holes in between.

Try to keep colors and textures coordinated (whatever is pleasing to your eye) and don't forget to add edible flowers and herbs.