When it comes to easy eats this Italian Antipasto Charcuterie Board is the perfect way to pull everyone together. There's something very relaxing about an antipasto board and we've been thoroughly enjoying them! This Italian Antipasti featured roasted peppers whereas this is more of a fruit, cheese and crackers board.
Antipasto - For the love of Italian food an antipasto is still a gorgeous traditional appetizer! The presentation is always elaborate irrespective of how many cured meats, olives and artichokes you have on your platter. These ingredients 'sell themselves' so to speak so regardless of size an antipasto will always impress your family and friends.
If you want to know the difference between an antipasti and antipasto board you can read this Italian Antipasti post. The difference between an antipasto and a charcuterie-board is as 'close knit' as the former. An antipasto board shares cheese with a selection of cured meats whereas a charcuterie board doesn't have meat on. No one's calling the officials so we calling this an Italian antipasto charcuterie board!
How To Make This Italian Antipasto Charcuterie Board
Here's the best part - it's EASY! Maybe to make but not so much to say so let's say it together 🙂 CHARCUTERIE BOARD - SHAA-KOO-TUH-REE
So much easier to say Italian Antipasto rather than the French of Charcuterie! To make it even easier for you, you can listen to the pronunciation here. Look how much I love you even giving you the link for pronunciation, right?
Right, Let's Make The Platter...
Start by collecting a variety of cold meats or cured meats more specifically, olives, cheese, fruit, crackers or bread. You can also add some bowls with dips, cream cheese and herbs.
Meats: A selection of cured meats such as prosciutto, salami, parma ham and coppa
Cheese: You can go with slices, cubes or wedges of Parmesan. My personal favorite is fresh mozzarella balls and bocconcini. I like to flavor my fresh bocconcini with herbs, spices and seasoning.
Olives: I like the black and green olives coated in some olive oil, herbs and spices.
Vegetables: My families personal favorites here are marinated artichoke hearts, sundried tomatoes, cherry tomatoes and red bell peppers.
Bread/Crackers: Here you can use a variety of breads and crackers, the options are many. Ciabatta, breadsticks, baguette, bread sticks, crackers, melba toast, olive bread sticks and crostini.
Mixing Things Up
Mix things up with little forks, teaspoons, dips, serviettes and side plates for serving. As mentioned in this Breakfast Charcuterie Board always have some teaspoons or forks for serving.
For that extra measure add some shaved almonds, pecans, pistachios or any seasonal fruit like blackberries, blueberries, strawberries, raspberries and even figs!
The recipe card below will only give you suggestions on quantities but it really depends on how many people you are serving.
All you need is fresh fruit so go with what your season is offering to get the best nutritional value. Add a couple slices cold meats, olives, crackers, nuts and bread and to start. You can always add some of your own preferences as long as you keep the theme of a board. So if you're making a breakfast board perhaps keep the croissants and jam there.
The Display
As you know if you follow me here or on Instagram that it's all about color, texture and vibrancy. A variety of foods that can offer all of these since we eat with our eyes first.
The more variety a board offers the better. Sweet, sour, salty and savory, with soft, creamy cheeses is great. Types of bread and crackers, flavored crackers are also a wonderful addition.
With the meats it's always best to roll or curl them for serving, it makes it easy to take one. If your board is small you can also cut the fruit although I prefer leaving it whole if possible. When it comes to the little things like olives, sundried tomatoes etc. use little bowls for the juices. The olives can be added randomly.
If you love this board don't forget to leave me a comment below! You can also tag me on Instagram #anosmickitchen if you make it. I love receiving photos of your stunning creations❤️it always warms my heart so thank you!
Related Recipes
Nothing more impressive than an Italian Antipasto Charcuterie Board! Make it as small or big as you want, it's always a moment of AHA when it arrives.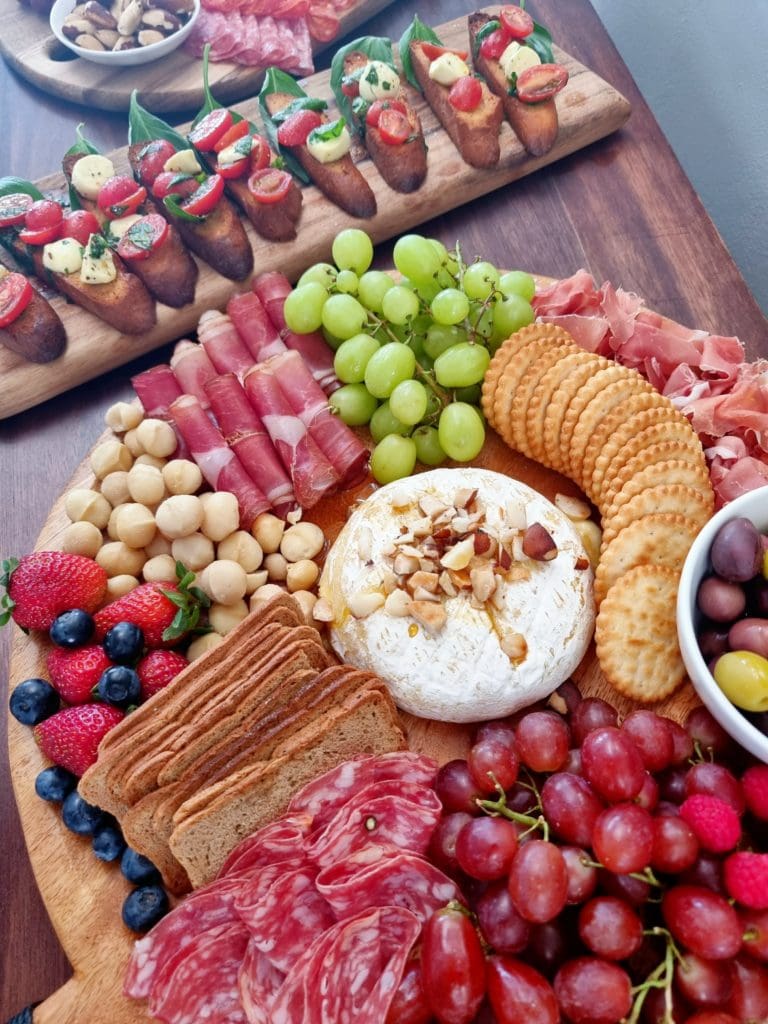 Make Ahead
Over the holidays when there are so many other roasts and side dishes to be made the only you need to be doing is everything in advance. That's easy to do with this platter. Simply prepare all the ingredients onto the board or platter, cover and leave in the fridge. If there are any crackers or bread on your platter, leave those until just before serving. Remember to remove the platter from the fridge at least 15 minutes before serving. I would suggest preparing the platter a couple of hours before serving and not a day in advance.
Hungry For More?
Take a pic and hashtag it #anosmickitchen I love to see your food creations!
Feel free to leave a comment and rating below, you're always welcome😊
Appetizer Options
Recipe
Italian Antipasto Charcuterie Board
Make it small or big, loaded or not, there is simply nothing more impressive than an Italian Antipasto Charcuterie Board or Italian Platter. There are a number of ingredients to add and this recipes shows a few ideas.
Ingredients
Meats
100

grams

Salami

70

grams

Prosciutto

70

grams

Coppa
Cheese
250

grams

Bocconcini

200

grams

Parmesan

200

grams

Mozzarella
Fruit
250

grams

Strawberries

250

grams

Blueberries, raspberries or blackberries

500

grams

Grapes (mixed colors)
Pickles and Others
275

grams

Olives (drained)

100

grams

Sundried Tomatoes

100

grams

Artichoke

250

grams

Crackers

20

grams

Fresh basil

100

grams

macadamia nuts

100

grams

cashews or pecans or pistachio
Instructions
Rinse the berries, strawberries and grapes. Shake or drip dry..

Place the fresh burrata on a colander/strainer to drain the water out.

Slice the mozzarella cheese and roughly cut the parmesan cheese.
Arrangement
Place the cheese slices on opposite sides of the tray and the fresh burrata on top of some fresh basil.

Add the sundried tomatoes and the artichoke into smaller more flat bowls and place them randomly on the platter. The bowls hold their oil from the bottle and they don't dry out and it keeps your board nice and clean.

Now place the rest of the ingredients randomly across the platter. You can serve the olives in a bowl or not.

Mix the berries for a bit of diversity, an extra basil leaf on the cheese in the center, crackers in different positions and roll up the meat.

Enjoy!
Nutrition
Serving:
1
person
Calories:
316
kcal
Carbohydrates:
18
g
Protein:
8
g
Fat:
26
g
Saturated Fat:
5
g
Polyunsaturated Fat:
5
g
Monounsaturated Fat:
15
g
Trans Fat:
1
g
Cholesterol:
10
mg
Sodium:
316
mg
Potassium:
418
mg
Fiber:
4
g
Sugar:
6
g
Vitamin A:
281
IU
Vitamin C:
6
mg
Calcium:
125
mg
Iron:
2
mg