Christmas is such a special time of year celebrated by way of tradition and culture. As with most celebrations food is the connecting festivity and nothing says it better than a beautiful roast stealing the show. This easy gammon recipe is all prepared in an oven tray. Starting on a low simmer and finishing with a sweet velvet Frangelico glaze. It is a fine and delicate tasting glaze and the gammon is moist and tender.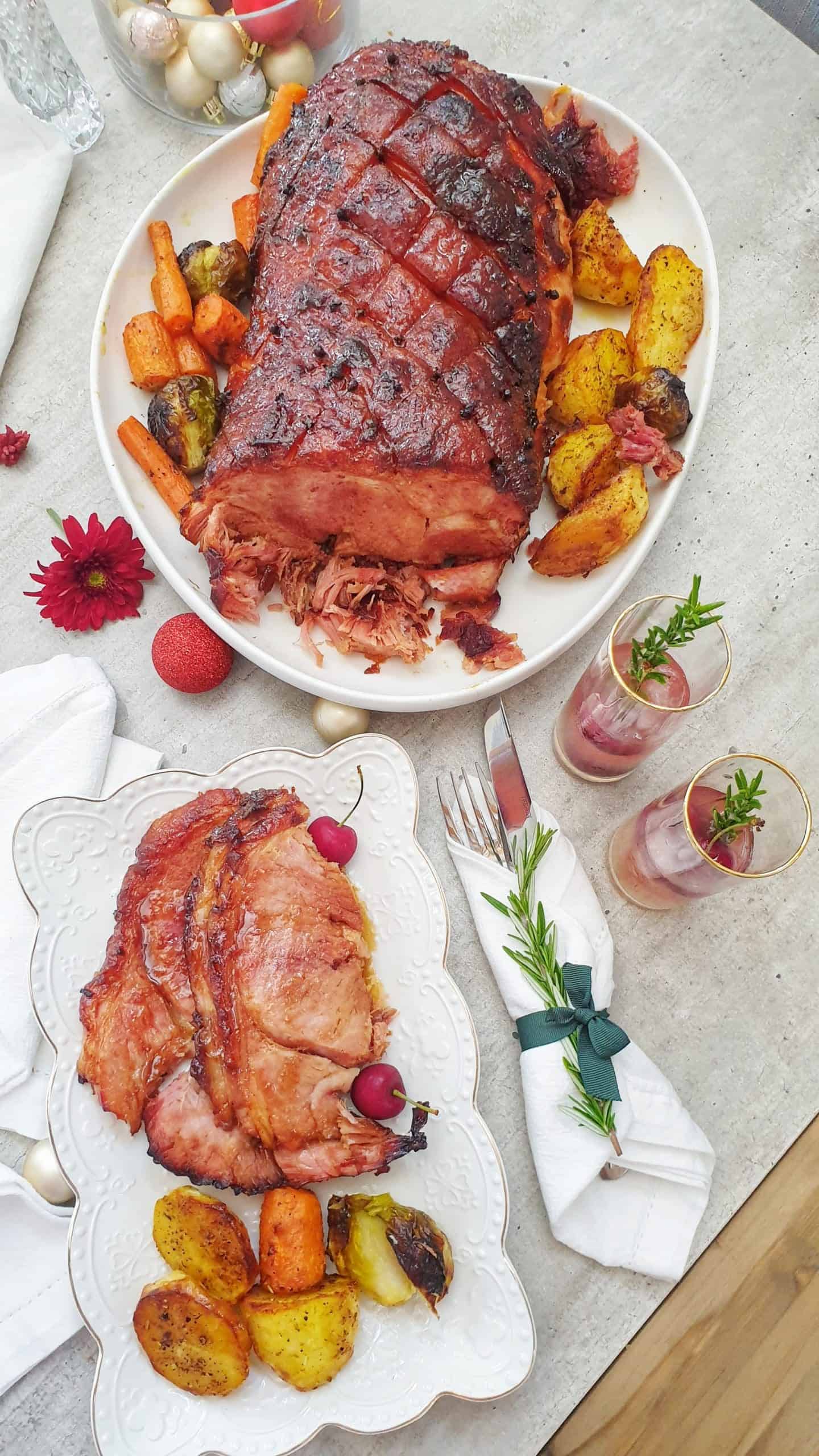 HOW TO MAKE THIS EASY GAMMON RECIPE
This gammon can be served hot for Sunday lunch or you can serve it cold with a salad. It's not only for Christmas day even though we make it just on Christmas day! It also makes the best sandwiches the next day or the day after for you don't feel like cooking after a big Christmas lunch.
WHAT TO SERVE WITH gammon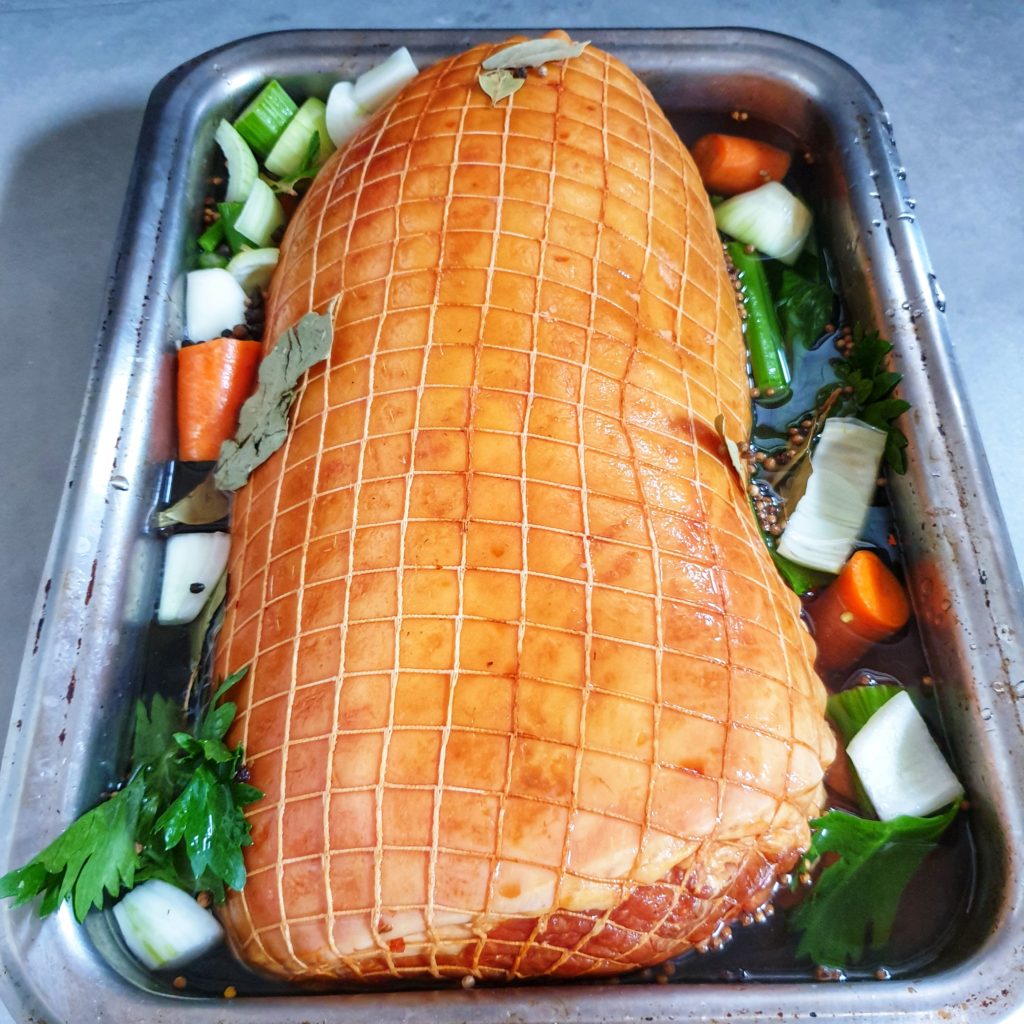 EASY GAMMON RECIPE
I know that if you have not cooked a gammon before it might look intimidating but don't let it be because its actually quite simple. Once you have washed and roughly chopped your veggies, add them into the oven tray. Add the coriander seeds, peppercorns and bay leaves. Pour in cold water, enough to just cover the sides or as much as you can get in.
WHAT TYPE OF OVEN TRAY TO USE
My suggestion would be for you use your favorite oven tray. Yes there are many fancy new types of trays but this is not the time to trying anything out for the first time trust me. The pan in this recipe is one of my oldest and dearest. Let me mention that I got this from my mom, yes - it's old but there is non to compare. You want something large enough to hold your gammon and your veggies which of course doesn't seem to be the case here but it all fits. A little bigger would've been ideal but as long as you can get the vegetables, spices and water in you're good to go.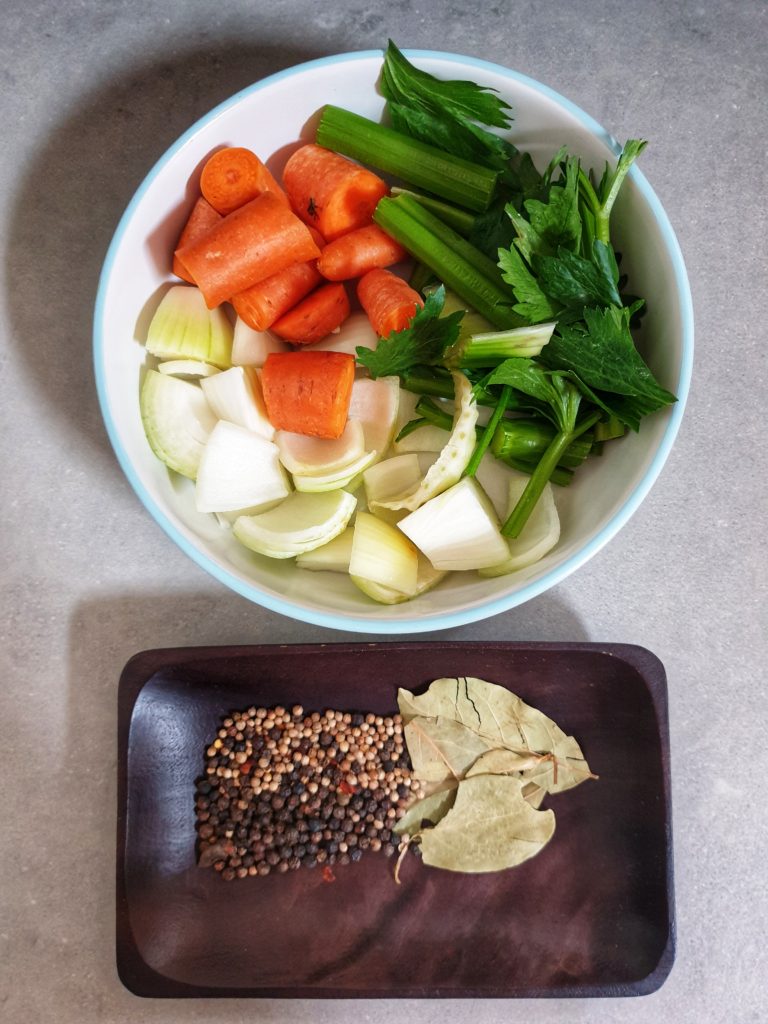 SHOULD YOU COOK THE GAMMON ON THE STOVE OR IN THE OVEN
To be honest it doesn't matter if you cook the gammon on the stove in a large enough pot or you cook the gammon in the oven, the most important thing is that you don't overcook it because you don't want it rubbery. The second most important factor here is that you never boil the gammon always simmer or it will be hard.
Do not boil your gammon rather simmer so it tenderizes and remains soft and moist
Cooking it in the oven or on the stove - both are good
Simmer with veggies, let it cook, remove net, cut diamonds shapes and add the cloves
A FEW REMINDERS
While the gammon cooks leave the net on, it helps hold the shape of the gammon
Allow the gammon to cool after the allocated simmering time, it will be too hot to remove the net
While the gammon is cooling you can start on your easy glaze
Once cooled, use a scissors to gently remove the net and discard the net
Gently slide your finger under the rind (skin or fat if you like) and pull back to remove the rind (it's very easy to come off ) - discard the rind or see this post on what you can do with the rind
You are left with just a layer of fat on the gammon now, wonderful, lets get creative!
Use a sharp knife to cut diamond shapes into the fat
Add all the cloves. Try and get them into the corner of each square (for pretty gammon presentation)
Using a ladle, scoop the glaze or pour or use a brush whichever works for you.
Cover the gammon in a thin layer of glaze and then keep repeating every 10 to 15 minute intervals while roasting
what else do we need to do to this easy gammon recipe
Cloves, cloves and cloves, you honestly just need a few to get into the fat of the gammon and if you don't like the cloves then leave them out but they do look rather pretty. Don't worry you dont end up chewing cloves. I read somewhere 'I don't want to end up with cloves in my teeth' seriously people, there are bigger problems in the world but more importantly if you like cloves and are going be using them here are my 2 simple tips;
Don't over pile them on, you just need a few in the corners of the squares or diamond shapes
You must bake the gammon on low heat or the cloves will burn then you to remove them before serving or remove them, bake and return them which sounds complicated so lets go with the low heat roasting
EASY GAMMON RECIPE - GLAZING TIME!
Get the glazing ingredients into a saucepan, bring to the boil, simmer until thick and then gently pour over the gammon.
I have made so many different types of gammon glaze and this is by far the most simple. I always like to make a little more of the glaze because I love it and am always afraid of running short. In the case that this ever happens to you that you don't have enough glaze, fear not because it's so quick and easy. While the gammon is baking with the 1st or 2nd baste you can quickly put together another batch because its that easy however, if you follow the recipe below, it will work out enough depending on the size of your gammon ofcourse.
resting the gammon
There's always this dilemma to rest the roast or not and not just this gammon recipe, but any roast. I have never understood why it's a dilemma when so much else can done in the same time. Regardless, leaving it for at least 20 minutes allows the gammon to keep moist and tender.
ROAST MEAT RECIPES
Recipe
EASY FRANGELICO GLAZED GAMMON RECIPE
Easy Gammon recipe! An incredibly fine and delicate glaze made with Frangelico. This recipe is all done in an oven tray, from a low simmer on the stove to oven roasting finishing with the glaze. Soft and tender meat roast.
Ingredients
5

kg

deboned gammon (soft, no bone)

cloves (purely decorative and presentation)

1

stick

celery, stalk and leaves, rinsed

1

onion, roughly chopped

3

carrots, washed, ends cut off, roughly chopped

coriander seeds

peppercorns

dried bay leaves

water
GLAZE
200

grams

muscovado sugar

2

tbsps

honey

1

tbsps

Dijon mustard

⅓

cup

Frangelico liquor
Instructions
This is a stove top cooking method. If you want the oven cooking method please see this recipe here.

Add the gammon and all the rinsed and roughly chopped veg, seeds, peppercorns and bay leaves into an oven tray.

Top everything up with cold water and place it on the stove top on high heat, covered with foil.

Once it starts to bubble, drop the heat down to a simmer, medium to high simmer. Just not boiling.

leave it to simmer for 2 hours, adding more cold water as it simmers. The foil should be left on for the first hour of the cooking time. Thereafter, remove and continue simmering for the remaining hour, hour and half.

Remove it from the pan and place it on a platter or board to cool down completely.

Heat the oven to 160 degrees Celsius for the gammon to bake.

Meanwhile, make the easy glaze for the gammon by heating a saucepan and adding all sugar, honey, mustard and Frangelico. Bring to a boil and then drop to a simmer and leave to simmer for about 15 minutes.

Use a scissors to cut and gently remove the net to discard it.

Because you cooked it with the foil on for the half the time it will be easier to get the rind (skin) off but it will also be more tender so gently slide your finger under the skin to remove it from the fat. Leaving the fat on the gammon is important so remove just the rind.

Use a sharp knife to cut diamond shapes into the fat, not cutting too deep. Add the cloves and pour over the first coating of glaze. You have to do a glaze coating another 3 times so reserve some of it.