This gorgeous summer trifle recipe is a South African treat and perfect for any family celebration. Layers of cake, cream, jelly and custard make it hard to resist! A show stopping dessert that's decadent, yet simple and delightful.
Trifle is a popular dessert that originated in England and has been enjoyed for centuries. It consists of layers of sponge cake or ladyfingers, custard, fruit, and whipped cream.
While it can be a stunning and impressive dessert, it can also be time-consuming. That's why this summer trifle recipe is a good idea, especially when you need to whip up a dessert in a hurry. This blog post will share all the steps, tips, suggestions and the full recipe card below to help you make the perfect summer trifle recipe, especially for busy days or last-minute get-togethers.
This trifle was inspired by my Easy Trifle Recipe which if you want to learn to make your own 'makeshift jelly' or homemade custard then you should definitely read that trifle recipe!
This recipe is completely different in that everything here was store bought so the time was literally cut in half. Feel free to make your sponge cake, jelly and custard. I did make one thing in this recipe, the little meringues for the topping!
Perfect for your dinner table with Roast Chicken and Potatoes especially at celebrations like Christmas, Easter, parties, christening and so forth.
Jump to:
Ingredients
To make the easiest trifle you will ever make, you will need a few of the following ingredients:
Madeira cake also known as sponge cake
Jelly
Custard
Cream (with 2 more ingredients if you want it sweet)
Fruit
See recipe card for quantities.
Is that all the ingredients? Yes, I told you that it was the easiest trifle that you will ever make and those are the key ingredients. Anything to decorate the trifle is up to you, although I will share what I topped my trifle with.
Instructions
You can find the full recipe card below this post, but here's a snapshot of the process.
Make your jelly according to packet instructions. Transfer the jelly to the fridge. It will take approximately 1 to 2 hours to set, so you can do this part in advance. The jelly should not be completely set, so remove it from the fridge when it looks set but still jiggly.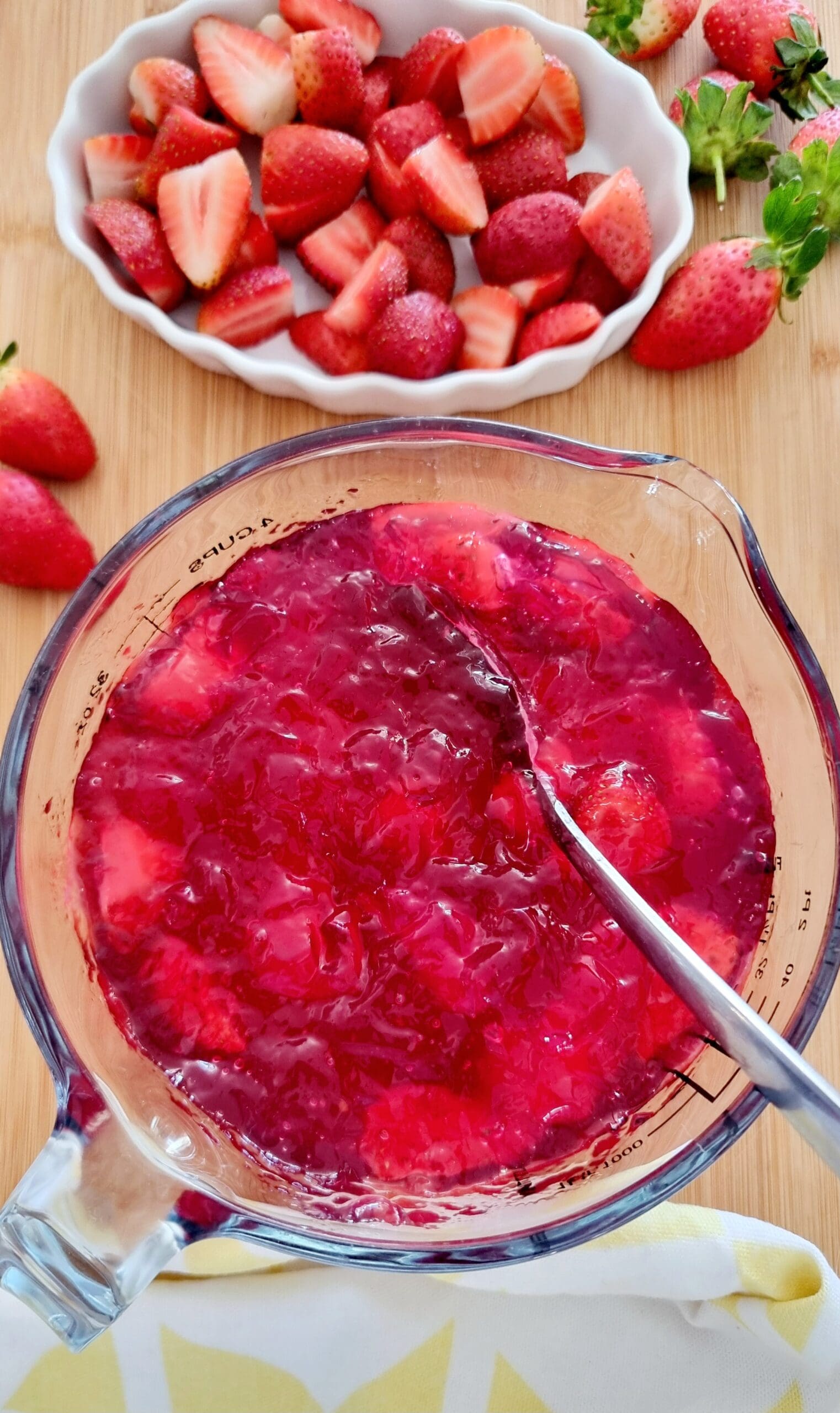 Add cleaned and cut in half strawberries (also known as hulled strawberries) into the jelly and gently fold the strawberries in. This goes on the cake foundation.
Slice cake into finger like shapes (you can use any of these; sponge cake, trifle sponge, swiss roll, homemade etc.) Use some of the slices as a base/foundation. Lay the slices flat on the inside of the glass bowl going round. Leave some cake for the next step.
The remaining cake can be cut into smaller cubes to fill the center of the cake. For more of a sponge cake with moisture, you can toss the cubed pieces in some liquor, but not too much or it becomes soggy and no one likes soggy trifle! I left it out since not everyone like the taste.
Place fresh raspberries (or other berries) over the cake on the side, some distance apart and pour custard over, not covering the raspberries (that's to keep the trifle looking clean and tidy.
Add whipped fresh cream and another layer of custard. Each layer should be spooned rather than poured over, keeping the quantities small as you don't want to create a big mush.
On the last layer of custard top it off with little meringues. You can find the meringue recipe here on this trifle cake.
Use fresh fruit for topping, and a sprinkle of icing sugar with mint leaves.
Tip: Minutes before serving, add pieces of ice cream cones for crunch, beautiful in summer with trifle! Little mini malt ice cream cones, strawberry, almond crunch are just some you can find.
Substitutions
This is the easiest summer trifle recipe that you will make which will still look and taste as though you spent hours on it.
Fresh Berries - There is no substitute for seasonal fresh berries unless you're going with canned fruit, which again, if they are in season, use the fresh ones.
Cake -savoiardi, Italian lady fingers also known as Boudoir biscuits are the substitutes here.
Cream - creamed cheese and crème fraiche are great if you don't want to whip cream.
The only suggestions I have if you are looking for a healthier approach to making trifle, is to go and read my Easy Trifle Recipe. You can also buy a gluten, dairy free sponge cake or make your own cake using almond flour. Customize it to suit your family and use dark chocolate for topping instead of meringues, organic coco powder for sprinkling and then Google some options.
Variations
Here are some variations you can try to customize the easiest trifle recipe:
Chocolate Trifle - Use chocolate pudding mix and chocolate cake instead of vanilla pudding and angel food cake. Add a layer of chocolate chips or grated chocolate on top of the whipped cream layer for extra chocolatey goodness.
Berry Trifle - Use a mix of fresh berries such as strawberries, raspberries, and blueberries instead of a fruit cocktail. You can also add a layer of berry jam or jelly for extra flavor.
Lemon Trifle -Lemon trifle is a layered dessert made with lemon pudding, whipped cream, lemon pound cake, and lemon curd.
It is typically served in a clear glass bowl to show off the beautiful layers of the dessert. The lemon pudding is usually made from an instant mix and mixed with whipped cream to make a light and creamy layer.
The lemon pound cake is cut into bite-sized pieces and layered with the lemon curd and the lemon pudding mixture.
This creates a delicious and refreshing dessert that is perfect for spring or summer gatherings. The addition of fresh lemon zest adds a bright and zesty flavor to the trifle.
Tiramisu Trifle - Use espresso or coffee-flavored pudding mix and ladyfingers instead of angel food cake. Add a layer of mascarpone cheese mixed with whipped cream and dust with cocoa powder for a delicious tiramisu-inspired trifle.
Nutella Trifle - Use Nutella spread and chocolate cake instead of vanilla pudding and angel food cake. Add a layer of chopped hazelnuts and chocolate chips on top of the whipped cream layer for extra crunch and texture.
See this healthier trifle on my website!
Equipment
Typically, what's known as a trifle bowl can be used but depending on how big or small your dessert is, you can also use a much smaller bowl. When you're not making trifle, you have a beautiful fruit bowl!
Storage
Keep your trifle covered, in the fridge. If you already have it in the glass bowl I would not advise transferring it to another container with a lid. I would no sooner suggest that you use plastic wrap and store it in the fridge. Trifle, once spooned into and enjoyed, doesn't look as gorgeous as before and transferring it is only going to create a heap of mushy cake, no thank you.
After 2 days it will still taste good, depending on your preference. My husband can eat the entire trifle (which he seriously did), the next day. I prefer it the same day, I'm not about the soft texture after a day or so.
Top Tip
If you decide to make the trifle in advance, I suggest making and storing everything separately and only assembling on the day. You can even make the toppings in advance, just make sure the fruit is dry before storing to prevent it from going soggy.
FAQ
Can I freeze trifle?
Not a good idea😕 For many reasons. Firstly, it's going to turn into a right mess! There are too many different gorgeous layers in trifle and each one of those layers will not freeze properly. Can you imagine frozen custard thawed? No. Then the cake with alcohol will be soggy and the list goes on. In short, do not freeze trifle!
What are trifle ingredients?
Trifle is a dessert made with sponge cake or boudoir biscuits which may or may not be soaked in alcohol, layered with jelly and covered in custard and cream.
Can I make trifle the day before?
Its not a straight answer! If you don't mind eating trifle a day or 2 later, when, even though the flavors have married each other it might be too wet for you. I would suggest making all the recipe components separately, store everything overnight in the fridge in sealed containers or use plastic wrap. The morning of the next day, assemble the trifle and return it to the fridge until it's time to serve. If this is done in the morning, you have a good few hours in the day before lunch or dinner.
Related
Looking for other recipes like this? Try these:
Main Dishes To Serve With Trifle
These are my favorite main dishes to serve when I'm serving this trifle recipe because it's usually at some type of celebration that trifle is served.
If you try this Easy South African Summer Trifle Recipe please feel free to leave me a comment and a star rating! And if you take a photo of your dish and share it on Instagram, please tag me @anosmickitchen and use the hashtag #anosmickitchen because I love seeing your remakes! Happy cooking😀
Join my free email list here to receive new recipes.
Shop our online store for quality all natural products.
Recipe
South African Summer Trifle
An easy short cut summer trifle recipe that's perfect for serving a crowd.
Equipment
1 trifle bowl

1 mixing bowl

1 spoon/ladle
Ingredients
480

grams

Vanilla Flavored Trifle Sponge

2x80

grams

Jelly, strawberry flavored

1

Litre

Custard, you can make your own or use store bought

500

ml

thick whipping cream

fresh strawberries

fresh raspberries
Garnish
fresh fruit

fresh mint

meringue pieces (link below)

icing sugar
Instructions
Jelly: Make the jelly according to packet instructions and once cooled, transfer to the fridge for an hour or two to set. You want it set yet still jiggly, to add the fruit.

Strawberries: Meanwhile, rinse the strawberries removing the ends and slice in half. Add into the soft jelly and gently fold together.

Cake: Slice the cake into finger-like slices leaving some behind which can be sliced or broken up into cubes, set aside.

Prepare the trifle bowl: First layer, pour jelly and strawberry mix into the bowl.

Arrange the finger-shaped cake slices into the trifle bowl all along the inside of the bowl standing upright.

Add the remaining cake pieces to the center of the bowl over the jelly.

Place fresh raspberries on top of the cake around the bowl.

Custard and Fresh cream: Pour half the custard over followed by half the fresh whipped cream. Repeat with the remaining custard and last layer of cream.

Garnish: Top with fresh fruit, meringue pieces, fresh mint and a sprinkle of icing sugar.
Notes
Liquor:  If using any liquor, add it over the cake pieces in step 4. 
Types of alcohol to use for trifle? 
Any one that you don't mind the taste of, ones most used are sherry, brandy, rum or Frangelico for something different or even a port!
What fruit to use in trifle? 
This is a South African Summer Trifle because trifles are best with fresh berries when seasonal. Try to use them when in season or any other preferred seasonal fruit. 
Looking for a meringue recipe? 
If using meringues for the top as garnish, you can find the recipe on my other Easy Trifle Recipe
Make Ahead Tips:  Make the custard 2 days ahead as long as the surface is covered with cling wrap and the cling wrap must touch the custard to prevent drying. 
Meringue Cream:  Make the whole meringue cream recipe the day before and gently transfer it using a soft spatula to an airtight container, in the fridge overnight. It must be air tight. 
Whipping Cream:  Feel free to add a tablespoon of icing sugar and a teaspoon of vanilla into the cream. I don't think it needs the sugar, the meringue cream is already very sweet and the vanilla does take it one shade down from the snow white color. 
Homemade custard recipe:  You can make your own custard or you can use store bought. You can find my homemade custard recipe here. 
Food safety
A few more tips to help you with more information on this South African Summer Trifle Recipe. For more questions, please see my FAQ's inside the post.
Consider that custard contains eggs so generally you shouldn't leave your trifle out of the fridge for more than 2 hours. It tastes better cold anyway when it's all set. Once carved and everyone had a taste of your gorgeous trifle, return it to the fridge covered in plastic wrap.
Do not try and freeze trifle! It will be a mess.
Even though "officially" you can eat trifle 4 to 5 days after you make it (as long as it's stored in the fridge and covered) how safe do you think it is to eat trifle 4 to 5 days later? I would suggest considering the size of your bowl and the number of people eating it, like this you resolve anyone trying to eat trifle almost a week later!
Always keep your food covered in the fridge. Even as an anosmic home cook, I don't want the taste not just the smell of your uncovered food next to my freshly made trifle. Besides, there other factors to consider when you don't cover your food. Uncovered food in the fridge will dry out, depending on what it is, it can cause a crust, bacteria and spoil other foods next to it. Whether you are anosmic or not, no one can see, smell or taste bacteria. Short story, cover your food in the fridge.