This homemade custard trifle was a show stopping dessert at our Christmas table. It was very much worth the input and help from my daughters as we discussed all the stories which surrounded this trifle dessert. Layered with my own make shift jelly, mixed berries, cream and topped with French meringue cream and toasted almonds.
I have a real love hate relationship with trifle. It's nostalgic with a mix of emotions. Sometimes I loved it and sometimes not, depending on who made it at the next family gathering. Trifle, although very easy to make, should really be given some thought to the process. Ingredients being dumped into a bowl really don't make a good quality trifle. You end up with a lot of mush in the bottom and seriously, no one wants that.
Tip! This is my make shift jelly. It needs to set overnight at least 6 hours but overnight is best to be sure nothing seeps through.
Jelly and custard is what a traditional trifle is made with.
My family mostly love custard so there's no chance I was going to leave it out this Christmas. It's the same as when I made gammon and my daughter was horrified to hear that I was skipping on the cranberry sauce! You simply must make your cranberry sauce mum. "You can't not make it" Lot's of orders in our house😅
Homemade Custard Trifle Ingredients
These ingredients are more traditional trifle ingredients just slightly adapted in the method.
Do we use custard? Yes. It's where the nostalgia comes from. The only difference is that I made my own custard not for silly jokes but because I also wanted to participate in eating and enjoying dessert with my family. Store bought custard can most definitely be used.
Did we use jelly? Yes, but not store-bought jelly. I made a jelly from juice and gelatin. It takes longer to set by the time the frozen fruit is added, hence my suggestion to let it set 6 hours to overnight.
Can you use regular store bought jelly? Yes you can. The only reason I chose to make my own jelly was purely so everyone in the family could enjoy it without worrying about the 'not so healthy' ingredients. My daughter has suffered various food allergies this year so I am extra vigilant about reading the package information on everything. Worse than I was before.
Healthier Jelly Option
There is always a healthier option to everything, it's about if we choose to see it. Here's a healthier option of jelly.
Azo Free Jelly
Azo-free dyes do not contain any harmful, toxic or carcinogenic compounds. This means you can feel safe when using our products, knowing that there are no potential health risks. Referenced everywhere in these articles. Google.
Fruit used Fresh strawberries and blackberries were used in the center, however any other berry type fruit can be used.
Fresh Cream This must be whipping cream as one of the layers if you're using cream. You can also add 1 or 2 tablespoons of icing sugar and a teaspoon of vanilla for flavor and sweetness should you want. We left it out because of the sweetness in the meringue. Next line.
Meringue Cream A snow white French meringue cream to finish made with egg whites and sugar. Full recipe card below.
Almonds Sliced toasted almonds on the meringue cream.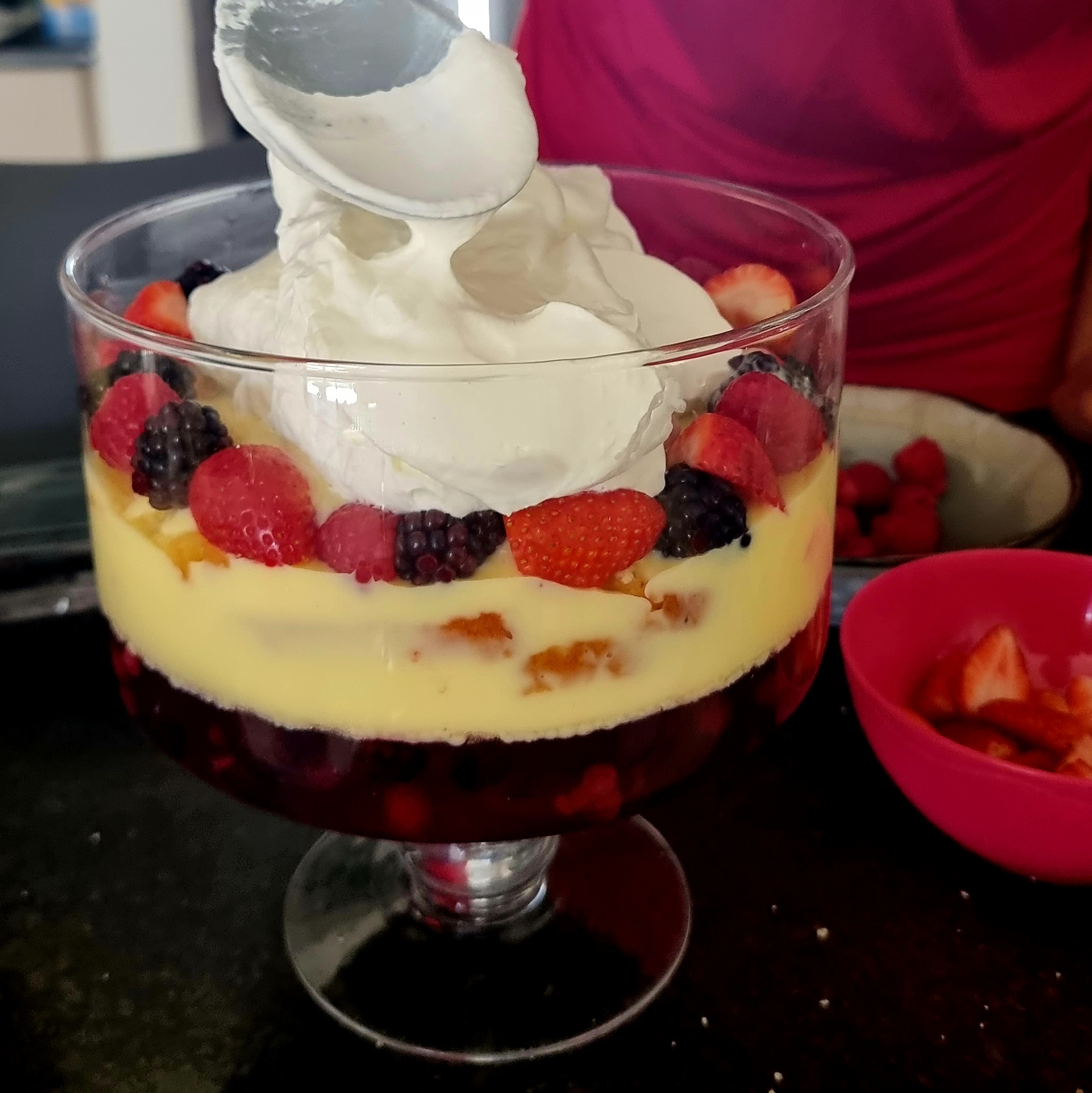 When To Serve Trifle
Besides the fact that you can serve trifle every Sunday at lunch its a brilliant celebration dessert. Here's a few;
Christmas
New Year
Sunday lunch
Birthdays
Engagements
Family/friends gatherings
More Wonderful Desserts
Never Miss A Recipe
Join my free email list HERE to receive new recipes and a set of three delicious recipe ebooks!
Shop our online store for quality all natural spices.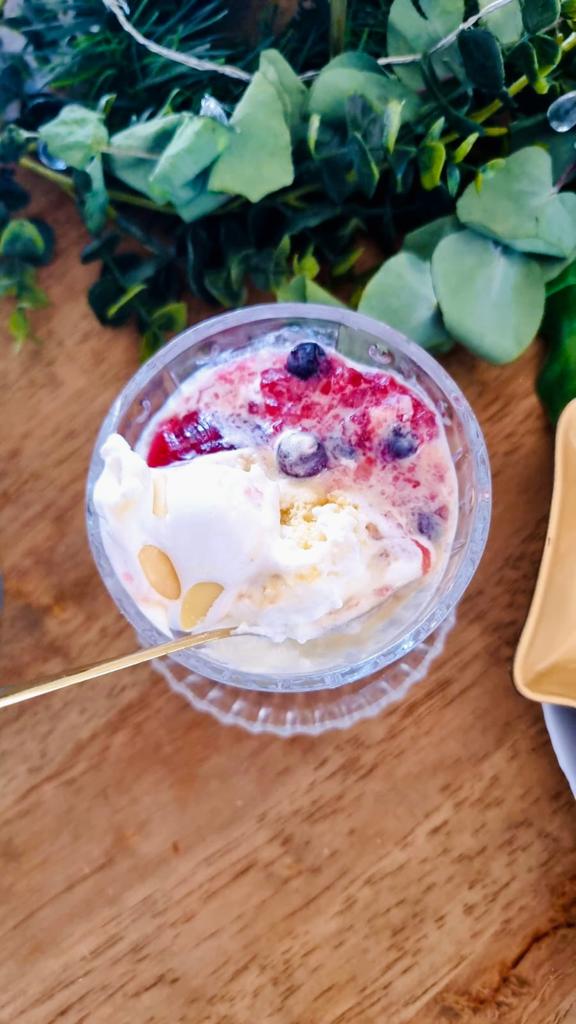 Let me know if you make my Homemade Custard Trifle recipe by commenting below. Your star rating is most appreciated and ofcourse, if you do make it, let us see by using @anosmickitchen in your Instagram post and the hashtag #anosmickitchen Enjoy! xx
Stay updated with new recipes!
Subscribe to the newsletter to hear whenever I post a new recipe and be in the know of our product promotions. I'm also on YouTube and Instagram.
Recipe
Homemade Custard Trifle
Homemade custard trifle with fruit and a French meringue cream makes a show stopping and delicious dessert.
Ingredients
Sponge Cake
480

grams

vanilla trifle sponge cake (store-bought)

fresh raspberries, strawberries and blackberries for topping.

4

tbsps

sherry, optional
Jelly
2

litre's

cranberry juice, you may not use all of it

2

tbsps.

powdered gelatin

2

cups

mixed berries, frozen or fresh, don't defrost if frozen
Homemade Custard
3

cups

milk

4

egg yolks, room temperature

¼

cup

castor sugar

1

tbsp.

maizena

1

teaspoon

vanilla
Meringue
6

egg whites, room temperature

½

cups

castor sugar

¾

cup

water

1

teaspoon

cream of tarter
Instructions
Jelly
Pour 1 cup of cranberry juice into a bowl/jug, sprinkle the gelatin and combine. Set aside.

Pour the remaining juice into a saucepan over high heat and bring to the boil. Pour over the gelatin, mix to dissolve and let it cool. Once cool enough to refrigerate, add the mixed berries and leave to set in the fridge, 2 hours to overnight or until properly set.
Homemade Custard
Bring the milk and vanilla to a medium heat/simmer without boiling it.

Whisk the egg yolks, castor sugar and maizena in a bowl/jug. Gradually pour in the heated milk until combined. Return the milk mixture to the saucepan on the stove, reduce the heat low to medium and keep stirring until the milk mixture thickens into a custard.

Pour the custard into a jug and place cling wrap over it while it cools down. Make sure the cling wrap touches to top of the custard to prevent a crust forming.

Use a spoon to gently lay or you can gently pour half the custard over the set jelly.
Sponge Cake
Cut the cake into squares or slice it. Either way lay cubes/slice of cake over the custard. Now is the time to add the sherry if adding and any extra fruit or cake pieces to the center, filling the sides up with more fruit.

Pour the remaining custard and top off with the whipped cream.

Place the trifle in the fridge while you make the meringue cream.
Meringue Cream
In a saucepan over medium to high heat add half the sugar, water and cream of tarter. Bring to a boil for 2 minutes, drop the heat and let it cook until the sugar is completely dissolved and you have tiny bubbles with a clear surface in the pan.

Meanwhile in a stand mixer or you can use a hand held beater to whisk the egg whites until stiff peaks form. Add the sugar, one tablespoon at a time while the motto is running and beat until the sugar is all added and you cant feel any sugar when the cream is rubbed between your fingers.

Gradually add the hot sugary syrup into the meringue cream while the eggs are whisking, for a good 5 to 6 minutes.

Return the trifle and spoon the meringue cream onto the whipping cream with a spoon and use the back of the spoon to create peaks. The meringue cream may not all fit onto the trifle and don't overload it or it will drip down. Finish with toasted almonds and return to the fridge to set.
Notes
Make Ahead Tips:  Make the custard 2 days ahead as long as the surface is covered with cling wrap and the cling wrap must touch the custard to prevent drying. 
Meringue Cream:  Make the whole meringue cream recipe the day before and gently transfer it using a soft spatula to an airtight container, in the fridge overnight. It must be air tight. 
Whipping Cream:  Feel free to add a tablespoon of icing sugar and a teaspoon of vanilla into the cream. I don't think it needs the sugar, the meringue cream is already very sweet and the vanilla does take it one shade down from the snow white color.