Bring out your best fine china, it's tea time with this soft, light and airy, simple scones recipe. This recipe is very old school and one hundred percent dependable. Let's make simple scones and be sure to read through, I share loads of tips and suggestions from my kitchen to yours.
Incase you want to try something equally delicious, track back later for these Blueberry Chocolate Muffins and these Homemade Crêpes.
This scone recipe is not traditionally associated with any particular holiday or season, and can be enjoyed all year round. However, they are a great option for brunches, afternoon tea parties, or as a savory snack for any occasion. Whether you're hosting a small gathering, or just looking for a tasty treat to enjoy with your cup of tea or coffee, these scones are a great choice. So, feel free to whip up a batch of these delicious scones anytime, they're very easy to make too!
This was inspired by my Homemade Blueberry Jam recipe, which is always enjoyed with either scones or fresh homemade ciabatta.
Ingredients
A handful of ingredients that you probably have. Let's begin.
Cake flour: Flour is a key ingredient in this recipe. You can also use AP flour (all purpose) or self raising flour. See more below on self raising flour.
Salt: Just a pinch!
Butter: Unsalted, cold.
Sugar: A little sugar for sweetness. I did omit the sugar in this recipe since my jam for serving was not sugar free. If you do add sugar, they are not overly sweet at all, especially if you use less sugar.
See recipe card for quantities.
Instructions
Working lightly and quickly is key to making soft fluffy scones. Like making bread, making scones is a very old recipe, and both have always been made by hand. With technology however, we are offered a new and convenient way by means of stand mixers. Although I've used a stand mixer in this recipe, I do alternate when baking. Sometimes you want to feel the dough, and other times convenience and time come into effect.
Start by cutting and measuring out the butter into cubes. It makes it easier to cut and work into the flour since we give the butter a quick freeze before starting.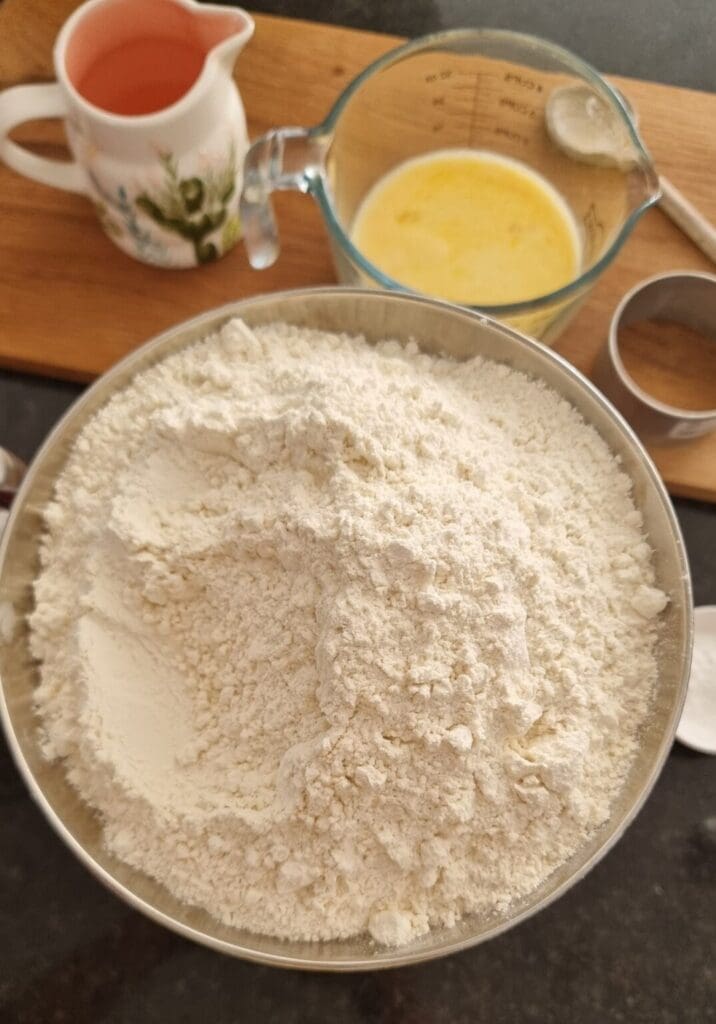 Sift the flour, baking powder and salt into a mixing bowl and combine. Add the sugar, stir into the flour.
Add the butter into the flour and mix into fine breadcrumbs. If using a stand mixer this will take up to 5 minutes (assuming the butter is cold). A little longer by hand using your hands or a pastry cutter.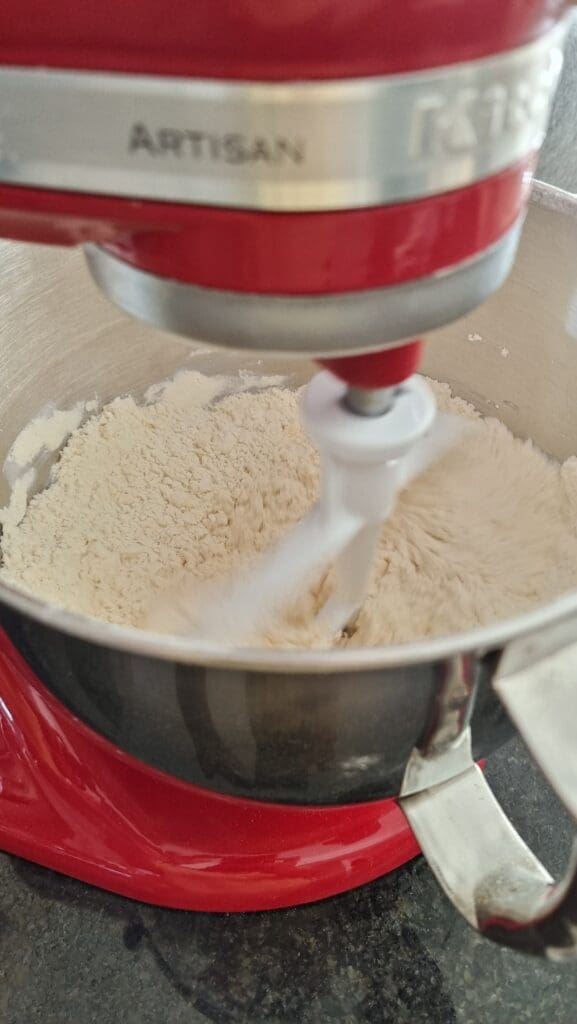 Beat the eggs and top up the jug with the required amount of milk, pour into the dry ingredients.
Combine by gently pulling the dry and wet ingredients together into a soft scone dough. This takes a couple seconds in the stand mixer and possibly a minute by hand.
Transfer onto a lightly floured surface.
Gently pull the soft dough together shaping (not kneading) into a slab of dough. Try not to press top hard into the dough. You can watch the video here or below.
Cut the scone shapes out using a cookie cutter. Place the cutter into the dough, gently press into it to form the shape, and lift up. There should be no twisting of the cutter.
Egg wash Giving the scones an eggwash is always a good idea for a number of reasons. It gives them a glossy finish, easier to go golden brown, and adds a light crisp texture. When you bite into the scone, you get bits of rich and crunchy with soft, airy and light. These scones are the best!
What Is The Combination of Egg Wash
Generally it's 1 egg + 1 tablespoon of water. I can't say I use any measurements and I do prefer the milk and egg combination. One egg, whisked/beaten and a dash of milk which is more like a tablespoon. I find that combination gives the kind of finish you see on these scones. More information on egg washing, which you may find helpful can be also be found here.
Hint: Leave the egg washed scones in the fridge before baking. I find that this helps the butter stay cold and when it comes into contact with a very hot oven, the butter melts into these soft buttery layers. I'm no professional baker, I'm simply going on experience and what I see and taste. Apparently the smell is as amazing!
You can also watch the VIDEO.
Equipment
To make these scones, you'll need a few basic pieces of equipment:
Mixing bowl: You'll need a large mixing bowl to combine the dry ingredients or use the bowl of your stand mixer.
Baking sheet: You'll need a baking sheet to place the scones on before baking.
Knife or or Fork: You can use a few things to mix the butter into the flour. With the stand mixer, the paddle attachment cuts the butter beautifully into the flour. You can also use a pastry cutter, fork or what I prefer a blunt table knife. See more on my tips and suggestions below
Measuring cups and spoons: You'll need measuring cups and spoons to measure the
ingredients accurately.
Rolling pin: You'll need a rolling pin to roll out the dough before cutting it into scone
shapes
Storage
These scones can be stored in an airtight container for up to 3 days at room
temperature. You may keep them in the refrigerator for up to a week to keep them as fresh as possible.
Can I Freeze Scones?
Yes, and the safest way to freeze scones would be make the dough, shape the scones and then freeze them for just a couple minutes so that they can solidify. Pack them in a ziploc bag and freeze for up to a month or two.
Reheat
Don't place your frozen scones in the microwave! The microwave will compromise the texture and quality. Rather, to reheat your frozen scones, bake as per recipe card below, and possibly for a couple more minutes. Bake from frozen in a preheated oven.
Tips and Suggestions
These are my tips and suggestions from my kitchen to yours;
Work lightly with the dough. Light and gentle, try not to add any pressure with your hands or the rolling pin.
Try not to overmix the scone dough, the longest time that you will be handling the dough, or the stand mixer will be handling the dough, is when the butter is being cut into the flour. Once the liquid is poured into the dry ingredients, there should be minimal to no fiddling.
Cold butter equals flaky layers yes, but the oven must be preheated and hot when you bake the scones or it won't really help.
Cut the butter up into cubes (its easier to cut it or rub it into the flour) and then freeze the cubed butter as you get the rest of the ingredients together and the oven preheats.
Try not to overbake the scones. I find that the only way to do this is to check the scones in the oven while they bake and not just the timer. Check the timer yes, but peek at the scones too and when the the tops are a light golden brown, the timer should be up and the scones ready to come out.
Don't forget to remove the scones from the hot oven tray, once they come out the oven, and place them over a cooking rack to cool down. If you don't, here are two things that could possibly happen;

The scones will continue baking in the heat of the pan leading to over-baked dry scones;
They could stick to the baking sheet.
FAQ
In every situation, there is always something to learn. Here, it's no different, just because you know how to make scones, doesn't mean there isn't something that you will learn, even in a small way. If you haven't made scones before then this section will be very helpful. I hope that you will learn something new and if you do, I would love to hear from you in the comments section down below.
What's the secret to great scones?
My experienced suggestion would say, keep the butter cold and work gently and quickly.
How do you get such high scones?
Baking powder is your friend here. That along with other details I share throughout this post.
Is it necessary to sift the flour?
Yes, it makes the scones light and airy. I sift flour, salt and baking powders all at the same time.
What if my scones are too dense after the baked?
I'm not a professional baker but I would say focus on keeping the butter cold. Cut it into squares, measure and place it back in the fridge until a second before you're ready to use it.
Can I use my hands instead of a pastry cutter to cut the butter into the flour?
You can certainly use your hands but you have to make sure that your hands are cold and dry, and you must work quick! Not a great idea in summer so rather opt for a blunt table knife if you don't have a pastry cutter.
Can I add cheese to this scones recipe?
Yes! I've added Parmesan cheese, mozzarella and cheddar along with a combination of the last two in many other scone recipes. Cheesy scones😀
Can I add dried fruit to my scones?
You can also add a variety of ingredients like dried cranberries or raisins or even seeds. When using dried fruit like cranberries or raisins, remember to roughly chop and soak. I find that soaking dried fruit in kettle boiled water for about 15 minutes helps keep them moist and prevents them from possibly burning. You can also use cold water or any other liquid like orange or cranberry juice.
Do I have to use eggs or can I leave them out?
Using eggs and butter enriches the scones but you can also make them without. You will get a very different texture. Take a look at my very quick and easy air fryer scones recipe where I use neither eggs nor butter.
Can I use self raising flour to make scones?
Yes! You get a beautiful batch of scones with self raising flour. Although self raising flour already contains a rising agent like baking powder, for the extra lift you can still add a teaspoon or two of baking powder.
Egg Wash, is it necessary?
I find that the egg wash gives the scones that sealed, light golden brown finish, so yes do it if you also want that finish on top. As a matter of fact, I always go two to three rounds with the egg wash!
How long do I bake my scones for?
Well, stick to the recipe okay, but there's nothing wrong with you walking by your oven and peeking through the glass to say 'hello' 🙂 You shouldn't really open the oven until your timer is up but because all ovens differ, keep an eye on your scones.
Serving
The best advice for serving suggestions with these soft and fluffy yet simple scones is to eat them however you want! Here are my serving suggestions, but remember that some of these are also for savory scones and not only our classic simple scones recipe.
Jam and butter
Jam and Cream
Plain pure butter
Recipes You May Also Like
Top Tip
My Top Tip is to place the baking tray in the oven to preheat as the oven preheats. From experience and not a professional bakers point, I can tell you that when all the ingredients are cold, and your tray and oven is hot, you get crazy good scones!
WATCH THE VIDEO
Looking For More Recipes?
Subscribe to my free newsletter for news and recipe updates.
Shop our online store for quality all natural spices.
If you try this recipe please tag #anosmickitchen on Instagram. You know we love to see your photos of our recipes here at My Anosmic Kitchen! Follow on Facebook, Twitter and Pinterest.
Recipe
Simple Scones Recipe
Simple, quick, light, fluffy and so delicious.
Equipment
1 stand mixer with paddle attachment

only if using a stand mixer otherwise continue with the rest of the equipment and ingredients.

1 mixing bowl

1 baking tray

1 Pastry cutter or blunt table knife

1 Pastry brush

1 Cookie cutter

1 rubber spatula or bowl scraper

1 cooling rack or board
Ingredients
2 ⅓

cups

Flour

2

tsps.

Baking powder

1

teaspoon

Salt

1

Tbsp.

Sugar

154

grams

Butter

2

Eggs, beaten

300

ml

Milk
Egg Wash
1

egg, beaten

dash of milk
Instructions
This recipe makes about 8 scones.

Preheat the oven to 195 degrees Celsius, place the rack in the middle and place your oven tray to bake the scones into the oven to preheat at the same time.

Sift dry ingredients: In the bowl of a stand mixer, sift and add the flour, baking powder and salt.

Combine butter into dry ingredients: Add the sugar, combine and add the cold butter. Work the butter into the flour either using a pastry cutter or the paddle attachment of your stand mixer. The time will depend on the equipment. In this recipe with the paddle attachment it took roughly 5 minutes to get a crumb like texture.

Beat the eggs and add milk: Meanwhile, beat the eggs in a measuring jug and top it off with milk to reach 300ml. Whisk together and pour into the flour and butter. Mix into a scone dough, about a minute.

Prep and shape the dough: Transfer the dough onto a lightly floured surface, pull the dough together gently with your hands and shape it into a rectangular shape. Use a rolling pin to help but do not press the dough, be gently and use a cookie cutter to cut out the scone shapes. This recipe makes about 8 scones.

Egg wash: With a pastry brush, lightly brush the egg wash over the tops of the scones. Once for a lighter brown and twice for a deeper golden brown.

Refrigerate: Place the scones on a wire rack or tray and leave in the fridge for 10 minutes.

Prepare to bake: Sprinkle a little flour on the baking tray (it's hot!) and carefully but quickly transfer the scones from the fridge to the oven tray for baking. Bake for 12 minutes or until the tops are golden brown.

Cool and Serve: Place on a cooling for 5 minutes before serving.
Notes
Milk You can use any milk but recommended, is full cream milk for richness. 
Freezing:  They really do freeze well, wrap them tightly in a Ziploc bag. You can thaw to eat or pop them into the microwave for a quick pop of heat on high heat for 40 to 5o seconds.