This is the most simple authentic Italian Marinara Sauce Recipe. A few ingredients, versatile and delicious! There is no secret to a great tomato sauce except to let the tomatoes simmer so although a marinara sauce can be made in 15 minutes, this is not the case here. For a much shorter version of marinara sauce take a look at this Easy Tomato Sauce With Parmigiano-Reggiano Rind.
We simmer, simmer, simmer until all the alcohol in the red wine has pretty much evaporated and the tomato almost caramelizes itself into a dramatically full body umami flavored sauce, it's the best!
Not sure if there is anything else that I've cooked more than a marinara sauce or as we say 'tomato sauce'.
I have always had a pot on slow simmer with tomatoes even when I didn't know what we were making for lunch that Sunday, it would be on. When my children walked into the kitchen saying 'oh that smells nice what is it?' Just tomato sauce would be my response and that would be the beginning of a Sunday lasagna, Italian Meatballs Pasta Bake, Easy Italian Homemade Pizza Recipe or a spoonful on a crusty slice of bread.
And then add pasta.....look at this pasta and sauce. Nothing else. Pasta and fresh homemade sauce, how magnificent!! God is so good.

Why you will love this marinara sauce?
This sauce tastes delicious!
There is no prep, you get everything into a saucepan and let it do what it does best, simmer into a thick, rich marinara sauce
Very easy anyone can make it
Store bought bottled sauce cannot compare at all!
Sugar - free you get to control the ingredients
You can use canned or fresh tomatoes. With fresh you can roast them first and you can also leave them in boiling water to remove the skins and then cook, optional.
Extremely versatile
Marinara Sauce
This recipe is found on the internet (like everything else) in a million different ways however you have to choose the recipe that works for you. I've made this recipe with onions and garlic and with a quicker cooking time but today I went with the slow cooking version.
Authentic generally means that the recipe is authentic to the country of origin, however within that country different areas, or in this case, regions have adapted their own way of making it. With my husband and the region native to him and how my mother in-law made it, is this recipe shared here today, without onions and garlic.
I've also shared more than one way of making a pizza sauce incase you're looking😀
Although Marinara Sauce is primarily made with onions, garlic, tomatoes and herbs, would you believe that in-fact there are not many Italians who use onions in their marinara sauce? The garlic gets cooked in oil, tomatoes and herbs as we've done here (with a dash of red wine).
I am not sure what could be better than tomatoes and red wine in a marinara sauce! You decide if you want a chunky or smooth tomato sauce
What type of tomatoes to use?
Whichever tomatoes you have! They can be fresh or canned and you can also oven roast them first if you wish and then follow the same recipe card below.
Oven roasted tomatoes add so much flavor to a marinara sauce or to anything you use them for actually. Canned is just more convenient without having to get the oven on, there are some days that you need the food to quite literally cook itself, this is where this sauce comes in.
Ingredients
Tomatoes - Any tomatoes you have, canned or fresh. In this recipe we're using canned. Canned tomatoes are convenient, oven roasted tomatoes have lots of flavor so whatever works for you.
Garlic - If you don't like seeing your garlic in the tomato sauce then mince it. However, if you mince it add it a couple seconds before the sauce or with the sauce because minced garlic burns quickly. My suggestion would be to use minced if your sauce is smooth and finely chopped if you're going with a more rustic textured sauce.
Tomato paste - This paste is the umami bomb so don't leave it out! It adds a complexity of flavors and vibrancy when added in at the beginning of cooking. Especially when mixed with spices and herbs.
Red wine or water - Not everyone likes wine in their sauce my husband included so when I have the odd occasion to add it I always do. If you prefer you can use only water you will still have an delicious tomato sauce. Red wine brings out lots of flavor but because it still contains alcohol it needs to be added towards the beginning of cooking. It needs time to burn off the alcohol that's why I add the water in at the same time 10 to 15 minutes into cooking.
Which wine to use?
Yes you can use any of your favorite wines but here's a word about a bad wine - the taste will be evident even in the sauce. If it's an extra special bottle of wine that's expensive rather save it to drink over a lovely dinner because it wont matter. All those lovely notes in your glass of red wine will be lost in the cooking process so keep it simple.
Tips & Suggestions
I sometimes make my sauce smooth depending on what I'm making it for. To make it smooth, simply whizz the canned tomatoes in a food processor just I did when I made this creamy Tuna and Spinach Pasta Bake Recipe
When I'm looking for a more rustic textured tomato finish then I add just one can into the food processor and the other one I leave chunky.
Use the back of a spoon to roughly mash or cut them up
When adding water into the empty cans to toss into the marinara sauce be careful not to add too much, you want a thick saucy sauce. Besides water is part of the ingredient list in the recipe card below.
If you want a rich flavorful sauce then red wine is a good choice. If you don't drink wine add ½ cup of water and let it simmer the same way.
I know a lot of recipes add sugar into their marinara sauce, this is not authentic to an Italian household but entirely optional
Passata is also something else that is not needed in this sauce a tablespoon of tomato paste does the trick.
Herbs
Because using herbs is always so fragrantly refreshing even for an anosmic home cook like myself. Yes I know, the house seems to fill with a beautiful sense of wonderful things cooking and that is good enough for me.
I cannot explain to you how wonderful our Pasta Spice is so if you can get yourself a bottle then please do. It also makes a fabulous sprinkle over any finished dish! To finish the sauce off, add fresh basil for that authentic Italian sauce.
how to use marinara sauce
Once you have the sauce in a jar in the fridge it probably won't last long because you can add it to so many dishes!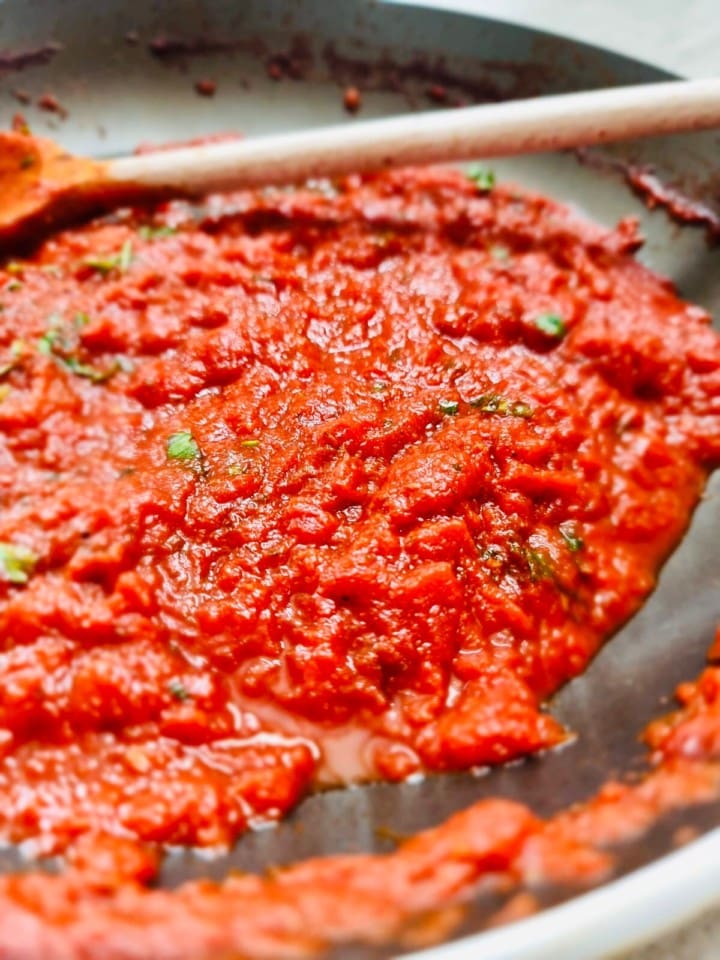 If you love this marinara sauce recipe then you must take a look at my Pasta Bake! which goes wonderfully with it!
Do follow me on INSTAGRAM, PINTEREST, AND FACEBOOK and share you photos. Feel free to leave a comment and rating below!
More delicious recipes
Love this marinara sauce? I'm sure you will love these recipes too.
Shop our online store for quality all natural spices.
Recipe
Slow Cooked Marinara Sauce
This is the most simple authentic Italian marinara sauce recipe. No onion, a few ingredients, versatile and delicious!
Ingredients
2

Tbsp.

olive oil

2

cloves fresh garlic, finely chopped or minced See notes below

2

canned tomatoes (2 x 400 grams each) Puree in a food processor if you want a smooth sauce

1

Tbsp.

Tomato paste

½

teaspoon

salt

½

cup

red wine

1

cup

water - one and a half cups if not using wine.

1

teaspoon

salt and pepper

fresh basil leaves to garnish
Instructions
Heat the oil in a large non stick pan.

Add the garlic and cook for about a minute just for it to soften.

Add half the water and all the red wine, drop down to a simmer and cook for 30 minutes stirring occasionally. If it needs a little water add about a quarter cup.

Add the remaining water and continue to simmer for another 20 minutes or until you're happy with the thickness.
Nutrition
Serving:
1
person
Calories:
63
kcal
Carbohydrates:
1
g
Protein:
1
g
Fat:
5
g
Saturated Fat:
1
g
Polyunsaturated Fat:
1
g
Monounsaturated Fat:
4
g
Sodium:
214
mg
Potassium:
50
mg
Fiber:
1
g
Sugar:
1
g
Vitamin A:
38
IU
Vitamin C:
1
mg
Calcium:
3
mg
Iron:
1
mg