Learn how to make the best spaghetti meatballs recipe that yields tender, juicy meatballs with incredible flavor! This recipe is comes together in 30 to 40 minutes and makes a great family dinner. If the meatballs and sauce are made ahead of time, you can put this delicious meal on the table in a couple of minutes, pronto!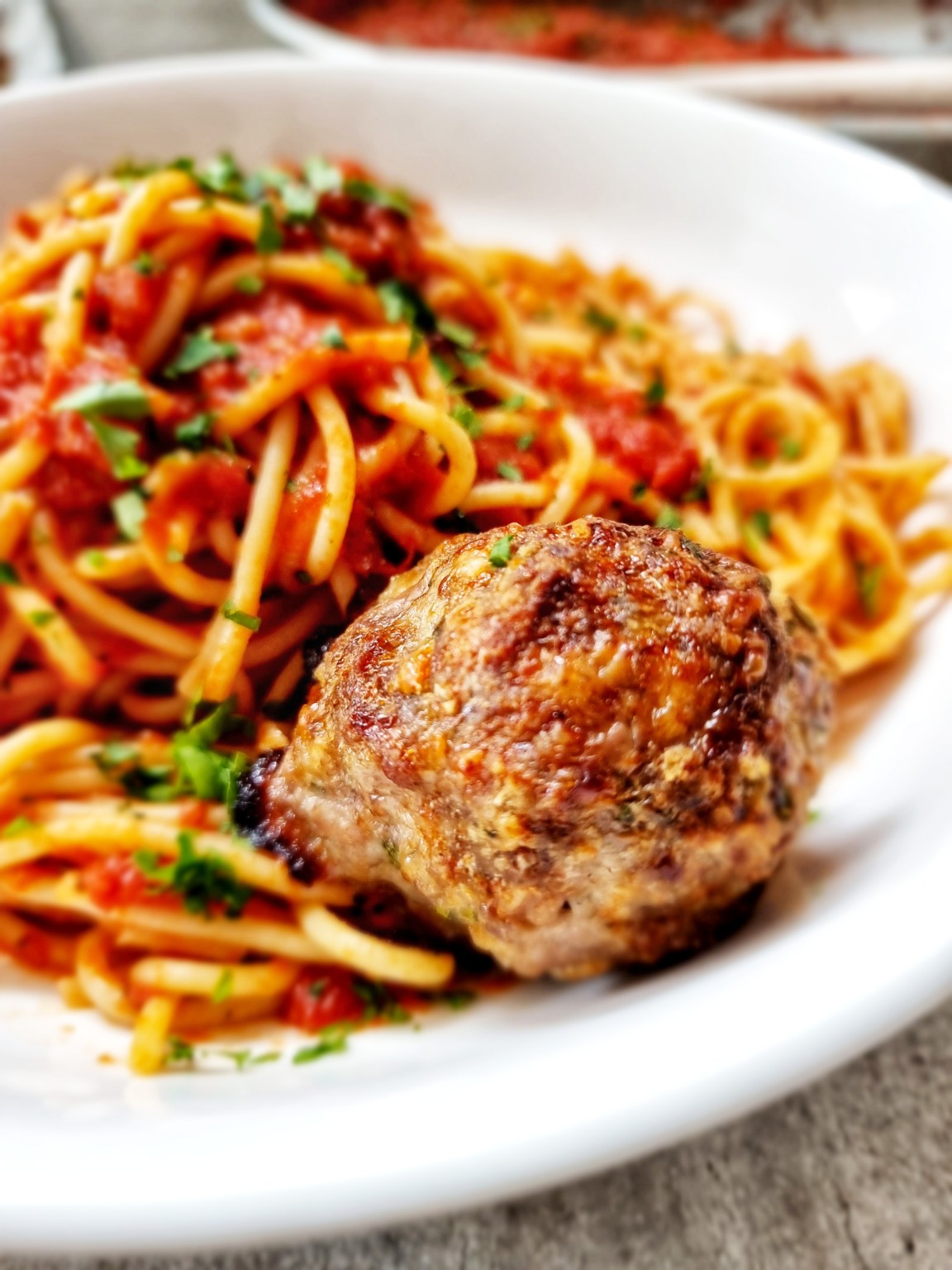 Also known in Italian homes as Polpetta - Italian meatballs and clearly we love this meal and eat them on their own, with pasta or with this crusty homemade no knead bread!
What makes great meatballs?
The idea of a great meatball dish is ones that have been cooked in a fantastic red sauce and whether you fry or bake them they should still maintain their flavor. If you've been following my blog or my Instagram you already know that I am all about colorful flavorful food.
There's not much to say about this meal because if you think about it, it's actually rather simple and the beauty is that is never gets old. Spaghetti meatballs every other night for dinner suits most of us quiet fine. That with a good glass of red wine, life got a whole lot better 🙂
Meatballs do not have to be perfectly shaped to taste good and they also don't have to be giant sized to be appetizing. What's most important is that they are cooked through, have flavor, are tender yet firm enough to hold their shape. This combined with a good sauce, you have an amazing meal! I have the easiest tomato sauce recipe for you here that you will ever find, easy and absolutely delicious! Marinara Sauce
Below is my recipe card that will help you make the best tasting easy meatballs recipe fried or baked. Just read the tips and suggestion below that I always like to share.
Spaghetti Meatballs Recipe
Meat combo - I've used part pork mince and part beef mince exactly the same as I've done in this Italian Meatballs Pasta Bake whereas here Juicy Meatballs in Tomato Sauce I used just minced beef. It's all about what you prefer, ingredients and time available. The combination of the meat definitely adds flavor.
Fresh Parmesan cheese - When I say fresh I mean not store bought grated cheese. If possible try and get a block fresh Parmesan and grate it at home yourself. The fresher the ingredients the better the taste!
Eggs - Purely for binding and this recipe calls for 2 eggs. Again, yes most recipes call for 1 egg but I've found that depending on the amount of meat you're using, if it's 2 kg then 2 eggs. I normally go an egg a kilo. This recipe has about a kilo and a half so 2 eggs suffice. Otherwise the one egg simply doesn't bind the meatball enough. However any more may make them rubbery.
How to Get Even More Flavor into your Meatballs!
Garlic and Herbs - Minced garlic and your favorite herbs and spices. I know that not many recipes call for fennel in meatballs but we always add fennel seeds or spice when using pork. It's a brilliant flavor enhancer for pork.
If you don't have the seeds you can use the ground spice although less pungent so once again it depends on the cook.
I used the seeds here and ground them (freshly grated fennel seeds release the best flavor) together with fresh parsley that had been dried. There's a difference between dried parsley that you buy and the parsley that you dry naturally.
This recipe is flavor packed! So I've used both a mix of crushed fennel seeds and naturally dried parsley as well as fresh parsley You can use a pestle and mortar, spice/coffee grinder to grind your seeds or get them into a bag and use a rolling pin.
Homemade breadcrumbs - Texture and bulk and it's so easy to make your own breadcrumbs! There's also no comparison with the store bought pack but that doesn't mean you cant use the store-bought version because you most certainly can.
The benefit of course in making anything yourself always comes down to the choice of ingredients and quantity control. That and the option of not overfilling everything with salt as most products do or ingredients that you have no idea are in there! Stick with better healthier options for you and your family.
Meat Content
More lean than fat so in this recipe I went with a smaller pork quantity than beef and preferably lean beef mince. Look, as Ive mentioned before, you can use regular beef mince but it is a lot fattier and you already have pork in here. Remember that you dont have to use 2 types you can also just use beef!
Combining the two types of meat is something that we've regularly done when it comes to meatballs but every family is different. This is an old recipe where I shared the combination Saucy Meatball Pasta - Italian South African Recipe
Cooking the Meatballs
I've chosen to oven bake the meatballs for this spaghetti meatballs recipe but if you want to know how to fry them then you can give this post a read - Italian Meatballs Pasta Bake
When you fry the meatballs it's easy to sear them first before adding them into a sauce right? So how do you sear them if you're oven baking them? It's all about the timing, read on.
Tips and Suggestions
To The Perfect Spaghetti Meatballs Recipe!
First 2 rules to rolling:
Wet/damp your hands and;
Work gently with the meat
No need to press them tight. The lighter you work them the easier they absorb all the flavors. It's like over-cooking rigatoni pasta to a point where the holes flop, in which case no flavors can get in.
To see the recipe clink this link Sun-Dried Tomato Pasta
A meatballs recipe has no oil in right? Egg and bread both absorb more than they give moisture so use a brush to lightly oil the before baking. This really helps to keep them soft and tender while baking.
Let's Connect!
Try it and let me know in the comments below and don't forget to rate my recipe below please.
One of the things that I love when cooking is using my hands whenever necessary and sometimes the recipe needs that. When I made this meatballs video on my Instagram that's what I did and rolled the meatballs into circles. Here I've used a smallish ice cream scoop which is just as good. It's a matter of what you prefer but they both work.
Remember to fill the scoop quite a bit if you're trying to make just one tray. This recipe made about 12 to 14 meatballs but only 12 fitted into the tray. No need to overload the tray. Again, please don't over think the shape! If you have good ingredients, herbs and seasoning with fresh eggs your meatballs are going to have great flavor!
The one thing that I would suggest is to make them as fine as possible to avoid bit bits of bread in the meatball.
I know you might be thinking that it's not necessary but even 10 minutes in the fridge while you heat up the oven, just do it because the meatballs firm up beautifully and there's less chance of them falling apart!
Last Tip!
The last tip friends is that if you decide to oven bake these meatballs then all of the above tips that I've shared with you here today will make all the difference and so will a hot oven. Pre-heat until hot not warm.
I baked these meatballs on the middle rack to a certain point then dropped the rack, turned the oven onto grill and left them in there to finish cooking till golden brown.
Storage
I have never frozen my meatballs (before cooking) but I am sure they freeze very well for a month or 2. If you do freeze them you would have to take them out to defrost to room temperature before using.
We make our own mince and sausages so any leftovers go in there. I will say that if you leave them in the fridge over night in a sealed container or covered in plastic wrap to cook the next day, they will also hold their shape better.
To Finish Cooking The Meatballs
Served here with spaghetti pasta. There is no recipe card for cooking the spaghetti because you simply follow the packet instructions. Rule of thumb:
Cook till al dente - which simply means 'to the tooth' it must be an easy bite to the tooth not overly soft or hard.
The general rule of thumb is 100grams per person but depending on your family and appetites adjust accordingly. You can go with 120/150 if necessary.
I never add salt before the water boils. No rhyme or reason it's something that I learnt from my mother in law and she was a Nonna so I've respected that. Whenever I tried to salt the water before the water boiled she would come dashing in like I had insulted the pope 🙂 so there.
Do follow along on my Facebook, Pinterest and Instagram for updates.
More Family Recipes
Recipe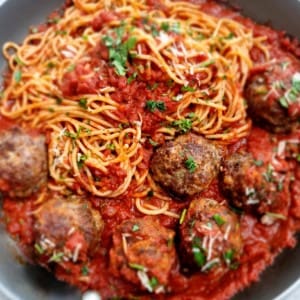 Spaghetti Meatballs Recipe
Learn how to make the best spaghetti meatballs recipe that yields tender, juicy meatballs with incredible flavor!
Ingredients
Meatballs
500

grams

beef mince (I used lean beef mince)

250

grams

pork mince

⅓

cup

breadcrumbs

⅓

cup

warm milk or warm water

2

eggs

1

teaspoon

salt

½

cup

Parmesan cheese freshly grated

¼

teaspoon

garlic and herb seasoning

1

cup

soft white bread slices (crusts removed) (about 3 slices of sliced white bread)

½

teaspoon

black pepper

olive oil

flat leaf parsley
Herbs & Spices
dried parsley

fennel seeds
For Serving
spaghetti, cooked according to packet instructions

freshly grated Parmesan cheese
Instructions
Heat the oven to 200 degrees Celsius.

Prepare an oven tray with a sheet of baking paper.

Pour the warm milk or water over the crust-less bread and use a spoon to press it into the milk to soak. If it needs a little more milk add a dash more (like a tablespoon) you want a wet, soaked bread.

Add both the meats, both the breadcrumbs (dry and wet), eggs, salt, pepper, herbs and parmesan cheese, into a large enough bowl.

With clean hands gently combine the ingredients and shape into balls using an ice cream scoop. Fill each scoop, shape and place into the prepared oven tray as you go.

Always easier if your hands are slightly damp. You can also shape without an ice cream scoop and simply use your hands.

You should have between 12 and 14 meatballs. (Don't overfill the tray)

Use a baking brush and lightly dab it into olive oil and brush each meatball.

Bake the lightly oiled shaped meatballs on the middle rack for 15 minutes.

Lower the rack one down and turn the stove onto grill. Let the meatballs grill for 5 to 7 minutes till golden brown.

Serve with cooked spaghetti or your favorite pasta type, garnish with finely chopped parsley and grated Parmesan cheese.

Taste for seasoning.