This tuna pasta with white sauce recipe is the perfect weekday oven bake that all comes together in 30 minutes. It's really so quick and easy, creamy and packed with delicious spoonfuls. Let me show you how to cook this pasta bake in layers of delicious flavor.
I love such simple, quick and customizable recipes because with a pasta bake you can pretty much add whatever you like, top it with cheese and bake it. This is a satisfying meat free recipe and you don't miss the meat at all - what meat?
Why You'll Love This Recipe
Here are a few reasons to make this tuna pasta with white sauce recipe:
Ingredients: No fuss, simple ingredients
Convenience: Minimal prep time, 30 minutes overall to make and using canned tuna and the remaining ingredients that you probably already have.
Kid friendly: Family friendly recipe that will be on rotate in your home with loads of smiles and full bellies.
Customization: You can add a vegetable if you find that the spinach is not enough, you can add a bit of chili flakes for a pop of heat.
White sauce: If you have not made white sauce before it may sound a bit much to do but it's not and it's worth it. There is no store bought white sauce that will compare, so before you buy store bought sauce, try this How To Make Béchamel Sauce for a homemade, from scratch, no nasties delicious sauce.
Quick Note: Butter, flour, milk and stir = white sauce. Add a pinch of salt if using unsalted butter.
Budget friendly: It doesnt get better than canned tuna, it's a pantry staple that keeps giving. Pretty much like using baked beans without the bacon and chorizo, or most other canned foods like fish and chickpeas, those are the staples you want to have in your cupboard for a quick dinner fix.
What To Use If I Dont Have White Sauce?
You can use different types of cream, coconut milk or coconut cream just remember that they taste completley different, not bad, just different and it's no longer a white sauce pasta bake.
Can I Make White Sauce Without Butter?
You can but why would you want to? Would you not rather make a different sauce altogether? Butter is rich and flavorful and is the base of the fat content in white sauce (or all recipes really). If you are wanting to taste less butter or flour in the sauce then get creative in terms of taste and adjust the sauce the way you like it. For example, you can add a little stock to alleviate the taste or use a stock cube or add a pinch of spice. Swop to almond milk if you want, add a tablespoon of cream into the white sauce, the field and level of creativity is endless.
Tuna Pasta Bake Ingredients
Ingredients:
Pasta: There are a range of pasta types from fusilli, penne, rigatoni, linguine, farfalle and more so use any.
Chopped tomatoes: Canned tomatoes for convenience.
Canned tuna: I use the canned tuna in vegetable oil. Drain the oil and fry the onions in it you probably won't need all.
Cheese: Mozzarella or mature cheddar.
Seasoning and oil: Herbs/spices if using and any cooking oil.
White sauce: The white sauce is what makes this recipe creamy and delicious.
Note: Refer to the recipe card for specific quantities.
What To Do With The Oil In Canned Tuna?
Use it to cook the onions. Any left over canned tuna oil can be used for anything from tossing over a salad, in a bread & oil dip, a vinaigrette, add it to toast, to boiled eggs, to fry eggs, over vegetables, anything. It has more flavor than the clean oil sitting in your cupboard.
How To Make Tuna Pasta Bake
Preheat the oven to 190c/375f
Cook The Pasta: Cook the pasta in salted boiling water for 2 minutes less than the required time on the packet, drain.
Prep the spinach and tomato: While the pasta is cooking, add the spinach and tomato into a food processor for a few seconds to combine. Set aside.
Cook the onions: Heat the oil in a pan and cook the onions till soft. Add the garlic, pour in the spinach and tomato mix, add the tomato paste, season and remove from from the heat.
White sauce: Make the white sauce, combine with the pasta, top it off with cheese and bake for 20 minutes. You can use a store bought white sauce if you short on time but I do have a very good white sauce recipe that makes everything taste better! How To Make Béchamel Sauce
Variations
Make it spicy by adding dried chili or curry powder while frying the onion.
Top Tip
Avoid overcooking the pasta actually a minute or two less is good. It will finish cooking in the oven.
Pairing
Pairs well with a crisp green salad or garlic bread for a complete and satisfying meal.
Substitutions
For a gluten-free version, use gluten-free pasta.
For a vegetarian option, replace canned tuna with a plant-based tuna alternative. Chickpeas are a good alternative and adding an additional vegetable. I love a hint of mustard in some recipes as I did in this Roasted Cauliflower Soup - that could be another vegetarian flavor based option.
Recipe Notes
Spinach and Tomatoes: Feel free to add these directly to the pan with the garlic and onion so they cook at one time, however, this is my preferred way of cooking this recipe;
Add the spinach to a food processor with the tomato, give it a whiz for a couple of seconds just to get them combined. This then goes into the fried onions and garlic with a pinch of salt and pepper. We are cooking and seasoning in layers making sure the ingredients are finely chopped or meshed together to give a smoother finish.
Salt: Go easy on the salt in the spinach because the pasta is cooked in salted water and you add a taste of seasoning into the sauce.
Wait for the onions to cook: Cooking the onion and adding garlic too soon does not give you a creamy finish. Rather, you end up with pieces of cooked onion peeping out but if you cook the onions for a good couple of minutes (medium to low heat about 10 minutes) they become creamy and the pasta bake looks evenly cooked! Completely optional.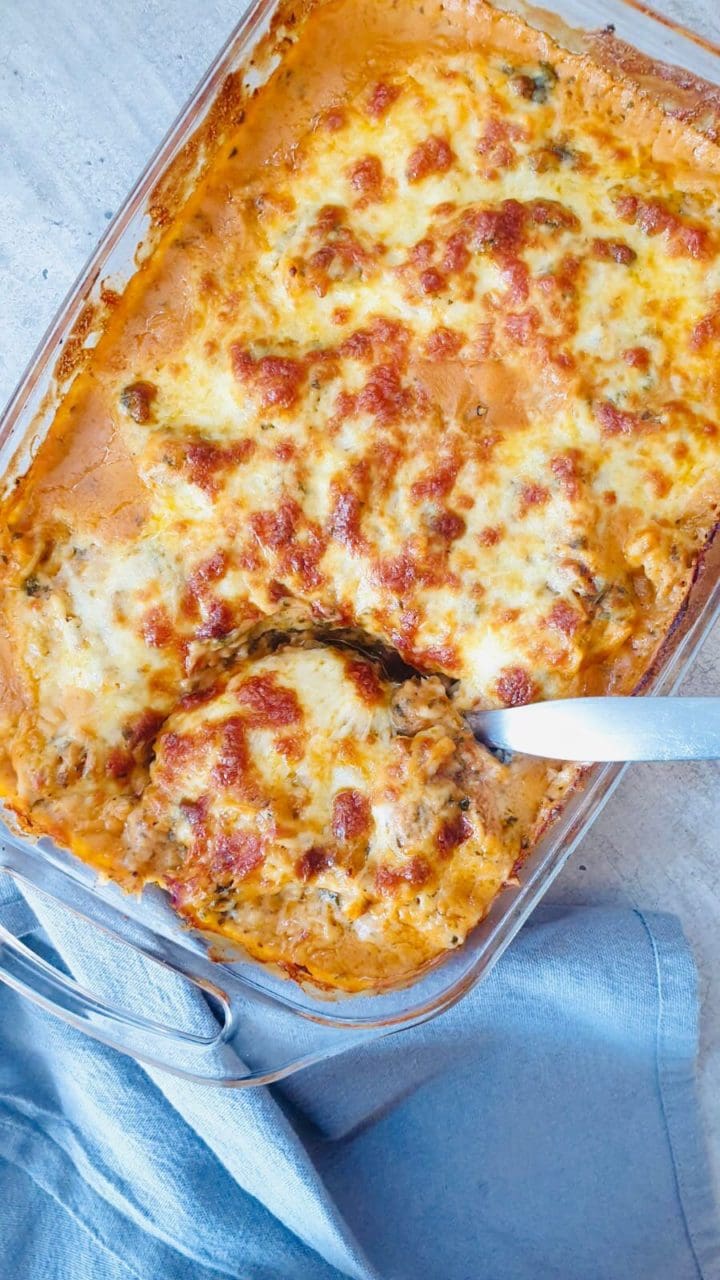 Pasta Sauce
When you add sauce you have everything! It actually doesn't matter what type of pasta recipe you're making the sauce is going to be the prime addition and best part that brings it all together. Here the pasta sauce is made up of:
Aromatics: garlic, onion seasoning, tomato paste and tomatoes
Cheese Sauce
It's exactly the same as making a béchamel sauce all you do is add butter, flour and milk, seasoning, mozzarella cheese and pour that into the spinach and tomato. Which, after you add the cheese might then be called a mornay sauce but more on that in this white sauce recipe.
Toss in a can of tuna and top it all up with freshly grated mozzarella and bake!
Storage
This canned tuna pasta bake will keep well in the fridge for up to 5 days. Freeze for a 1 to 2 months in a well sealed container. Im sure that you can freeze pasta bake for much longer however, I would be careful with the quality of the food if frozen for too long. You can also mark your freezer bags or containers so that you know exactly how fresh your food is and what to use up first.
Re-Heating Instructions
To retain the crunchy texture: Preheat the oven to 190 degrees Celsius and warm till heated through, about 10 minutes. You might want to add a few tablespoons of stock or water when reheating it. Not for a sauce but to give the pasta bake a bit more flexibility.
Leftover Canned Tuna Pasta Bake
Next day pic below! Overnight in the fridge, covered with foil, clingwrap or a container with a lid. Microwave or use oven to preheat.
Frequently Asked Questions
How long does pasta bake stay well in the fridge?
A good 3 days. Make sure its covered.
Can You Reheat Tuna Pasta Bake?
You can reheat pasta bake in the oven or in the microwave. You can also eat it cold served alone or with a salad.
What Other Options Are There To Canned Tuna Pasta Bake?
Tuna feta pasta bake or with more cheese you then have a cheesy tuna pasta bake The options are endless.
Types of Pasta To Use For Pasta Bake?
We love fusilli pasta for a pasta bake just as much as we love penne, rigatoni or even shells and spaghetti. It depend on the sauce that youre making. If you need the sauce scooped up then go with orecchiette as seen here Mushroom Pasta. If you are looking for a pasta that holds up to sauces, chuncky meats and vegetables then Macaroni Pasta Bake is a good choice.
Rardless, you can still use your favorite type. It's actually quite shocking how many types of pasta you can find! Last time I checked there were over 800 types of pasta in Italy, we haven't each touched the surface!
Related Recipes
Pasta Bake Recipes
I hope that you have enjoyed my Pasta bake recipe! Please leave your comments and rating below, thank you!
Do follow me on INSTAGRAM, PINTEREST, AND FACEBOOK and share you photos.
Recipe
Tuna Pasta With White Sauce
This tuna pasta with white sauce recipe is the perfect weekday oven bake that all comes together in 30 minutes. It's really so quick and easy, creamy and packed with delicious spoonfuls. Let me show you how to cook this pasta bake in layers of delicious flavor.
Ingredients
200

grams

pasta (I used fusilli pasta but use any) 2 cups

1

tbsp.

vegetable oil

1

small onion or half a large, peeled and chopped

2

cloves of garlic, peeled and minced

1

tbsp.

tomato paste

salt and pepper to taste

170

grams

canned tuna

150

grams

spinach (about 3 cup or a couple hand fulls.

400

grams

canned chopped tomato
100

grams

mozzarella cheese

2

tbsps.

flour

70

grams

butter unsalted (4 to 5 Tbsps.)

½

cup

parmesan cheese

1

teaspoon

garlic & herb

Pinch of fresh black pepper

2

cups

milk
Instructions
Preheat the oven to 190c/375f

Cook the pasta: In a pot of salted boiling water, cook the pasta for 2 minutes less than the required time on the packet, drain.

200 grams pasta (I used fusilli pasta but use any) 2 cups

Prep the veg: While the pasta is cooking, add the spinach and tomato into a food processor for a few seconds to combine. Set aside.

150 grams spinach (about 3 cup or a couple hand fulls.,

400 grams canned chopped tomato

Cook the aromatics: Heat the oil in a pan and cook the onions till soft. Add the garlic and tomato paste. Stir and cook for a minute or two on medium heat.

1 tbsp. vegetable oil,

1 small onion or half a large, peeled and chopped,

2 cloves of garlic, peeled and minced,

1 tbsp. tomato paste
Make the Béchamel Sauce: Heat a pan and melt the butter, add in the flour and pour the milk in two parts stirring continuously until you get a slightly thick consistency. Turn it into a cheese sauce (Mornay Sauce) In-between stirring also add the parmesan cheese and garlic & herb seasoning. If it's too thick add milk, if you need flour to thicken, add flour by the teaspoon. Finish with a pinch/sprinkle of fresh black pepper. Find a full béchamel sauce recipe here.

2 tbsps. flour,

70 grams butter unsalted (4 to 5 Tbsps.),

½ cup parmesan cheese,

1 teaspoon garlic & herb,

2 cups milk,

Pinch of fresh black pepper

Combine all the Ingredients together and prep to bake: Add the cooked pasta into an oven dish, add the tuna, spinach and tomato mix, white sauce and combine everything. Bake: Top it with grated cheese and bake for 20 to 25 minutes or until golden brown.

200 grams pasta (I used fusilli pasta but use any) 2 cups,

170 grams canned tuna,

150 grams spinach (about 3 cup or a couple hand fulls.,

400 grams canned chopped tomato,

100 grams mozzarella cheese