Chicken Pasta Bake is a great recipe that uses rotisserie chicken or (grilled chicken fillets) or any cooked chicken, which helps everything go a lot quicker. We also add bacon, cheese and pasta. It's a quick, easy and delicious family dinner! The leftovers are even better and somehow even more tasty. This is a wonderful make ahead and bake recipe with no vegetables although, feel free to add many!
This Chicken Pasta Bake is my twist on my recent Mediterranean Chicken Pasta Bake that's loaded with Mediterranean favorites like salami, artichoke, peppers and olives.
There are no veggies in this pasta bake and that says a lot for me because I love my veggies. My blog probably has more meat recipes because my family loves meat however my first love is veggies and quinoa.
Ingredients
A few pantry staples is all you will need to make this pasta bake. Add chicken and fresh cream and you have an easy dinner recipe for the whole family.
Canned Tomatoes: Use chopped or whole tomatoes. I find it best to add them into a food processor to give them a quick 20 second blitz.
Pasta: Any pasta of choice although shorter shapes seem to work best.
Tomato paste: Adds loads of flavor! You can find it in a tube or small can and its concentrated so it's a thick paste and not a watery tomato. It's also not tomato passata which is more of a liquid, so find tomato paste.
Chicken: As mentioned in the first paragraph, any cooked chicken or rotisserie will work in this recipe.
Cheese: This pasta bake is topped with mozzarella cheese and cheddar cheese. You can also use just one cheese if you prefer. If you have any bits of cheese over, this is a good time to use them up in combination!
Bacon: Bacon bits is a great idea especially when you want your pasta bake ready now. If you have whole (shoulder) bacon, chop the bacon into cubes. You can also use pancetta instead of bacon. For a chorizo pasta option, I recommend you try my Creamy Pasta Chorizo.
Cream: Heavy whipping cream or just whipping cream, both will work.
Method
Cook the Pasta: Cook the pasta until it's cooked but not soft. Check your packet instruction and cook it for one minute less than the instructions. Generally if your are using short thick pasta like fusilli or penne, it takes 10 to 12 minutes to cook so I would suggest cooking it for 9 minutes.
Tip! Consider the amount of pasta that must go into the pan at the end when choosing the pan size. A 28cm pan generally works well for tomato sauce or A Dutch Oven.
Cook the onions for roughly 5 minutes with a pinch of salt. Add the chicken and vegetable seasoning (or your preferred herbs and spices) and the tomato paste. Cook for a further 5 minutes. Add the canned tomatoes, season because we always season in layers not just once throughout the recipe.
Bacon: At this point somewhere in between, cook your bacon if not already done.
Chicken: Add the chicken.
Cream: Pour in half of the cream and add the bacon.
Add the Pasta: By this time your pasta should be cooked. Transfer the pasta directly from the pot to the sauce without draining. Use a large handled colander or spoon. When you transfer the pasta, it will carry some of the pasta water into the tomato sauce as it drips, that's fine. You need some pasta water to create a sauce, but you don't want too much so add it slowly.
Add the pasta bake into a baking dish 32cm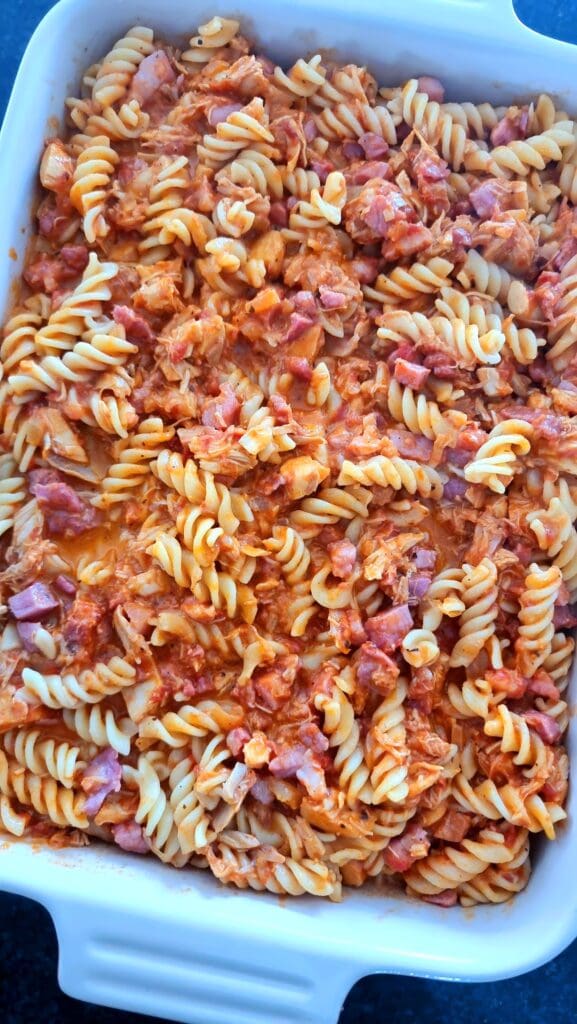 Before adding the cheese, add the remaining cream.
If you find that your pasta is dry, add about ¼ cup stock or water before adding the cheese.
Remember you can always add about a tablespoon or two of water if you need to reheat.
Bake in a preheated oven for 20 minutes or until the cheese on top has melted and turned light golden brown.
Vegetables To Add To Your Chicken Pasta Bake
There is a never ending list of veggies to add, start here;
Broccoli
Mushrooms
Baby spinach
Bell peppers
Zucchini
Eggplants
Red onion
Cauliflower
Butternut
Carrots
Asparagus
Frozen peas
I think what I love most about this recipe is that you can prepare it in advance and easily heat it up the next day. See frequently asked questions below for more.
Any day of the week is fantastic for a pasta bake, I served it on Sunday and here's an idea for this weeks dinners that you can serve.
Dinner Ideas
Weekend Bliss
Don't you love knowing what you're going to make this week making it a stress free week of what's for dinner? Let me know if you have your menu set out for the week or what you favorite meal is down in the comments below.
I know that I'm going to be caught in the middle of my Pasta All'Arrabbiata (Spicy Pasta) and my very popular Pasta Ziti Al Tonno Calabrese (Tuna Pasta) In 10 Minutes and Tuna and Spinach Pasta Bake Recipe!
More Absolutely Delicious Recipes
FAQ's
Do I have to boil the pasta before baking in the oven?
Yes, cooking the pasta before adding it into the sauce saves time, there's no chance of the pasta not being fully cooked and the pasta soaks up all the sauce creating flavor.
What can I do if my pasta bake came out dry?
You probably don't have enough sauce or any liquid at all. Pasta absorbs liquid from the sauce as it cooks so make sure you have enough sauce.
Here a few ways to do this:
While the pasta cooks, steal a cup of water and set it aside to add to the sauce incase you need more liquid. You can tell when you're mixing in the pasta just before you add the cheese. If you like it saucy, add the pasta water.
You can add the pasta water in by the tablespoon (yeah right! only kidding) you probably need more than 2 tablespoons of water if your pasta is dry, so add more like a ¼ cup.
If you've already tossed the pasta water out, use stock or just plain water.
How long does the pasta take to cook?
Generally if your are using short thick pasta like fusilli or penne, it takes 10 to 12 minutes to cook so I would suggest cooking it for 9 minutes.
How to make this pasta bake vegetarian?
Make sure the cheeses are both vegetarian versions, leave the bacon out entirely or use the Smokey soya bits. Add veggies like zucchini, mushrooms, bell peppers and spinach. Chickpeas and beans are a great addition too.
Can I make a gluten free pasta bake?
Yes, just make sure that the pasta, tomato paste and cheeses are gluten free.
Can I freeze leftover pasta?
Yes! Once cooked, cool it down, cover and freeze. It should be moved to the fridge overnight before reheating the next day.
How to reheat pasta bake?
In a preheated oven, 190C / 375F covered with foil, for roughly 20 minutes or until completely heated through. The foil will keep the pasta from drying out.
Can I transfer the dish straight from the fridge to the oven when reheating?
No, you should leave the pasta at room temperature for at least half an hour to an hour before preheating. I like to start preheating the oven a couple minutes after the pasta bake has been removed from the fridge to the countertop.
Can Pasta Bake be made ahead?
You can make the entire recipe, and leave in the refrigerator covered overnight. Remove from the fridge onto the countertop to reach room temperature. This can be done while the oven preheats which shouldn't be less than 15 to 20 minutes. Just as in reheating (above), follow the same procedures adding 5 more minutes to the baking time.
Can I use canned whole peeled tomatoes?
Yes, you can use whole or chopped tomatoes. My suggestion would be to add the tomatoes in a food processor and blitz for 10 seconds, or use a masher to mash it. When they are broken down, they cook quicker and evenly.
What can I use to transfer the pasta to the sauce pan?
Use large slotted spoon that looks like a colander or strainer. Here are some examples.
What is the best pan to use for tomato sauce?
Make sure you are using a non reactive pan, which means that if your pan has a reactive surface, it can make your tomatoes taste bitter, the metallic can also effect the taste and color. Aluminum and cast iron are examples of reactive pans and since tomatoes are acidic the aluminum reacts to the tomatoes, raising all sorts of concerns.
Stainless steel and porcelain coated cast iron so anything like the Dutch oven, sauté pans stainless steel and anodized aluminum pots.
How to follow a recipe?
Collect all the ingredients and make sure that everything is prepped before you start. If you are not used to following recipes, this is a crucial step because it will help you identify with the ingredients, what you have and don't have and what you can substitute.
Prep all your ingredients. Measure, cut/chop and prepare your work station, making sure that all the ingredients are prepped is key to making a successful recipe.
Note: Pasta absorbs most of the liquid so when reheating, add a tablespoon or two of water or stock and cover the dish with foil so it doesn't burn.
Bonus Cook's Tip: Save the pasta water in a bottle in the fridge for reheating purposes.
If you try this Chicken Pasta Bake recipe feel free to leave me a comment and a star rating! And if you take a photo of your dish and share it on Instagram, tag me @anosmickitchen and use the hashtag #anosmickitchen because I love seeing your remakes! Happy cooking😀
Recipe
Chicken Pasta Bake
Chicken Pasta Bake is an easy cheesy recipe using rotisserie chicken, bacon, cheese and pasta that makes the perfect family dinner! The leftovers are even better and somehow even more tasty. 
Equipment
1 Good Kitchen Knife

1 Chopping board

1 Measuring Jug

measuring spoons

1 Large Pot for cooking the pasta

1 Colander for straining/transferring the pasta
Ingredients
500

grams

fusilli pasta (or your preferred pasta shape)

2

tbsps

olive oil

1

large onion, peeled and diced

1

teaspoon

chicken spice

1

teaspoon

vegetable spice

1

tbsp.

tomato paste

800

grams

canned chopped tomatoes

1

rotisserie chicken (deboned, skinless)

Or homemade grilled chicken breasts

250

grams

cooked diced bacon. If using shoulder bacon, slice into cubes.

120

grams

double thick cream (half cup)

1

cup

grated mature cheddar cheese

½

cup

mozzarella cheese

finely chopped fresh parsley, handful
Instructions
Preheat the oven to 190°C / 374°F.

Bring a large pot of salted water to the boil and cook the pasta for about a minute less than the package instructions. Taste it and just before it gets soft, drain it and set aside.

While the pasta cooks, cook the chicken (if not using rotisserie), onions and bacon.

Heat a large non stick pan and add the oil and cook the onions on medium heat for about 5 minutes until soft with a pinch of salt.

Add the canned tomatoes and cream, bring to a low simmer, add the cooked bacon, chicken and pasta. Combine and transfer to a baking dish.

Top with cheeses, cheddar and mozzarella.

Bake in a preheated oven for 20 minutes or until the cheese on top has melted and turned light golden brown.

Remove from the oven and garnish with fresh parsley. Enjoy!
Notes
Pan
Make sure your pan is large enough because when you add the pasta into the sauce it will spill over if upur pan is small. Better still, use a pan with high sides. 
Pasta Servings 
Remember that typically, it's about 100 grams per person serving. 500 grams of pasta will feed 4 to 6 people comfortably (if they not too hungry!). 500 grams of pasta is one packet of pasta and that's the amount that must go into the pan, + the tomato sauce so judge the pan size accordingly. 
add about ¼ cup of water not more.
Cook the Pasta:
  Cook the pasta until it's cooked
but not soft.
 Check your packet instruction and cook it for one minute less than the instructions. Generally if your are using 
short thick pasta like fusilli or penne
, it takes 10 to 12 minutes to cook so I would suggest cooking it for
 9 minutes
.
Make Ahead: 
Make the complete recipe, cover with foil and leave in the fridge until ready to bake the next day. Remove the Chicken Pasta Bake from the oven and leave on the kitchen counter to reach room temperature while you preheat the oven to

190°C / 374

°

F. About 20 minutes. 
Add about ¼ cup of chicken stock to the dish (slowly pour around the dish) place in the oven and leave till nice and hot. 
Refrigerate
Store in a sealed container (pyrex dish) and warm as needed for a day or two with a quick pop in the microwave.