Hasseback potatoes are the perfect side dish because once again the humble potato makes a grand appearance and I love it when that happens. I get very excited about a vegetable that can turn heads because we tend to think of them as 'just a vegetable'. They are so much more especially as showcased in this Oven Roasted Butternut recipe and these hasselback potatoes.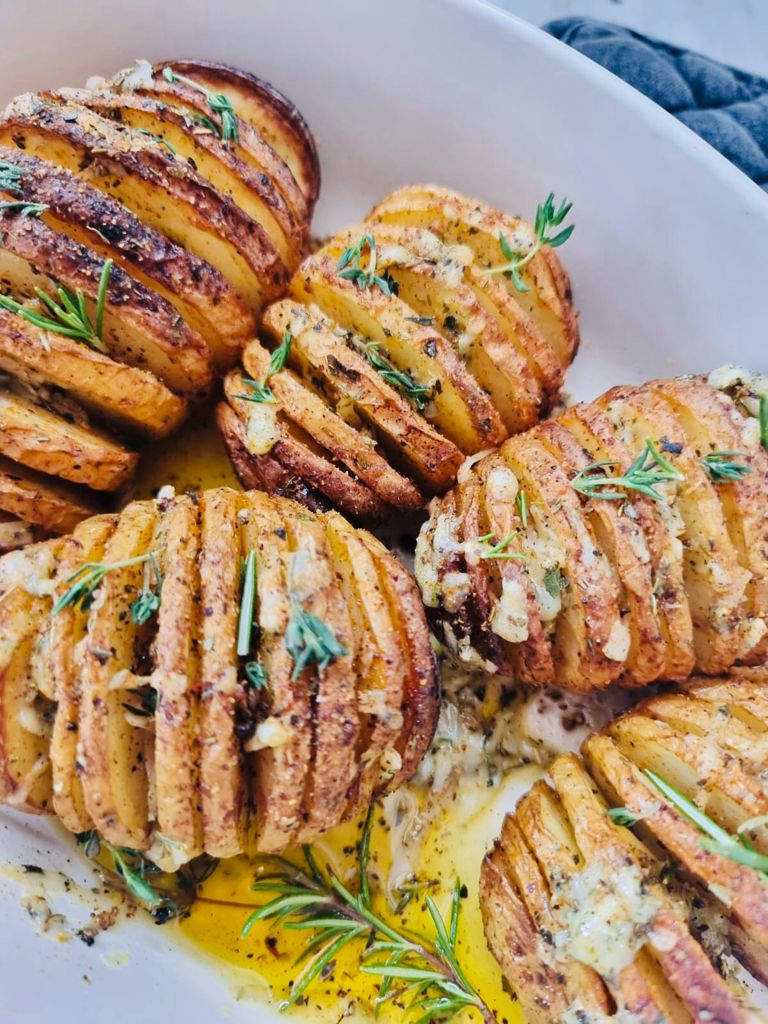 If you've not tried hasselback potatoes you want to give this recipe a go because you will have very happy people around the table. That and they have perfectly crispy crusts with soft, cheesy, well seasoned and fluffy potato slices.
My daughters decided that they were making potatoes today in their respective houses and I knew I had to join the cooking party 🙂
How To Make Hasselback Potatoes
You may also be wondering what type of potatoes you can use? Don't, simply use the potatoes you have because any work.
I always use 2 wooden spoons with the potato in the middle and then slice down until it reaches the spoons. The spoons are there to make sure the knife doesn't go all the way down. The idea is to have the slices sitting on the base of the potato.
Seasoning
You can use the basics here which is salt and pepper seasoning and don't forget about the oil. Oil, butter, duck fat or whatever you prefer as long as you use some kind of fat for flavor. Without some kind of fat on the potatoes they will be dry and lack flavor.
Working in a bowl is a lot better to mix the seasoning and oil, making sure to coat each potato. Try and get the seasoning inside the slits without breaking the slices. If you do pull one too far out keep going it's still going to taste incredibly delicious!
Tips & Suggestions
Roasting the potatoes on a baking sheet (paper) makes the clean up a lot easier but is not essential. You can still roast them in any oven roasting dish. The oven dish should be a good quality because the oven heat we're using is very hot and some trays tend to warp in the oven under pressure.
Point is I have a very 'good quality' pan and it still warps under pressure but still works fine but that's just to let you know. What's warping? The bang you hear in the oven when you're baking something on a high temperature oven - that's the tray warping.
When you take the potatoes out the oven they are done and ready to be served however I prefer to dress them up a little. Dressing them up a little takes them from plain delicious potatoes to 'ooh la la' potatoes with a few simple steps!
Use the seasoning mix generously! A combination of butter and oil works beautifully I know because I've always tried them and it's wonderful! In this recipe I have used only olive oil. I know I know, how can you not use butter right? Because butter makes all things flavorful. Yes and as true as that is I want you to know that these hasselback potatoes were another level of delicious and no butter!
Add On's
Nothing because hasselback potatoes are beautifully delicious on their own. However if you know me or have been following this blog or my Instagram you know I need to take the flavors up a notch, just a little or a lot 🙂
So here I went with Parmesan cheese. A little grated parmesan that melts in the potato and in your mouth!
I used olive oil and was a bit concerned because Ive only ever used butter and oil (more butter) so my concern was that they would not be as good. Very mistaken they were amazing!
This recipe uses the ever so flavor packed with great customer reviews vegetable spice from Smell & Taste.
NEVER MISS A RECIPE
Join my free email list HERE to receive new recipes and a set of three delicious recipe ebooks!
Shop our online store for quality all natural spices.
Recipe
Crispy Baked Hasselback Potatoes
You are going to love these hasselback potatoes and create happy faces around the table! Well seasoned, crispy, melted cheese, soft inside.
Ingredients
4 to 6

potatoes

5

tbsps.

olive oil (or your preferred fat, you can also use butter, butter & olive oil or duck fat) See note 1.

¼

cup

parmesan cheese, grated

½

teaspoon

vegetable spice
Notes
Note 1. 
If using a combination of oil and butter use about 3 tablespoons of butter and 2 tablespoons of oil. 
Nutrition
Serving:
1
person
Calories:
201
kcal
Carbohydrates:
19
g
Protein:
7
g
Fat:
11
g
Saturated Fat:
3
g
Polyunsaturated Fat:
1
g
Monounsaturated Fat:
6
g
Cholesterol:
11
mg
Sodium:
198
mg
Potassium:
464
mg
Fiber:
2
g
Sugar:
1
g
Vitamin A:
110
IU
Vitamin C:
21
mg
Calcium:
151
mg
Iron:
1
mg