Steak nibbles coated in a blend of flavorful herbs and spices, seared in hot oil and melted butter and served with a sprinkle of herbs. What's not to love? The perfect bite that will sooth all the meat lover's in your family. As opposed to a full steak and perhaps a sauce to go with it, these steak nibbles are so much quicker. If making the perfect steak is intimidating then this is the recipe for you- easy, quick and tasty!
Adding the garlic after the steak has seared prevents it from burning. See more on adding garlic below.
Steak Nibbles
If you wondering how to make these steak nibbles then come this way as I let you in on an easy and delicious recipe! Get yourself some steak and make it a fresh cut of either one of the following because my friends steak is steak or is it? Here are some options of the meat that you can use for this recipe.
Fillet
Rib eye
Sirloin
Rump
How To Make These Steak Nibbles
Use your favorite spice blends, the ones you know will add a little bit of everything to enhance the flavor. In this recipe we used natural spices from our Smell and Taste
Garlic - minced garlic for loads of flavor! You can use less or leave it out if you don't like garlic or for health reasons can't eat garlic. I've made these steak nibbles so many times both with and without garlic and they taste amazing regardless!
Does the garlic add flavor? Absolutely - but so does the oil and butter. As long as you have a good spice blend and your steak is well seasoned it will be addictively good!
Butter & Olive oil - It just works in terms of the most flavorful steak nibbles!
Spice and Seasoning - It's compulsory because it can seriously take your food from bland to 'oh so delicious!'
Fresh parsley - It's a special love affair with flat Italian parsley Bright, green and even naturally dried, it just works!
Tips & Suggestions
If you've been following along you know that the tips & suggestions is my favorite part of writing recipes because its where I have an opportunity to share real life tips from my kitchen to yours!
Let's do it....
Try not to make the cubes too big or too small, they should be bite sized.
Room temperature meat
Season generously
Coat the cubes well in spices and seasoning before frying
Use a hot skillet!
Don't touch them for the first 1 to 2 minutes when they're in the pan
Add small blobs of unsalted butter into the pan while searing on the first side but don't touch them
Once you turn them over, take a spoon and scoop the fat and baste the seared side.
What's left to do?
Sprinkle fresh greens and serve with a toothpick! And maybe a good dollop of sour cream? Enjoy!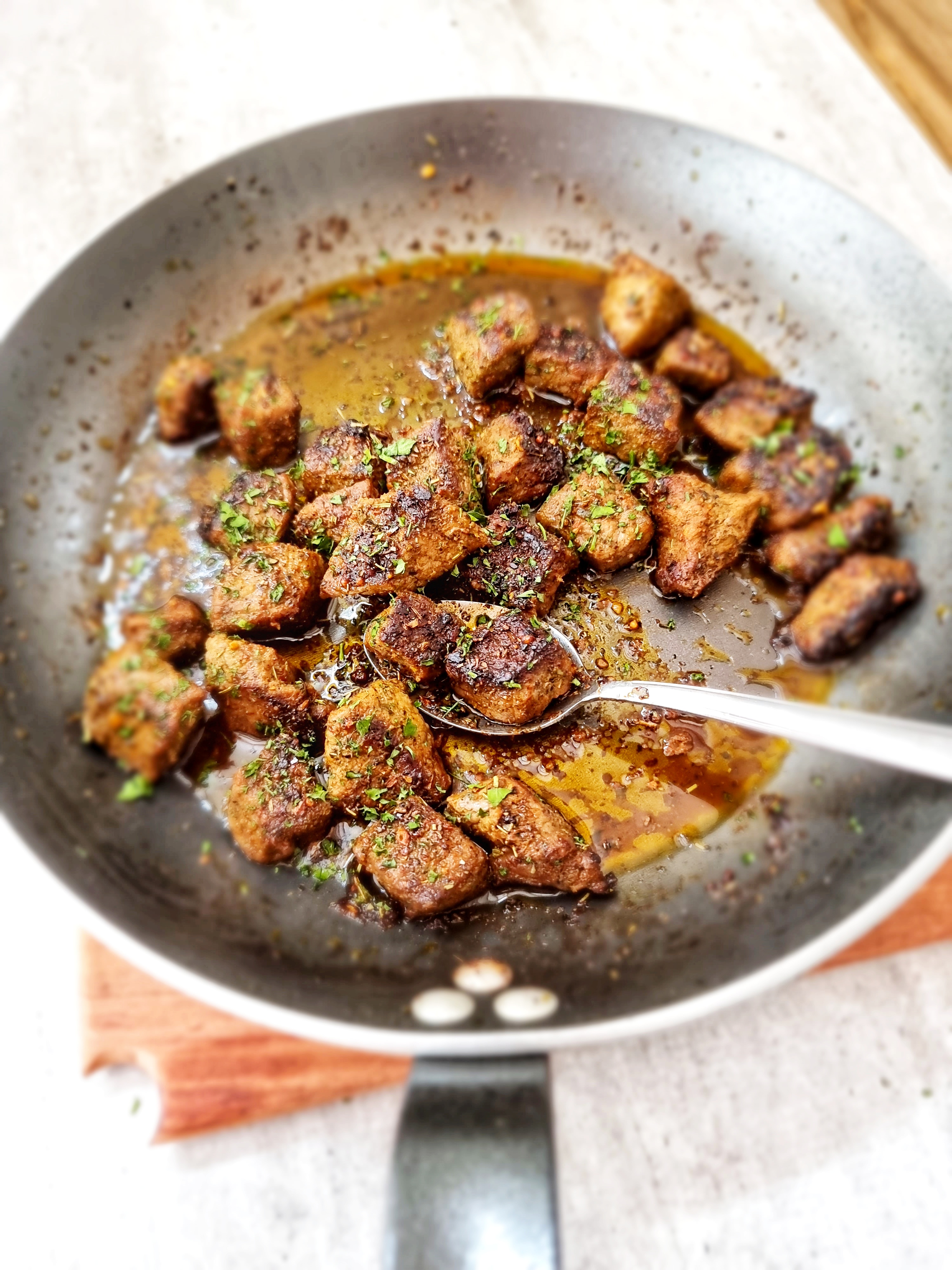 Serving Suggestions
You know what I think is the best way to eat these steak nibbles? Toothpicks! If you get a couple toothpicks into the steaks for serving, you will soon end up with an empty plate.
More Steak Recipes
Don't forget that by rating and commenting on your favorite recipe/food blog you are helping support the content that we share?
If you enjoyed my Steak Nibbles recipe please click the stars below to rate and comment!
Recipe
Steak Nibbles
Serve these tasty and spicy seared steak nibbles as part of a main dish or a side/snack
Ingredients
500

grams

rib eye cubed, or sirloin

2

tbsps.

olive oil

6

tbsps.

unsalted butter (+1 tablespoon)

4

garlic cloves, minced

¼

cup

fresh parsley, roughly chopped
Instructions
500 grams rib eye cubed, or sirloin,

½ teaspoon salt & pepper mix,

½ teaspoon Steak rub, or Involtini meat rub

Sear in hot oil and butter, undisturbed for 2 minutes.

2 tbsps. olive oil,

6 tbsps. unsalted butter (+1 tablespoon)

Turn, add more butter, and sear for another 2-3 minutes.

Add garlic and fry for a minute or toss with the steak for 30 seconds before removing from heat.

¼ cup fresh parsley, roughly chopped
Notes
Please remember that the nutritional information is a rough estimate and can vary based on the ingredients used.
Nutrition
Serving:
100
grams
Calories:
276
kcal
Carbohydrates:
1
g
Protein:
5
g
Fat:
29
g
Saturated Fat:
14
g
Polyunsaturated Fat:
2
g
Monounsaturated Fat:
12
g
Trans Fat:
1
g
Cholesterol:
63
mg
Sodium:
16
mg
Potassium:
72
mg
Sugar:
1
g
Vitamin A:
558
IU
Calcium:
7
mg
Iron:
1
mg