Quick, easy and delicious! These Air Fryer Chicken Drumsticks are so incredibly tasty and the sweet and sticky sauce adds another layer of flavor! Perfect for a weeknight dinner with a side dish or as an appetizer but be sure to use disposable napkins for the sauce!
Air Fryer Chicken Drumsticks
The skin is so crispy and mouthwatering and the meat on the inside is tender and juicy! Yes, it's the air fryer to the rescue making meals so much easier.
These are great for a quick meal and if you're concerned that fussy eaters won't approve of the sauce simply omit it, these drumsticks are still soft and juicy and the skin crispy.
These Crispy Spicy Baked Potato Wedges are a great pairing with these chicken drumsticks. If you're looking for a healthier side dish you can serve them with this Brussel Sprouts Air Fryer or a salad of your choice.
If you love meat in a braai (barbecue) sauce then these air fryer chicken drumsticks are the way to go. They'll also be gone and eaten in no time, they're so good!
Why You Want To Make These Air Fryer Chicken Drumsticks
Chicken in general is a family favorite type of meal and you never need a reason to cook it. These drumsticks are a great change from oven roast chicken or chicken breast recipes.
Healthier Than Frying - This is the first point because it's the reason so many people make the investment in buying an air fryer.
Mess and Fuss Free - You have one air fryer basket to wash up. That's not even the only convenience, there's also no longer the dilemma of which pan to use, is it too big/small and is it non stick. With the air fryer, all those dilemmas are non existent.
Deliciously Crisp - The air fryer has a knack for making food really crispy and crunchy without the oil splattering.
Convenient - There are many conveniences but if I had to narrow it down to personal preference it would be that you can open and close the air fryer during cooking without the risk of getting burnt! There's no heavy pot to take in and out the oven with a good pair of gloves, the air fryer gives us the luxury of choice.
Ingredients
Chicken drumsticks
Chicken spice rub
Cooking spray
Butter
Garlic
Let's break it down for you even more;
Chicken Drumsticks: I used skin on drumsticks for flavor and to get a crispy outer layer. You can also use chicken breast, wings or chicken thighs.
Chicken Spice: The spice rub is as important as the freshness of the protein or umami tasting braai sauce. 13 Spice Chicken from the Smell and Taste shop is used here.
At this point, you can stop right here with the chicken and spice and move on to the cooking method without the sauce or you can add the sauce.
Braai Sauce: You can definitely use store bought sauce but I do have this braai sauce recipe on the blog for you. You can make it in advance, store and use as and when needed.
Method
Chicken Drumsticks: Dry the chicken, the more the skin is dry, the better the spices hold on to it and the crispier it will be.
Season: This is something that's underestimated and shouldn't be because the right spice will add flavor you didn't even consider possible. We are using this Chicken seasoning. These gluten free, 100% natural, preservative free, non Irradiated spices are your game changer in the kitchen!
"They taste delicious, fill your kitchen with aromas so good everyone will be asking what's cooking? These spices will take your food to a new level of incredible"
Preheat: Some air fryers have a built-in preheat setting, if yours doesn't, simply manually set the timer to preheat for roughly 3 to 4 minutes on 200 degrees Celsius.
Cooking spray: A light brush of cooking spray goes a long way to help prevent sticking. Use it directly onto the surface of the air fryer basket.
If at any time during the cooking process, you are concerned that the chicken may look dry, don't be scared to give them a quick light spray of cooking oil, close the basket and let them continue cooking. The joy of the air fryer!
Cook: Place the drumsticks into the air fryer basket.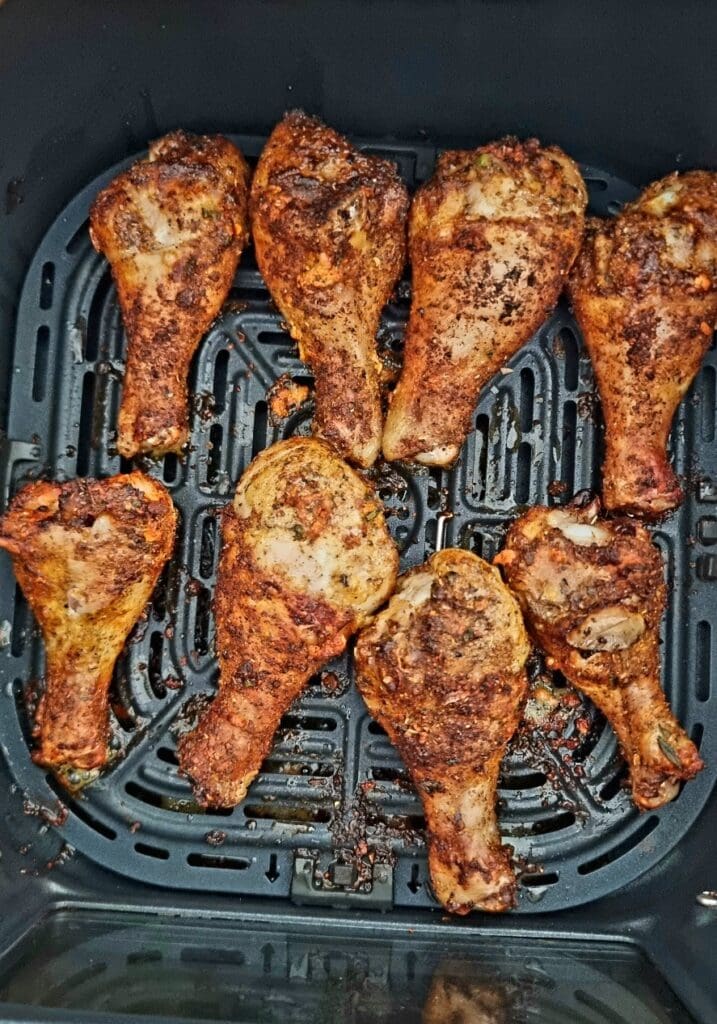 It's not overly important to place the chicken skin side down since these are skin-on chicken drumsticks, but be sure to turn them halfway through cooking.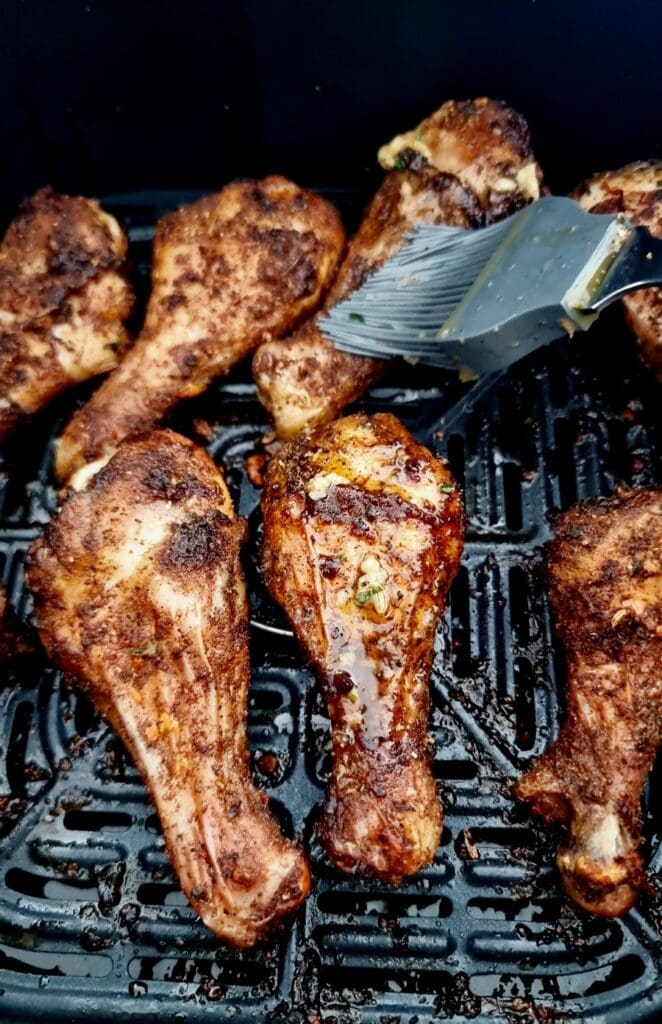 When you flip the drumsticks to cook on the opposite side, you could turn, close the air fryer and let them cook finish right? Read on..
But why settle for good drumsticks when you can have tender, succulent, crispy and mouthwatering all at the same time?
Tip: Brush with melted butter and crushed garlic once you've turned the chicken. This is a game changer
You would think that's it, but no, there's even more deliciousness coming your way!
Are you ready?
These chicken drumsticks are ready in the previous step to be served. If you want to add this braai sauce, let's do it.
Coat: Dip the chicken drumsticks into the braai sauce making sure they are well coated.
Air fry: Place the chicken drumsticks into the basket and cook for 2 to 3 minutes or until browned to your liking. Leaving them in too long will only burn the sauce so be mindful of that and it will overcook the chicken!
I promise you this is not just photo editing, the natural lighting was orange on this day😀
Air Fryer Chicken Drumsticks FAQ's
Here are some frequently asked questions that will answer some of the questions you may have.
How long do chicken drumsticks take to cook in the air fryer?
They take 20 minutes to cook and don't forget to turn them halfway through.
What temperature should I cook chicken drumsticks in the air fryer?
I find that 200 degrees C /400 F is the perfect air fryer temperature to crisp the skin without drying the meat up.
Is it important to flip the chicken halfway through cooking?
Yes, to make sure that the chicken cooks all the way through.
Should I wash the air fryer after cooking?
You should wash the air fryer after cooking as you would do a pan. Whenever I make something with a sauce in like this braai sauce it creates a lot of stickiness so washing the air fryer basket is important.
How to wash an air fryer basket?
To remove difficult dirt in the air fryer is easy. All it needs is hot water and dish washing liquid. Leave it to soak for a couple minutes and then use a soft sponge to remove. A quick rinse and it's like new again.
Can I wash the inside of the air fryer?
Wait until the air fryer has cooled down and use a damp cloth to wipe it inside. No scrubbing or hard scourers!
What to serve with Chicken Drumsticks?
Serve with your choice of salad, potato sides, mashed potatoes, rice, roasted veggies to mention a few.
Serve with these sides:
Expert Cooks Tips!
Don't overcook the chicken! If you don't have an instant read thermometer then buy one because it's worth it especially if you're new in the kitchen and definitely for when cooking meat dishes. It's not only to check that the chicken's not over done it's also to check that you've cooked it through. Under cooking is a food safety issue.
Depending on the size of the chicken drumsticks, you want them to fit comfortably into the air fryer basket. Rather work in batches but don't overcrowd the basket. You want the chicken to crisp up not steam over each other.
This recipe is very quick! Have your ingredients all ready before you start.
The chicken should be thawed before cooking and at room temperature but leaving the chicken on the countertop for extended hours will breed bacteria!
Recommended
LOOKING FOR MORE INSPIRATION?
Subscribe to my free newsletter and follow along Facebook, Pinterest and Instagram for updates
Shop our online store for quality all natural spices.
Before you go!
If you try recipes, please leave me a comment and a star rating! And if you take a photo of your dish and share it on Instagram, tag me @anosmickitchen and use the hashtag #anosmickitchen because I love seeing your remakes! Happy cooking😀
Recipe
Air Fryer Sweet & Sticky Chicken Drumsticks
Tender and crispy air fryer sweet and sticky chicken drumsticks are perfect for a delicious quick and easy family meal.
Instructions
Prep the chicken: Dry the chicken drumsticks using a kitchen towel or paper. Dry skin, spices hold on easier and the skin is crispier.

Melt the butter in the microwave and mix it in with the minced garlic. Set aside.

Preheat the air fryer to 200 C/400 F.

Seasoning: Place the drumsticks on a plate/in a bowl and add the chicken spice, making sure the drumsticks are well coated.

Air fry: Just before placing the drumsticks into the basket of the air fryer, give the basket a quick coating with cooking spray.

Cook for 10 minutes, turn them over and give each drumstick a basting with the melted butter and garlic. Continue cooking for another 10 minutes.

Once done, give them another coating of butter and garlic on the opposite side as you transfer them from the air fryer to the serving dish.

Dip the drumsticks in the braai sauce and return them to the air fryer basket to air fry for an additional 2 minutes. The cooking internal temperature should be 74°C and will rise about another degree as they rest.
Notes
Don't panic if you notice that the sauce still looks a little wet after the 2 to 3 minutes in the air fryer, remember the sauce and flavor will settle in as they sit.
Don't overcrowd the air fryer although 6 drumsticks did fit comfortably in my 5.7L air fryer basket. 
Remember the drumsticks are cooked to perfection even before the braai sauce incase you don't want to add the sauce but you will be missing out on incredible flavor!
If you have any left over, they keep really well in an airtight container in the fridge for up to 3 days. However, if you are going to store left overs, make sure to do it shortly after eating, don't leave the food sitting at room temperature for hours on end, this is how bacteria can quickly spoil your food.