You want to make these spicy chicken bites! This is the best weekend food for adding into wraps, on toast, with couscous, salad, you name it. It's a lot like my Steak Nibbles and after posting it to my Tiktok and YouTube I figured you just might want the full written recipe so here we go.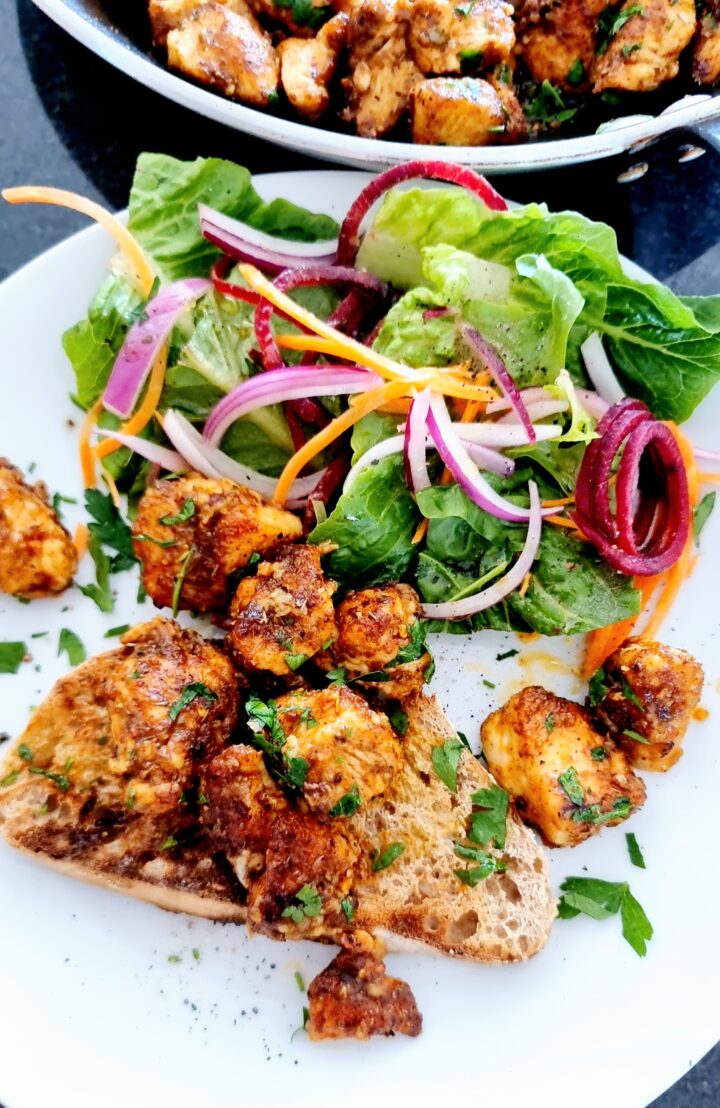 On the weekend, there's hardly anyone that wants to do anything at all including cooking no matter how much you love it. Winter season, I don't seem to mind having slow cook oven meals but right now it's summer in South Africa which means February is at it's peak with soring high temperatures. Everyone wants to be out in the sun, not heating up the stove in the kitchen. That's what makes this recipe perfect!
Absolutely no lies, it took me 10 minutes to make including the preparation. Better still, if you do the prep the night before, it's a matter of heating the pan.
What You Will Need To Make Spicy Chicken Bites
If you have the spices, you halfway there 🙂 I went with the Smell and Taste spice range here because they are not only the best, these spices are also 100% natural, no nasties, smell amazing and taste even better. They are guaranteed to level up your food!
You Need;
Chicken breasts Dry them before using.
Flour You can also use Maizena or corn flour.
Butter and Olive oil Butter is pure flavor adding a richness to the food and the olive oil brings it's own flavor too. Besides, if you added the chicken to a dry pan, there would be a different result.
Seasoning and Spices Cajun because of the spice combination is always a good choice. I couldnt leave the chicken spice out, those 13 spices in there is what makes it a repeat spice. Don't forget about the salt and pepper but do make sure that the spice you are using is not heavily laden with salt otherwise you might have to omit it, to prevent your food being too salty.
Fresh Parsley Flat Italian parsley is not only used a garnish but I do roughly chop and the first half in while the food is hot so it wilts into the food and the remaining is added on as garnish.
Fresh Lemon A squeeze of fresh lemon is what pulls all the flavors together for that unforgettable taste!
How To Make Spicy Chicken Bites
I used chicken breasts but feel free to use the same recipe using chicken thighs if you want, obviously the timing will be longer.
Chicken Breasts They cook quick but if they are thicker breasts they tend to take longer so to speed it up pound them. First make sure that the chicken fillets are dry by dabbing with kitchen paper/towel. Use a mallet to gently pound them, you don't want mashed chicken, you want then fillets a little thinner so that can cook quicker. Cut each fillet down the middle, then into cubes. Repeat until all the fillets are cubed. Set them in a large dish.
Fat Fat equals flavor so you want to use both unsalted butter and olive oil in this recipe. Get those two into a large non stick pan. The pan should be large enough to comfortably sear the chicken.
Spices The star of the show here is the spices. I used all the Smell and Taste Spices because they are clean, natural and incredibly tasty! They are the best. Use your favorite chicken spice, salt and pepper, Cajun spice and flour to bind everything together.
Sear The Chicken Once your pan is hot, add the cubed chicken (the pan must be hot) make sure the chicken is not piled over each other. You can either do this in two batches or, in your pan is big enough, one batch. Simply use a tongs to separate the pieces. About 3 minutes on each side is good enough, you just need them to brown with a good sear and this happens quickly when you pan is hot and your heat is medium to high.
Serve Garnish with flat Italian parsley and fresh lemon juice.
More Quick and Tasty Recipes
looking for more recipes?
Subscribe to my free newsletter and follow along Facebook, Pinterest and Instagram for updates
Shop our online store for quality all natural spices.
Here's My Tip: Dry the chicken fillets before using them so the spices stick and the skin crisps up. If time permits, you can also cube the fillets and leave them uncovered to dry even more in the fridge, the same technique as when you wanting to dry the skin on porchetta.
Watch The Video
Recipe
Spicy Chicken Bites
You want to make these spicy chicken bites! This is the best weekend food for adding into wraps, on toast, with couscous, salad, you name it. Use your favorite spices and make it in 10 minutes!
Ingredients
4

chicken breasts

2

tbsps.

flour

1

tablespoon

chicken 13 spice

2

tbsps.

Cajun spice

salt and pepper to taste

3

tbsps.

olive oil

2 ½

tbsps.

unsalted butter

fresh Italian parsley
Instructions
Prepare The Chicken: Using room temperature chicken breasts, make sure they are dry by using kitchen paper or towel. If the fillets are dry, the seasoning sticks better to them and they crisp up better.

If you chicken fillets are too thick, use a mallet to gently pound them down a little so they can cook faster. Cut each fillet down the middle lengthways and then cut those two lengths into cubes. Repeat until all the fillets are cubed.

Combine The Spices: Add all the spices, salt, pepper and the flour over the chicken pieces and use a pair of tongs to combine everything together.

Cook The Chicken: Heat a large non stick pan and add the butter to melt followed by the oil. Only when the fats are hot do you then add the chicken bites and cook them for approximately 3 minutes per side but wait for that deep browning or sear so keep the heat medium to high so they cook quickly. You don't want to overcook or undercook them.

Serve: Garnish with fresh parsley and a squeeze of fresh lemon.
Notes
Chicken is cooked at an internal temperature of 73 to 75 C. The reason we used a mallet to pound the chicken before cutting it into cubes is so that it cooks quicker, so 3 minutes per side, give or take is good here. If you don't pound your fillets, they may take a minute or two longer. Watch the sear. If the pan is hot when you start it's quick. 
Enjoy!