It's Saturday morning and my hubby dearest mentioned that his Italian friend is coming over for a 'quick pasta. To some it may seem strange because it' not even 10am right? Generally breakfast is served like bacon and eggs or pancakes but no, not us.
This is how this pesto pasta with sun-dried tomatoes came about. It was easy, really quick and worth every bite!
Pesto Pasta With Sun-Dried Tomatoes
You can get the full basil pesto recipe on my blog which has a few variations. In this one I used almonds because that is what I had. To cut time down I toast whatever nuts I have and then store them in a sealed jar. When you need them that's one less thing to do.
Basil Pesto
Start by adding the almonds in a food processor to break them up.
Followed by the garlic and lemon juice, fresh basil, salt & pepper and freshly grated Parmesan cheese
While the processor is going add the oil. That took about 5 minutes to make!
Sundried Tomato Pasta
This pasta recipe was so good! It's a whole lot of umami and more and gives a good punch of savory. Fresh lemon and garlic still create mouthwatering memories in my mind as I write this. The tastes are evidently fresh, fragrant and damn delicious!
A little goes a long way because it's a bowl packed with flavor!
When adding the sun dried tomatoes to the basil pesto taste as you go. They are both bold flavors so balance is key. Use the recipe card below as a guideline and then taste as you add because everyone's preference is different.
Prepackaged sundried tomatoes, just get a few into the blender with a dash of water and blend into a puree. Pour it into a saucepan to heat and add a few fresh basil leaves.
Tips & Suggestions
Give the pasta a good stir so that all the pesto is inside the creases
Remove the pasta from the stove and get it into a separate bowl
Basil pesto should never be heated because it changes the make up of the basil
It might even turn a darker not so great shade
This is why I returned the sun-dried tomatoes to a saucepan to heat for a few seconds. Serving it hot since the pasta and basil were being mixed off the heat.
If you've never made your own basil pesto then definitely get on that!
It will add flavor, fragrance and a pop of color to so many of your dishes. From pesto pasta to toast and vegetables. A little goes a long way so it will always be worth it. Perhaps the biggest benefit is the control it gives you in terms of quantity. There's simply nothing like it.
Make sure that you are adding the required amount of olive oil to the pesto not an oil over-kill. To make your pesto creamy and soft it doesn't necessarily mean it always needs more oil.
If you are boiling water for the pasta simply add the pasta water into the pesto to make it creamy. Always add by the tablespoon and eye ball it until you're happy with the consistency.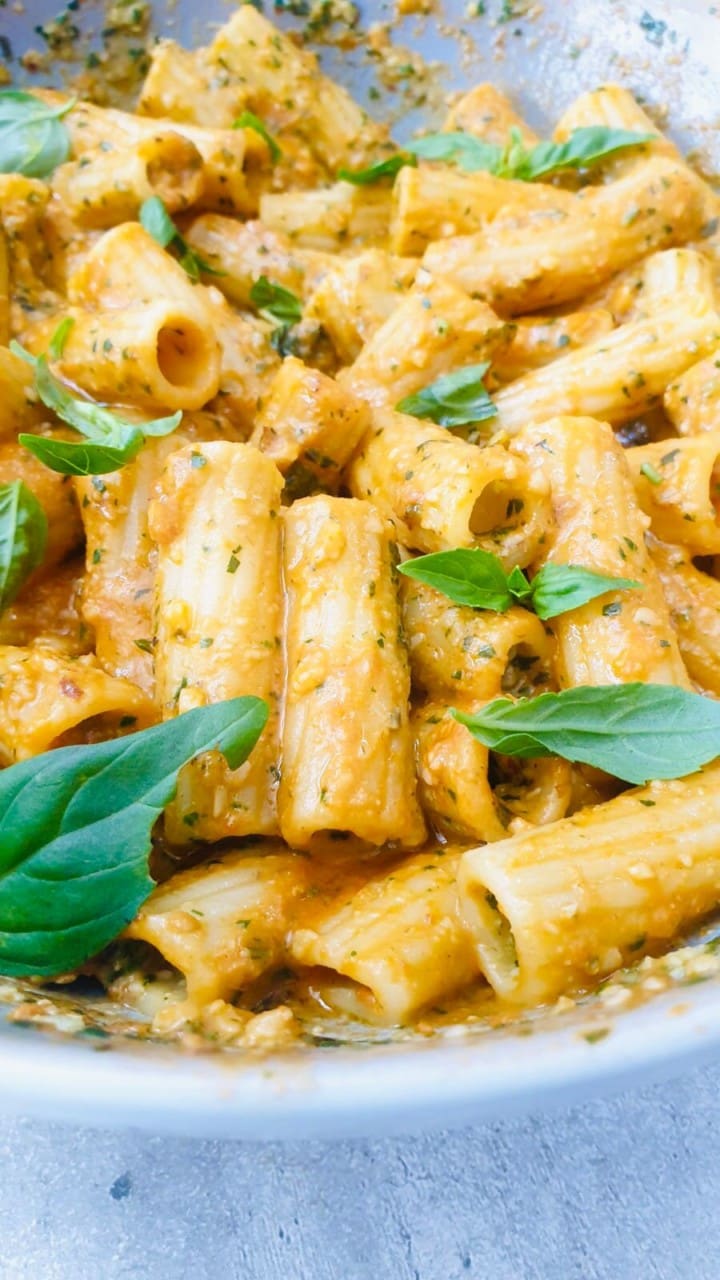 Sun-dried Tomato Pasta
There are also many ways you can use your sundried tomatoes. In this recipe I added them directly to the food processor after making the basil pesto (less clean up). For a more smooth and creamy finish I would suggest a blender depending on how smooth you want it.
The
food processor
does smooth it out but because it's a small amount the blade can't really get to every morsel of tomato so rather blend if you want it smoother. 
You can also finish off this recipe with a little grated parmesan when serving although I went with just fresh basil because the flavors were already there.
Alright friends I hope that you have enjoyed reading this post and will try the recipe! If you love basil pesto and sun-dried tomatoes this is the recipe for you.
Quick
Flavor bomb
Fresh
Easy
Delicious
Vegan
More Creamy Pasta Recipes
Some of these have cream and others not, either way give them a taste!
PIN THIS RECIPE
I hope that you have enjoyed my Pesto Pasta with Sun-dried Tomato Recipe!
If you try this recipe be sure to leave me a comment and rating below! Thank you.
@anosmickitchen #anosmickitchen
Do follow me on INSTAGRAM, PINTEREST, AND FACEBOOK and share you photos. Feel free to leave a comment and rating below!
Recipe
Sun-Dried Tomato Pasta With Basil Pesto
Sun-dried tomato pasta with homemade basil pesto is the ultimate pasta craving! Creamy without adding cream, quick and super simple to make.
Ingredients
250

grams

rigatoni pasta

200

grams

sundried tomatoes (store bought with the oil)

2

tbsps.

1 recipe for basil pesto

salt & pepper seasoning (+ salt for pasta water)

2

tbsps.

filtered water

fresh basil
Instructions
Heat the water in a kettle for the pasta. When boiling, pour it into a large enough pot and bring it to boil.

Once boiling add the salt and pasta.

Cook according to package instructions although for rigatoni it should take anything from 9 to 12 minutes so check it at 10 minutes.

You don't want to over cook it till it's too soft because the holes will flop making it difficult for the sauce to go in.

Once the pasta is ready, drain it keeping a cup of the pasta water just incase.

Pour the pasta into a separate bowl and add the basil pesto and combine. This must be done off the heat (or the pesto will lose it's bold color)

Pour the sundried tomatoes with the oil and a tablespoon or 2 of filtered water into the blender and give it a quick whizz.

Pour it into a saucepan add a few fresh basil leaves and heat it.

Pour the sun-dried pureed tomato over the basil pesto pasta and serve with additional fresh basil.

Optional - A squeeze of fresh lemon, a sprinkle of fresh black pepper and a touch of freshly grated parmesan cheese.