Chicken Fettucine Alfredo with no garlic, creamy and delicious. A simple Italian recipe that gets a meal on the table in no time at all. This recipe is not only delicious it's also so simple, tastes amazing and more importantly is recipe friendly because with my tips in this post you cannot go wrong. Let's make some chicken fettucine alfredo friends!
The original way to cook an alfredo sauce for pasta is butter and Parmesan cheese and 'aqua di pasta' (pasta water). When this recipe got to the USA the butter and the cream combination didn't yield the same quality flavor as in Italy so they added heavy cream to get a richer result of alfredo pasta.
I think it goes without saying that we love pasta and this together with all the pasta recipes on this blog have been on repeat for years, I also seem to have been preparing more and more comfort meals, we will blame it on the weather 🙂 but for now lets make some chicken fettucine alfredo.
SUGGESTIONS
You can use use full whipping cream or cream cheese and add milk for thinning it out. Maizena is great for thickening (see the notes under TIPS) but honestly you won't really need it, I'm simply mentioning it just incase you find yourself with a very thin cream.
Use your pasta water to help thin it out so don't forget that. Okay friends this recipe honestly couldn't be easier and any more convenient plus it's just so good!
chicken fettucine alfredo
One of the easiest recipes to make so let's get to it.
Pasta Get the pasta water on to boil, salt it cook your pasta. Take it out 2 minutes before you're supposed to it will cook finish with the cream.
While the water is reaching a boil and the pasta is cooking, get a pan on heat and melt the butter.
Add the cream and if you using cream cheese add them both and let it simmer.
See the full recipe card below.
Chicken - Grilling the chicken adds flavor and a beautiful crisp texture in the creamy fettucine so that's a good place to start. That doesn't mean that you cant simply season and cook the chicken and cook it in a non stick pan because you can.
Parsley - Always adds a great dimension so don't leave it out but you can also use fresh basil for flavor.
CHICKEN FETTUCINE ALFREDO COOKING OPTIONS
use thick whipping cream
regular cream together with creamed cheese
use just creamed cheese
you can even start you recipe by frying some minced garlic in the butter before you add the cream
leave the chicken out and try this Fusilli Alfredo instead
Whipping Cream - Double thick cream works best for this recipe but if you can only find regular whipping cream and not double thick cream you can still use it. Simply mix a little of flour or Maizena into a paste and add it into the cream to thicken it a little.
Salt & Pepper -Besides the salt in the pasta for cooking it I don't add salt at all to this recipe because I find the Parmesan cheese, cream or cream cheese (if using) already so rich and sufficient salt that it doesn't need salt. Taste as you go. Fresh black pepper when serving is the perfect finish!
Here's my next 2 TIPS!
½ teaspoon of Maizena into a small bowl, add a little of the cream or milk and make a paste
Add a dash of the hot cream from the pot into the paste so that it mellows the temperature before you get in. That way you are sure it won't lump!
Creamed Cheese - Alfredo sauce can be made with cream or creamed cheese and if you find that it's too thick with creamed cheese simply add a little milk or pasta water.
MORE CREAMY PASTA RECIPES
I hope that you have enjoyed my Chicken Fettucine Alfredo! Give it a try @anosmickitchen #anosmickitchen remember the kitchen is about creativity and working with what you already have.
Do follow me on INSTAGRAM, PINTEREST, AND FACEBOOK and share you photos. Feel free to leave a comment and rating below!
Recipe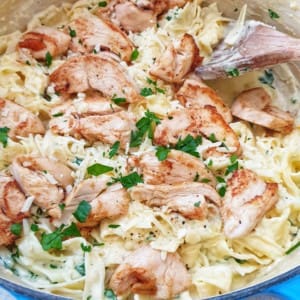 Chicken Fettuccine Alfredo
Chicken fettucine alfredo with no garlic, creamy and delicious. A simple Italian recipe that gets a meal on the table in no time at all.
Ingredients
300

grams

fettucine pasta

5

tbsps.

butter, unsalted

250

ml

heavy cream

½

cup

freshly grated Parmesan cheese

¼

teaspoon

salt (please taste as you go because Parmesan is salted)

¼

teaspoon

ground black pepper

1

cup

milk added if and when needed for thickness.
Instructions
Bring a large enough pot of water to the boil. Once boiling add salt and cook the pasta 2 minutes earlier than the packet directions. (It will finish cooking in the sauce after)

Melt the butter, add the cream cheese, whipping cream and fresh black pepper.

Simmer for 3 to 5 minutes until the cream is little thicker before adding the pasta.

If you cream is already getting thick simply add a dash of pasta water or milk to thin it out and then your pasta.

If you cream look like it's not getting thick just wait it will thicken up so try not to add the pasta too early. (I have notes in this post on this if you need).

Also it will thicken as it stands so keep the milk near if you need to thin it out.