Fusilli Alfredo Pasta is yet another simple Italian classic that makes week day meals an easy part of getting dinner on the table. You can serve alfredo pasta with just Parmesan cheese or add chicken, fish and vegetables like peas and broccoli. This recipe serves about 2 to 3 people, is creamy and delicious without buckets of cream!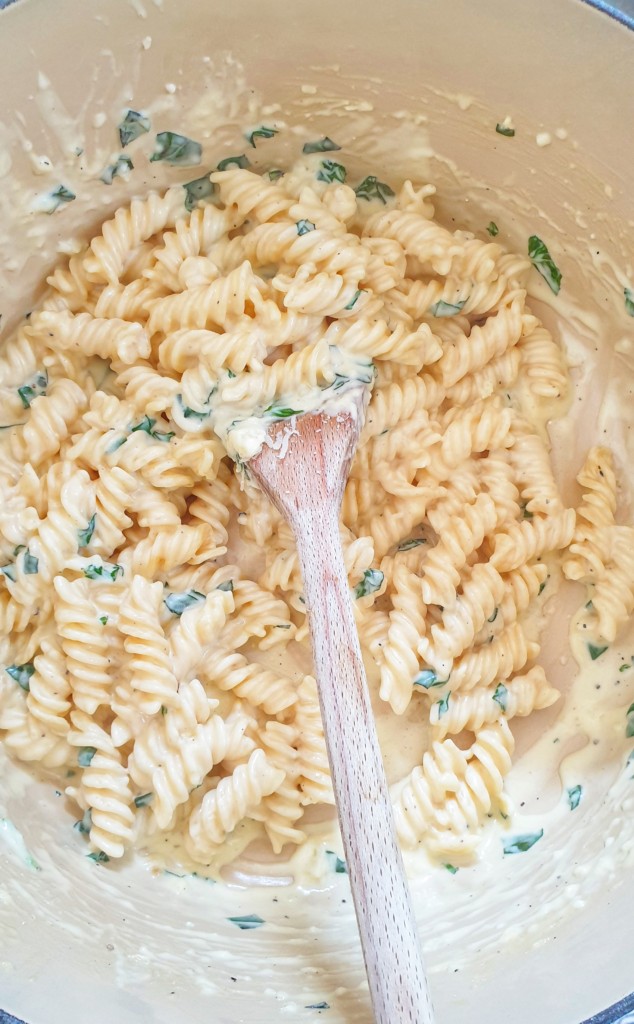 KEY INGREDIENTS
Pasta - Pasta – Remember that you can use another type of pasta if you don't have fusilli. Fettucine also works really well with an Alfredo Sauce.

Widget not in any sidebars

Cheese – Parmesan cheese is the the most suitable cheese type for this dish and like anything 'less is always more'. Parmesan cheese has a strong taste so consider the amount of pasta you have and work with that. In this recipe I have 300 grams of pasta which is about 3 cups of pasta. Now the rule of thumb with pasta is 100 grams per person but you might need more or less, that's just a guideline. So a cup of Parmesan cheese (which is what I used here) was plenty for the quantity of pasta.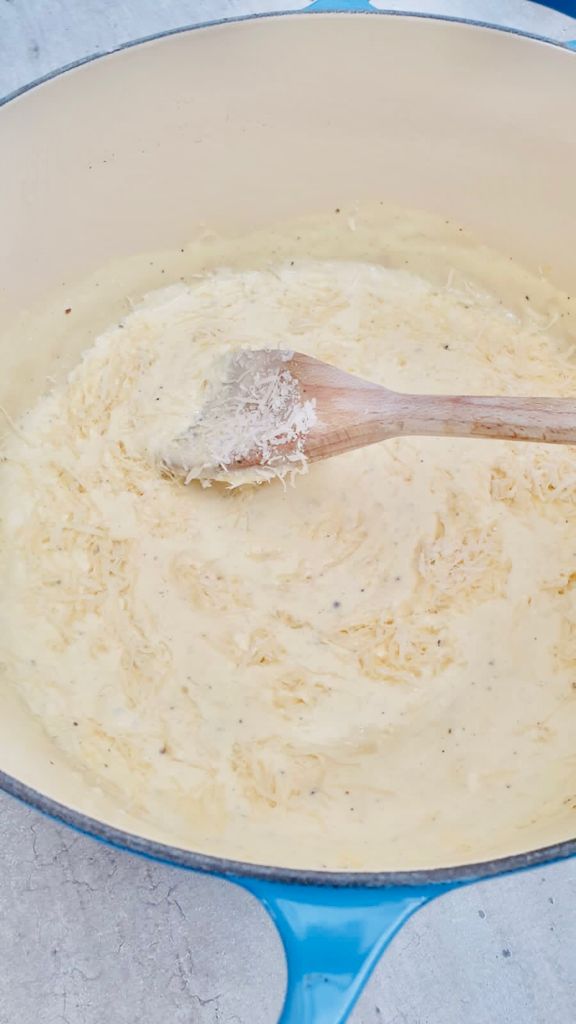 FUSILLI ALFREDO PASTA RECIPE
If you have never made Fusilli Alfredo Pasta before then brace yourself for a cheesy, creamy bowl of pasta heaven! It may be a great dinner but in Italy we often made it for lunch time because lunch is such a big part of the day in Italy. It's not a sandwich for lunch it's pasta for lunch and pasta and meat for dinner! There is no kidding around about pasta pronto in Italy.
Whipping Cream - Let's talk about the whipping cream quickly. See below on how to tell in you are buying the right cream, I've shared that in the notes of the recipe.
However, you don't need much. unless that's what you want. A balanced amount of cream, parmesan cheese, pasta and fresh black pepper and basta! (enough). In all honesty we are having an Alfredo Pasta dish not a cheese and cream dish otherwise you may as well just add cream to pasta.
Butter - Will add beautiful flavor to this dish and when the garlic goes in for a few second and starts to turn to brown then someone walks in and says 'that smells nice' and you not even half way?! You know you're off to a brilliant tasting dish!
Fresh herbs - I went with basil but you can also use flat leaf Italian parsley.
MORE ITALIAN RECIPES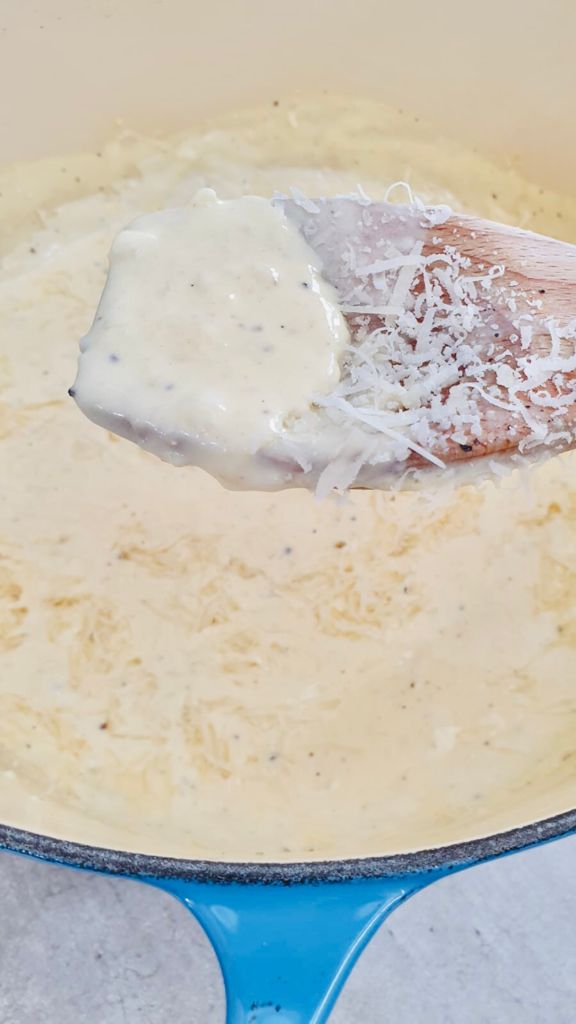 Do follow me on INSTAGRAM, PINTEREST, AND FACEBOOK and share you photos. Feel free to leave a comment and rating below!
Recipe
Fusilli Alfredo Pasta Recipe
Fusilli Alfredo Pasta is yet another simple Italian classic that makes week day meals a delicious and easy part of the day
Ingredients
250

grams

fusilli pasta

3

Tbsps.

unsalted butter

2

garlic cloves, minced

250

grams

thick whipping cream (see notes below)

¾

cup

Parmesan cheese, grated

½

teaspoon

salt & pepper mix, to taste

fresh basil chopped
Instructions
Bring a large pot of water to the boil and when it's rapidly boiling add 2 teaspoons of coarse salt to the water followed by the pasta.

Cook until the pasta is done, 'al dente or to the tooth'.

Drain the pasta and reserve the water - See notes below on how to do this in one scoop!

Use a large pot/skillet with high sides because this will hold the finished recipe.

Place the skillet on medium heat and melt the butter.

Add the garlic and stir to make sure it doesn't burn or stick. About 30 seconds.

Add half of the cream, stir and add the salt and pepper.

Add half the cheese, stir and add another half of the remaining cream.

Add the cooked pasta, chopped basil, remaining cream and combine.

Remove the skillet from the heat and finish off with the last of the remaining cheese.
Notes

WHIPPING CREAM
This will depend on which country you are in but for South Africans - if the whipping cream simply says 'whipping cream' it will be too weak and runny so try the one that says 'thick whipping cream' or better still get the one in the box that says 'long life whipping cream' 
DRAINING AND RESERVING THE PASTA WATER
Place a small bowl inside the colander in the sink to catch the pasta water.
Pour the cooked pasta into the small bowl and some of it will end up in the colander but most of the pasta and water will end up in the bowl. 
Now take the colander and put it over the pot and then pour the pasta water and whatever pasta is in the bowl over the colander so that all the pasta ends up in the colander and the water will be in the pot!
WHAT DOES THIS DO? 
You may need the water and in this recipe you will use some of it so you didn't spill it out by mistake. 
The pasta in the colander remains moist from the heat and steam of the water in the pot underneath. 
Nutrition
Serving:
120
grams
Calories:
487
kcal
Carbohydrates:
66
g
Protein:
22
g
Fat:
51
g
Saturated Fat:
31
g
Polyunsaturated Fat:
2
g
Monounsaturated Fat:
14
g
Trans Fat:
1
g
Cholesterol:
168
mg
Sodium:
808
mg
Potassium:
283
mg
Fiber:
3
g
Sugar:
3
g
Vitamin A:
1811
IU
Vitamin C:
1
mg
Calcium:
353
mg
Iron:
1
mg