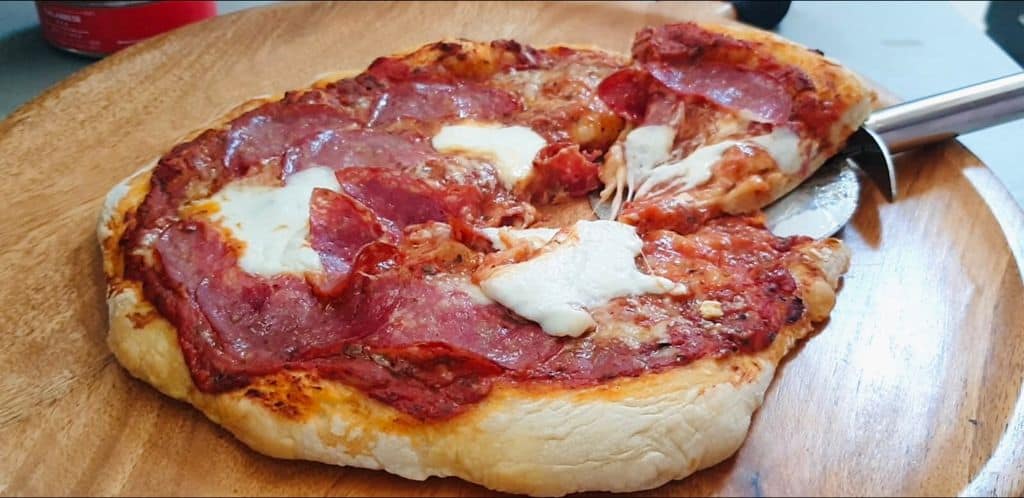 EASY ITALIAN PIZZA RECIPE
This is an easy pizza recipe that is authentically Italian from the homemade pizza dough, sauce and toppings to how it's served. In this recipe I will share with you how to make the dough at home with step by step instruction making it a lot easier to follow. I will also share with you how to make the sauce, suggest and inspire on what toppings you can use and most importantly the recipe as well as what makes this an authentic Italian Pizza.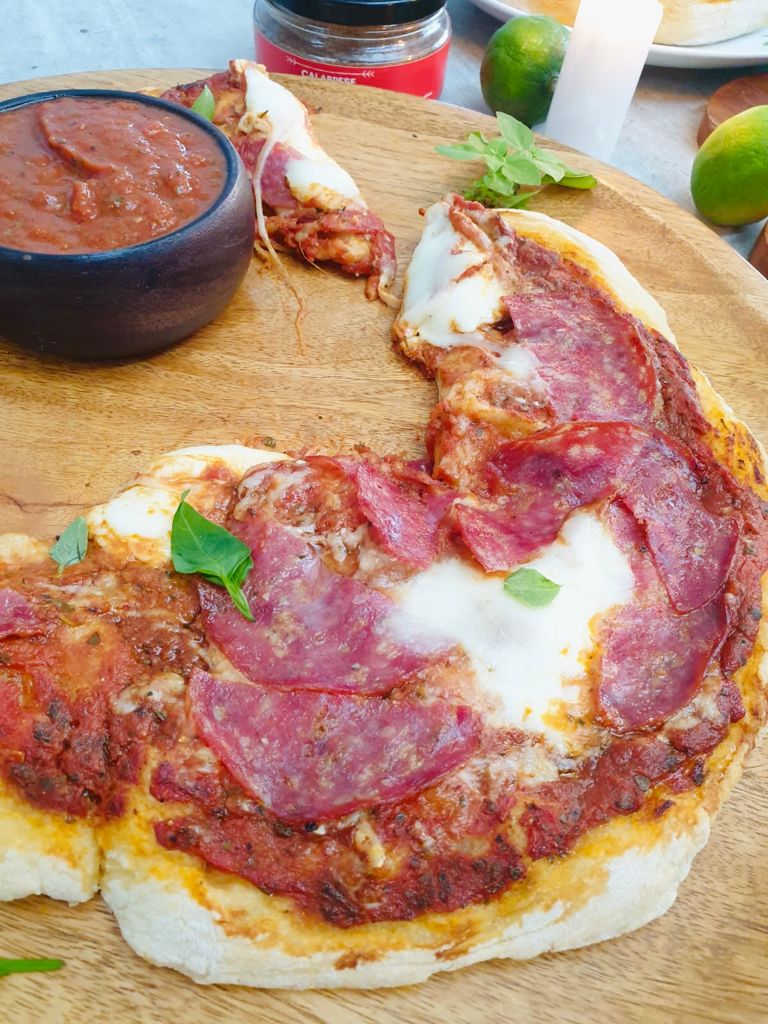 WHAT'S A REAL AUTHENTIC ITALIAN PIZZA
If you use the same ingredients and the same toppings as a regular pizza what makes this one an Italian pizza? Let's get to it shall we.
A pizza that will take you back to Italy in just one bite or one that takes you back to your favorite Italian restaurant. A pizza that tastes different to any other pizza that you have ever tasted even though the ingredients are the same and if all those things don't apply to you then why not try this recipe and create your own authentic Italian pizza! Here are even more tips on what gives it authenticity.
AUTHENTICITY
A pizza that's brought to the table whole not cut into slices
The crust holds a lot of texture.
It's hand stretched and gently fitted (not pressed) into the tray rather than using a rolling pin.
The heat needs to be the highest your oven can go.
Mozzarella balls that melt into the salami
Made with Italian tomatoes
Made with Italian Passata
Italian Extra Virgin Olive Oil
Our Calabrese Spice for sprinkles because Calabria Italy and it makes the perfect finish!
You see that brightly colored red labeled bottled? That's our Calabrese Spice which is part of the Italian Spice Collection in our Smell & Taste range could not have been created without a taste of Calabria!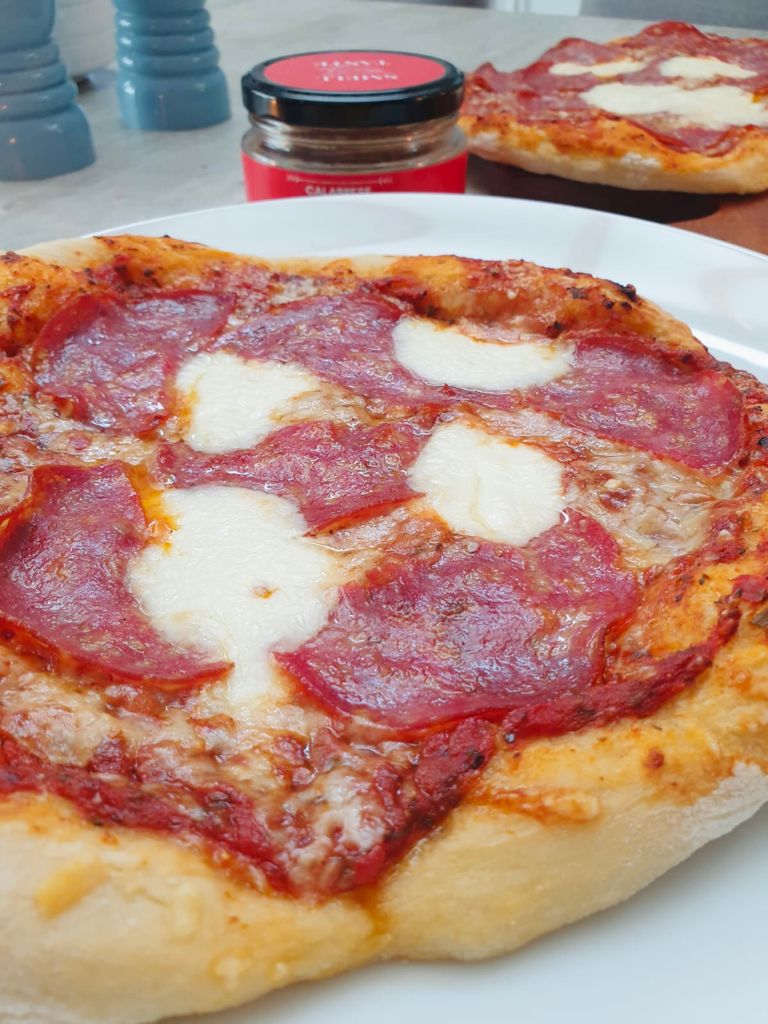 SOME THINGS I'VE LEARNED ABOUT ITALIAN PIZZA
The first thing to point out would be that everything in Italy really depends on the Region. From language dialects to food and pizza is no different. Some regions make a thin base some a bit thicker but one thing is constant, and that's the texture. 
Where does the texture in a pizza lie?
The texture of a good pizza lies in the dough. Rome wasn't built in a day and this pizza doesn't take 5 minutes. Can you make a pizza in a mere couple of minutes without waiting for the dough to rise, sure you can. This is not one of them because good things take time my friends and although you have to let the dough rise let me show how easy it is to make.

LET'S MAKE PIZZA!
Check that you dough is fresh. You can proof it first or you can simply check the date and get started. Let it sit 5 minutes in warm tap water, yeast and honey.
Add the water into the flour in two parts it makes easier for the food processor to get them combined while having it on a regular medium speed. This only takes a few minutes because once you have a dough consistency you can start adding the olive oil.
You may need to stop once or twice to scrape the sides and then continue.
Slowly add your olive oil and the same applies if you doing in a bowl or on the kitchen counter (which I've done a 100 times) you can add the oil before it turns into a dough mix. You would add the water, mix it a little and then the oil.
Done. This all takes a matter of minutes!  Get the dough onto a floured surface. Add a drizzle of olive oil into the bowl that the dough will be left in to rise. Drizzle a little of olive oil over the top, cover the bowl with a cloth and let it sit for 2 hours. I would suggest in an unlit oven.
RISE NO. 2
Once the 2 hours are up the dough will be significantly bigger and maybe not double in size that's okay its time for rise No. 2.
NO KNEADING!
Get the dough back onto the floured surface shape into a log type form and cut it into 3. Shape those three dough pieces into balls, sprinkle some flour over them, cover and leave them an hour. Yes another hour even an hour and a half is fine but an hour if you're waiting.
When the hour or hour and half is up it's time to prepare the pizza for the oven! Exciting times 🙂 You can see that now the dough is significantly larger.
When you get here, there is no need to flatten the dough. Simply lift the ball and with your hands get it onto the floured surface area again. Start pushing it outward while getting a round shape. You can see in the image below I used a flat pancake pan just to keep the sizes more or less the same. Here are a few tips when you get here:
HOW TO SHAPE THE DOUGH
Perfection in an authentic Italian pizza does not lie in making sure that the circle is perfect. Perfection lies in allowing the dough the flexibility of leading you into its natural form. The dough is soft yet firm which allows you to lift it on one side and quickly yet gently move it in circular motion while it's in the air and at the same time creating and stretching it without pulling it.
2ND OPTION
If that's a challenge and trust me it can be then try my 2nd option. You can and will eventually get it right if you practice it enough times whenever you make pizza. Not in one setting.
Take the ball on dough onto your tray and start by using your fingers and the inside of your wrist to start pushing it out until you get it outwards into a rough circle. Have the tray that's going into the oven ready with some sprinkled flour.
You can use any round base that you have to help keep the circles more or less the same not perfect.
THE PIZZA SAUCE
In between the rising of the dough make your tomato sauce. Its quick so get it done because it should be cold when adding it to the pizza base.
I have a Pizza Sauce 2 Ways recipe without canned tomatoes that takes 5 minutes and I also have another one that cooks with garlic and fresh basil (same post).
The options are endless so try different ones to see which you prefer. This is my favorite one because I find that if there's a time limit on how quickly I need the sauce then this 5 minute one works.
This pizza sauce uses few ingredients and takes a little to no time to make. Simply get them into a pan on low to medium heat, simmer till thick, turn it off and let it cool down till you ready to use it.
related recipes
Recipe
Easy Homemade Pizza
This is an easy pizza recipe that is authentically Italian from the homemade pizza dough, sauce and toppings to how it's served. Flop free and impressively delicious.
Ingredients
420

Grams

flour (3 ⅓ cups)

1 ½

teaspoon

salt

2

teaspoon

yeast

300

ml

warm tap water

2

tablespoon

Olive oil

1

Tsps

Honey
Pizza Sauce
400

grams

tomatoes (Italian canned tomatoes)

¼

cup

Passata

1

tablespoon

olive oil, extra virgin

½

teaspoon

Calabrese spice

½

teaspoon

Garlic & herb Spice
Instructions
Pour about half of the water, honey and yeast mix (should've bubbled a bit) into the flour and let the processor go on low while pour the rest of the water mix in. This is just to let it start working the dough, stop, clean the sides with a spatula and continue then add the rest of the water mix.

Take the dough out onto a floured surface. We are not kneading!

Oil the bowl with a drizzle of olive were the dough will rest.

You will probably use a bit of flour to get the dough off your hands and shape the dough into a ball. Not a perfect ball and not a lot of fiddling. Just gather the dough into a ball and place it inside the oiled bowl. Cover and let it rest for 2 hours.

The dough will now be almost double in size, noticeably. No need to knock it down. Simply remove it from the bowl onto the floured surface and cut it into 3 parts.

Just before the hour is up heat the oven.

Sprinkle a little flour on your work surface and after the 2nd rise, start with the 1st ball of dough and make a circle. Use your fingers and the palm of your hand to spread it out into a circle. It really doesn't have to be a perfect circle unless that's what you want.

You don't need lots of flour but keep it close for sprinkles on your hands and on the surface in case you need it.

Also have the baking tray that the pizza/'s will bake in ready with some sprinkled flour over.

Add the tomato over the pizza, followed by the cheese, salami and randomly place mozzarella balls all over the pizza.

Take the pizza out, turn off the oven and using an egg lifter move the pizzas onto a board to cool down. If you leave them on the trays they will continue cooking so remove them onto a cold surface.
Pizza Sauce
Heat the olive oil in a non stick pan and add the canned tomatoes.

Add the Calabrese Spice and Garlic a& Herb Spice. Mix and let the spices cook in the tomato for a few seconds.

Add the passata, lower the heat to a simmer and cook for 10 minutes.

Let the tomato sauce cool down before adding it to the pizza crust.