Easy tomato sauce is for your quick Spaghetti Bolognese, Chicken Parmigiana or any Tomato Meat Sauce recipe. This recipe uses 5 ingredients including cooking the rind of the Parmesan cheese and cooks in 20 minutes.
As much as we all love a slow cooked tomato sauce there's nothing more serving than a quick and easy version when time is limited. Yes you can use store bought but there's no comparison.
I needed this tomato sauce the other day when making these cheesy meatballs and boy did it work splendidly! There is nothing as good as a homemade tomato sauce in the kitchen, it's the beginning of a Sunday lasagna, Saturday pizza and so much more.
The Basics
This is what you will need in a nutshell and you most probably have them in your kitchen. You can find the full recipe card below.
Canned whole tomatoes
Garlic
Olive oil
Salt and Pepper
Basil
Parmigiano-Reggiano rind (Parmesan cheese with the rind)
Let's Make This Easy Tomato Sauce
Like every recipe starts, you need a non stick pan, skillet or Dutch oven which is great if you're making a large batch.
Pasta If serving this immediately with pasta then I would suggest start by cooking your pasta because this easy tomato sauce will be done before the pasta.
Garlic Slice it up
Chili Slice a fresh chili if you want some heat but if you want more taste than heat, simply remove the seeds. If you don't have fresh chili leave it out or use chili flakes.
Fresh basil Roughly chop and don't leave out the stems, use everything!
Parmesan cheese We use the rind to cook in with the sauce it gives your sauce incredible creamy texture and adds that cheese flavor! Add it while the tomato is cooking, it will melt into the sauce and it doesn't you will taste melty gooey cheese with your pasta. Soon everyone will hope they get the rind in their plate! I always save it for my husband to enjoy after all this was his way of using the Parmesan cheese 🙂
Once your sauce is ready toss in some cooked pasta for a quick and very tasty meal! Or use a mix of left over pasta as I've done below. If there's little bits left over that have the same cooking time (more or less) toss them in together.
If you like or are wanting the simmering tomato version with a soffritto base then please get that recipe right here Spaghetti Bolognese.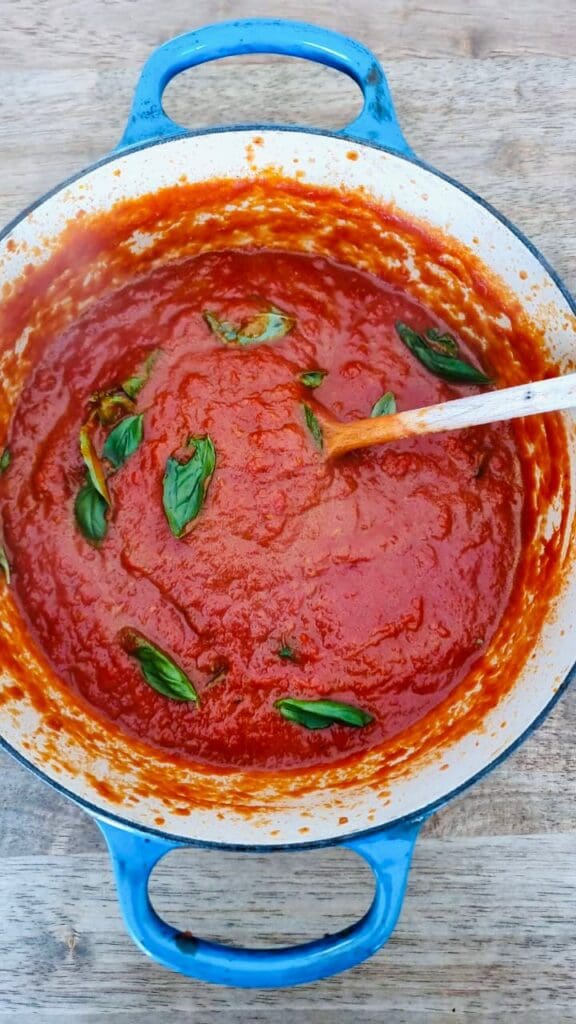 How To Use This Easy Tomato Sauce
Pour it over your pizza base, vegetables, cheesy garlic bread, homemade crusty bread, pasta options, shakshuka.
Another fantastic way to use this tomato sauce is with these Cheesy Oven Baked Meatballs in Sauce, Chicken Parmigiana or this Spaghetti Bolognese.
Recommended Recipes
How To Freeze Tomato Sauce
No lies we don't freeze tomato sauce 🤒 In the same way I know that my children have never eaten store bought tomato sauce (at least while they lived at home😀)
However with just the two of us at home now I've started freezing my tomato sauce and these cubes that I recently bought have inspired me! Pour, seal and freeze. They come out with ease leaving the cubes nice and clean. They're dishwasher and oven safe too! Love them.
The tomato sauce has not left any stains on these as well as opposed to plastic containers.
Tomato sauce vs Marinara Sauce
That's where this recipe shines! Garlic, olive oil and tomato are used which means it can work as a topping for your pizza base too. Tomato sauce is a slow cooked sauce like this Spaghetti Bolognese which started with a soffritto (onion, celery and carrots). This is quicker version of an easy tomato sauce which could be used as a Marinara Sauce.
If you try this Easy Tomato Sauce recipe please feel free to leave me a comment and a star rating! And if you take a photo of your dish and share it on Instagram, please tag me @anosmickitchen and use the hashtag #anosmickitchen because I love seeing your remakes! Happy cooking😀
Recipe
Easy Tomato Sauce
A bold and thick easy tomato sauce that is as good as a kitchen essential! Add to so many recipes and let's not get started about the convenience of this sauce.
Ingredients
3

tbsps.

olive oil

2

garlic cloves, minced

400

grams

canned whole tomatoes

salt and pepper

fresh basil

Parmesan cheese
Instructions
Heat the oil, cook the garlic and stir to prevent it from burning.

Add the tomatoes and break them loose with the back of a wooden spoon.

Add the Parmesan cheese rind.

Pour a dash of water into the empty tomato can, give it a swirl and into the sauce it goes.

Season and simmer for 15 minutes.s