Lasagna! An Italian classic style recipe loved by the world over! Smooth and creamy cheese sauce, meat sauce and melting mozzarella. This, is the best lasagna recipe. Tried 100 times over, loved by family and friends over the years so we are sure that you will love it too!
What To Expect?
After my lasagna video reached over 10K views on my YouTube channel I thought that it was only fair to share another detailed recipe with new photo's (thank the Lord because those were just were bad, full stop) tips and suggestions all included in this post.
If you haven't already seen the video do head on over to my channel it will give you a good idea of what's expected. But wait....read this post first! Be well informed and then go and make the BEST lasagna ever to impress your family!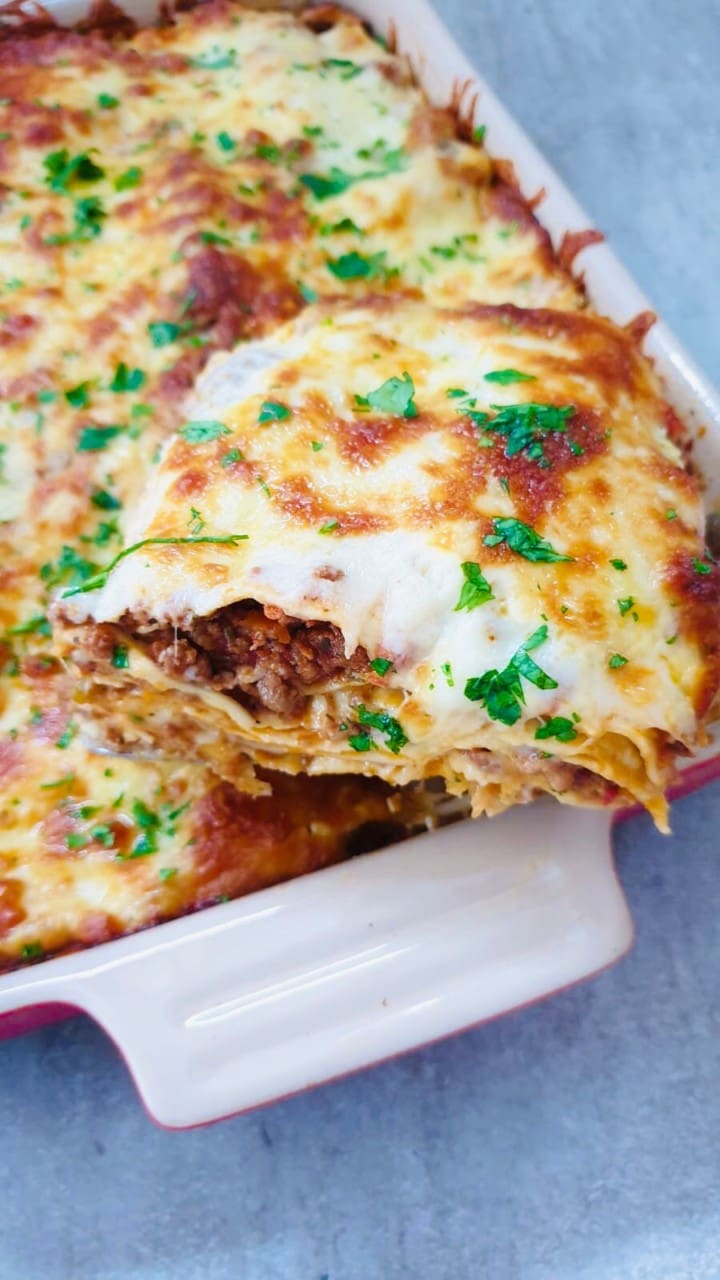 There is nothing that says home like lasagna on Sundays! It has a way of making you feel wholesome and comforting all in one utterly delicious scoop!
This recipe is attached to so many memories over the years and making it always brings those back. So today with the calm sound of soft jazz and my fur baby sleeping in the sun these are the moments that must be recognized. Moments of quiet, sunshine, family and lasagna so much gratitude.
How To Make Lasagna
This recipe starts off like most Italian cooking starts, with a soffritto.
The word Soffritto means 'slightly fried' and is an Italian method of cooking a good sauce by means of gently frying finely chopped celery, carrots and onion. This is used to build up flavor and fragrance to the meal.
Once you have your base you can add the necessary ingredients that your recipe calls for. In this case we are adding garlic before browning the meat. When you add the meat in, simply break it up with a wooden spoon and cook till the minced meat is brown.
Ingredients
Prepared the old fashioned way where your sauce simmers for an hour or two (closer to two) in advance while you chit chat with your family or have a glass of wine while you wait, save some for the sauce! 🙂
I sometimes add red wine if I have any which is most of the time, okay always 🙂 Red wine adds a robust depth in flavor. Just so you know, you wont taste the wine because the alcohol will cook down in these 2 hours leaving just the flavors behind but adding it remains a personal choice.
Just enjoy making it. Take it easy cook it slowly on a simmer and indulge in the moments.
Easy Method
Once your meat sauce has simmered into a thick meat sauce without any liquid, you can start on the white sauce which is so quick. From here it's a matter of layering and baking. I do have a detailed recipe on béchamel sauce (white sauce) on my blog. You need butter to melt, add flour and whisk the two together over low heat. This is what's called a 'roux'.
To the roux you add milk and whisk into a smooth white sauce. You can add cheese if you like but then in the culinary language of food love that's what you would call a mornay sauce.
I know most of you that read my blog have made macaroni cheese before, you know the white sauce and cheese addition? That's actually a Mornay sauce. I've never been to culinary school and have been making this for years and only through this food blog later found out these culinary facts! White sauce is also one of the five mother sauces - but let's stick to the white sauce recipe for now 🙂
Flour
Butter
Milk
Nutmeg (very hard to find fresh here so go with the ground spice)
In this recipe and as seen on the video I add a generous amount of Parmesan cheese to my sauce! That's how we role 🙂

Cheese Try to use fresh cheese if you can instead of the pre-packed grated cheese because it's all in the results friends.
Let's talk about the sauce because if you're making lasagna for the first time it can get quite confusing on the internet with ragu, bolognaise and red sauce. Here's my take...
Ragu Sauce
Ragu is made with peeled tomato, minced meat and a soffritto (explained above). Yes you can add spices and herbs to it, garlic, white wine, stock, cream etc. which is no longer an Italian soffitto but it's done. An Italian style ragu is mostly meat with a little sauce but you can adjust it to how much sauce you need.
Bolognaise Sauce
From a South African point of view we've always known mince and spaghetti to be a bolognaise. For my husband although Italian says it's a ragu not a bolognaise sauce. A ragu with different variants cooked with either wine, pancetta or different kinds of meat but always with tomato. Who am I to argue? I'm not trust me.
Conclusion - let's make lasagna with meat sauce!
Lasagna, lasagna
Fresh is best and also in the case of pasta however, you can use a good brand like Barilla for your lasagna sheets. If you're already making your own pasta it's a no brainer that you would prefer fresh.
There are a lot of variations to cooking and recipes but here I'm sharing the Italian Classic Lasagna. For a vegetable option using fresh lasagna sheets folded into the dish as opposed to flattened you can take a look at this Vegetable Lasagna With Fresh Homemade Lasagna Sheets
The Barilla lasagna sheets used here need no pre-cooking so you just layer!
Barilla Lasagna Sheets
oven ready

lasagna sheets like silk

simply layer them into your dish

wide and flat spread

light yet satisfying

no pre-cooking required

no preservatives

gluten free

100% extra virgin olive oil
When you finally remove it from the oven this is what you get and if this is not worth it then I hang up my apron friends...
There is not just one way to cook the sauce. You can cook the meat sauce for anything between 20 minutes to hours it depends on time and preference. In the image below both lasagna dishes were fantastic! However, if you cook the mince until there is no sauce at all (which is about an hour or 2 on simmer) you get a firmer lasagna as in the left image. If you cook the lasagna for 20 to 30 minutes as per my YouTube video you get a saucier lasagna.
Here's the catch! Isn't there always? - If you make it too saucy (where you still have too much liquid) it could bubble over and you don't get the layers so I would suggest to cook your meat sauce until all the tomato, watery liquid has cooked down but not so much that it's dry. Balance it out, you will know. Some images to give you an idea.
The image on the right (not used in this recipe) but it shows you the cooked version if you don't cut those carrots really small. The image on the right, you barely see them which is my preference in a lasagna recipe. Unless you don't mind cutting into a slice of carrot.
Check below under variations where I explain the difference.
Let's Assemble/Layer
Start by spreading a little of the meat sauce onto the base of the pan
A little white sauce
Lasagna sheets
Don't forget that you can watch the video below to get the idea but generally you just keep repeating the layers until you get to the top. Also in the video you will notice that I start the base not with a meat sauce, I start with a white sauce and honestly, in the grand scheme of things it doesn't matter because the 1st spread of sauce is simply to prevent the lasagna sheets from shifting. As long as you finish strong on top!
How to finish strong?
Easy. These are your last 3 layers:
lasagna sheets
meat sauce
white sauce
mozzarella
That's how you get this golden, crunchy and cheesy top!
Variations and Tips!
Veggies
Use white onion or green onion (spring onion) but preferably not red
Remove the little grassy strands from the celery which are normally very few if any
Cut all the veggies as small as you can unless you don't mind a big slice of carrot or celery sticking out of your lasagna
Suggestions
Meat
You can use one type of minced beef or you can use two as I did in this recipe. Both a beef and pork mince. Just remember that if you decide to go with regular beef (as in not lean) you get more fat in which case use just that and don't add the pork mince otherwise it's too fatty.
This recipe calls for lean beef mince and pork.
If you are combining they don't need to be equal amounts.
In the video I used lean beef and nothing else and the lasagna was so good! However, in this recipe I've used a combination of beef and pork because pork meat brings extra flavor to lean beef mince. Another combo of these meats was used in my Saucy Meatball Pasta - Italian South African Recipe
Tomatoes
Canned works best and again, if possible, a good quality always helps. When you use a good quality chopped tomatoes you can add them straight into the mince whereas I've found that with the 'not so great' canned chopped tomatoes, I always have to get them into the food processor first to smooth them out and remove any unwanted ugly bits.
Please don't forget to season! Season a little as you go with the salt & pepper basics and you can add Italian seasoning or just oregano and parsley. In this recipe we have used our non GMO gluten free Smell and Taste all natural, no fillers spices.
Cheese
The only time that you would use cheese when making lasagna is when you're making the white sauce and when you cover the top with mozzarella just before baking. I sometimes like to turn things up by adding a little freshly grated parmesan over every alternate layer over the white sauce and then combining the two over the top. That's another way of doing it.
You get a cheesy melting lasagna slice!
You don't spend the day in the kitchen. With lasagna - really?
Yes if you make the meat sauce in advance. You can do it the night before without the tomato and add the tomato in the morning to simmer.
The browning of the meat will be done and the chopping of the soffritto which means you will be ahead in respect to down time.
In saying that...
If you forget to take the mince out Ahh yes... stick it the microwave to defrost.
As someone who cooks a lot this is my worst because that means I clearly forgot or I'm disorganized but no one cares, all they care about is the lasagna you've been promising.
There's no need to defrost it till it changes color, just let it soften a little, place into a pot with about ¼ cup of water, and let it cook while you break it down with a spoon.
When it's brown no one will tell it was frozen!
Set it aside and bring it back in later as per the recipe below.
More Great Recipes!
Easy Lasagna
It takes a little time but it's really easy. Besides, Rome wasn't built in a day and look it now 🙂
Family and friends
They will remember you whenever someone talks about lasagna and swear that yours is the best they've had! No need to talk about it they will do that for you - love them 🙂
This recipe is flawless!
Now are you ready to make it? Let's do this!
Don't forget to leave me a comment and rating below! If you do make it share your photo's to Instagram with the hashtag #anosmickitchen and @anosmickitchen
LOOKING FOR MORE RECIPES?
Subscribe to my free newsletter and never miss a recipe and be the first in on product news!
Follow along Facebook, Pinterest and Instagram for updates
WATCH A VERSION OF THE RECIPE - For full recipe tips and suggestions, read this full post and find the recipe card below. Thank you for watching and don't forget to like my video, leave a comment, subscribe, rate my post below! Show some love and happy cooking!
Shop our Online Store for quality spices.
Recipe
lasagna
Lasagna! An Italian classic style recipe loved by the world over! Smooth and creamy cheese (Mornay) sauce, meat (ragu) sauce and topped with mozzarella that melts into a state of absolute deliciousness! No ricotta.
Equipment
33cm stoneware oven dish

whisk and wooden spoon

thick base skillet or pot for the sauce (with lid)

saucepan to cook the white sauce
Ingredients
Let's start with an Italian Soffritto for our flavor base!
1

onion

finely chopped, yellow onion or 2 green as in spring onion

2

carrots

finely chopped

2

celery

sticks cleaned, strings pulled out if any and sliced.
Ragu (Meat Sauce/Bolognaise) To the soffritto we add the following
2

garlic cloves, minced

1

kg

lean beef mince and pork mince (more beef than pork ie. 300 grams pork and 700 grams beef or 250g pork and 750g beef) You can also use just beef mince.

800

grams

chopped canned tomato (2 regular can sizes)

¼

cup

tomato paste

1

cup

passatta

½

teaspoon

garlic & herb - Smell & Taste

½

teaspoon

pasta spice - Smell & Taste

½

cup

red wine (optional)

70

grams

smoked pancetta or bacon (optional but suggested)
White Sauce Bechamel Sauce
½

cup

unsalted butter, cubed

½

cup

flour

3

cups

milk, full cream
Lasagna and Cheese
12

lasagna sheets -Use as many lasagna sheets as you need depending on the size of your baking dish. 12 sheets gives you 4 layers in a 30cm casserole dish. The smaller the dish the less sheets, sauce etc.

2

cups

freshly grated mozzarella

1

cup

freshly grated parmesan cheese

Finely chopped basil for garnish.
Instructions
Ragu (Meat Sauce/Bolognaise)
Heat the olive oil in a large skillet/non stick pot over medium heat.

Once the oil is hot, add the finely chopped onions, carrots and celery. Make sure the stove is on medium heat and let it cook for about 8 minutes until soft. If your stove is hot on medium then drop it to low to give the soffritto a chance to cook. Keep stirring to prevent sticking and add the garlic half way through.

Add the pancetta/bacon and fry for a few seconds (if using any)

Add the beef mince and using a wooden spoon, mix the meat into the soffritto, cook on low to medium heat until the mince is no longer pink in color.

Add the chopped canned tomatoes, turn the heat up to medium high. Add a dash of water into the tomato cans, swirl and toss that into the pot.

Add the tomato paste, the passata, taste for seasoning and bring it to a simmer.

Once you have it on a high simmer, lower the heat to a low and very gentle simmer and add the wine if using.

Cover with a lid and leave to simmer for about an hour and half. Keep turning it over with a wooden spoon and return the lid. If the sauce is cooked down too much add a dash of water (like a ¼ cup) to keep going for the full hour and half to 2 hours.

After the two hours, remove the lid and leave it to continue simmering for another 30 minutes until the sauce is thick and cooked in (as in, less liquid).

You can turn the heat off if you're happy with the thickness of the meat sauce. If not let it continue cooking until the liquid has cooked down more.

Turn the oven on to 180/190 degrees Celsius.
TO MAKE THE BECHAMEL SAUCE Get the full post recipe HERE or read below.
Layering the Lasagna - Get the oven onto 185°C /190
Use enough meat sauce and white sauce to cover each layer but also make sure you have enough sauce for all the layers so use your own judgement.

Start by spreading a little ragu (meat sauce) over the base of the oven dish (¼ cup). Use a spoon to spread the sauce throughout the bottom of the dish.

Layer lasagna sheets over the ragu to fit the pan.

Add ragu sauce again over the lasagna sheets and spread it to cover the sheets.

Followed by the white sauce.

Go again with lasagna sheets over the white sauce.

Then ragu meat sauce.

White sauce again.

Lasagna sheets.

Keep alternating like this until you reach the top of the oven dish and have filled it with lasagna sheets and the sauces.

You must finish strong in a classic lasagna so finish as follows:

Finish off with ragu meat sauce, white sauce and top it with grated mozzarella.

See notes below on cheese.

Get the oven rack in the middle.

Bake, uncovered at 190°C for 20 minutes or until golden brown.

Let the lasagna stand and cool down before serving! I beg you, minimum 15 minutes 20 minutes if you can and 30 min if you want a firm square of lasagna. It will still be warm enough to be enjoyed. If you've ever eaten lasagna the next day you will understand why. The squares hold their shape much better!

Garnish with chopped parsley bits. Enjoy!
Notes
Notes
Meat Sauce
You can use one type of meat only and that's minced beef. You don't have to add part pork mince but sometimes I do as in this recipe whereas in the Barilla video recipe I used only beef mince. If you are combining then I would suggest less pork more beef because you want the flavor that the pork brings but not necessarily a whole lot of fat. Lasagna as a classic with just beef mince is already well flavored but some times it's good to level things up a little. 
Cheese
Generally you add mozzarella cheese over the top just before baking till bubbly and golden brown. There is also the option of adding a little freshly grated Parmesan cheese between layers and topping off with mozzarella which is what I do with my lasagna. 
Lasagna sheets
Tearing the lasagna sheets to fit is okay if you're using fresh lasagna but if you're using dry lasagna sheets what do you do with broken bits of lasagna sheets? Please don't break the sheets, fit them into the dish and layer without breaking. As long as you get them in side by side and fill the pan the lasagna will expand to the edges of the pan during baking and if doesn't you will still have a fantastic lasagna and no broken bits. 
When I made my video  I used Barilla oven bake lasagna so no boiling and no pre soaking. They are ready for the oven. 
barilla lasagna sheets
oven ready sheets
lasagna sheets like silk
simply layer them into your dish
wide and flat spread
light yet satisfying
no pre-cooking required
no preservatives
gluten free
White sauce (Bechamel sauce) recipe LINK. 
Nutrition
Serving:
1
serving
Calories:
616
kcal
Carbohydrates:
36
g
Protein:
32
g
Fat:
35
g
Saturated Fat:
15
g
Polyunsaturated Fat:
2
g
Monounsaturated Fat:
14
g
Trans Fat:
1
g
Cholesterol:
103
mg
Sodium:
555
mg
Potassium:
639
mg
Fiber:
2
g
Sugar:
4
g
Vitamin A:
470
IU
Vitamin C:
9
mg
Calcium:
296
mg
Iron:
4
mg
Pin This Recipe For Later