These homemade crêpes are a light and delicate French style pancake which is a real treat, and the batter takes just a few minutes. Crêpes are easy to make and can be prepared in a blender or by using a bowl and whisk. Light and delicious!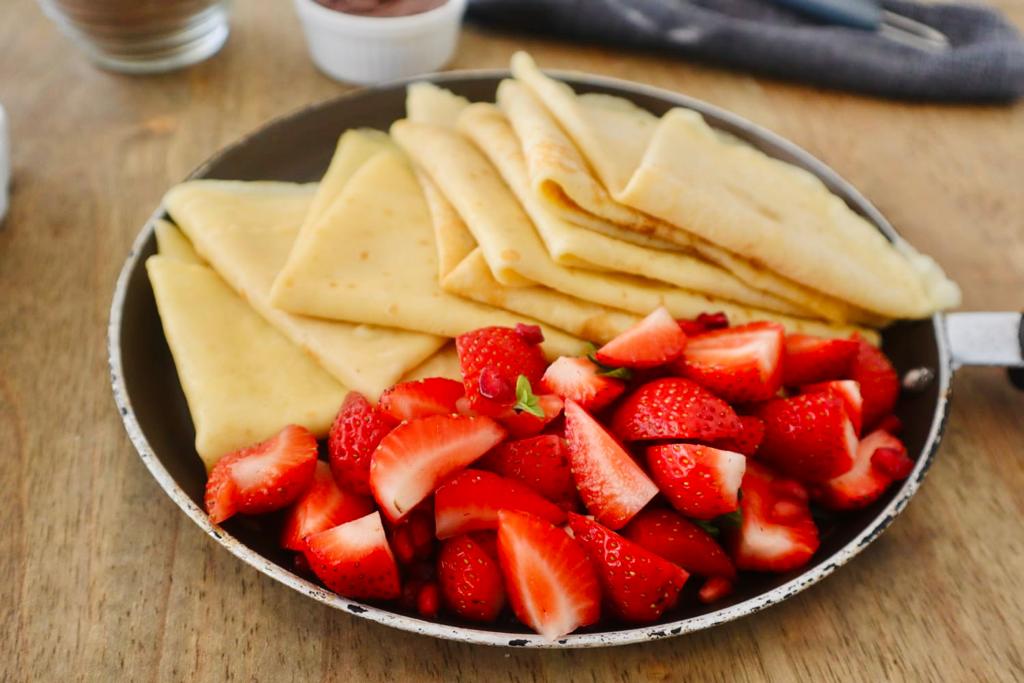 Crêpes are a wonderful change to pancakes and also a much more melt in the mouth effect because of their lightness and how thin they ought to be. It's those crisp edges that curl up when cooked and the beautiful lace pattern that it creates while in the pan! It doesn't happen with every single crêpe, because as most things are in life, not everything is perfect, just like when making crêpes and pancakes. Some are gorgeous, and some, not so much, that's the beauty though so make them!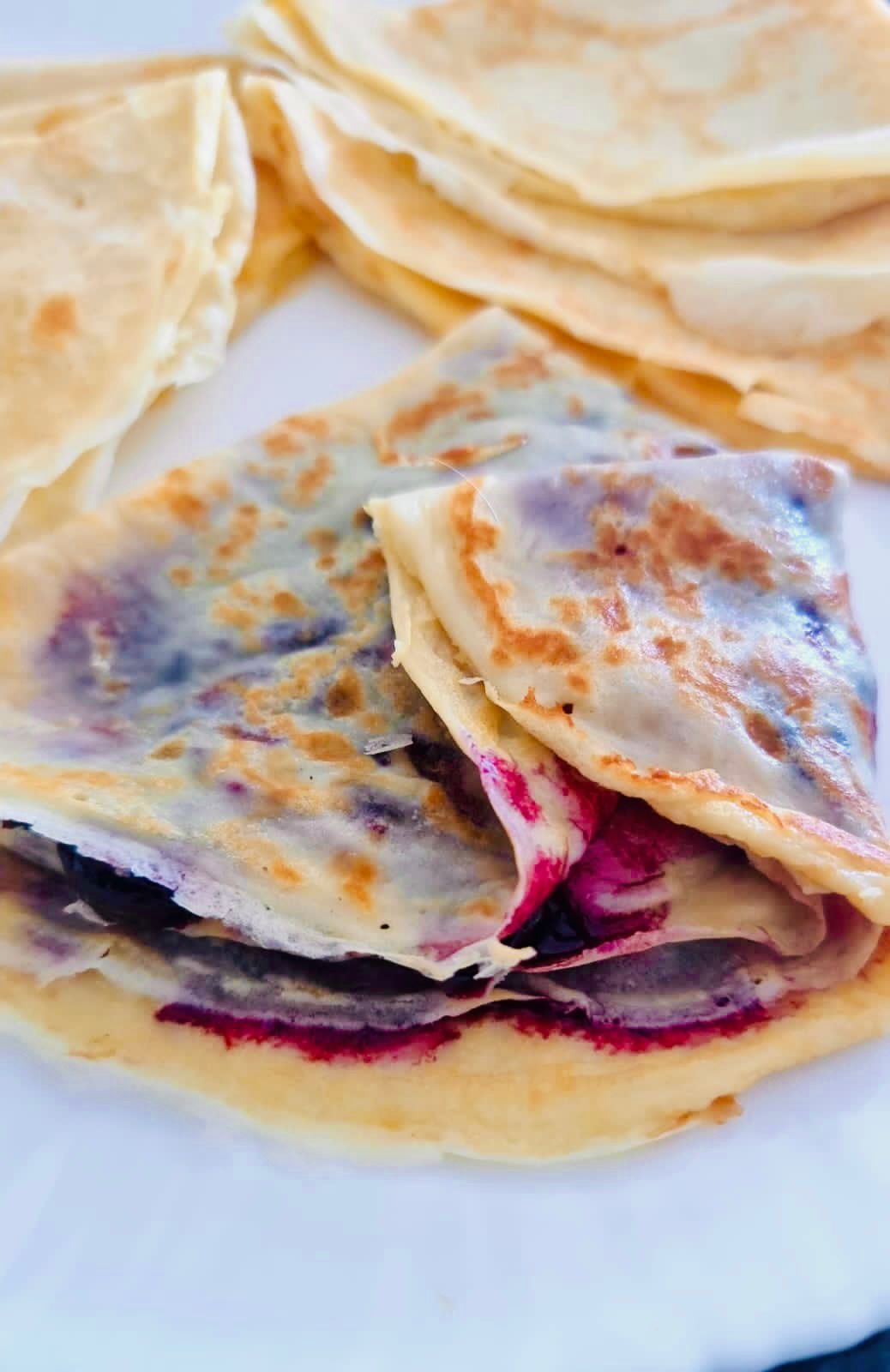 Homemade Crêpes
Crêpes are a delicious treat anytime of the day and not only for breakfast. They serve look and taste lovely especially when sprinkled before folding with cinnamon sugar, topped off with cream, berries, cherries, mint and a dusting of sugar. You get to decide how you want to serve them because they are to be enjoyed how you like them. Perhaps a squeeze of lemon, zest and sprinkle of sugar to counteract the lemon? Who knows, just enjoy them!
Ingredients For Crepes
For a real French crepe all you need is flour, eggs, milk and water. The rest is optional and we want all the options like vanilla
we love crepes in this house, especially on a lazy weekend morning.
Flour: This is how the recipe ingredients start, with flour. I used cake flour for a lighter crepe.
Eggs: Eggs are for binding so they give the crepes stability.
Salt: I find that as little ¼ teaspoon gives the batter structure and taste.
Milk: Without milk (if you just use water) you don't get the same softness and richness. In saying that however, I also do use a combination of milk and water. If you do want to try them that way then the combination is half/half water and milk.
Vanilla: Convinced that vanilla smells as good as the crêpes tastes.
Butter: For cooking the crepes.
If using a bowl and whisk instead of a blender just whisk the batter till smooth.
Sugar: I find the crepes too bland without sugar but it's completely optional (and mood dependent 🙂 You can also skip the sugar and use cinnamon sugar before adding any filling.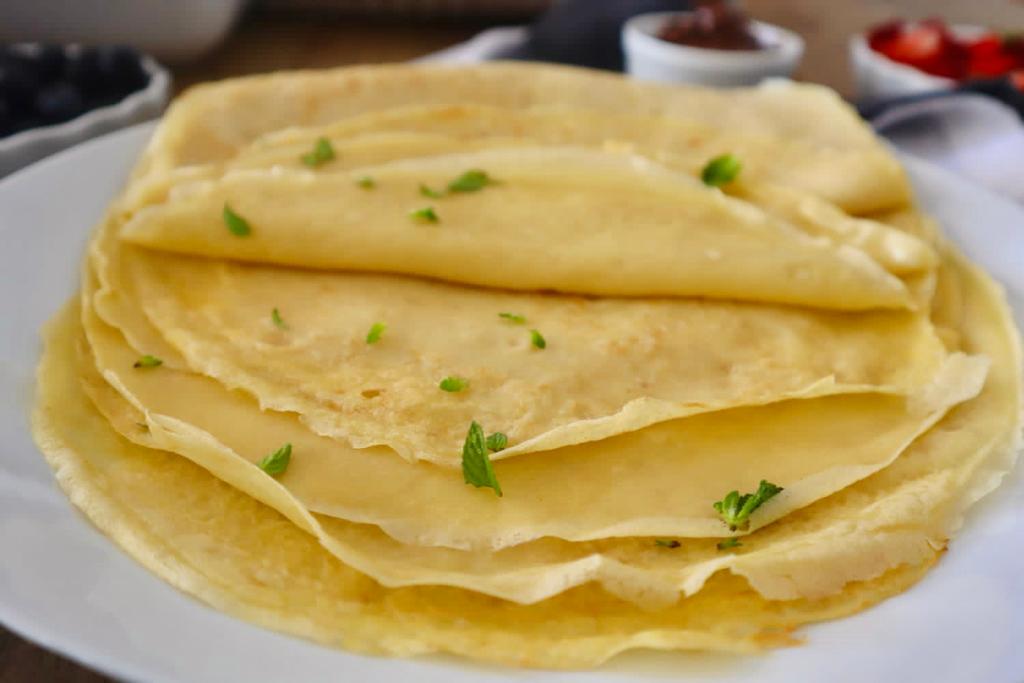 How To Make Homemade Crêpes
I made one batch in my stand blender and that literally took under a minute to mix. The longest part was standing by the stove cooking them. I also made one batch using a whisk and a bowl, which took about 5 minutes to whisk it all into a smooth batter. Please find the full recipe card below.
Into the cup of a stand blender: Add all the ingredients (except the butter) and blend into a smooth batter. Takes a couple of seconds. Set the batter aside for 30 minutes while you prep your filling. You can also move straight ahead to cooking the crêpes if you want. The reason I prefer leaving it in the fridge is that I find a more 'stable' (for a lack of better word) batter and the texture is a lot better.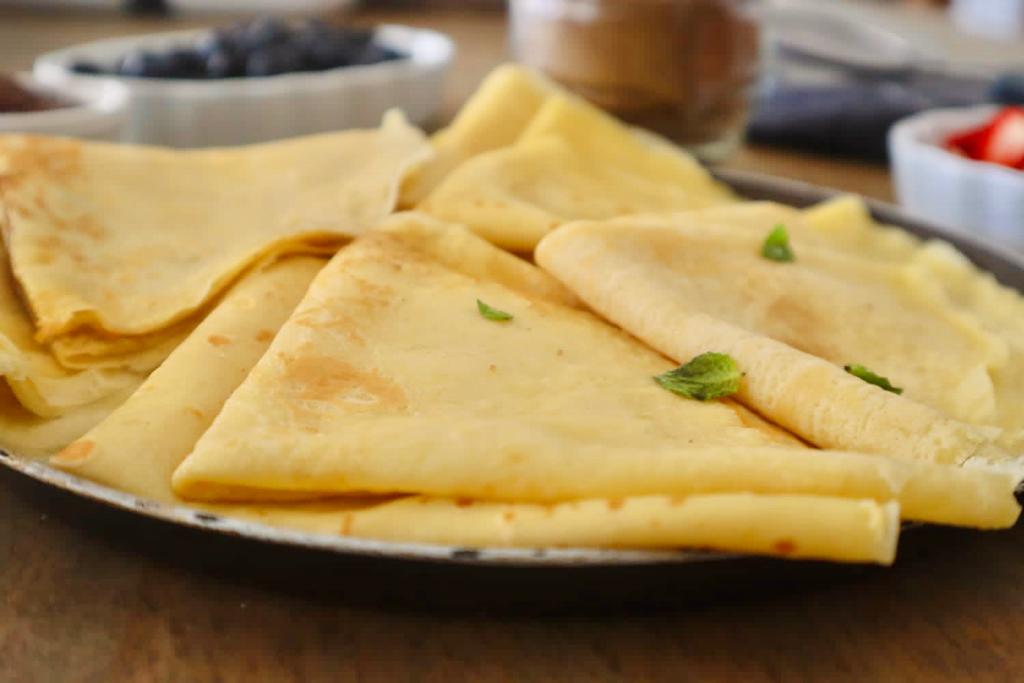 Prep the pan: Heat a non stick pan, skillet or crepe pan on medium to high heat.
Cooking the crepes: Rub the pan with butter and immediately pour in the ¼ cup measurement of batter. Lift the pan and tilt it so that the batter covers the bottom of the pan. Place the pan back on the heat and cook for about 1 minute and flip it. The other side cooks for about 20 to 30 seconds and keep going until you've used up the batter.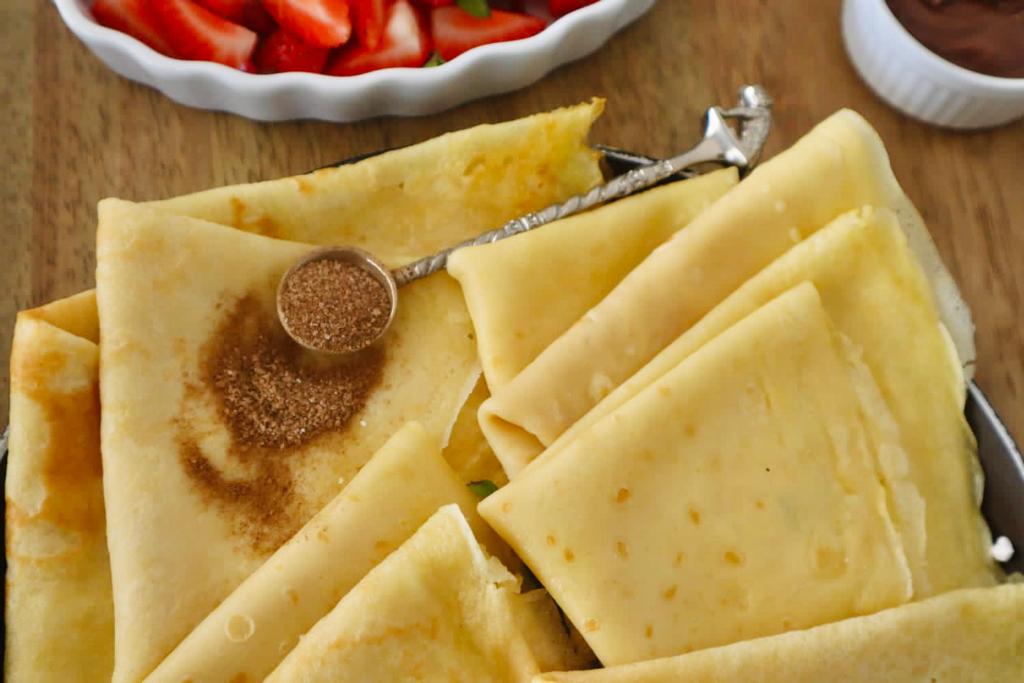 Crepe Fillings and Toppings
Pour the crepe batter into the center and gently swirl your pan trying to spread the batter as much as you can to the edges of the pan. Cook for about 30 seconds on each side until a light golden brown. Keep going until the batter is finished.
You can serve with pretty much whichever filling you want, sweet or savory.
Blueberry compote
Cinnamon Sugar
Maple Syrup or Honey
Lemon or orange and zest from both
Chocolate spread like Nutella
Whipped cream
More Summer Options
LOOKING FOR MORE RECIPES?
Subscribe to my free newsletter and follow along Facebook, Pinterest and Instagram for updates
Shop our online store for quality all natural spices.
Recipe
Homemade Crêpes
These are the best homemade crêpes that are a delicious treat any time of the day! They are easy to make and taste delicious whether you decide to serve them as a savory or sweet treat.
Ingredients
Crepe Batter
1

cup

flour (regular cake flour)

1 ½

cups

milk

¼

teaspoon

salt

1

tbsp.

sugar

2

eggs, room temperature

½

teaspoon

vanilla

4

tbsps

butter, usalted + more for brushing the pan while cooking the crêpes
Instructions
Blend/Whisk In the cup of a stand blender, add all the crepe ingredients (except the butter) and blend till smooth, +- 30 seconds. A bowl and whisk if not using a blender and whisk till smooth with no lumps. Optional but suggested Leave the batter in the fridge for an hour if you can before cooking. In a perfect world overnight is best, but even 15 minutes is good while you prep your toppings.

Cook Heat a pan on medium to high heat. Once hot enough, brush the base of the pan with butter and pour the batter in using a ¼ cup measurement.

Brush the pan with butter between cooking each crêpes.

Lift and swirl Once you pour the batter into the pan, immediately lift the pan and swirl it around so that the batter can spread as far as it can go then immediately place it back on the stove to cook.

Cook Leave each crepe to cook before flipping it over. The first side will cook for roughly just under a minute and after flipping even less.

Serve with your favorite fillings/toppings.
Notes
Crepe batter  This recipe gives you the perfect consistency, however, if you find that your batter is too thick add a dash (less than a ¼ cup) of water to help thin it out.  batter.  My suggestion is make one first, if you find it's too thick add a little water, a couple tablespoons.
Batter Quantity
You need one thin coating of batter spread over the bottom of the pan and you can do this whichever way works best for you.
¼ cup measurement (for a smaller pan or skillet)
⅓ cup measurement if your pan is large
Even Heat on Skillet or Pan
Let your skillet/pan pre-heat a good few minutes before you start otherwise the first one or two are never as perfect as the last one. 
Optional Ideas For Serving
Blueberry compote
Cinnamon Sugar
Maple Syrup or Honey
Lemon or orange and zest from both
Chocolate spread like Nutella
Whipped cream