Italian Caprese Bruschetta or Caprese Bruschetta easily comes together is a wonderful summer time Italian appetizer or brunch with salad idea. For a true sunshine Capri experience, serve these bruschetta with this Caprese Salad (Insalata Caprese) and you have enough summer appetizers to please a crowd. Toasted bruschetta is rubbed with garlic and a generous spread of mascarpone cheese. Topped with seasonal juicy plump tomatoes, fresh mozzarella, a good quality extra virgin olive oil and fresh basil.
Toasted bread with fresh ingredients that resemble the Italian flag and taste amazing! Here's the thing, I remember eating soooo much of this in Italy but it was slightly different. It was really a much simpler version of what we do now.
Homemade bread in the pizza oven to roast is how it was done
Rub garlic on the bread the minute it came out the wood oven and rub sliced homegrown juicy cherry tomatoes all over it. Sprinkle a little salt and extra virgin olive oil and that was it! Simple yet exquisitly delicious. It's all in the quality and freshness. That with bottled homemade red wine, Mama Mia! True life, true food and complete gratitude.
Here I have for you a sligtly different version but equally crunchy, fresh, salty, savory and simply delicious. Mascarpone cheese is something we use a lot as a family. If you havent yet take a look at this much loved Mascarpone Cheese Dip. I started off by toasting the bread, rub garlic over, spread the mascarpone and top it off with fresh mozarella. The tomatoes I find taste much better if you season them, add chopped herbs, a drizzle of olive oil, before adding them onto the bread. Finish with fresh basil leaves and for this recipe, the baby leaves in the middle are so much better.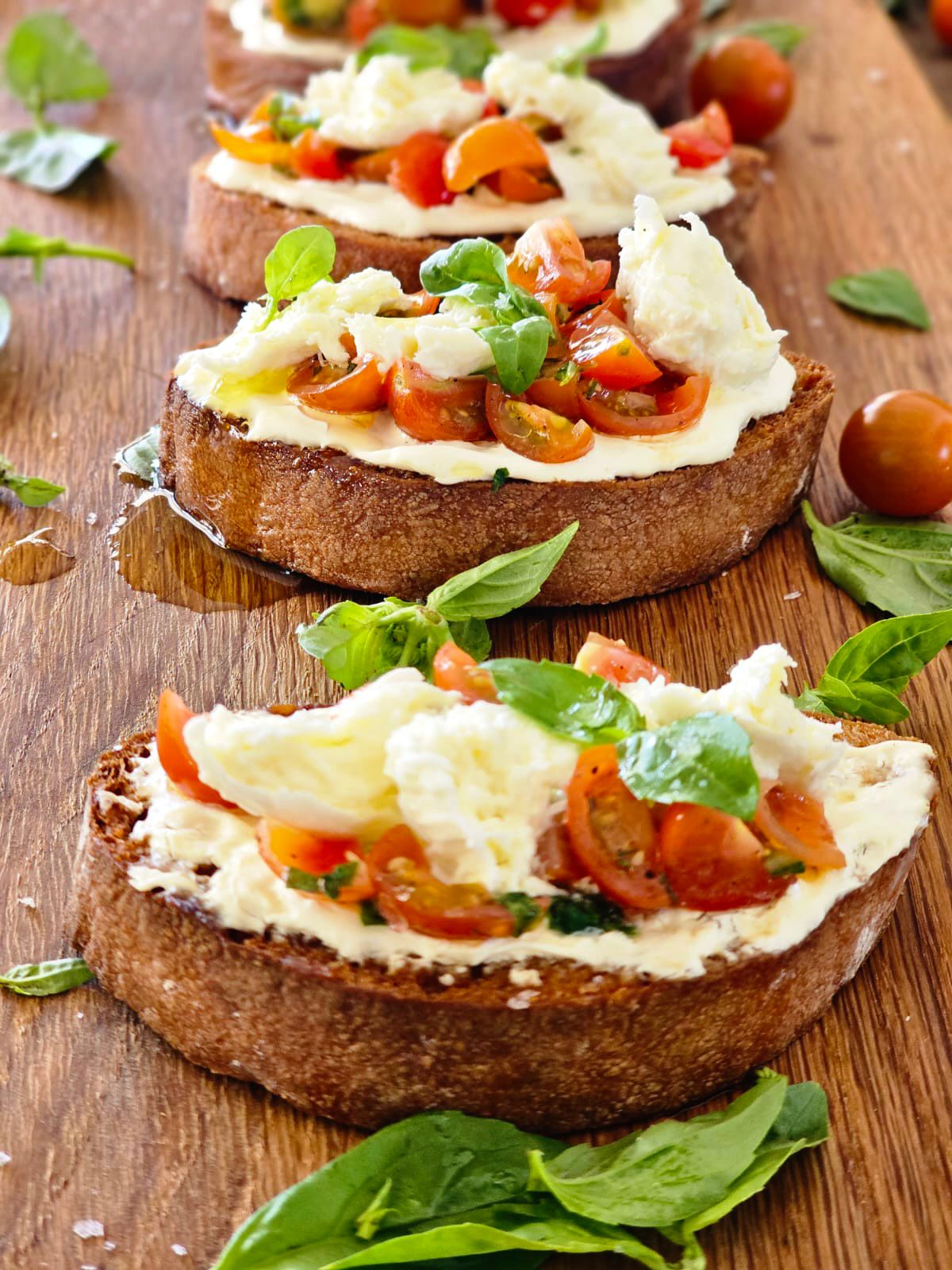 Difference between Bruschetta and Crostini
Have you ever wondered what exactly is the difference between bruschetta and crostini?
First off they are both Italian foods or cuisines, second they are mostly used in an antipasti type of serving. More like a tapa's but its called an antipasto where you serve different types, sizes and textures of bread along with olives, artichoke and an array of cold meats like salami and prosciutto. Ofcourse there's plenty that you could serve like roasted peppers, sundried tomatoes etc. but that's just an idea.
Bruschetta
As mentioned earlier that bruschetta is bread sliced from a more rustic type bread that's roasted over hot coals that's why it's done in a pizza oven. Bruschetta in Italian is to 'roast over hot fire' over coals which is 'bruscare'. Bruschetta bruscare.
Crostini These are just smaller rounds of bread. If you have a big slice and cut in half then you have crostini. A baguette or finer type of bread is normally used for crostini.
Why Bruschetta Caprese Works
Did I mention the colors of the flag? The colors add a terrific vibrancy to the topping lifting up the bruschetta and they also make great appetizers while you prepare the rest of the food. That's what appetizers are really aren't they? Like an antipasti, something before the meal.
Balsmic vinegar while we are here, is optional when it comes to bruschetta or crostini. Either balsamic vinegar or balsamic glaze which is merely the reduction of balsamic vinegar. Used more with fresh strawberries, cakes and other pastries. Whether to use balsamic or not depends on how you feel about the pure white mozzarella becomining stained by the dark and robust balsamic. Beautiful sour notes in taste so it's optional.
Ingredients For Italian Caprese Bruschetta
With every recipe that calls for fresh ingredients you have to try and get them at their best. Especially so if there are a few ingredients. The full recipe is below in the recipe card.
Bread: It can be homemade or store-bought just make sure it's good bread. You want rugged ciabatta type bread like a sourdough, pagnotta, baguette or something similar.
Tomatoes For bruschetta cherry tomatoes are always a great choice, simply quarter them but whole fresh tomatoes also work.
Garlic: You want to rub it onto the toasted bread while warm, if you can't eat garlic simply omit it. Garlic is not authentic to Italian bruschetta but can be used.
Mascarpone cheese: You can also use any cream cheese to spread onto the bread. It's not authentic to Italian Caprese Bruschetta but it tastes amazing! Adds a tasty creaminess.
Mozzarella Fresh mozzarella is the only rule here, not the one that you grate to add onto your lasagna. It must be fresh. You can get any type that you prefer, here a few types;
Mozzarella di bufala - Buffalo Mozzarella This means Mozzarella of the water buffalo Mozzarella made from the water buffalo and not that of a cow. A little harder to find and little more pricy than all the other fresh mozzarella that you find. However, it's still sold and usually in a tub in a packet where the other mozzarella cheeses are. Any Italian delicatessen will have it and Woolworths also stocks it. Theirs is in a paper wrapping and then in a see through small container.
Bocconcini Small mozzarella balls in water in a tub. Bite size mozzarella balls.
Burrata My absolute favorite and a more flavorful cheese that was produced in Pulgia Italy. Burrata is a product of mozzarella as it was made from the casing of mozzarella to store the cream.
This round ball of fresh mozzarella (below image left) cheese that looks like all the others until you slice into it and the cream that comes out of there is this thick luscious (stracciatella) shreds of fresh mozzarella soaked in cream! Add the cheese to salads or just drizzle some olive oil, a little flaky salt and eat! Here is a Super Simple Blackberry Salad With Burrata Cheese
How To Make Italian Caprese Bruschetta
Slice and toast the bread: The slices for bruschetta should be slightly thicker than average. Brush olive on both sides, place onto a tray and into the oven. The toasting can also be done on a grill.
Garlic or not? Rub the bread with garlic once they are toasted and still warm for extra flavor. This step is optional and doesnt have to be done so feel free to skip the mascarpone.
Mascarpone cheese: Adds a lovely creaminess to the bruschetta. We also love making it authentic and that's without the mascarpone but not this time.
Add the tomatoes: Season the tomatoes with salt & pepper. Add chopped fresh herbs and a tiny drizzle of olive oil to build flavors, before adding on the bread.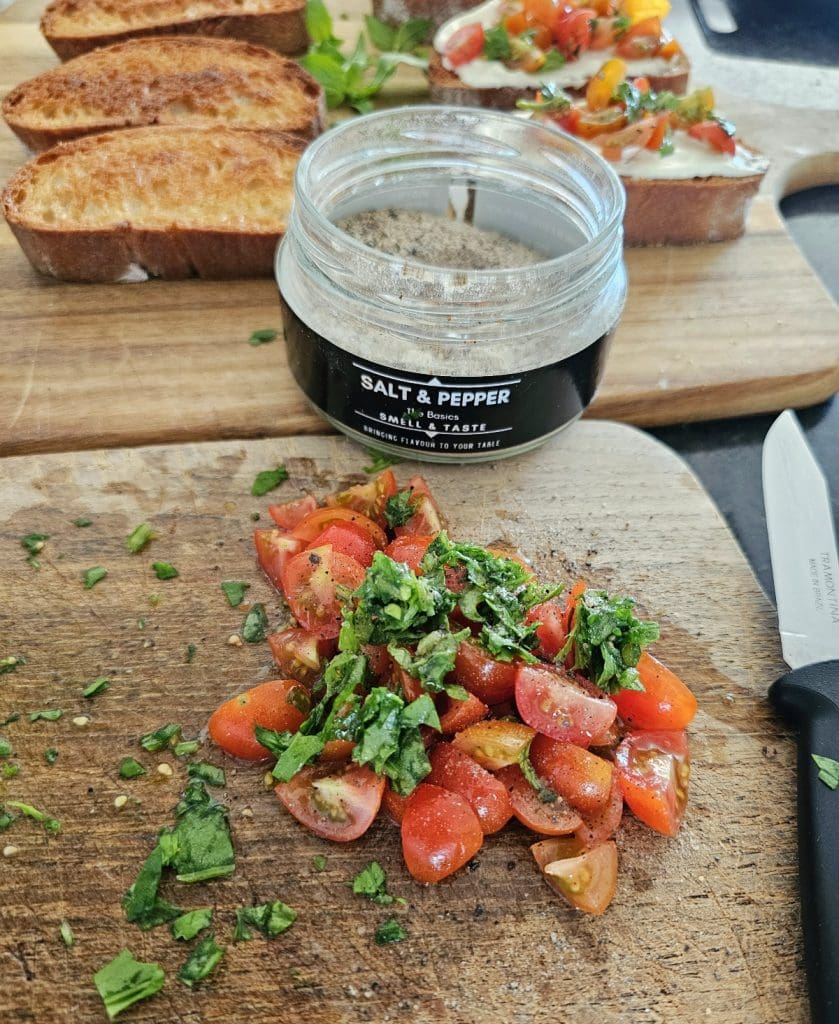 Add the fresh mozzarella, basil leaves, salt and extra virgin olive oil. Done! Your summer Italian Caprese Bruschetta is ready!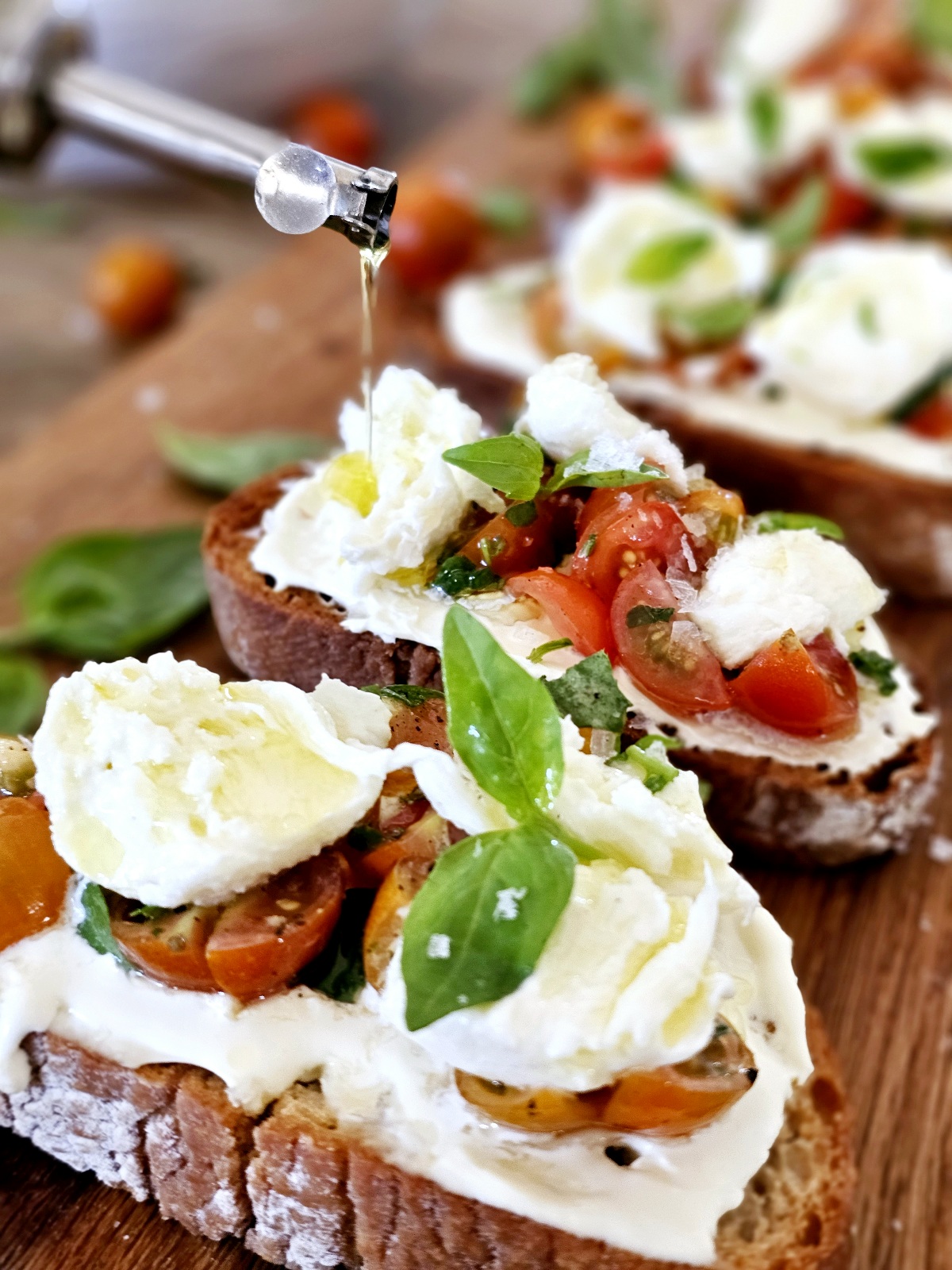 FAQ's Authentic Italian Bruschetta
What do you add or not add to bruschetta?
Bruschetta is not normally topped with mascarpone or cream cheese and definitely not with pieces of garlic. Authentic Italian bruschetta has tomatoes, olive oil, salt and fresh basil, simple. The addition of oregano is sometimes added but that differes from region to region.
How do you eat bruschetta?
Authentically, you eat bruschetta with your hands. It's meant to be served as an appetizer without any cutlery.
What typ of bread is best for bruschetta?
A crusty rustic-style bread - ciabatta, sourdough, pagnotta, baguette or a similar bread. If you are using store-bought ciabatta make sure it doesnt have too many holes in it. I find that a homemade bread, that's a day or so old works best as the crumb is tighter and the crust nice and crunchy.
Are the toppings like basil and garlic important?
If you love garlic then definitely use it for flavor and the bigger the clove the better, it's easier to rub onto the warm toast. Fresh basil is the only suitable herb for bruschetta, but no one is checking 🙂 I love the baby basil leaves that you find from the center, so beautiful for bruschetta.
Is salt important for bruschetta?
Have you ever taken a bite of food that looks beautiful but somehow it doesnt measure up when you taste it? Salt. It's a very important ingredient and I would suggest Maldon's salt if possible.
If you love this Italian caprese bruschetta I'm sure you will love these too.
More Italian Inspired Recipes
Looking for more appetizers? Try my Breakfast Charcuterie Board, Italian Antipasti, easy Dip Recipes, or Fried Sage Leaves Recipe!
Recipe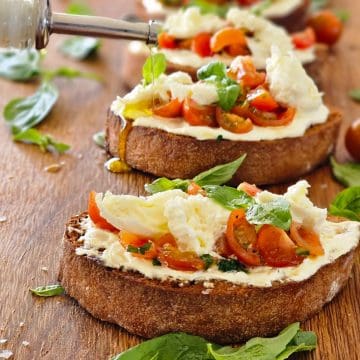 Caprese Bruschetta
This Italian Caprese Bruschetta is colorful, rustic and delicious! Fresh ingredients that make up a Caprese Salad like the most fresh mozzarella, seasonal tomatoes and bright green basil all bring an Italian flair and ambiance of 'fabulously inviting' and easy to this Italian appetizer!
Ingredients
4 to 6

slices of crusty rustic-style bread (ciabatta, sourdough, pagnotta, baguette or a similar bread

2

cups

cherry tomatoes, quartered

¼

cup

mascarpone cheese or any other cream cheese

½

cup

fresh basil leaves

2

garlic cloves, peeled and cut in half

250

grams

fresh mozzarella, halved or gently torn apart

2

tbsps

fresh mixed herbs, chopped
Instructions
Toast the Bread: Preheat your grill or oven to medium-high heat. You can also use a stovetop grill pan.Brush both sides of the bread slices with olive oil. You can also rub one side with the cut garlic for extra flavor.Grill or toast the bread until it's crispy and/or has grill marks, about 1-2 minutes per side. You can do this in the oven as well. Once done, remove from heat.

4 to 6 slices of crusty rustic-style bread (ciabatta, sourdough, pagnotta, baguette or a similar bread,

Extra virgin olive oil

Prepare the Tomatoes: Wash and dice the tomatoes. You can remove the seeds if you prefer.Place the diced tomatoes in a bowl and season them with a pinch of salt, black pepper, and a drizzle of olive oil. Toss to combine.

2 cups cherry tomatoes, quartered,

Extra virgin olive oil,

Salt & pepper to taste

Assemble the Bruschetta: While the bread is still warm, rub the cut garlic cloves over one side of each slice for a subtle garlic flavor.

2 garlic cloves, peeled and cut in half

Spread the marscarpone cheese: Once the toast is cool enough (to avoid the cream cheese from melting) spread the mascarpone cheese over the toasted bruschetta and top each slice with the seasoned diced tomatoes.

¼ cup mascarpone cheese or any other cream cheese,

2 tbsps fresh mixed herbs, chopped

Add Mozzarella and Basil: Distribute the fresh mozzarella slices evenly on top of the tomatoes. Sprinkle the fresh basil leaves over the mozzarella. The small baby leaves from the center of the basil bunches are perfect for this recipe.

250 grams fresh mozzarella, halved or gently torn apart,

½ cup fresh basil leaves

Drizzle with Olive Oil: Drizzle extra-virgin olive oil over the assembled bruschetta. Use a good-quality olive oil for the best flavor.

Optional Balsamic Vinegar: For an extra layer of flavor, you can also drizzle a bit of balsamic vinegar over the bruschetta, but this is entirely optional.

Serve: Serve your bruschetta with mozzarella, tomato, basil, and olive oil immediately, while the bread is still warm and crisp.