This slow cooked Creamy Beef Ragu is warm and comforting for cold days and just as impressive for guests. This recipe is a 'show off' to my Slow Cooked Short Rib Ragu (Oven). A few tweaks here and there to the authentic ragu recipe yet still a restuarant qualitity experience!
Serving this creamy beef ragu to my family visiting from out of town this past weekend was a huge success! It was met with great approval by my guests so I'm really happy to be sharing the recipe with you. This beef ragu does take time to cook but all good things take time and this recipe is no different. However it's worth every single minute and there are very few things to beat a homemade slow cooked meal.
The days are getting colder and the mornings are darker for longer. When the sun eventually peeps in, a chill in the air remains confirming that winter has indeed arrived.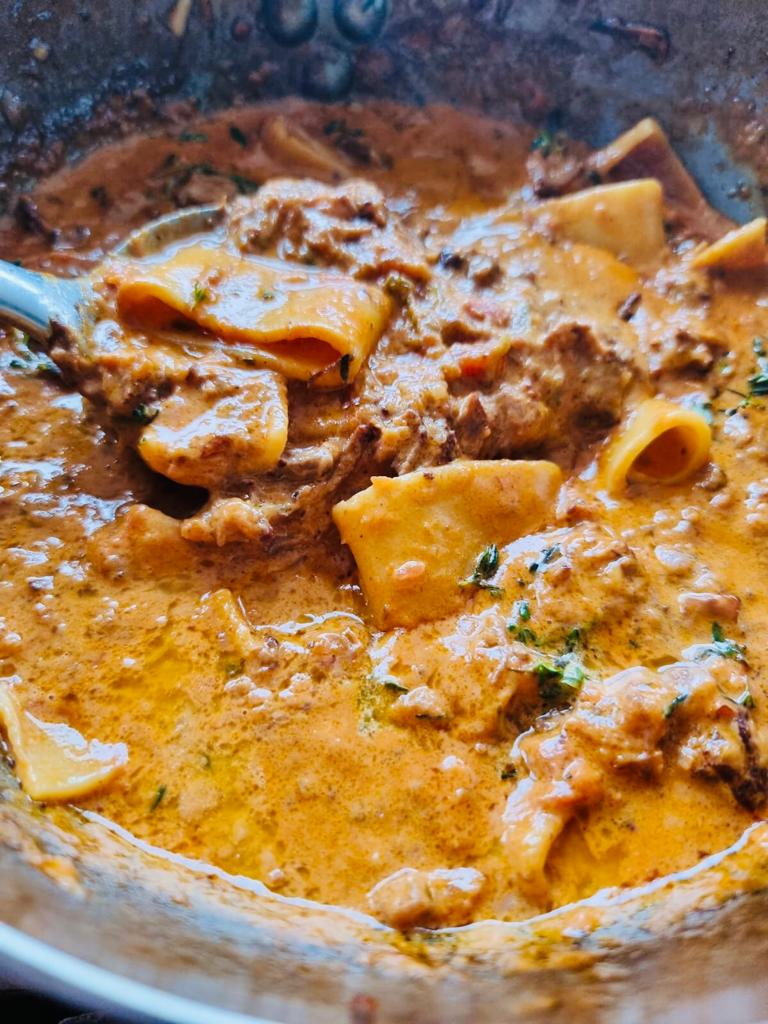 The best is the 'fall-apart' meat which you get from low and slow cooking. The aroma that fills your kitchen comes from a simple seasoning of salt and pepper and browning the meat first.
This beef ragu cooks on simmer in a combination of spices, red wine and tomatoes. There is a definite smell and feeling of something wonderful taking place in your kitchen!
Creamy Beef Ragu
Also known as Carne con Sugo which means 'Meat with Sauce" and this is one of many iconic Italian recipes. We've made this recipe many times over the years (also served with polenta). It's another popular one in our home, no different to our love for a Sunday simmering sauce. There's always a simmer of tomatoes on the stove leading to many and any an Italian Sunday lunch.
Short rib beef ragu can be cooked on the stove-top, in the oven and the slow cooker.
Top Pasta Tip
This creamy beef ragu is served with pasta which you cook as your ragu finishes off. The pasta should be cooked with the beef ragu in the last 2 minutes of the pasta cooking time. This pulls the pasta and sauce together to marry each other.
Irrespective of which pasta you use but more importanty when you use pappardelle. Pappardelle is perfect with it's large flat sides and it's there ready to mop up every inch of the sauce! There is no need to merely add sauce onto dry pasta that's been cooked seperately😢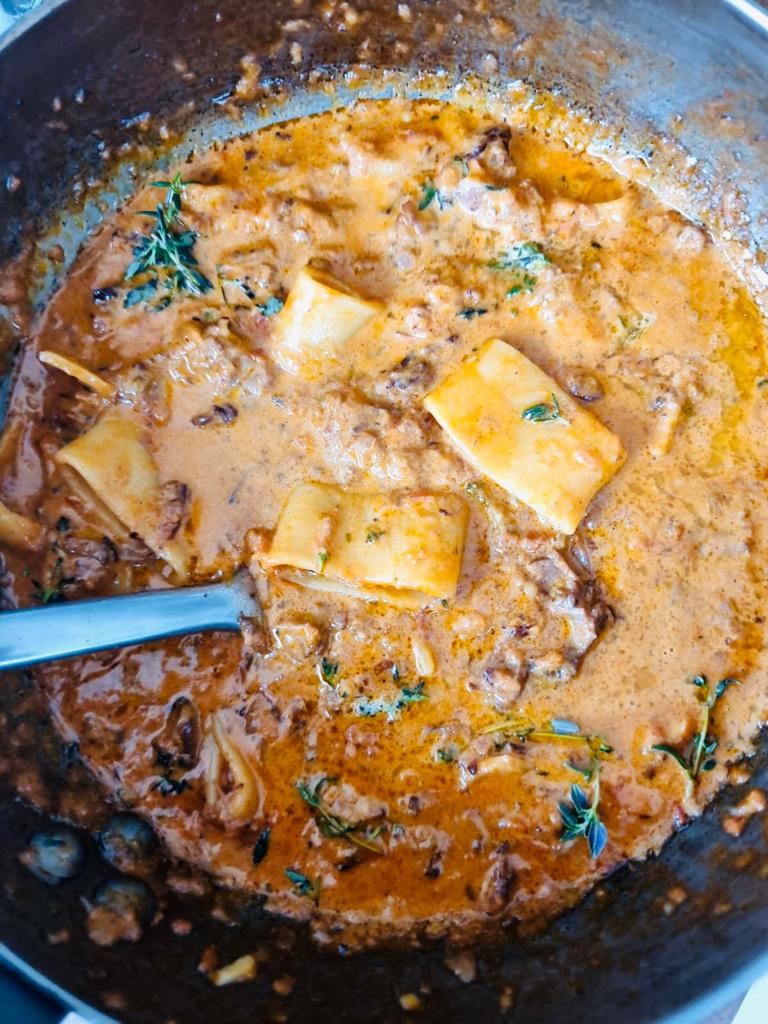 How To Prep Creamy Beef Ragu
Cooking is many things, but I think the most important ingredient you can add into your food is love. There is no better opportunity than a slow cook for this. Remember there's no rush so start by preparing all your ingredients like;
Dry the short rib with a clean kitchen towel or kitchen tissue paper. Dry meat equals better browning and adds flavor to the dish so don't skip on this step!
Cutting the vegetables
Crush the canned tomatoes and discard any bits if any; peels or hard tomato bits.
Which tomatoes to use for beef ragu slow cook?
The crushed/diced tomatoes are easier to absorb into the sauce though I do find that the whole tomatoes have a thicker sauce. It's really no big deal though so use what you've got.
Storing Meat in the Fridge (extra measure)
Here's a Tip to drying the meat;
Remove the packaging and transfer to a plate
Use kitchen tissue paper to pat it dry
Cover with plastic wrap and keep the meat in the fridge until cooking begins
You can also store it in a clean container with a lid. The idea is to keep it covered (and dry) and away from other prepared foods in the fridge to avoid cross-contimination.
Ingredients For Creamy Beef Ragu
Although the ingredient list may look long these are rather simple ingredients that you have or are easy to find, offering you depths of flavor. Here are some key ingredients;
Beef short rib
Salt and pepper
Olive oil
Onion
Carrots
Celery (or leek)
Garlic
Tomato paste
Red wine
Tomatoes
Recipe Images: Same recipe made several different times, that's just incase you're wondering why the images are all different!
Parmesan Cheese
One more important note! One has Parmesan cheese (left image) and no Parmesan cheese (right) only a little grated for serving. Parmesan cheese adds more of a thick creamy tatse and texture.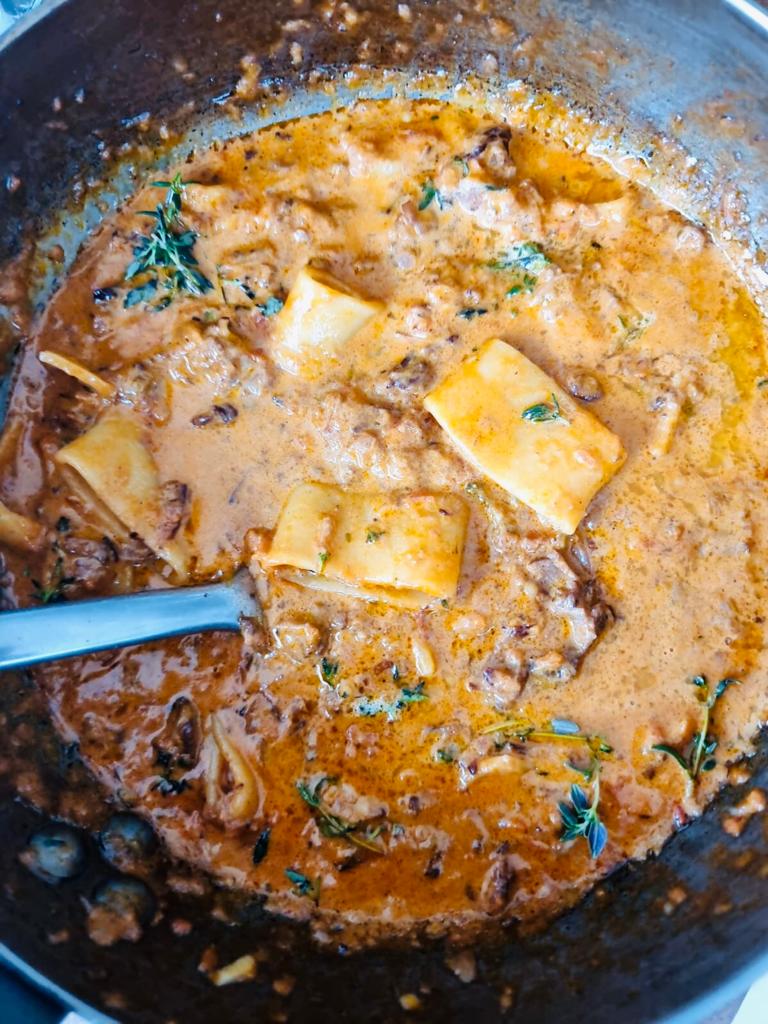 Quick Note:
Type of pot: You also need a Dutch oven or heavy based pot that will retain and distribute heat evenly.
Aromatics
Onions, carrots and celery: The holy trinity of Italian cooking. You can add these into a food processor and stop before they get too fine or you can chop them by hand. For more control on the size of the vegetables I prefer doing this by hand.
Spices, seasonings and all round aromatics: This is my holy grail of cooking! There is nothing worse than waiting for hours for a slow cook and then it tastes bland!
Here's the countdown of the seasoning:
Salt and pepper before you sear.
A bunch of fresh herbs just before it goes into the oven. If you don't have kitchen twine to tie them up, chop them.
We add garlic & herb and Involtini from the Smell and Taste spice shop, so if you have those spices there's no need to still chop any herbs.
Adding a bunch of fresh tied fresh herbs is always a good idea regardless.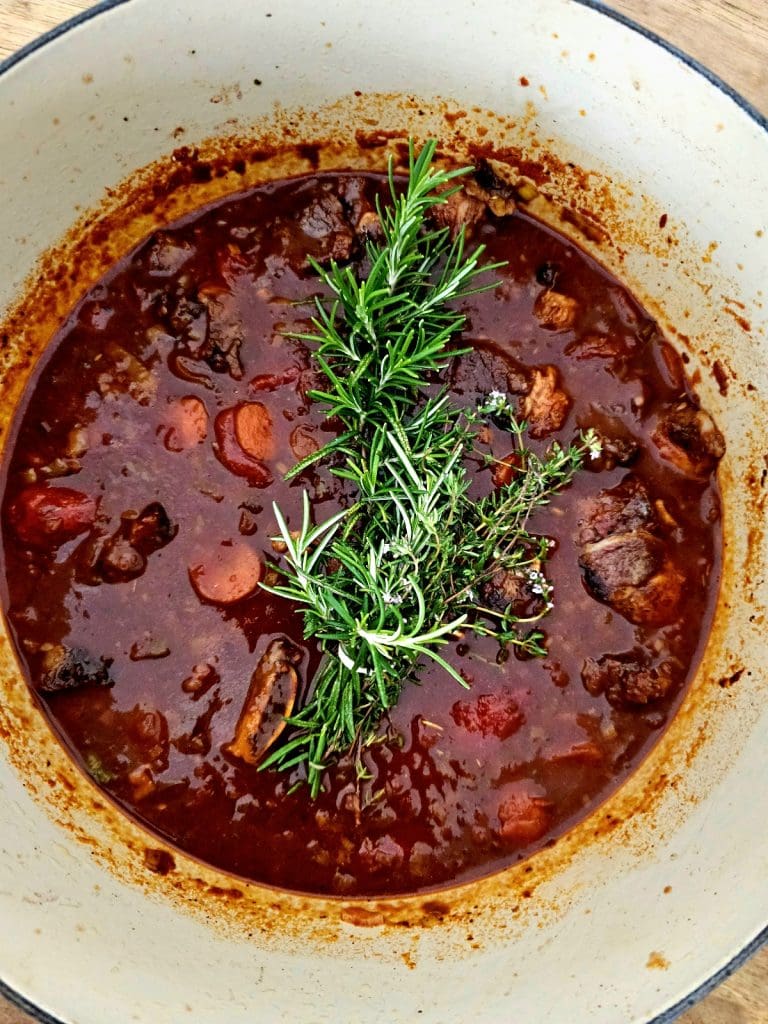 When you season your food correctly while cooking there should be no reason to add anything at the table. Food cooked and seasoned well.
Garlic: There's lot of garlic in this recipe because a solid aromatic base is key to a succesful beef ragu.
Tomatoes: Tomatoes and tomato paste add lots of body and flavor to the ragu. The tomato paste, personally, I add to the aromatics. It's concentrated and makes those bold flavors come alive instantly whereas if you add it to a liquid, it seems to gets lost in the process.
Red wine: Bold red wine is key for beef. Besides the fact that beef pairs really well with merlot, the wine also adds incredible depth. Cabernet Sauvignon, Italian classics like chianti are fantastic though I prefer to save Italian classics to share with family and friends. It's a wine conversational starter 🙂
How To Make Creamy Beef Ragu
This is exactly the same method as my Slow Cooked Short Rib Ragu (Oven) except stove top and oven. Thank you to one of our readers who brought some errors in this recipe to our attention, we have since updated and rechecked the recipe. Cannot tell you how important that is for everyone reading and making the recipes!
Dry / Seasoning: A basic salt and pepper however here's my suggestion, very little pepper since it ends up blackening the oil and burning. I use this salt and pepper blend which is fine and balanced so I never add seperately unless I need to.
Sometimes the pieces can be uneven so simply cut along the bone for smaller equal sizes.
Braising: Braise the meat in hot oil on medium to high heat until a darker braised color. It's difficult to say how long this part takes because our stoves are different so keep it going until you are happy with the deep color. Patience is what you need for this😀
It's important to not overcrowd the pot but you also don't want to be there searing 2 pieces of meat at a time. I sear the first batch, remove to a bowl and start the second batch. When the second batch is done, bring the first batch back to the pot and let them all go for the last 5 minutes or so.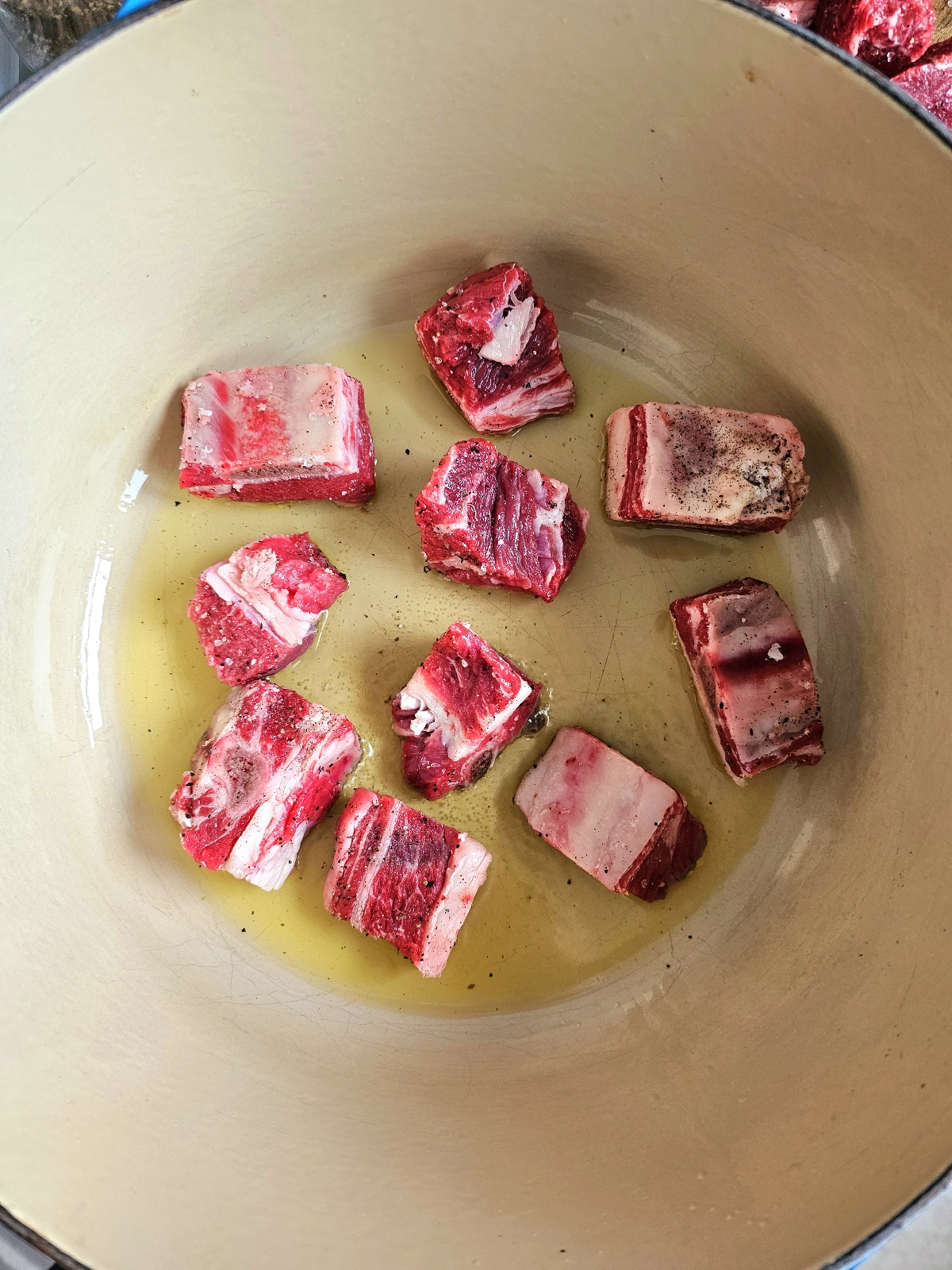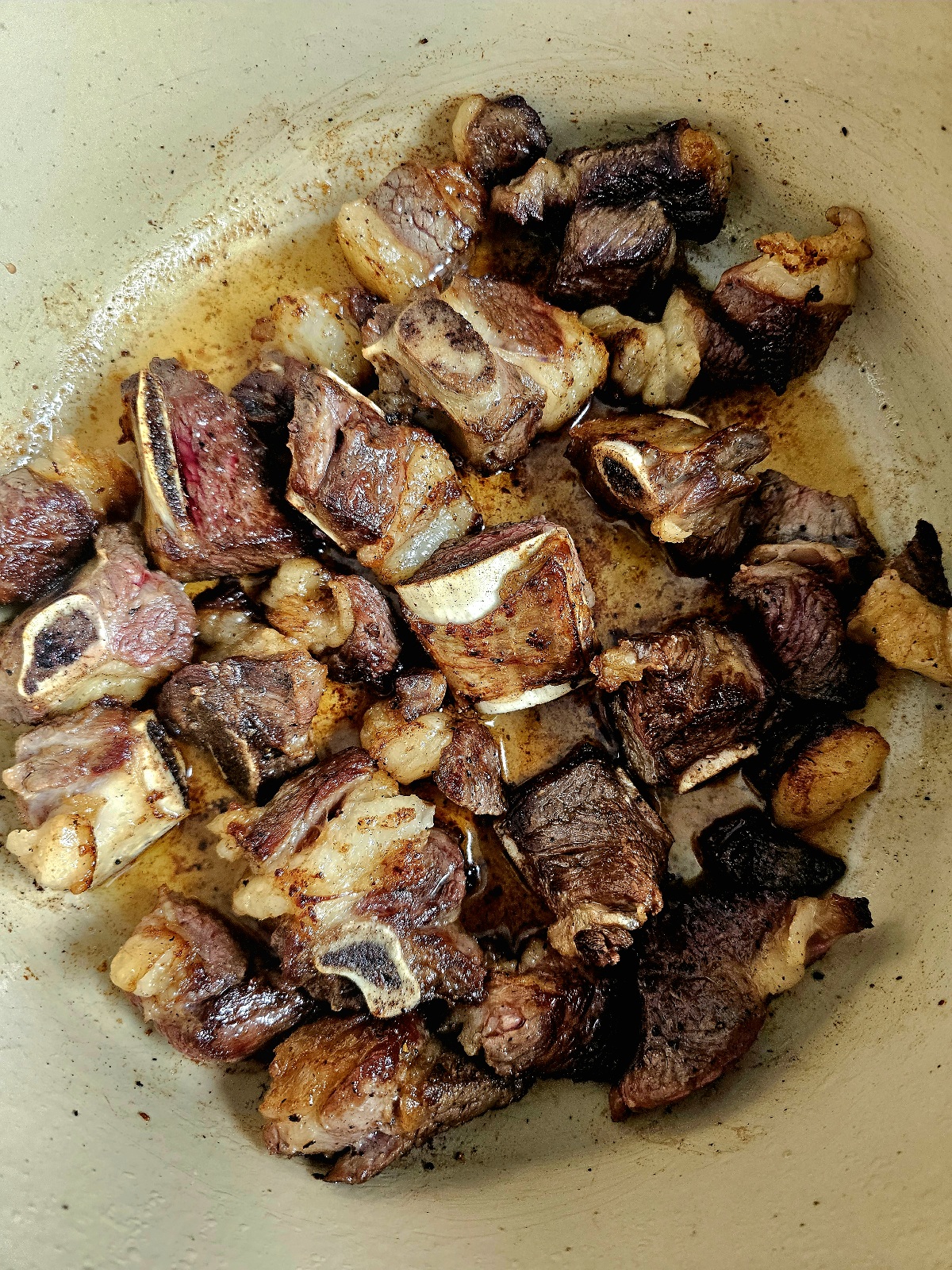 Why is braising the meat important?
You know those brown bits left on the bottom of the pan when you cook? That's called the 'fond' which is a French technical term in the culinary world (fond means 'base'). Those bits are the base of your flavor profile. I'm an untrained home cook but that is something I've always done. Never tossed it out, it just looks like flavor :)! I used the bits (same method) here in this salmon and rice recipe.
Another reason braising is important is because when the meat makes contact with the hot surface (even when making steak) it will brown immediately and that friends, is called the Maillard reaction. Okay enough with my terms that I have also learned through blogging, didnt know they had a name but was using the methods since 1952 so to speak!
Now you know if you didnt, why each step is important.
Cooking The Soffritto
Once all the beef is browned, remove it from the pot onto a plate and start cooking the soffritto. You will need to remove some of the fat from the pot before cooking the soffritto. Leave behind about 2 tablespoons of fat, remove the rest.
What Is A Soffritto
A soffritto is an Italian slow fry base for building flavor and often how many Italian dishes start. Simple vegetables cooking together at the same time on a low to medium simmer for 15 to 20 minutes.
How To Make A Soffritto
Onion, Celery and Carrots Chop all the vegetables to make a soffritto.
Low heat for a good 15 to 20 minutes. I hate to tell you that I leave my soffritto for 30 minutes because that might overwhelm or irritate you so yes, 15 to 20 minutes does a good job but 30 minutes does a better job😊 The soffritto will just about caramalize when it's done. Keep stirring in between to make sure it's not sticking to the pan, if it is, lower the heat.
Should you add water/liquid to a soffritto?
No. Lower the heat to maintain the slow cook.
Salt Adding just a pinch of salt to the soffritto helps the process along, releases the moisture in the onions (softens them).
In the last 5 minutes, add the garlic.
Increase The Flavor of the Aromatics
Now it's time to add the tomato paste, curry paste and spices. The curry paste is my secret little weapon to beef ragu for another flavor layer.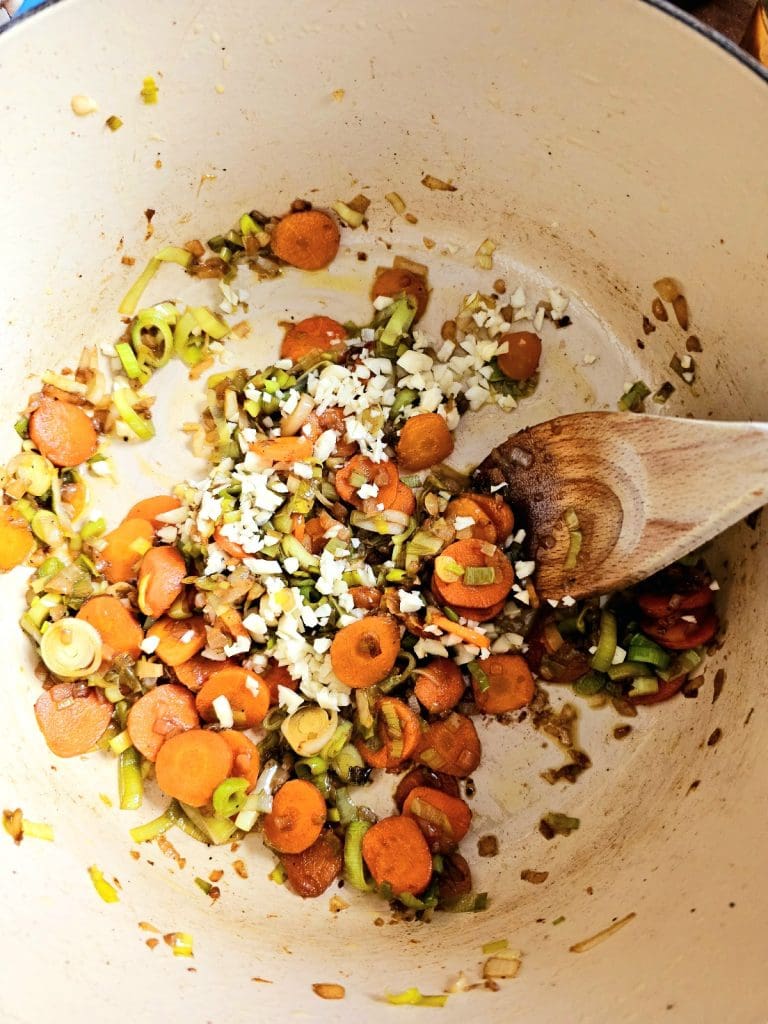 Deglaze and Build The Flavor Layers
Pour in the wine, tomatoes and stock, preferably from the side and not just dump it in over the meat. All those bits we had in the pot from browning the meat will now steam with the deglaze creating even more depth in flavor. Use a wooden spoon and scrape up all those bits so that they can cook into the wine. Let it cook out on medium simmer for roughly 5 minutes.
Braise Add the seared short ribs back into the pot, place them nice and cosy in the sauce, bring the pot to a boil and then lower the heat and cook on low heat/low but decent simmer for about 2 ½ to 3 hours. Your kitchen will undoubetedly smell like an Italian mama's kitchen and make you feel like you are the chef of life! As for me, as an anosmic cook, I always understand the sense of smell through a powerful sense of feeling that something wonderful is happening right now.
Finishing The Ragu
Add the herbs.
Tip: Grow your own herbs! To have access to them without having to pay a small fortune each time is priceless!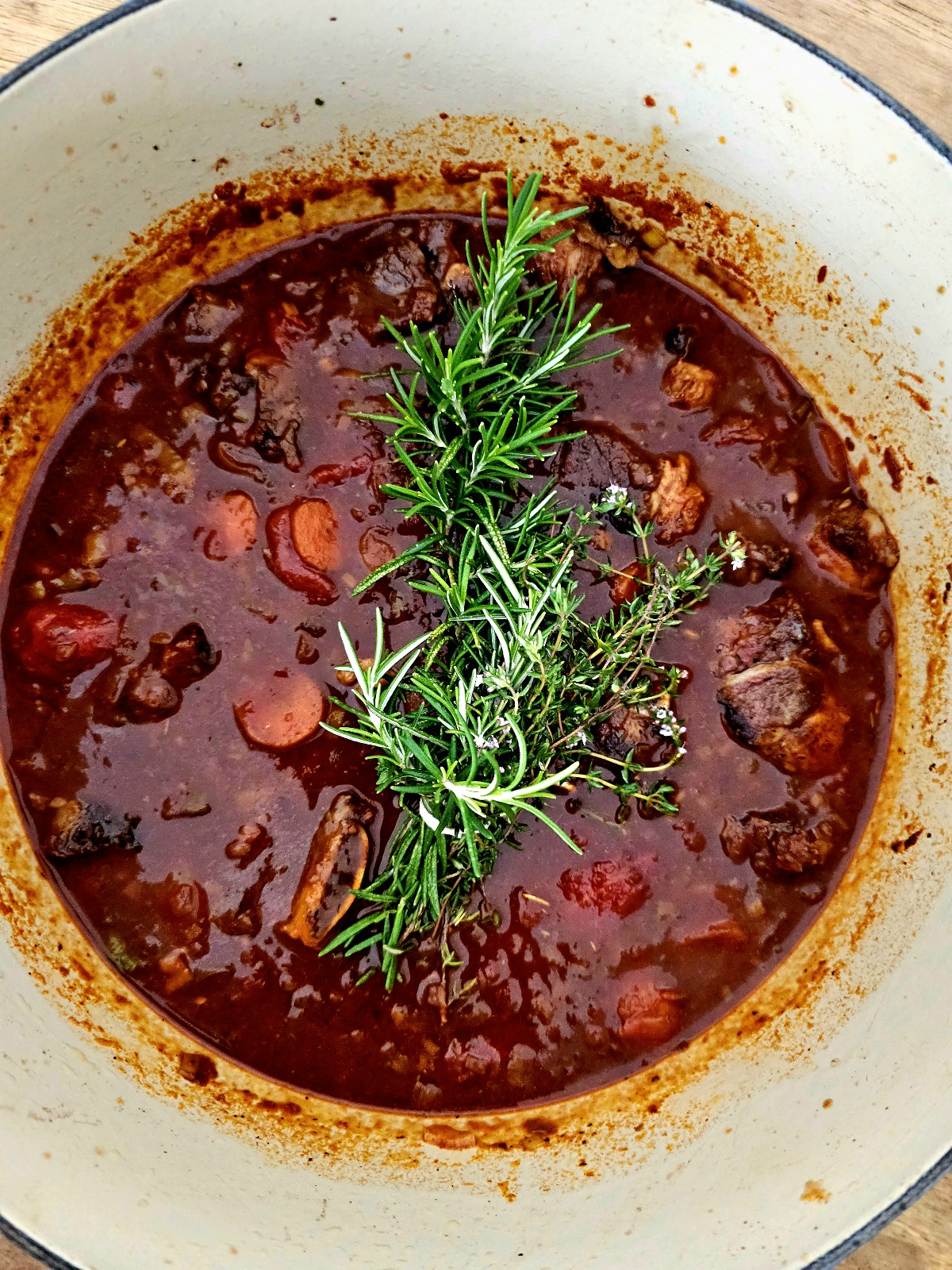 Place the lid on, bring it up to a boil and then drop to a low simmer for 2 ½ to 3 hours. Don't forget to taste just before it goes in although with this recipe, I'm sure it's good to go.
No Parmigiana (Parmesan cheese) in this batch of cooking the ragu but feel free to add according to the recipe card below as discussed earlier under the Ingredients section.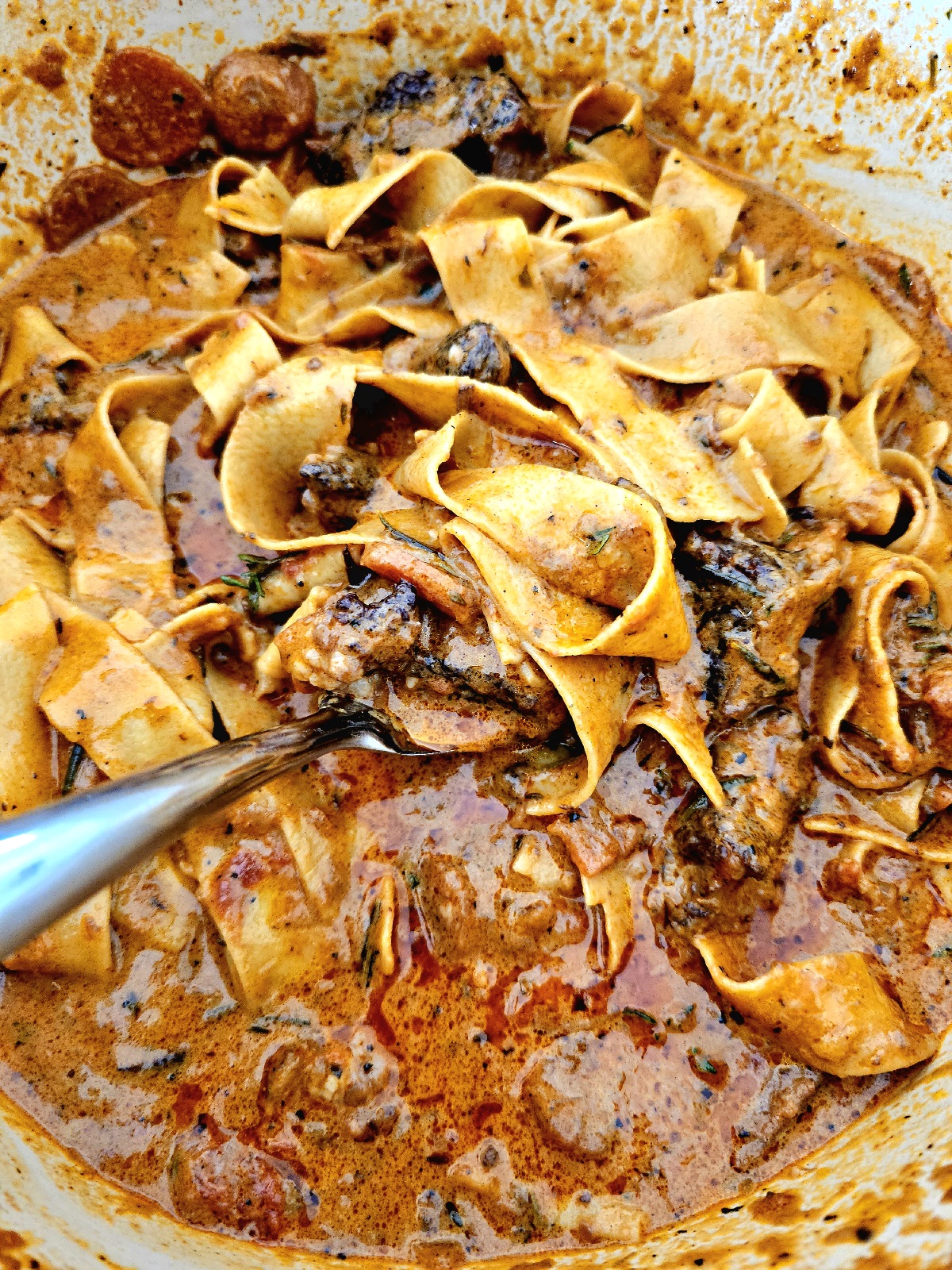 While the beef ragu simmers away for hours, your only responsibility is to check occassionally that it does'nt need any water. I added about half a cup of beef stock on the 2nd hour only because I needed the ragu to go longer since I wanted it even more soft, that's the beauty of this recipe, total convenience!
Finish This Creamy Beef Ragu
When the beef ragu is finished cooking and you are happy with how tender it is (you can let it continue cooking for softer meat) remove it from the stove and let it cool while you make the pasta. In the interim of the beef ragu cooling down, add half the cream and stir it as it melts into the meat. The other half of the cream can be added after you add the pasta. You can also add pasta water into the ragu to make a thinner sauce but wait until the pasta is done cooking!
Cook The Pasta For the Ragu
Cook the pasta according to packet instructions with 2 minutes less than the packet instructions say. Transfer the cooked pasta to the sauce with a large pasta spoon or tongs. Do not drain the pasta, simply transfer directly to the sauce. Turn the pasta into the sauce getting all the pasta covered in sauce.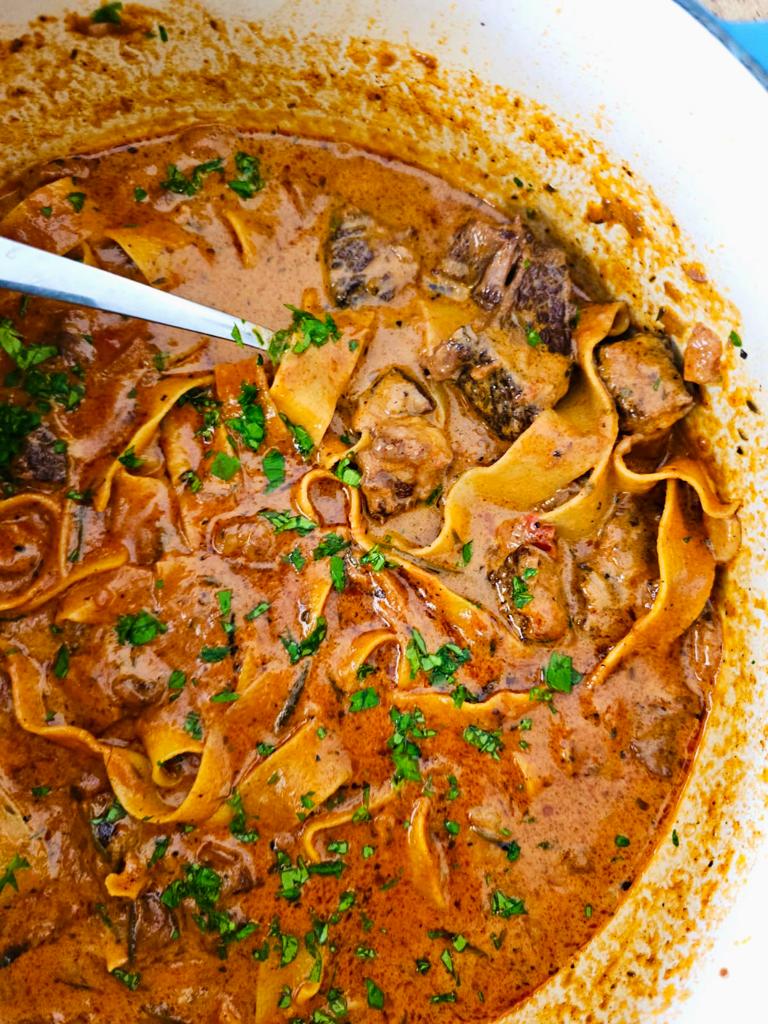 Pasta Water
When you transfer the pasta to the beef ragu, some water bits will come with it, let it, that's what we want and possiby more! Add a little water to help emulisify with the ragu and create a creamy sauce. This is essential in creating a creamy beef ragu.
Why You Should Wait For The Pasta To Cook First Before Using The Pasta Water
Taking pasta water before the pasta is cooked, is ineffective and you may as well use kettle water. The idea of the pasta water is the starchy water from the pasta when it cooks, that's what helps create a sauce. The best starchy water is always at the end of cooking.
Final Touches To Creamy Beef Ragu
Add the remaining cream, parmesan and serve this pasta with creamy beef ragu with a garnish of fresh thyme/parsley and enjoy!
Why Recipes Can Look Different
As explained above, it's always a matter of not just one element but a few things, from ingredients to lighting to heating and more, but you know what never changes? The rich and intense flavors of an Italian Beef Short Rib Ragu.
When you make this recipe, be prepared to be wowed.
Frequently Asked Questions on Beef Short Rib Ragu
What is ragu?
Ragu is an Italian meat-based sauce served with pasta.
Where does beef short rib come from on the cow?
Beef Short Ribs come from the chuck, rib or brisket part of the cow. They are as the name suggests 'short ribs' which are essentially short pieces of bone with meat on them.
What is the best cut of meat for a beef ragu?
Beef brisket or roast, beef short ribs and chuck.
Why is my beef ragu meat so tough?
This cut of meat is meant for slow cooking so if you cook it fast it will toughen.
What can I use if I can't find celery?
You can subsitute the celery with leeks or bok choy.
Methods of Cooking
Beef ragu can be made in the slow cooker, oven and stove-top. Any slow cooking method.
I can't wait for you to try this Creamy Beef Ragu recipe! It's easy and pretty much little effort with next level taste!
If you do give it a try, be sure to let me know! Leave a comment with a star rating below. You can also share your photo's & tag @anosmickitchen on Instagram because we love seeing your creations♡ Happy cooking!
More Slow Cook Recipes!
Looking for more recipes?
Subscribe to my free newsletter and follow along Facebook, Pinterest and Instagram for updates
Shop our online store for quality all natural spices.
Recipe
Creamy Beef Ragu and Pasta
This Creamy Beef Ragu is a show off to my Oven Slow Roast Beef Ragu to see what the difference would be with a few tweaks here and there. Ultimately both recipes are still a rich and flavorful Italian ragu. Braised short rib until deep golden brown, then cooked in what's known as the Italian holy grail, a 'soffritto'. Tomatoes, spices and a bold red wine simmer gently for hours with the meat until it will fall off the bone with just one peep at it! You don't even need to cut it, it falls-off the bone. Not only that, your kitchen smells like an Italian Nonna's kitchen and you feel like the world chef. Serve this ragu as a celebration meal or a slow Sunday simmer!
Ingredients
To Sear The Beef
1

kg

beef short rib

salt and pepper

3 to 4 

Tbsps. 

olive oil
For The Soffritto / Aromatics
1

onion, diced

3

carrots, chopped

3

celery stalks

pinch of salt

5

garlic cloves, finely chopped
Additonal To The Soffritto (halfway through the soffritto cooking time)
140

grams

tomato paste (roughly 2 heaped tablespoons)

2

teaspoons

curry paste (not authentic to the ragu but my own flavor twist
For The Tomato Sauce
1

canned chopped tomatoes

2

cups

low sodium beef stock or water
Herbs
bunch of fresh thyme & rosemary (See notes below on how to use)
To Finish
1

cup

Parmesan cheese, freshly grated

½

cup

fresh cream
To Serve
500

grams

pasta

fresh thyme
Instructions
salt and pepper,

1 kg beef short rib

Sear/Brown the beef: Add the oil into a large thick based pan or Dutch oven and once the oil is hot carefully add the seasoned meat. Sear until brown all around and how long it takes will differ from stove to stove. Remember to not overcrowd the pot for the beef to get an all round sear.

1 kg beef short rib,

3 to 4  Tbsps.  olive oil

Remove the black bits in the surface of the oil from the burning of the black pepper and leave the remaining oil in there for the soffritto. If the oil is more than 2 to 3 tablespoons take some out.

You can remove the oil by using a spoon to scoop the oil or use kitchen tissue paper to soak it up and discard.

Set the pot to low to medium heat for the soffritto.

Make the soffritto: Add the

1

onion, diced

3

celery stalks

3

carrots, chopped and a

pinch of salt

Cook on medium to low heat for 20 to 30 minutes. In the last 5 minutes add the garlic and continue cooking another 5 minutes. The soffritto should cook until it almost caramelizes and if it starts sticking to the pot, no sooner lower the heat but let it cook for long. Because we've already seasoned the meat, we are adding just a pinch of salt here, no pepper. However, please taste and adjust. PS. This is where I add my garlic & herb and Involtini spice Add them in the last minute or two of the soffritto cooking for another layer of flavor.

1 onion, diced,

3 carrots, chopped,

3 celery stalks,

5 garlic cloves, finely chopped,

pinch of salt

Now it's time to seal the aromatic flavors: Add the tomato paste and the curry paste, stir them in while cooking. About 2 minutes.

140 grams tomato paste (roughly 2 heaped tablespoons),

2 teaspoons curry paste (not authentic to the ragu but my own flavor twist

Let's Deglaze: Add the wine, increase the heat from low to medium and let it cook for roughly 3 to 5 minutes for the flavors to come together.

Time to up the flavor: Add the tomato, beef stock or water and the browned beef short ribs from the beginning of the recipe and cover the pot with the lid. Bring it up to a boil first and then drop it to a low simmer and cook for 2 ½ hours checking once or twice to see if it needs water and only if it does, go with half a cup don't add too much water.

1 canned chopped tomatoes,

2 cups low sodium beef stock or water,

bunch of fresh thyme & rosemary (See notes below on how to use)

Whether or not you have added the herbs above, you can still add a bunch of fresh thyme and rosemary tied up with kitchen twine and add it on the sauce. If you are not adding them as in a bunch leave it out there's no need to chop more herbs.

Now What? It's been 2 ½ even 3 hours now what?

Transfer the short ribs to a plate and you can remove the bones (optional) and shred the meat. If you used whole herbs you can remove any visible bits and discard bunched herbs, they've served their purpose.

What do I do with the shredded meat? You can now return the short ribs to the Dutch oven/pot on a low simmer while the pasta cooks.

½ cup fresh cream,

1 cup Parmesan cheese, freshly grated

Pasta: Save the pasta water! Cook the pasta according to packet instructions with about two minutes less than what the instructions say.

As opposed to my no dairy beef ragu we are adding cream into this one. Add part of the cream now and part of the parmesan cheese and fold the ingredients in rather than 'mix'.
Add The Pasta
Transfer the pasta to the short ribs pot using a large spoon or tongs, (don't drain the pasta). You want the pasta water to emulsify into the cream and create a sauce.

While the stove is still on medium heat, as you transfer the pasta, add a little of the pasta water too. Toss to coat the pasta into the sauce making sure that the pasta is married into the sauce.
Notes
Soffritto
A soffritto is where you cook the onions, celery and carrots on simmer. It's an Italian slow cook method of building a flavor base for the food. Can you skip on this step? Yes ofcourse you can.
Dutch Oven 
Or any thick rimmed pot as they retain heat well, distribute it evenly and the pot must be a bit deep to accommodate the sauce. 
Herbs and spices
Feel free to roughly chop some fresh thyme and rosemary (under Aromatics  in the ingredients) You can also tie the herbs with kitchen string, add them to the short rib ragu and once it's cooked, remove and discard the used herbs. 
Cooking the pasta
I have not said
don't rinse the pasta,
because never, ever, should you rinse the pasta.  More liquid? Add more pasta water. Just watch though, you don't want to overcook the pasta, you have 2 minutes and then pull it off the heat!
Browning the meat
Don't overcrowd the pot rather work in batches. There's a better chance of browning the meat this way.

Storage
Keeps well in the fridge for 3 to 4 days and freezes for months.
Nutrition
Calories:
383
kcal
Carbohydrates:
16
g
Protein:
27
g
Fat:
20
g
Saturated Fat:
6
g
Polyunsaturated Fat:
1
g
Monounsaturated Fat:
11
g
Cholesterol:
72
mg
Sodium:
843
mg
Potassium:
1257
mg
Fiber:
3
g
Sugar:
9
g
Vitamin A:
5823
IU
Vitamin C:
15
mg
Calcium:
59
mg
Iron:
5
mg