We love these potato spirals, sliced potatoes any name they go by! Well seasoned and oven baked with parmesan cheese. Nothing quite like a great potato dish for dinner tonight or typically as a side dish served with mains.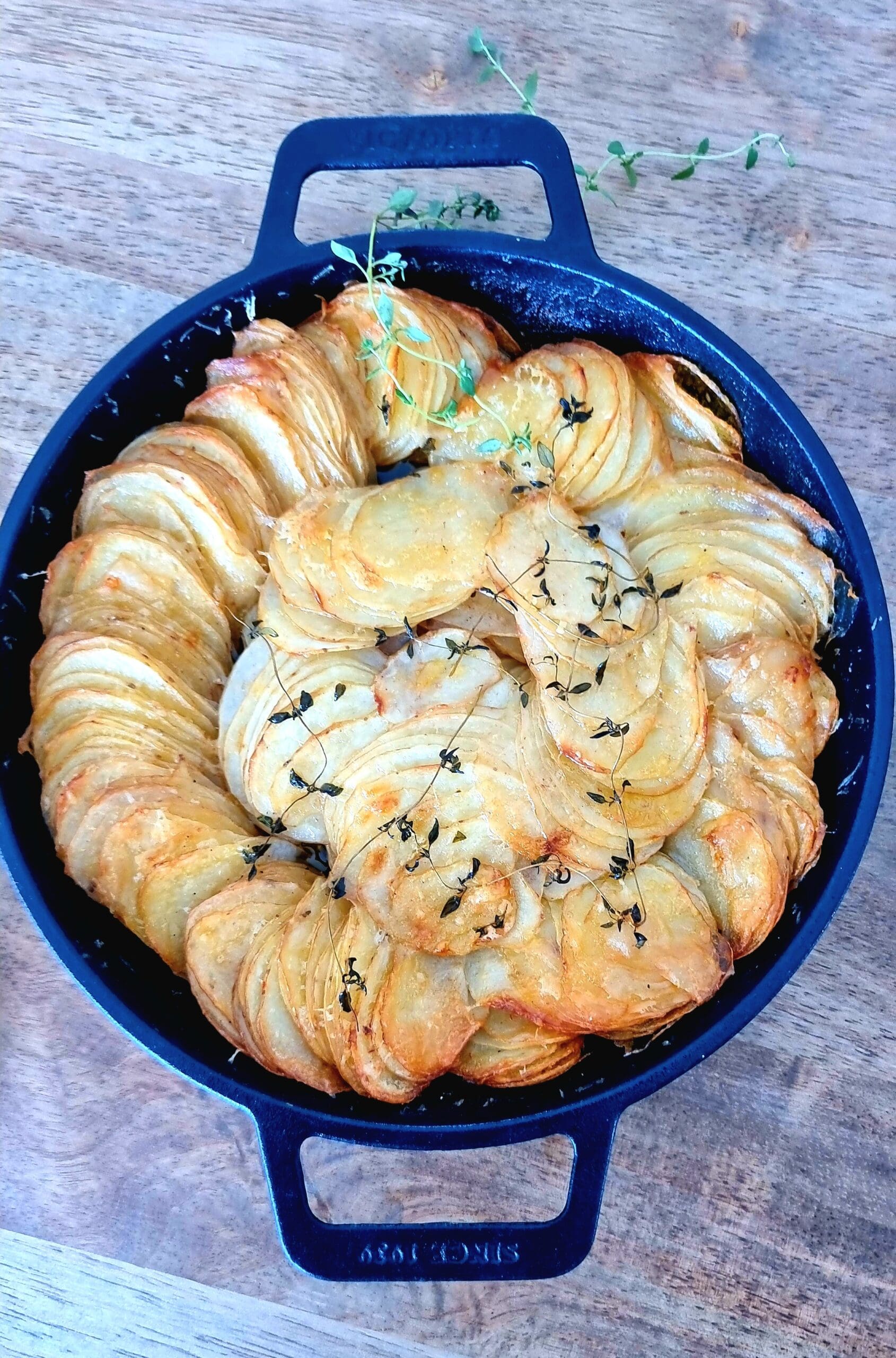 This side dish is super simple to make, anyone can make it, there are less than five ingredients including herbs and spices. The thinly sliced potatoes are layered in Parmesan cheese, our popular garlic and herb spice, melted butter, salt, pepper and fresh thyme. Simple yet so delicious! You can add your own touch to it with fresh garlic or even bacon bits! You are going to love this sliced roasted potatoes and I'm sure your family will too. It's a family friendly easy potato slices.
Given the fact that potatoes generally are very healthy and good for us and they are very affordable, makes it all worth while. Potatoes give us fiber, vitamin C, potassium and they lack cholesterol (when not smothered in too many unhealthy fats). Why not give this sliced roasted potatoes dish a try tonight and see how good it is? Enjoy!
Ingredients For Spiral Potatoes
Here are the few essential items and ingredients that you need. You can work around it but this way will make you feel like you did nothing at all!
Potatoes Use any potatoes and the reason I say that is to prevent you from running around looking for a special type. Depending on where you live, you may not even be able to find a particular type. Here in South Africa we have three types of potatoes; waxy, waxy-floury and floury and most of the time we don't even know that when we buy them. Some stores will label 'for roasting' 'for boiling' but we are not making the best roast potatoes recipe. so we are going to be using any potatoes.
Butter I used unsalted melted butter for flavor.
Parmesan cheese is the perfect salty addition that complements the potatoes.
Essentially, those are your THREE key ingredients. I told you it was super simple!
How To Make Spiral Roasted Potatoes
Prep the potatoes Peel and slice the potatoes. If you have a mandolin, use it! It's so convenient it will make you feel like you did very little and it gets the potato slices evenly thin. Otherwise use a knife and try and get them as thin as you can, roughly the same size.
Combine Add the rest of the ingredients in a large bowl or rectangular dish. I find that a low and long dish makes it easier to get the potato slices well coated.
Stack Collect the slices and pile them together in bundles, as you bundle you will place into a slightly greased skillet/pan. It's a bit messy because you have thinly sliced potatoes that have melted butter on but you get them into piles eventually.
Bake All that's left is to cover them in foil, bake for 25 minutes, remove the foil, increase the heat and bake again on a higher heat uncovered this time for that crisp golden brown.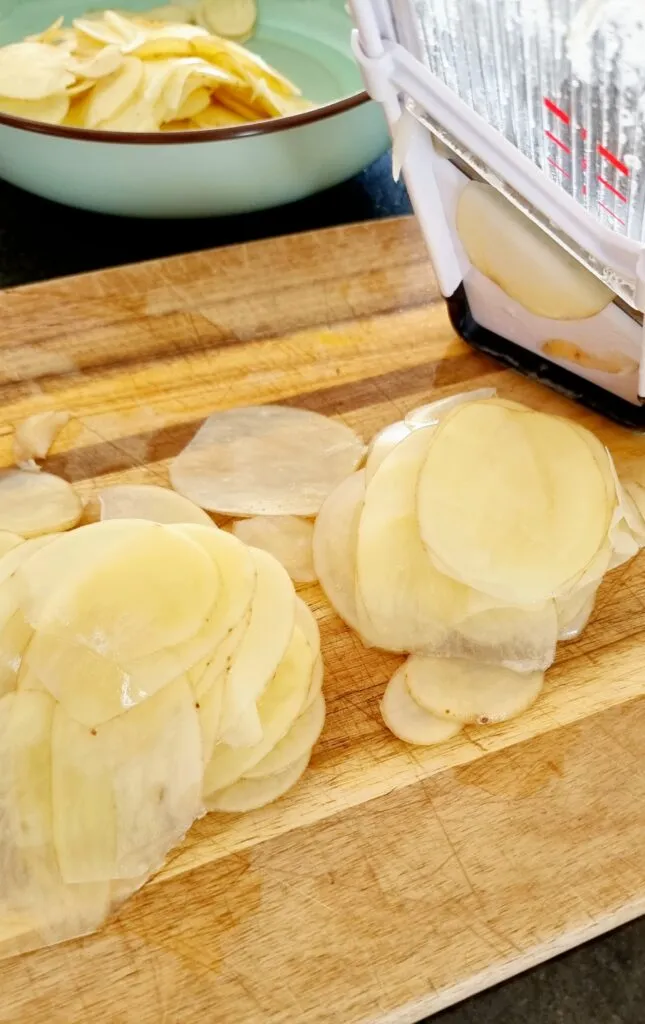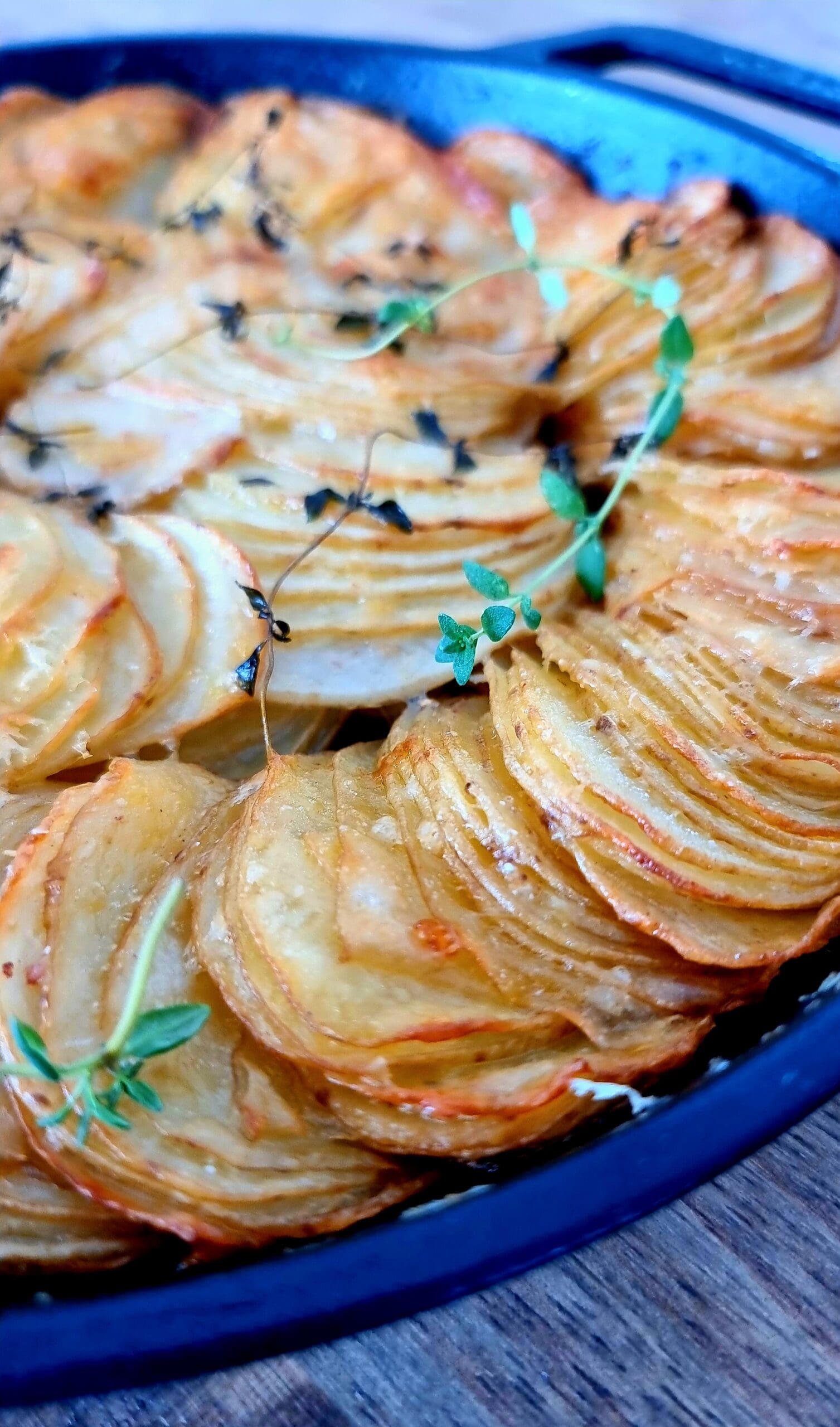 More Potato Recipes
Looking for more recipes?
Subscribe to my free newsletter and follow along Facebook, Pinterest and Instagram for updates
Shop our online store for quality all natural spices.
Recipe
Spiral Potatoes, Crispy Oven Baked
These spiral potatoes are an impressive side dish to serve with your mains. Using just a few basic ingredients and coated to finish in parmesan cheese they are oven baked, crispy and with a few fresh sprigs of thyme to finish, dinner is served.
Ingredients
6

potatoes 

150

grams

butter

1

cup

parmesan cheese

1

tsp

Meat salt or use salt and pepper to taste.

1/4

tsp

black pepper

1

tbsp

fresh thyme

thyme sprigs for garnish
Instructions
Preheat the oven to 180 C and brush the skillet with a little oil or butter.

Slice the potatoes as thin as you can get them, roughly 4mm. My suggestion is to use a mandolin for this.

In a bowl combine all the ingredients and gently separate the potato slices getting them coated.

Layer the potatoes in the skillet in a circular pattern, overlapping the slices.

Cover with foil and bake for 25 minutes. They should be just about cooked through.

Remove the foil, pour the remaining melted butter over and continue baking for another 10 to 15 minutes on 220 C uncovered until golden brown.

Serve with fresh thyme sprigs and coarse sea salt.