Learn how to make creamy hummus in a few simple steps. This easy hummus recipe takes no time at all and it quickly becomes part of sandwiches, platters, veggies, meat, flat breads, breakfast and more.
Hummus has an element of surprise no matter how many times you make it! From the spices and herbs that you add to the type of beans (legumes) you use and you can always add a different flair and texture to the look and taste. Although it will no longer be a 'classic' hummus it will give you the same Middle Eastern / Mediterranean food experience.
What Are Chickpeas
Chickpeas also known in Spanish as ""garbanzo beans". Together with black beans, kidney beans (another favorite), peanuts and lime beans these are all part of the legume family. A legume is any plant from the Fabaceae family. Lentils on the other hand are a pulse and a pulse is an edible seed that comes from legumes. Pulses are your lentils and peas.
Reasons To Love This Hummus Recipe?
Inexpensive and a nutritious staple.
Homemade hummus gives you control over the ingredients in both choice and quantity.
The quantity is larger than store bought at a fraction of the price
Quick
Vegetarian
Dairy free
Versatile and delicious!
What else could you ask for from a humble can of chickpeas?
I was watching a food and travel show the other day - of course I was 🙂 The city was Jerusalem and the food was lots of deliciousness including hummus of which they discussed in detail and how it is there there what bread is like to us here. Eaten on a daily basis at any time especially as part of a breakfast. Here, we are always excited about hummus, at least I am and even though its a can of chickpeas it's always treated as a luxury.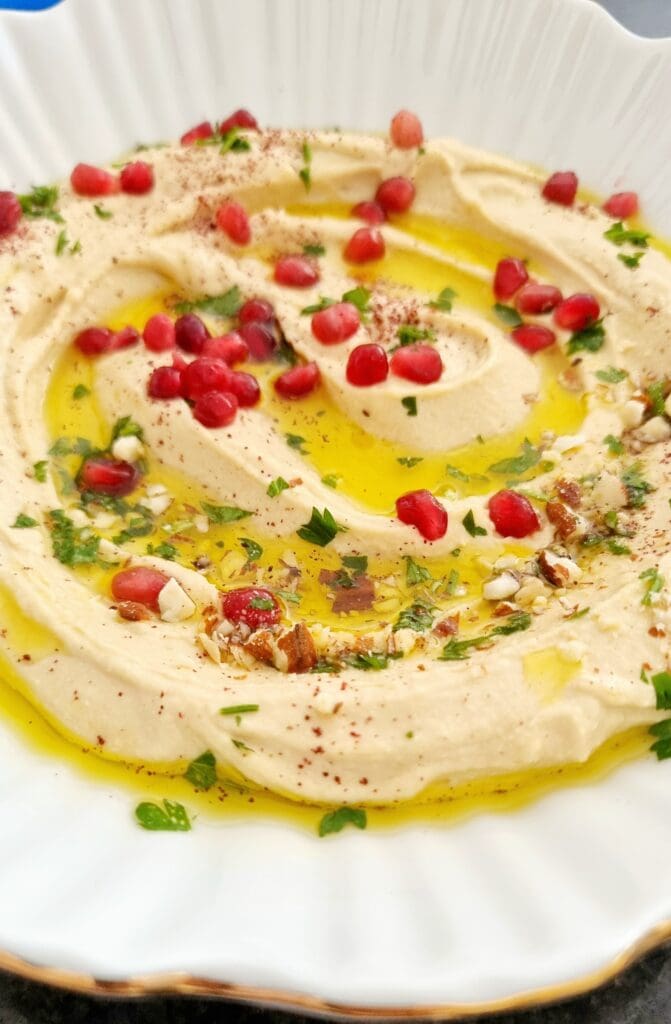 The beauty of this recipe is that you can work with it in terms of texture. Extra silky or a bit more of a coarse texture it really depends on what you're wanting.
Ingredients For This Easy Hummus Recipe
Here's what you'll need to make an easy creamy hummus that's delicious as a dip or spread.
Canned Chickpeas I'm using canned chickpeas but you can also soak fresh chickpeas overnight if you have time. I find the canned version perfect for a quick turn around.
Chickpea liquid This is where your hummus goes from creamy to extra creamy! The chickpea liquid (also known as aquafaba) will help emulsify your hummus so don't leave it out.
Tahini The star of the show to help thicken the hummus. If you havent yet, you can also make your own.
Fresh lemons and Sea salt I love the combination of fresh lemon and sea salt because it immediately brightens up any dish much like a natural flavorful spice. In this hummus recipe the tart lemon brightens up the hummus and a light sprinkle of sea salt can be used as part of the garnish.
Garlic I always add 2 garlic cloves however, since I started using my Vitamix blender it's a lot more powerful and the garlic flavor is a lot more pungent so one clove is sufficient. If I have roasted garlic, which is my favorite, I use that instead. I can eat loads of roasted garlic, so sweet!
Cumin This Middle Eastern spice adds a hint of warmth and earthiness.
Garnish Very traditional is to serve hummus with a good quality extra virgin olive oil, sumac and chopped parsley. You can also use smoked paprika.
Below are is the method with images on how to make a smooth chickpea hummus in a food processor. It's a work around that I've worked on with repetition and is unfortunately the only way you can get your hummus smooth without a high powered blender.
Should You Be Peeling Your Chickpeas?
I cannot iterate enough what a difference your equipment will make. No one mentions that and it's most important. I've always peeled my chickpeas and there's no shame in that. Though tedious, I eventually found a work around (see notes below). My old food processor was not going to give me a smooth hummus if I didn't remove the chickpeas, period. Besides, I also wondered how I could eat those shells, it freaked me out sorry.
Should You Make Hummus In A Food Processor or Blender
Use what you have and understand that the result will be different. If you don't have a high powered food processor or blender and you want an extra smooth hummus you may not get the extra smooth results that you're looking for.
How To Make Smooth Hummus
Below is how to make a smooth chickpea hummus without a high powered blender. For both recipe options, see the full recipe card below.
Rinse the chickpeas Add the chickpeas to a strainer and give them a quick rinse. You can use fresh chickpeas (to make from scratch) soak them overnight and then simmer for a couple of hours. Here we are using canned.
Cover in water and cook for 15 to 20 minutes, the latter being the better option. This option is for the food processor when you're wanting an extra smooth hummus.
Peel the chickpeas A half teaspoon of bicarb will help the peels fall off easily. If you're not cooking them then soak them in bicarb using hot water, this will make them fall off.
Quick Tip Pour the chickpeas into a kitchen towel, make sure you're holding all corners of the towel and give it shake or rub on the counter. You can also add them to a sealed container and shake, for the peel to fall off.
Dry the chickpeas and add them into the food processor with a sharp blade and run the processor until the chickpeas have broken down. (30 seconds or so)
Add the ingredients Now add the rest of the ingredients garlic, tahini, salt, lemon juice and ice water and the chickpea liquid (aquafaba). Run for 4 to 5 minutes (stop and scrape the inside of the bowl) into a smooth consistency.
More Tips and Suggestions
Tahini You can make your own and you can also use store bought. Tahini helps thicken the hummus.
Creamy fluffy hummus - Add a dash of ice water as the food processor spins, give it 30 to 40 seconds and then pour in the chickpea liquid to help. It's best to add the liquid slowly and keep stopping and scraping the sides to see the consistency but about ½ to ⅓ of cup would be suggested.
Have patience - If you think it's done, let it go just another minute. A good five minutes really does make all the difference in the smoothness of your hummus so let the food processor go.
When you are happy with your hummus get it into a container with a lid and refrigerate for an hour before serving.
For something different, substitute the chickpeas with white or black beans. The canned butter beans work best!
For less heat, the smell and the taste in garlic let it sit in lemon for a bit. Then you toss the whole lot in anyway😀
Serving Suggestions
Spread it out onto a plate or bowl and add a generous amount of olive oil and a sprinkle of paprika or sumac.
How To Thicken Hummus
If you add too much liquid and need it thicker simply add tahini. Also remember that it will settle and become slightly thicker sitting in the fridge.
More Dip Recipes
If you try this Easy Chickpea Hummus Recipe, feel free to leave me a comment and a star rating! And if you take a photo of your hummus and share it on Instagram, please tag me @anosmickitchen and use the hashtag #anosmickitchen because I simply love seeing your remakes! Happy cooking!😊
Shop our online store for quality products.
Recipe
Easy Hummus Recipe
Learn how to make a creamy easy hummus recipe using a food processor and using a high powered blender along with all the tips and suggestions on how to get it extra creamy without a high powered blender.
Ingredients
High Powdered Blender
1

can

chickpeas, 400 grams

½

cup

chickpea liquid (more if you use more chickpeas)

½

cup

tahini

4

tbsps.

olive oil

1

lemon, juiced

1

garlic clove

½

teaspoon

cumin spice
Food Processer or Regular Blender
400

grams

chickpeas, 1 can

½

teaspoon

bicarbonate of soda

1 to 2

garlic cloves

crushed 1 fat clove or 2 small ones

¼

teaspoon

salt

½

teaspoon

cumin spice

½

cup

liquid from the chickpeas (aquafaba)

1

fresh lemon (juice) (more if you need)

½

cup

tahini

¼

cup

olive oil
To Garnish
¼

teaspoon

Involtini spice, Paprika or Sumac for sprinkling

extra virgin olive oil

fresh chopped parsley
Instructions
High Powered Blender
Add all the ingredients into the blender, remove the little cap and insert the tamper.

Turn the blender on high and blend for a couple of seconds. Use the tamper to move the chickpeas toward the blade for a creamier hummus. Add the chickpea liquid, (aquafaba) a little at a time depending on how soft and smooth you like it.
Food Processor
Canned Chickpeas Save the liquid (aquafaba) and rinse the chickpeas, pour into a pot covered in cold water with bicarb. Bring to a boil, drop the heat slightly and simmer for 10 to 20 minutes until a little tender.

Drain the liquid and discard. Pour the chickpeas into a clean kitchen towel, bring the ends together, hold it tight and shake the towel. This will help the peels fall off. Option 2. Pour them into a colander and gently run the water through while using your hands to push the shells off.

Add the chickpeas into a food processor with a sharp blade and run the processor until the chickpeas are broken down, 30 seconds.

Add the rest of the ingredients garlic, salt, tahini, lemon and ice water.

Start the processor and as it spins pour in the liquid and let it go for 4 to 5 minutes stopping in between to scrape the inside of the bowl with a spatula. If you want a smoother hummus, add a little more liquid but ½ to ⅓ cup should do.

Serve with a generous drizzle of good olive oil, paprika or sumac.
Notes
Note 1.  Add more tahini only if you accidently add too much liquid it will help make it thicker. 
Note 2. You do not have to boil canned chickpeas you can also stand them in water with bicarb, rinse then use as per the recipe but if you want a more smooth texture then follow this recipe.
Serving Ideas
Chickpeas hummus can easily be stored in the fridge in a sealed container for a quick serve. Free free to serve with other foods as a dip or spread. 
Nutrition
Serving:
1
serving
Calories:
217
kcal
Carbohydrates:
12
g
Protein:
6
g
Fat:
17
g
Saturated Fat:
2
g
Polyunsaturated Fat:
5
g
Monounsaturated Fat:
10
g
Sodium:
378
mg
Potassium:
157
mg
Fiber:
4
g
Vitamin A:
19
IU
Vitamin C:
1
mg
Calcium:
42
mg
Iron:
1
mg