Christmas remains the most important holiday of the year and tis the season to have a pot of fruit and herbs simmering on the stove! What better way to bring in the season I ask? That and the sounds of Mariah Carey, Bolton and Boney M! Yes I know, what can I say, I still love them so. My all time favorites have to be the jazzy Christmas sounds though.
Even for me as anosmic home cook I am always taken up by the aromas of this pot. As I've always said, it's not only the smell, it's the feeling of knowing that something wonderful is happening in the kitchen right now. It seems to flow through the blood and if only for the moment, I am still, in the midst of the simmer, I too can say, oh I love the smell in a pot of simmering Christmas.
All the holiday recipes make it even all the more exciting!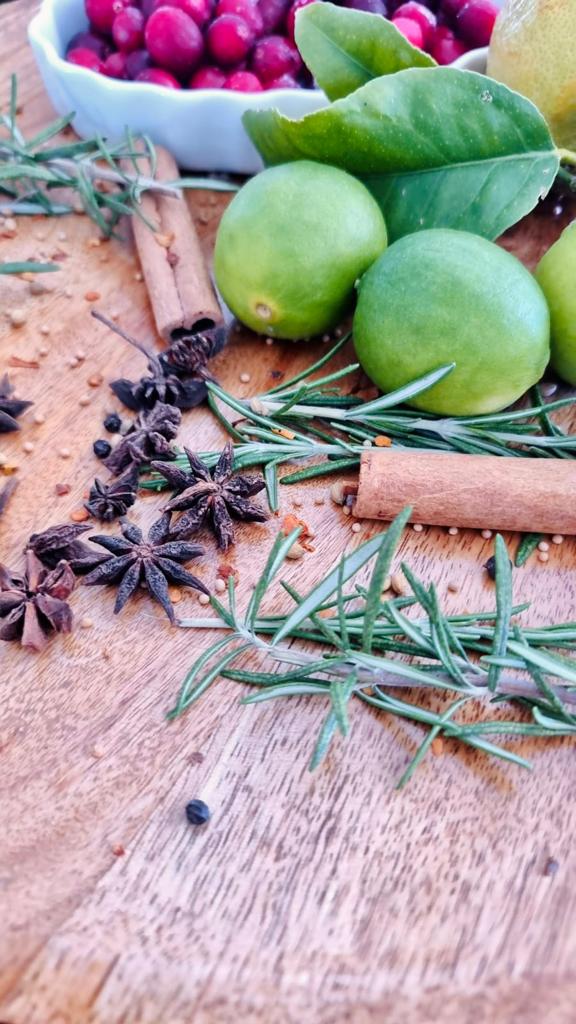 How To Make A Pot of Simmering Christmas
What I love most about a pot of simmering Christmas is that the aroma flows through the entire house, not just one room. More especially, in my case, there's that feeling that I get that no candle can give me of that something wonderful
Ingredients - Add all the ingredients (recipe card below) into a large pot.
High Heat - Bring the pot to a boil.
Simmer - Drop to a low simmer and leave on the stove.
Do I Need To Watch My Pot?
No. You don't, especially if you have it on a low simmer. Remember we are not cooking anything, we are looking for that gentle aroma that is released by infusing the fresh herbs and fruit. In saying that however, never leave it completely unattended please. You need to intermittently check on your pot just to make sure there's enough water to keep it simmering and not burn.
Can I Make A Pot of Simmering Christmas in Advance?
That's the best part, yes you can! Not sure about you but I figure that if I've gone ahead and decided to make a roast for Christmas, some cranberry sauce, appetizers, sides and dessert then yes I would love to feel in the Christmas mood while cooking! I've gone a step further and use only my Christmas apron in the month of December. I love it.
Let it cool down completely, put the lid on and start it going the next day. Feel free to remove what's old in terms of fruit. Add a fresh slice or two of orange and a fresh rosemary sprig for that extended pot of simmering Christmas!
Tips and Suggestions
You don't need to be stuck to these ingredients and quantities since it's not an actual meal. Use a smaller pot if you want and add your own preference of herbs and fruit incase I left something out that you have.
More Holiday Recipes
looking for more recipes?
Shop our online store for quality all natural spices.
Subscribe to my free newsletter and follow along Facebook, Pinterest and Instagram for updates.
Let me know if you make this Pot of Simmering Christmas recipe by commenting below. Your star rating is most appreciated and ofcourse, if you do make it, let us see by using @anosmickitchen in your Instagram post and the hashtag #anosmickitchen Enjoy! xx
Recipe
A Pot of Simmering Christmas
Fill your home this year with a pot of simmering Christmas and aromas of fresh herbs and fruit. Make ahead and use the next day.
Ingredients
1

cup

cranberries, fresh or frozen

1

orange

2

star anise

2

cinnamon sticks

1

teaspoon

cloves

1

cup

cranberry juice

fresh rosemary

1

apple

fresh rosemary
Instructions
Add all the ingredients to a large pot and bring to the boil.

Once boiling, drop to a low simmer and simmer for hours, check intermittently if the pot needs water, topping up a little at a time.

Leave it to cool, put the lid on overnight and use the next day adding lemon peels, orange peels, or your favorite herb to deepen the aroma.