This flavorful traditional South African pickled fish recipe is typically eaten at Easter after a 48 hour soak in curried and pickled onions.
While there are many versions to pickled fish this is a spicy, slightly hot, delicious and traditional family recipe. To get the best taste from this pickled fish prepare it in advance and refrigerate it for 2 to 3 days before serving.
Picked fish is mainly to replace the eating of meat ( by religious tradition) on Good Friday.
This recipe is eaten with hot cross buns and it's very normal to make large quantities so that it can last the entire Easter holiday because this is one of those wonderful recipes where the longer it stands in the fridge the better it tastes! If it lasts throughout the Easter weekend.
My Traditional South African Pickled Fish Recipe
Always something special about recipes that have been handed down from one generation to another. Recipes that you grow up witnessing being made, eating and in turn making it for your own family.
Easter Friday also known as Good Friday holds memories for me of being bundled up in the car and off to church which of course are fond memories (except those long church service hours at such a young age) more importantly however, are the wonderful memories of pickled fish and hot cross buns! Those are crystal clear obviously because I've always loved delicious food and also because we were kids so we were always hungry 🙂
A LITTLE PICKLED FISH HISTORY
Some say it came about because fishing boats didn't used to go out over the Easter weekend making the pickling of fish a necessity in the days before fridges and freezers. Referenced
Growing up in the 70's food and life was a lot more basic than it is now (in certain situations). When it was Easter there was no question that pickled fish was going to be on the menu and perhaps the only food on the menu 🙂 Besides hot cross buns of course which is what you eat pickled fish with.
I cannot imagine my mother having ever said "I found this new way to make pickled fish" unimaginable!
It was what it was, how you knew it and that was the end. No recipe suggestions, no tweaks and no changes. There has got to be something special about such recipes that's why they are called 'traditional'.
A FEW REASONS WHY YOU SHOULD MAKE THIS RECIPE
It's absolutely addictive whether or not you like onions (seriously)
Pickled fish can also be eaten at Easter because it's essentially a spicy fish recipe
Traditional recipes have so much more depth in the food no matter the cuisine
There has got to be something said for trying out a new and different cuisine
There are many religious beliefs pertaining to the eating of pickled fish over the Easter week-end and specifically on Easter Friday. One of these reasons is that eating pickled fish stems from Roman Catholics not wanting to eat warm blooded animals on Fridays hence only pickled fish on a Good Friday is generally enjoyed.
ingredients
Onions

Spices which is the essence of this recipe

2 large fairly flat bowls for the flour and egg

Large non stick pan

Kitchen tissue towel paper

Canola oil for frying

White wine vinegar

A pair of tongs
Don't discard the liquid after adding the cooked spiced onions to the dish. Pour it in over the fish and if you want more liquid, top this liquid up with white wine vinegar and water, taste and pour over the fish.
Important Recipe Notes, Suggestions & Tips
Use room temperature fish.
If you prefer more liquid increase the quantity of the white wine vinegar & water by small amounts just before transferring the fish into the glass dish.
When dipping the fish into the flour try using as little flour as possible because you want to lightly coat the fish in flour and not have parts of flour in your pan. Also I find that the more flour you use the longer the cooking process takes and it also means that you have to keep changing the oil so I would suggest keeping it light and cooking on medium in a non stick pan to avoid burning the oil.
Use a non metallic container for storing the fish. A glass hollow bowl or Pirax dish works best.
If you try this recipe please let me know by leaving a comment below! Be sure to follow on INSTAGRAM and PINTEREST for more simple and flavorful recipe inspiration!
If you love this Pickled Fish Recipe…..then you must try new and improved Turmeric version of this Traditional Traditional South African Pickled Fish
Recipe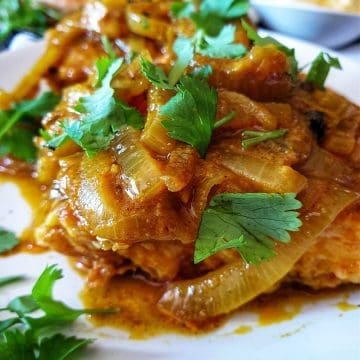 Traditional South African Pickled Fish
A spicy, slightly hot, delicious and traditional pickled fish recipe.  To get the best taste from this pickled fish prepare it 2 to 3 days before serving.
Ingredients
FRYING THE FISH
1

kilo

fish

oil (for frying the fish)

all purpose flour

4

eggs
DRY ROAST
1

fresh chili

4

bay leaves

1

teaspoon

fennel seeds

1

tablespoon

peppercorns

1

teaspoon

roughly chopped cloves
SPICES
1

teaspoon

turmeric

1

teaspoon

fish spice

1

teaspoon

paprika

2

tbsps

masala curry powder

1

teaspoon

cumin spice

1

teaspoon

salt
COOKING THE ONIONS
4 to 5

sliced onions

¾

cup

canola oil

1

cup

white wine vinegar

2

cups

water

4

garlic cloves

thumb size piece of ginger
Instructions
Make sure the fish (if frozen) is completely defrosted and at room temperature before starting. 

Add all the dry roast ingredients into a hot skillet for the flavors to be released. Watch closely to prevent burning. Set aside. 

Have 2 slightly large wide plates, 1 for the flour and 1 for the egg. Using a pair of tongs dip your fish one at a time into the beaten egg and then into the flour and fry on medium heat. Continue till all the fish is done. 

Once fried set the fish on top of kitchen towel paper to drain the oil. 
COOKING THE ONIONS
Heat the oil in a fairly large pan and add in all the onions (or cook in parts) and cook on medium heat till nice and glossy.

Add crushed garlic and ginger, cook for a minute or 2 more.

Add all the spices and salt, mix.

Add the dry roast ingredients, vinegar and the 1st cup of water. Lower the heat to medium| low. 

Simmer for about 15 minutes adding the 2nd cup of water slowly. (and a little more if needed)

Once cooled down, pour over the fish, allow to continue cooling even further before covering in plastic wrap and store in the refrigerator for minimum 24 hours before serving with fresh coriander. 
Notes
Please taste the pickled fish as you go and adjust this recipe accordingly because each person has their own taste. For example, you might want to add a hint of sugar for sweetness or to balance out the acidity in the vinegar.  So I would suggest that you taste as you go along. 
You may also prefer your fish in a sealed container at room temperature and not in the fridge therefore this recipe is how we as a family like our pickled fish so please adjust according to your family. 
Also, there are a load of onions in this recipe but that's how we like it with loads of onions.  Besides, it tastes so good every single onion is eaten!  Feel free to half the onion quantity. 
Happy Easter!
Nutrition
Serving:
0
g
Carbohydrates:
0
g
Protein:
0
g
Fat:
0
g
Saturated Fat:
0
g
Polyunsaturated Fat:
0
g
Monounsaturated Fat:
0
g
Trans Fat:
0
g
Cholesterol:
0
mg
Sodium:
0
mg
Potassium:
0
mg
Fiber:
0
g
Sugar:
0
g
Vitamin A:
0
IU
Vitamin C:
0
mg
Calcium:
0
mg
Iron:
0
mg
Leave a Comment & Rate this Recipe
If you love this recipe, please consider giving it a star rating when you post a comment because the star ratings helps other people like you find my recipes online and that means so much to me thank you! Miranda, xoxo