There has to be something said about the comfort and healing of a bowl of soup. This carrot and ginger soup with no cream, is silky smooth with hints of delicate warm spices. In my Vegetable Turmeric Soup the taste was delicious but the spices took it from a good soup to an incredible soup. The same rule applies here.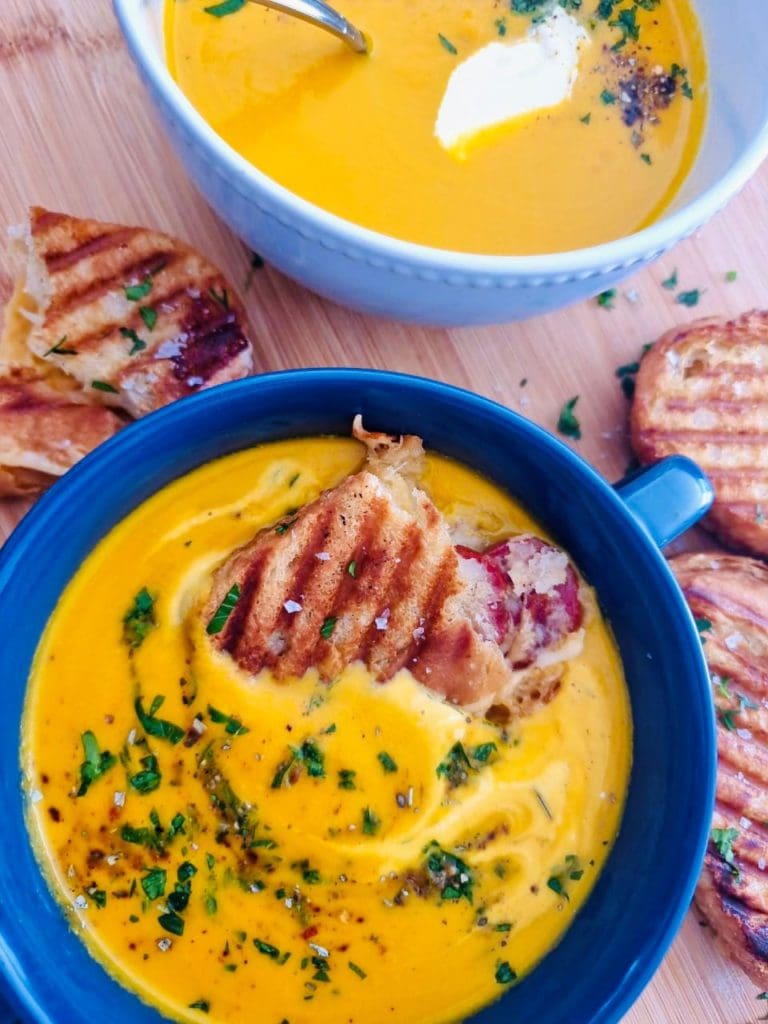 After adding potatoes to my Carrot and Potato Soup I was very excited about keeping this version classic. This carrot and ginger soup is simple, smooth, light with lovely light warm spice tones. We're currently experiencing hopefully the last of the winter so the warm spice additions are a great choice.
Let's talk for a second about the elephant in the room which is the snackwich toast dunked into the soup 🙂 Making this soup look irresistible to my husband was key and the snackwich for sides worked brilliantly! He loved it. Determined to keep the soup 'clean' I added chorizo and cheese to the toast and not the soup. Talk about a soup party 🙂
How To Make Carrot and Ginger Soup
This carrot and ginger soup is a pleasure to make with a few tips and variations that I've shared in this post.
Onion and garlic: How any flavorful dish starts because that's what they do, add flavor. There are so many health benefits to onion and garlic which is why I never fault in using them.
Olive oil: for richness and we cook the onion in the oil with the spices and garlic, beautiful aromatics going.
Warm spices: I couldn't resist the warm feeling these spices give, blood circulation! Just a pinch of each; cardamom, cumin and coriander since we already have fresh ginger I left that out. I do interchange the spices from time to time with other spices like cloves and nutmeg for an evident earthiness that comes through. Even just a pinch goes a long way on the tongue. I added this paprika because it's not just one type of paprika, its a blend with other spices, herbs and dried vegetables. This lends a unique level of flavor to the soup which is both smoky and spicy. Feel free to add a touch of cinnamon too! Cinnamon is an aromatic spice that pairs well with ginger, chili and other herbs and spices. The best part about these spices, when paired well, they change the entire meal.
Carrots: The star of the recipe and we are definitely roasting them for this carrot and ginger soup. Roasting the carrots does heighten the sweetness profile however, we don't always have time to roast. Making this exact same soup on the stove top is just as easy and delicious. I've shared more on the notes in the recipe card below.
Simmering: Once the carrots are roasted we add them to the simmering stock for a few minutes.
Although stock is a great addition to so many recipes, feel free to swop the stock for water. If you're concerned about your salt intake it's best to use water not stock. That or check the sodium levels on the package.
Carrot and Ginger Soup, Blending
I love the convenience of an immersion blender and you cannot deny that there's also a lot less cleaning up! However, you will never get the same results from an immersion blender than if you blend in a stand blender. The soup is a lot thicker and with these tips you can have a smooth blending experience;
Don't overfill the blender: Whether you're using a stand or nutribuller cups, fill a third to the top. If not, you run the risk of spillage and more clean up!
Let the soup cool a little before blending, you shouldn't be trying to blend hot soup in a stand blender
I have extra nutribullet cups so that I can pour the soup at one time into the cups. They are left on the kitchen counter to cool while I do clean up. If washing a couple of blender cups is work then I rest my case! Fortunately, I have leveled up with a stand blender and no longer use the cups method. Pour everything into the stand blender, makes life even easier and back into the pot for the final simmer.
Variations and Suggestions
Although this recipe calls for stock you don't have to use stock you can also use water and;
Any stock works, vegetable and chicken stock
Just water, just stock or both as per recipe
Add additional water or stock to make it thinner
For a vegan option of this soup, use vegetable stock not chicken and coconut cream instead of crème fraiche.
A dollop of crème fraiche can help to balance the tones out even though it's perfect without any cream. A dollop of creme fraiche and crunchy snackwich dunked into the soup is nothing short of pure comfort!
Toppings
Crushed and toasted pumpkin and sunflower seeds are a great choice but here are others too;
Nuts - raw and toasted is a good choice. Toasting them yourself is extremely simple. Use a dry pan medium heat and watch them closely!
Spice combination - the spice used here for a topping is our Smell and Taste Calabrese for a bit of heat.
Fresh Parsley or Coriander I also love chives in soup!
Cream, sour cream and yogurt
Serving Suggestions
Soup serves well on its own, a topping or with a salad, meat, bread or vegetable.
Recommended Recipes
Looking For More Recipes?
Subscribe to my free newsletter and follow along Facebook, Pinterest and Instagram for updates
Shop our online store for quality all natural spices.
Recipe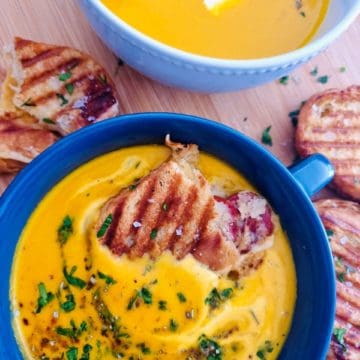 Carrot And Ginger Soup
Never fail to impress your family with this carrot and ginger soup, not only that, it's also healthy, delicious with no cream yet creamy and silky smooth. Serving options are always with a dollop of crème fraiche while some might say, pass the snackwich!
Ingredients
Roast the Carrots
1

kg

carrots (8 to 10 carrots)

2

tbsps.

olive oil

1

teaspoon

salt and pepper
Prep other Ingredients
1

onion

2

cloves

fresh garlic

1 ½

tsps.

ginger, grated

3

cups

stock

2

cups

water

1

teaspoon

salt and pepper
Warm spices
¼

teaspoon

turmeric

¼

teaspoon

cumin

½

teaspoon

coriander
Additional flavor
fresh lemon juice

1

tablespoon

butter or cream, optional
Garnish
Toasted and crushed pumpkin and sunflower seeds

chopped fresh herb, chives, coriander, flat parsley
Instructions
Preheat the oven to 220°C / 428°F.
Roast the Carrots
Wash peel and slice the carrots into fairly thick pieces, about a cm big.

Spread onto a baking tray lined with baking paper (easy clean up), drizzle with olive oil and sprinkle salt and fresh black pepper and leave them to bake for about 30 minutes or until the carrots are tender.
Prep other Ingredients
Meanwhile prepare the rest of the ingredients;

Roughly chop the onion, grate or slice the garlic,

Heat a tablespoon of oil in a saucepan over medium heat and cook the onion till soft, about 5 minutes. Stir in the garlic and ginger and sauté for another minute.

Add in your warm spices and let them cook in for 2 minutes.

Pour in the vegetable stock and water, salt, pepper, give it a stir, put the lid on, bring it to a boil and then drop the heat to a medium simmer and leave it to simmer for about 10 minutes.

By which time the carrots should be roasted so get them out and into the simmering stock. Stir the carrots in and let it all simmer for about 5 minutes.
Blend the Soup
Remove the soup from the stove, allow to cool slightly and blend into a puree with an immersion blender or a stand blender. Please notes below on blending options.

Pour the blended soup back into the saucepan/Dutch oven and bring it once more to the boil. Reduce to a low simmer.
Notes
To make this ginger soup 100% on the stove, without oven roasting the carrots please take a look at this Carrot and Potato Soup 
Blending 
Options
Stand Blender:
Give the soup a few minutes to cool and pour it into the stand blender. Blend without the inside cap on, instead hold a kitchen cloth lightly over the hole and blend the soup to a smooth puree.
Nutribullet:
Pour the soup into the cups (depends how many you have) and leave it to cool down at least 5 to 10 minutes. Don't over fill the cups, they should be ¾ way up. Once cool blend the soup into a puree.
Immersion blender
: Blend in the pot without waiting.
Personal Favorite:  Stand blender, they make a thicker soup than an immersion blender.