This Couscous Recipe is not exactly a recipe as it is an idea of how to serve couscous and how versatile this pantry staple is. I simply love couscous because it's easy and quick to cook (rehydrate), an excellent source of energy and easily digestible. Besides the texture it's also a healthier, lighter option to bread and rice.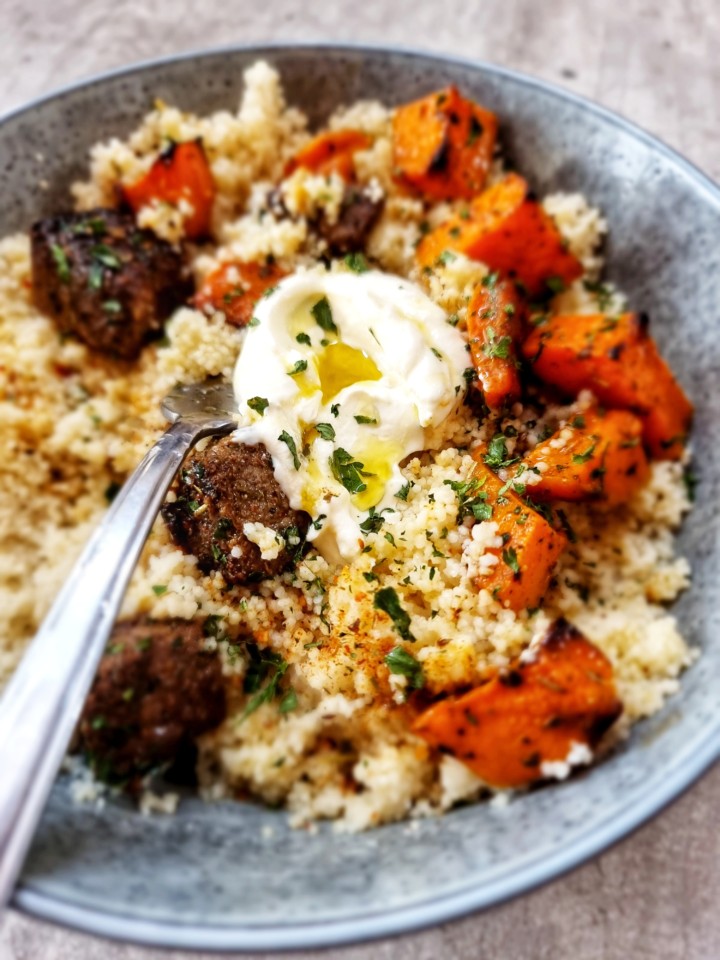 Couscous Recipe
This couscous bowl has roasted butternut and steak nibbles! If you do eat meat, these steak nibbles are a recipe that you simply must make. They are easy, very quick, so delicious and add loads of flavor this couscous or most dishes. Yes they do, that and you can eat them alone (they're that tasty) or serve with Crunchy Roast Potato, Skin On and No Boil any other roasted veg like this Roasted Eggplant (Melanzane Aubergine).
Couscous is very bland on it's own so combining it with a meat or veg adds great flavor! So do natural spice blends and a drizzle of extra virgin olive oil. Try it you will be amazed at what a little spice can do and adding meat and veggies calls for a more satisfying dish.
Do you need the fat and seasonings? Yes, we are all about flavor friends not bland food!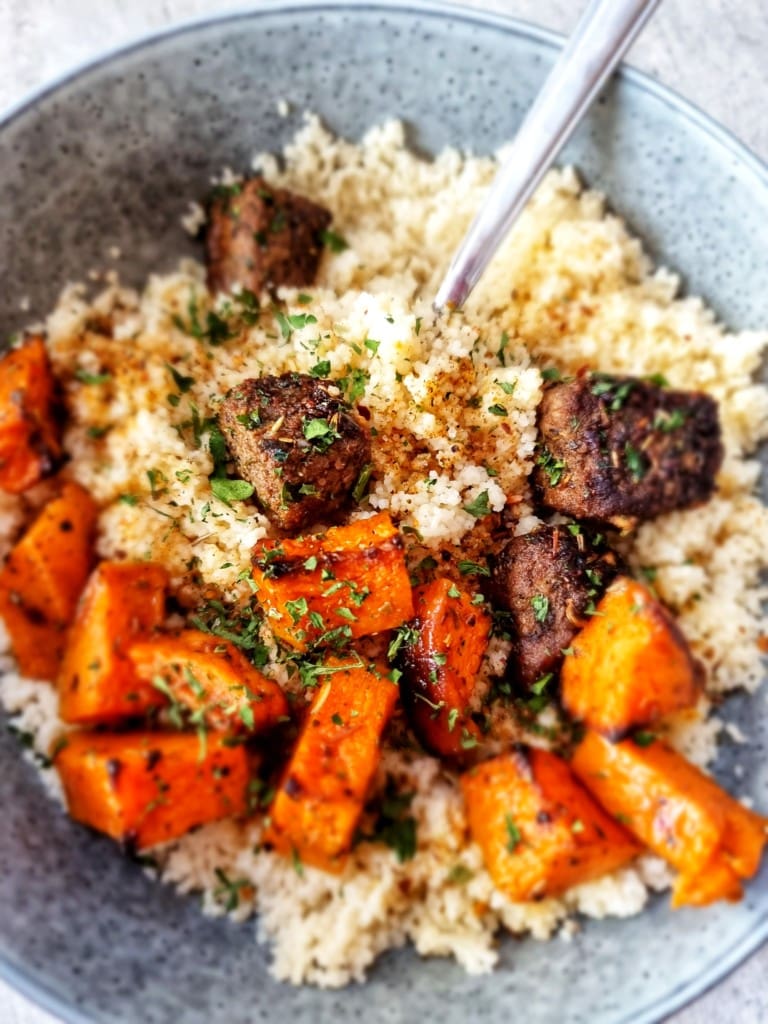 How To Cook Couscous
Couscous is a type of pasta made from semolina flour and can be cooked either in a stock or water. Depending on which couscous you have there are a few ways to cook it. The typical way to cook couscous;
Add dry couscous to a bowl, add kettle boiled water, cover with clingwrap and let it sit to hydrate
Fluff with a fork, add spices & herbs, fluff up with a fork and season
Add a drizzle of olive oil
For a more detailed recipe, take a look at this How To Cook Couscous.
In this recipe I've rehydrated the couscous in water (because you don't need to cook it) and once ready, add the spices, herbs, seasoning, roasted butternut and steak bites and a dollop of sour cream, talk about heaven on earth kind of good food!
FAQ's
Does couscous need to be washed?
No, there's no need to wash couscous, it's not a grain it belongs to the pasta family!
Do you cook couscous?
No, couscous is covered in a liquid like water or stock and left to hydrate off the heat.
What cuisine is couscous?
Proudly North African.
Did you enjoy this Couscous Recipe?
Remember that couscous is a base for just about anything from vegetables and meat to just a drizzle of olive oil, herbs and seasoning.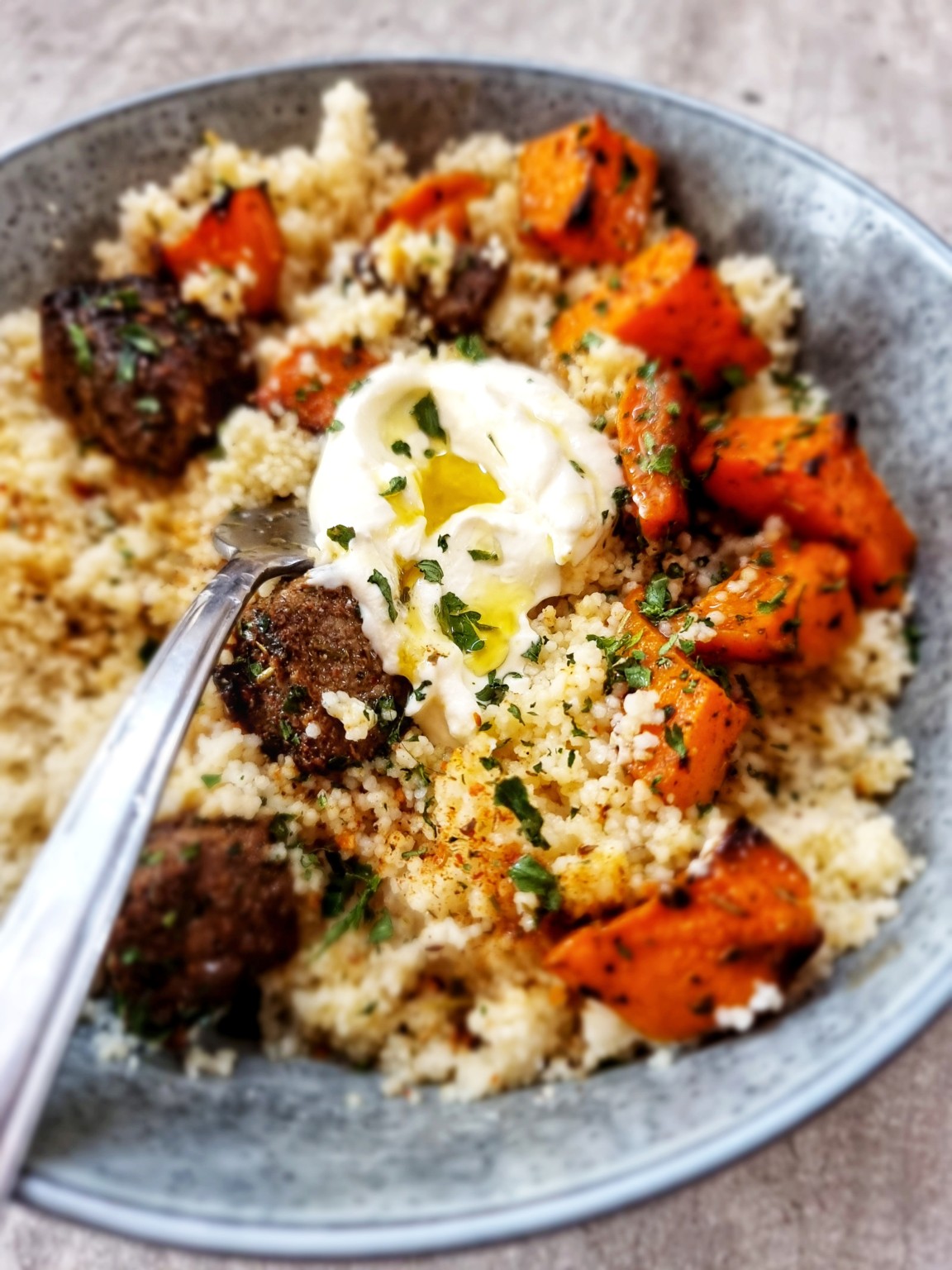 Please rate my recipe below because that helps my blog grow and encourages others to try the recipe! Thank you so much.
Visit our shop here.
More Delicious Recipes From Anosmic Kitchen
Recipe
Couscous Recipe
Couscous recipe served with meat and vegetables makes a delicious lunch or dinner bowl, a great alternative to rice and pasta.
Ingredients
Roasted Butternut
2

cups

butternut, cleaned and chopped

1

tbsp.

olive oil

salt and pepper
Instructions
Cook the couscous
Boil the liquid (water or stock) While reaching a boil, add salt & pepper. Once it reaches a boil, immediately remove the couscous from the stove and cover tightly with a lid. Leave the couscous to steam for 10 minutes. Use a fork to fluff the couscous up with a talespoon of olive oil.

1 x How to cook couscous.
Roast the butternut
Serve the couscous with roasted butternut, steak bites, any fat drippings from the pan, your favorite herbs and spices and a dollp of yogurt or sour cream