Sun-Dried Tomato Egg Muffin Cups and Cheesy Bits Muffin Cups are the images shown in this post. The recipe card will show you my sun-dried tomato version, the cheesy bits version is the same without the sun-dried tomatoes. These are both a great way to enjoy breakfast or a pick me up in the day. With a generous amount of eggs and a variety of add ins these egg muffin cups are convenient, nutritious and delicious! Perfect for lunches and picnics too.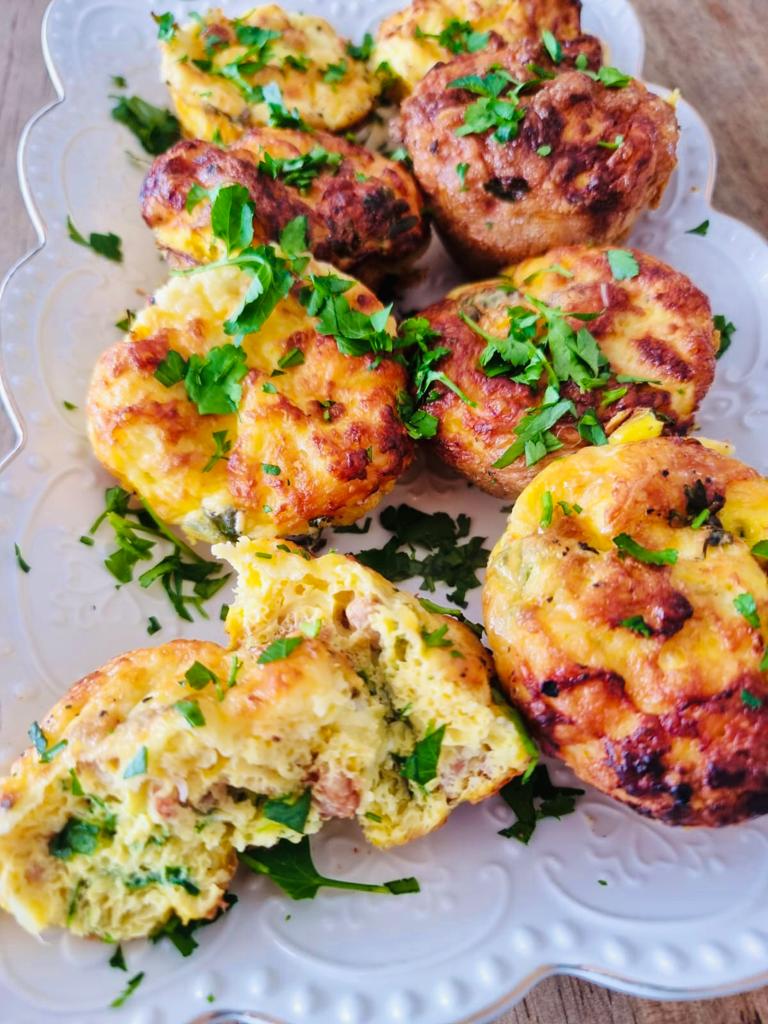 Not sure if I love breakfast from a "breakfast is good for you point of view" or I just love to cook. Perhaps the latter😀 For this reason I'm constantly recreating the word versatility in the kitchen, after all you can only have so many delicious Avocado Caprese Salad on Toast. Well that's not true but you know what I mean.
One of my very first FREE ebooks when I first started blogging had my egg muffin cup recipe in. That book turned to now 3 individual booklets each sharing short and easy recipes. Point is, these breakfast muffin cups are a long standing favorite. I think the best thing about these is the sun-dried tomatoes! You know how sun-dried tomatoes can elevate any dish. FREE Recipe Ebooks
How To Make Sun-Dried Egg Muffin Cups
You can make this recipe in one of two ways, you either combine the ingredients before pouring everything into the cups or you can layer them individually. That's just up to you, they both still come out as egg muffins. My preference is first combining all the ingredients and then pouring into the cups and baking. It's less time consuming.
Ingredients: Add all the ingredients into a measuring jug or bowl or whatever you feel comfortable using, a jug is easy to pour. I know, I'm looking for easy short cuts here 🙂 I mean that's why we're making muffin egg cups right? Otherwise we may as well be making bacon and egg, frittata, sausage & peppers the works!
Preheat and Bake: Preheat the oven, which should be done before you start combining ingredients but I'm sure you do that already. It's always good to have the oven preheated and if you're wondering why, here's the reason;
By the time you put the food into the oven it's already been sitting at room temperature for about 15 to 20 min? When you get it into a cold oven that's additional time before it actually starts cooking. The general rule is less counter time the safer your food is.
Here's My Tips and Suggestions
Cooking Spray Use it because it works and a generous amount if it's as old as mine😀
Overfilling The Cups: Don't do that. It may be tempting but you'll end up with an overflow since they do puff up in the oven. This I know for sure because it happens to me more often than not it's like I never learn to not overfill them, don't be like me.
Cooling Cooling these egg muffins is key to a great egg muffin. Let them cool down about 5 minutes, run a knife around each one to loosen and transfer to a cooling rack. If you have a salad knife (that's an actual thing) it's a plastic knife for cutting lettuce 😀 since we don't just tear the lettuce anymore! Or if your muffin tin is scratched from being used and abused use a table knife to gently slide it in on the sides.
Storing These Egg Muffin Cups
If your family is big you may have to make 2 trays because they are delicious! I made one tray and my husband had eaten half the tray by the time he left. Shocking I know.
Storing these egg muffins is easy, add them into a sealed container and then a pop into the microwave to warm up for 20 seconds or so.
Variations
You'll probably want to make them on repeat because they are not only convenient, they're also very delicious so I'm sharing a few variations;
Add meat - bacon bits, whole slices wrapped inside the container to hold the 'stuffing' trust me I've tried them all! Sausage and chorizo are also great variations.
Cheese - We're not tied down to cheddar or gouda or even parmesan! In the cheesy bits one on the left hand side I combined three types. Loved the feta coming through even though it was so little, but these cups are small so you need a little of everything.
Spices and Herbs - Where I would be without my spices and herbs, it's the be all of cooking so use them for food enhancements, flavor, good health and a host more reasons. Make sure your spices are free of any nasties.
More Breakfast Ideas
If you try these Egg Muffin Cups With Sun-dried Tomatoes and Cheesy Bits feel free to leave me a comment and a star rating! And if you take a photo of your dish and share it on Instagram, please tag me @anosmickitchen and use the hashtag #anosmickitchen because I love seeing your remakes! Happy cooking😀
Recipe
Egg Muffin Cups With Sun-Dried Tomatoes and Cheesy Bits
A great way to enjoy breakfast or a pick me up in the day. With a generous amount of eggs and a variety of add-ins, these egg muffin cups are convenient, nutritious and delicious! Perfect for lunches and picnics too.
Ingredients
10

eggs

⅓

cup

cream

1/2

cup

sundried tomatoes, chopped

1/4

cup

red bell pepper, chopped + a teaspoon of the oil

⅓

cup

feta cheese

1/4

tsp

Calabrese Spice Smell and Taste

1

cup

cheddar cheese, shredded

¼

cup

chopped chives and flat parsley

2

tbsps

chopped basil

1

pinch salt

1/4

tsp

pepper
Instructions
Preheat the oven to 180°C / 356°F and spray a muffin baking tray with non stick cooking spray.

Crack the eggs into a large bowl, add the cream, salt, pepper and Calabrese spice amd beat until combined.

Add the sundried tomatoes, feta, cheddar, bell pepper, chives, basil and Calabrese spice. Use a fork to combine.

Pour the egg mixture into the muffin pan using either a measuring jug, soup spoon or measuring cup. The cups should be almost full not brim full because they will puff up as they bake.

It also makes it easier to get the tray from the kitchen counter top to the oven without spilling!

Bake in a preheated oven for 20 to 23 minutes.

Let them cool for 5 minutes before attempting to remove them from the tin.

Serve immediately or transfer to a cooling rack to cool down completely before storing.