Summer is drawing closer or perhaps it's me that's calling summer because we have had a really good rainfall for a while now so I am really looking forward to some sunshine. Some sunshine and lots of lighter foods where we can share a variety of seasonal produce and fantastic recipes! I am very excited to be sharing this simple tossed citrus salad with you today!
What started out as a salad for dinner ended up with 2 separate bowls because if you follow along on this blog and on Instagram you will know that I spend most of my time splitting food. Not sure about your family but here the ingredient pickings are slim therefore need to be adjusted. I know it's a bit much, but here we are, I have to tailor make plates.
CITRUS SALAD
What is not to love when you hear citrus salad? The first thing that come to mind is fresh juicy fruit with a tang in it! Exciting times people, exciting salad times 🙂 It's important to make salads loud and vibrant especially if you perhaps have no appetite or are making it for someone who doesn't necessarily like salads?
HEALTHY SALADS, GREENS AND HOW TO KEEP IT BALANCED
The good thing about a light crunchy summer greens salad such as this one is that you can easily customize the ingredients.
If you want it dairy free you can either use vegan cheese or omit the cheese altogether! Personally I found this salad so incredibly good that if I had one whole mozzarella ball that was too much because my husband loves them so he eats them all. The dressing is so divine that it elevates the salad even though it doesn't need to be. Let me tell you, a splash of fresh lime or lemon juice, salt and pepper would have been just as marvelous!
A few suggestions:
use a large enough platter or bowl
make sure the lettuce is very fresh
try to choose fresh colorful fruit and veggies for a vibrant salad
there seems to be a lot of debate about rinsing and not rinsing the lettuce so I am not sure which side of the fence you are on, rinse or not? Personally I will not eat any lettuce, tomatoes, cucumber or basically any fruit or veg without rinsing it first.
A rinse (not a wash) a rinse under a running cold water tap, shake and leave in a large colander over either another bowl or on rack to drip dry while you prepare the rest of the ingredients.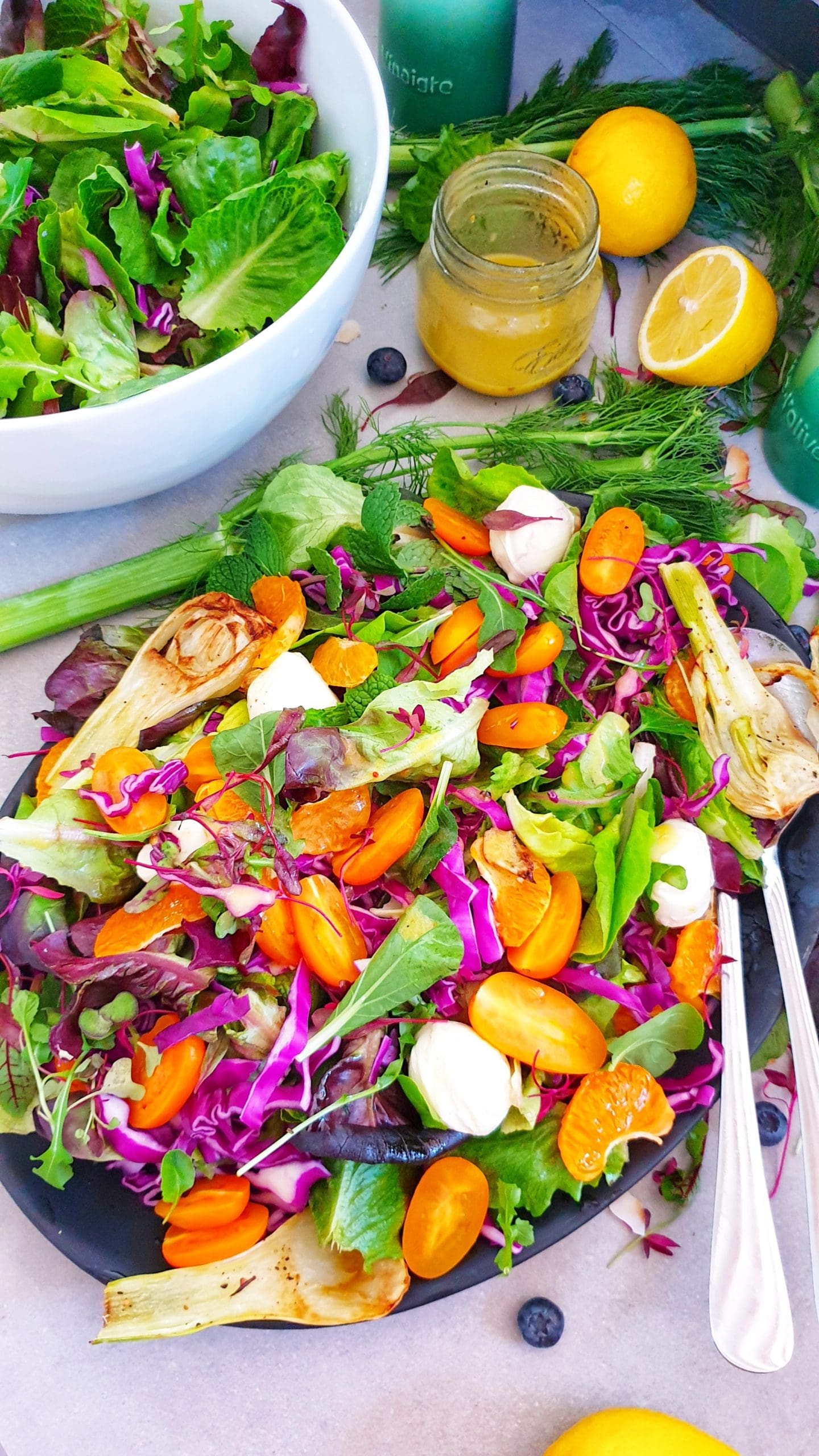 CLEMENTINES
Clementines are one of the all time favorite citrus fruits! Everybody loves them because they are sweeter and sweeter throughout their season, easy to peel, at least easier to peel than oranges and have less acidity than oranges. What on earth is not to love!
Clementines in the salad
I would suggest after peeling the clementine, to remove all the white pith (that's that inner white layer of strings that attaches to the segments). Cut a thin slice off to create a slit in each segment to remove and discard the white pith and then cut into each segment making two. Wow that's a mouthful, anyway I do hope it makes sense. As long as you remove the white pith so that you don't have all the white stringy stuff in the salad. I digress....let's move on.
MORE SIMPLE SIDE DISHES
Citrus Salad with roasted fennel and crunchy summer greens is a healthy side dish or light mains served with a fabulous mustard dressing.
Recipe
Best Simple Tossed Citrus Salad
This is the Best Simple Tossed Citrus Salad which goes perfectly as a light meal, a side dish to any main meal and is easily customizable. Enjoy with this really good and delicious salad dressing!
Ingredients
300

grams

mixed colorful lettuce (about 2 regular packets) try and get the ones with fresh mint inside

½

bulb fennel, sliced and baked

1

Clemengold Mandarins

¼

red cabbage, thinly sliced

½

cup

cherry tomatoes, orange or any other color

fresh mozzarella balls
Dressing
⅓

cup

olive oil

¼

cup

dijon mustard

1

teaspoon

garlic salt powder

¼

cup

honey

½

freshly squeezed lemon juice
Instructions
Rinse and let the lettuce drip dry in a colander.

Thinly slice the cabbage and cut into halves depending how small you want them.

Rinse the tomatoes and cut in half.

Combine all the dressing ingredients in a jar, give it a good shake and taste for seasoning.

On a large platter lay all the the mixed lettuce and cabbage down followed by the tomatoes,

Add petite fresh herbs if using.

Add the roasted fennel randomly placed,

Serve with mixed dressing.