Chicken chickpeas lentil curry in a delicious and flavorful sauce. This meal is protein packed and curry is the perfect comforting meal solution especially in our rainy and gloomy weather right now.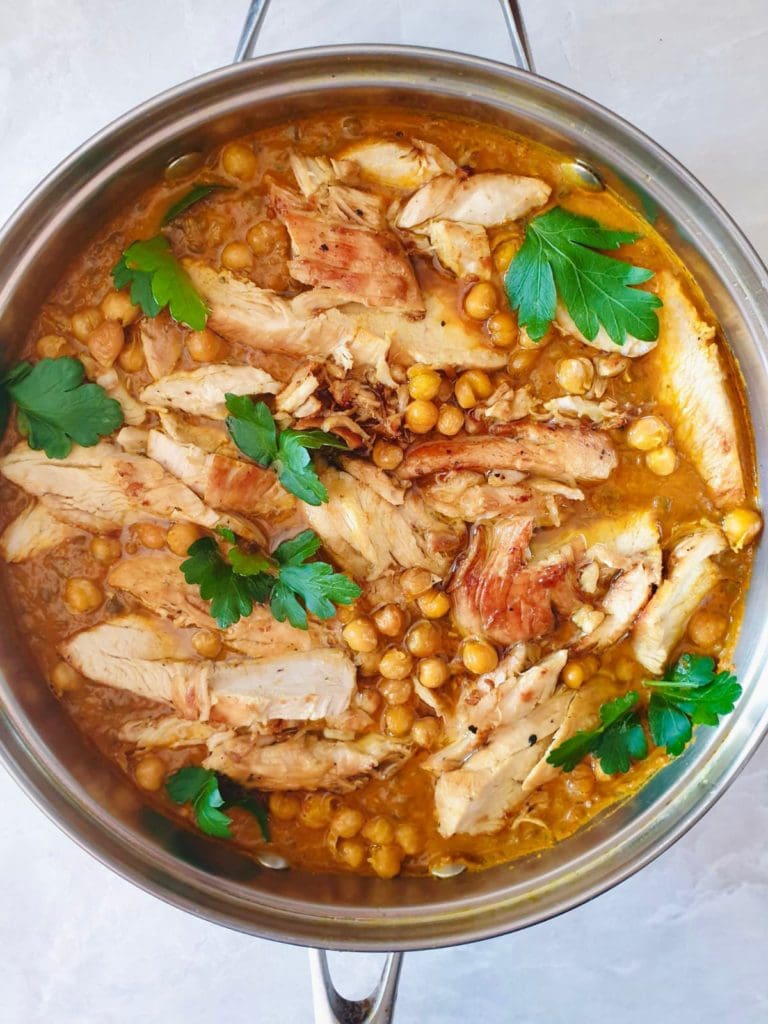 Chicken breast works better than any other part of the chicken both for easier cooking and eating. As this is a soup stew kind of base you don't want to get all messy eating it from spoon to fingers. The combination works.
Method For Chicken Chickpeas Lentil Curry
Place the chicken breasts on a hot skillet which is lightly greased and let it cook for approximately 4 minutes on each side until golden brown both sides. If you want to use a store bought rotisserie chicken then that would speed things up right? In which case you can jump right to the sauce stew part of the recipe.
I find chicken breast to be really easy to cook so I prefer to cut the buying part out and place the chicken in a hot skillet lightly seasoned with salt and pepper and cook till golden brown on both sides.
The grilled chicken brings its own pan grilled flavor to the dish but allowing the sauce to cook on simmer first on its own (before adding the chicken) certainly increases the flavor.
Lentils and Chickpeas Method
Rinse the lentils and cook in cold water and salt with one or two bay leaves till tender and set aside. For this recipe canned chickpeas were used which need very little cooking and are only added in the last few minutes. Reserve about two tablespoons of chickpeas to roast and add on top of the finished dish it gives it a crispy spoonful of deliciousness!
Optional Serving Ideas
First let me say that we had this dish with crusty bread and nothing else and it was amazing! It really doesn't need any additions, however depending on the type of meal that you are wanting you can see this list below. You may want to make the meal go further when serving a group but whatever it is, this chicken chickpea and lentils goes deliciously with or without sides.
Chicken Chickpea Lentil Curry Made Easy
So how do you make the curry part of this? Simple, easy ingredients and this curry base couldn't get more basic.
If you have read my previous posts you know I always go on and on about how much I love any and all spices. Curried spices always cook anything into something wonderful at least that's my take. A clear indication of my curry obsession was clear when I posted easy recipe on 7 Spice - Homemade Curried Chickpeas
Once you've cooked the onion and garlic you add in the curry powders and the important thing here is to let the spices cook well into a sauce. Adding the stock and lowering the heat to medium allow it to cook and blend in together.
More Delicious Recipes?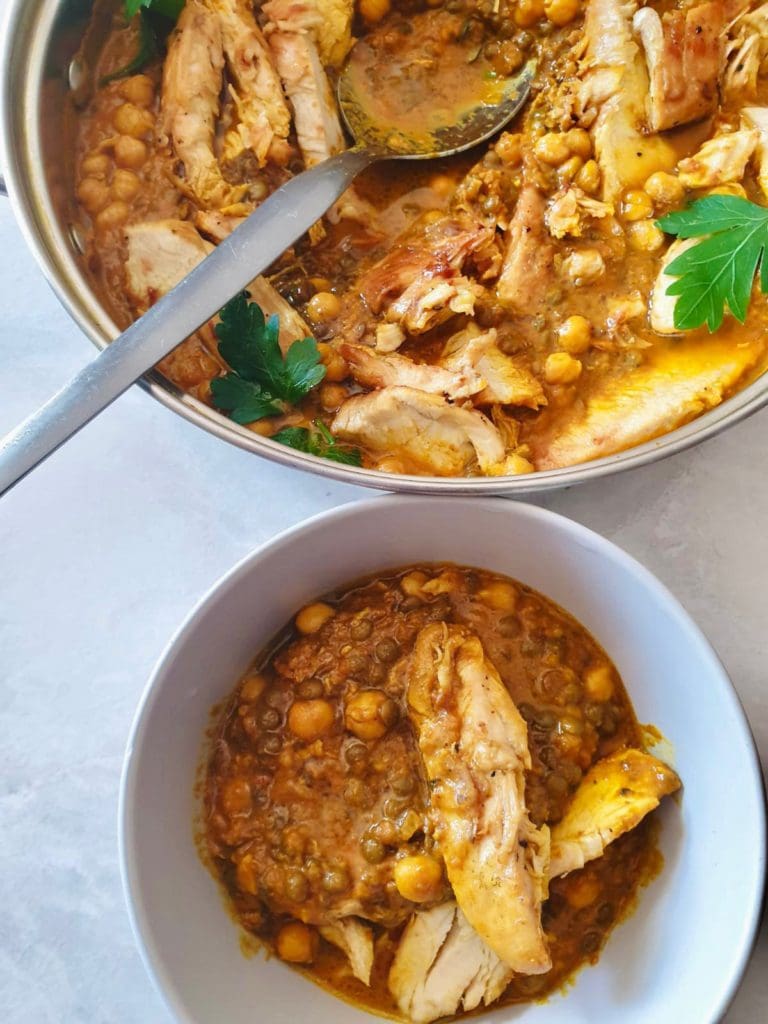 If you try this Chicken Chickpeas Lentils Curry then please leave a comment below letting me know how it goes! Also, if you take any pictures of your creation and share it on Instagram, please make sure to tag me @anosmickitchen and use the hashtag #anosmickitchen so that I don't miss your post! Enjoy these saucy mince balls.
Recipe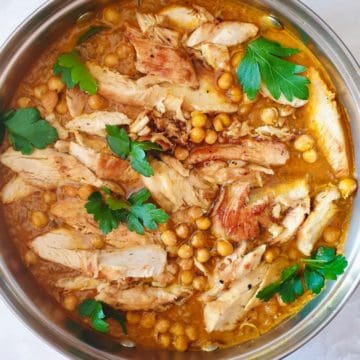 Chicken Chickpea Lentil Curry
Chicken chickpea lentil curry is an easy weeknight family dinner that's healthy, protein packed and extremely delicious! Simple, everyday ingredients.
Ingredients
400

grams

chicken breasts

400

grams

canned chickpeas (reserve about 2 tbsps.)

400

grams

chopped tomatoes

1 ½

cups

cooked lentils

1

teaspoon

masala curry powder

1

teaspoon

red curry powder

1

tablespoon

turmeric spice

1

teaspoon

salt

2

tbsps

oil (for onions curry etc) canola/vegetable oil

2

tbsps

oil (for the chicken) canola/vegetable oil

2

cups

chicken stock (added as 1 cup each)

1

onion, diced

3

fresh garlic cloves, minced

¼

cup

cream
Instructions
Heat a sauté pan on medium-high heat, add 2 tablespoons oil, heat the oil until it shimmers.

Add the chicken breasts and sear each side until a light golden brown. Tilt the pan to swirl the oil towards the chicken but don't forcefully move the chicken. When the chicken is ready, you will be able to turn it over.

Add the 1st cup of chicken stock and cook/simmer on medium-high heat for 15 minutes or until the chicken has absorbed most of the stock.  Remove it from the pan and set is aside.

Same pan, heat 2 tablespoons oil and cook the onion & garlic until soft.

Add both the curry powders and the turmeric spice. Mix and cook for 2 to 3 minutes before adding the 2nd cup of stock and simmer on low heat for 10 minutes.  

Add the canned tomatoes, chickpeas, salt & pepper and continue simmering for another 10 minutes adding stock/water if necessary.

Remove from the heat and allow to cool.

Once cooled down pour the 'gravy' into the processor and whiz into a slightly smoother sauce.

Add half the lentils and whiz once more before pouring back into the pan.

Add the last half of the lentils and the cream and mix. 

Roughly slice the chicken and bring back to the pan topped off with the roasted chickpeas and serve. 
Nutrition
Serving:
0
g
Carbohydrates:
0
g
Protein:
0
g
Fat:
0
g
Saturated Fat:
0
g
Polyunsaturated Fat:
0
g
Monounsaturated Fat:
0
g
Trans Fat:
0
g
Cholesterol:
0
mg
Sodium:
0
mg
Potassium:
0
mg
Fiber:
0
g
Sugar:
0
g
Vitamin A:
0
IU
Vitamin C:
0
mg
Calcium:
0
mg
Iron:
0
mg