Cottage pie is comfort food at its best and what a great British classic it is! Fluffy soft mashed potato in butter and meat made with nutritional veggies and served with a decadent gravy. The gravy is optional but oh so delicious! Although a classic British recipe we grew up on cottage pie in South Africa, at least I did. This recipe is of my memories. It's also one of the first dinners I learned to make as a child. I was so impressed with my cottage pie that I gave it to my brother for dinner every day for a week. It's our story to this day, the cottage pie that kept giving 🙂
Rich in vegetables and protein this easy cottage pie is a pure indulgence family meal that's ready in an hour. The time is really no factor because the results speak for themselves. Then there's the fact that you can keep it in the fridge for a few days and keep rewarming it! Goodness, if that's not a bonus what is? And it continues to taste better every time you warm it up, a really fabulous family dinner!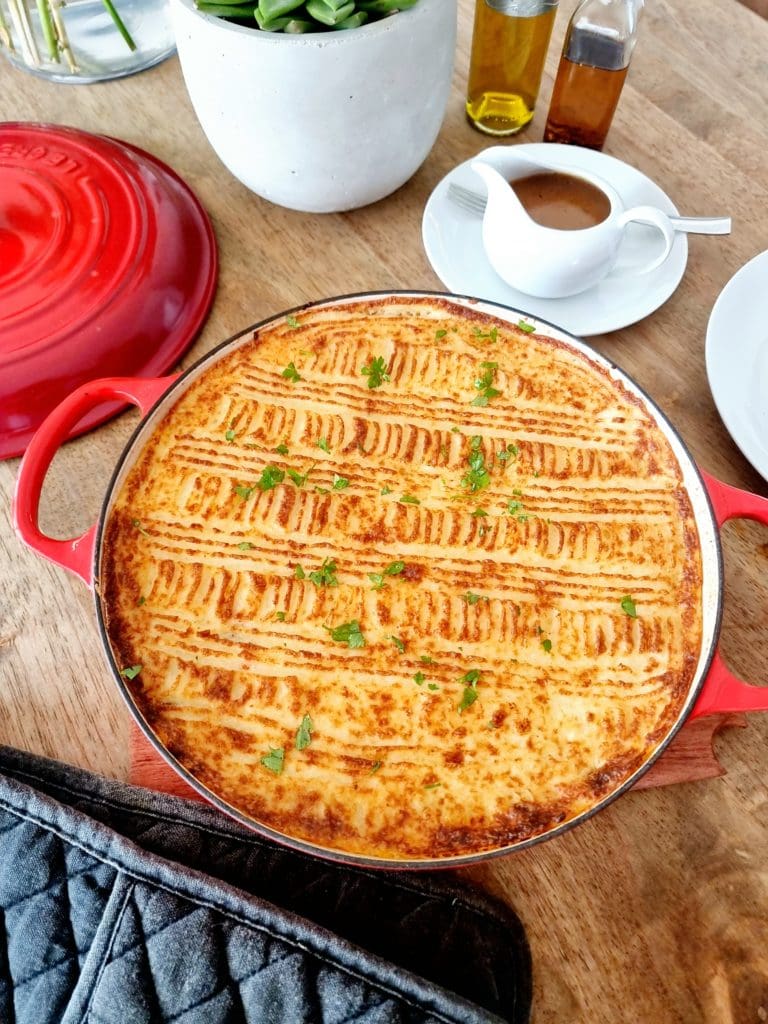 Cottage pie is normally made with beef mince however this is not the case here. I've used part beef mince and part pork mince (not even lamb I know!) Lamb mince is generally used in Shepherds pie which is also British but differentiated by the type of meat used. If you're wondering why I combined beef and pork, t's all about the fat content. Port has fat and fat equals flavor whereas beef can be quite lean. The same theory used in my meatballs recipe, half/half or half/quarter.
Other options for Cottage Pie
As there are other types of meat to use there are also other ingredient options;
You can add stock cubes for darkening and flavor
A tablespoon of flour into the veggies for thickening.
Worcestershire sauce because England 🙂 It's added into everything in all seriousness it is. I used to live there once upon a time.
Or you can reserve the pan gravy which comes from the stock, fat and seasoning and make your own gravy. As you can imagine the gravy is fabulous!
How To Make Cottage Pie
The full recipe card is at the bottom of this post but here is a guideline;
Potatoes: Wash, peel and cut the potatoes into cubes. Get them into a pot and cover them in water, bringing them to a boil. Once boiling, drop the heat to medium, get the lid on at a slant, (releases some pressure). Mash with cream or milk, butter and seasoning.
Meat: Combine the beef and pork mince. Traditionally cottage pie is made with ground beef and Shepherd's pie with ground lamb. We've used part beef and part pork. Feel free to mix and match or use just beef or just lamb.
Sizzle: Heat a casserole dish with oil, add all the meat and hear the sizzle. Resist mixing it immediately, let it brown for a minute before you get in there to turn and mix. Once brown, remove it to a plate leaving the fat in the pan.
Cook the veggies: To the same pan, add the veggies followed by the tomato paste and pour in the stock.
Covered: Cook the veggies just until you see the stock slowly cook in, about 3 to 4 minutes.
Return the Meat: Return the meat to the saucepan, mix it all in and leave it uncovered to cook.
Seasoning and Browning: You can decide if you want to brown the meat more and if you want a gravy. If not, let the liquid cook out and proceed to the next step to bake.
Besides the obvious way of adding stock cubes for richer color and flavor you can also do the following:
Let's Make The Gravy
For a gravy: Add water/stock to the meat, as it cooks use a spoon to scoop the gravy out. Pour this into a small bowl for serving. I added my favorite food seasoning to the meat while it cooked. Simply sprinkle it over, stir and pour in some water and stir. You will see the color change and it will look more wholesome and taste especially flavorful. This is when you scoop the liquid out and set it aside in a bowl for serving later.
Potatoes: By now the potatoes should be ready. Drain through a colander, add butter and put the lid back on to melt the butter. Mash, add cream and scoop dollops of fluffy potato over the meat casserole. Smooth it over, drizzle melted butter and bake till the top is golden brown.
Cook's Notes:
Used in this recipe is our 100% natural flavor packed spices that work best for soups, gravies curries, casseroles etc.
Recommended Recipes:
LOOKING FOR MORE RECIPES?
Subscribe to my free newsletter and follow along Facebook, Pinterest and Instagram for updates
Shop our online store for quality all natural spices.
Recipe
Cottage Pie
Cottage pie is a classic British recipe made with fluffy mashed potatoes and beef mince, baked till golden brown, perfect comfort food.
Ingredients
500

grams

beef mince

250

grams

pork mince

2

tsps

olive oil

1

large onion

2

carrots

2

celery sticks

3

garlic cloves

2

tbsps.

tomato paste

2

cups

beef stock

1.7

kg

potatoes

1

teaspoon

salt

140

grams

butter and more for dripping on before baking

⅓

cup

cream
Instructions
Prep: Peel and finely chop the carrots, celery, onion and garlic.

Potatoes: Peel the potatoes and cut into quarters, put them in a pot with cold water that just covers them (don't drown them in water). Bring to a boil covered and once boiling, drop the heat to medium and put the lid on at a slant to release air, let the potatoes cook on medium heat for about 12 minutes or until they are fork tender.

Cook The Meat: Heat a large casserole/saucepan/Dutch oven over medium high heat. Add the oil and wait for it to get hot. Add the beef and pork mince and hear the sizzle but don't be tempted to mix it right away, give it 1 to 2 minutes to start browning and then go in to turn it over making sure it browns all over, about another minute. Remove the meat (leaving behind all the fat) onto a plate and set it aside until later.

Cook the Veggies: Same casserole dish, add the onion and a pinch of salt, cook for about a minute and add the celery, carrots and garlic, mix it all up with a wooden spoon/ladle and leave to cook for another minute or 2. Add the tomato paste and mix it in, season, and now pour in the beef stock, mix, make sure the heat is still on medium, get the lid on and leave it to cook covered for about 5 minutes.

Remove the lid, return the beef mince and get it in there with the veggies and stock. Taste for seasoning but before you add any add your favorite spice blend that will give it color and seasoning + another half cup of water, continue cooking without the lid for 2 minutes and at the same time, scoop the gravy out of the pot. Drop the heat or turn it off if you've taken the gravy otherwise let it cook a bit more for the liquid to evaporate. Now check in on the potatoes. The water and spice addition is to create a gravy which you will scoop out and set aside. See notes below.

About now the potatoes should be ready. Drain the water through a colander put them back in the pot, add the butter and put the lid back on so the butter can melt into the potatoes. Mash the potatoes using a potato or rice masher and fold the cream into the mashed potato. Taste for seasoning.

Dollop scoops of potato onto the beef mince and veggie casserole. Spread it out neatly covering the sides as well and use a fork to draw into the mash. Drizzle some melted butter all over and grill for 6 to 8 minutes till golden brown.

See notes below for the gravy.
Notes
Scooped Gravy
If you scooped the liquid out of the saucepan as suggested in the recipe then let's make it a nice gravy. 
Pour it into a saucepan and bring it to a light simmer on medium heat. 
Add a tablespoon of flour and whisk it in, add cream, milk or water (cream for richness) Don't be alarmed by any lumps, add a dash more liquid and keep whisking, increase the heat if you must, whisk, take it off the heat if it's too hot but keep whisking. You should end up with a smooth gravy.  If not, pour it through a strainer. 
Why Scoop The Liquid? 
You don't have to but then you must add flour after you add the veggies or a stock cube to create a nice thick gravy. 
Why Does This Recipe Not Add Stock Cube or Flour? 
This recipe uses Involtini Spice from Smell and Taste Spice selection which is used for soups, casseroles, stews etc. Simply sprinkle it directly into the pot and add water to change the color and flavor profile. 
You may also like: