Summer is a time for outside cooking or as little cooking as you can get by. That, and salads. Today is no different with this light and colorful summer salad. I like to call it my Italian Summer Salad because it's so 'alive' and in Italy I remember every day that I walked the piazza the energy was always alive. People dressed up simply to meet a friend, eat, chat nothing special but an occasion to celebrate simple things.
With that in mind I present to you my Italian Summer Salad.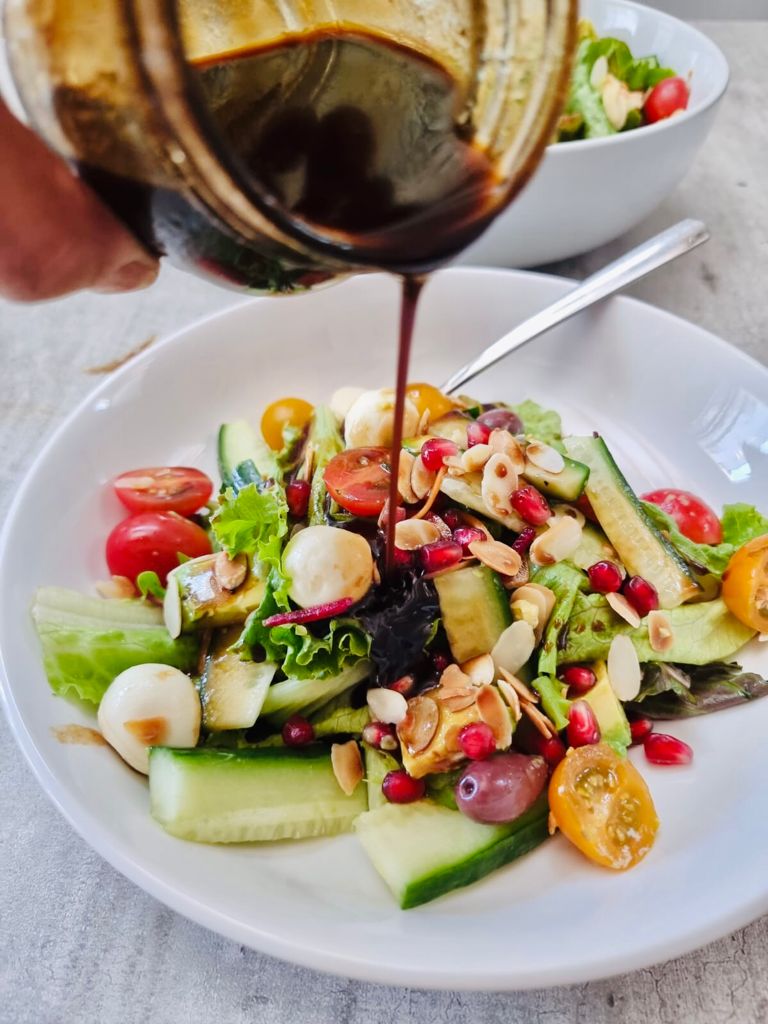 Salads are always only as good as their dressing, that might be just me but I need them to compliment each other. Regardless of whether you're using a simple olive oil and balsamic dressing or a more robust berry salad dressing.
Fresh summer fruit and vegetables are at the peak and what better way to feature them but to pull them altogether in one large bowl! Whenever I add lettuce to a salad, for the most part I'm constantly either chopping it or tearing it up but in this salad I decided to leave them whole. Firstly to create a nice 'bed' for the rest of the ingredients and also to see those fresh vibrant different green shades throughout the lettuce.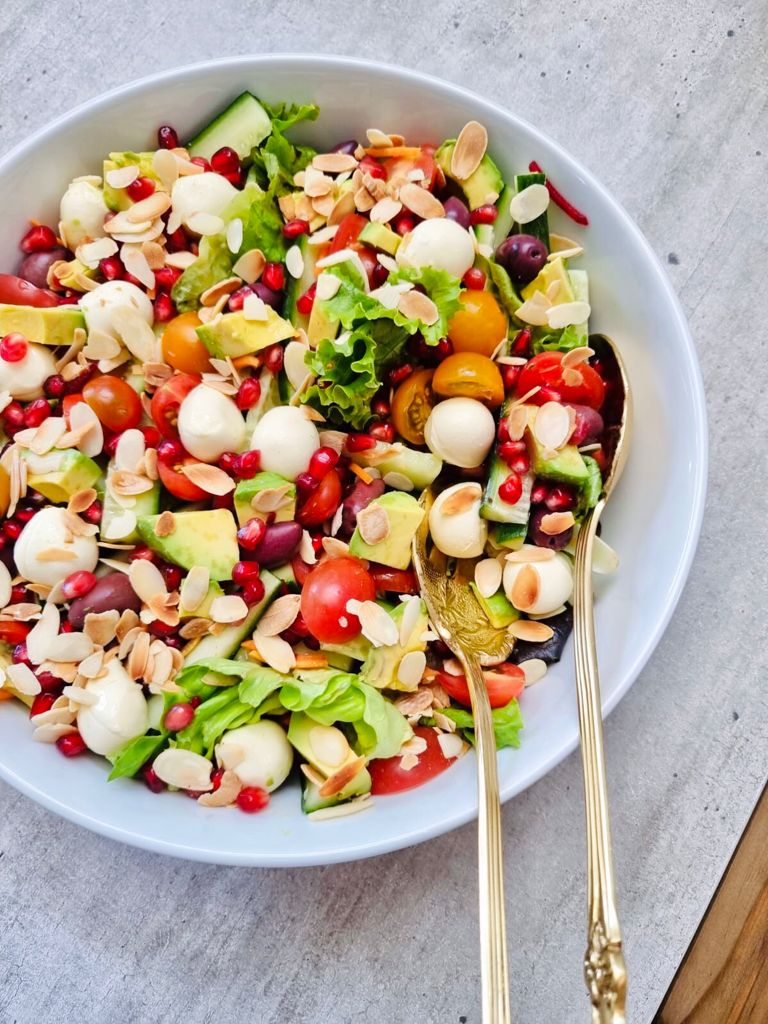 Italian Summer Salad
Bringing the best of this seasonal Italian summer salad together is a variety of crunchy greens, avocado, pomegranate and toasted almonds. Let us also first establish that an Italian salad does not necessarily need red onion! You can let the red onion and bell peppers rest for this salad 🙂
What are we trying to accomplish here with this Italian Summer Salad?
Using seasonal ingredients is first
Sharing the recipe with you
That's it! Besides the obvious crunchy green leaves, juicy colorful cherry tomatoes, creamy avocado, toasted almond slivers for more crunch and that earthy roasted bite between the layers of fresh and juicy! You get the gist of this so let's move on...
Lettuce - Get the crunch sorted. My suggestion would be to mix them up. Get the deep purple red leaves that you would find in an Italian salad, light green lettuce, and butter lettuce all together. You can also toss in some baby spinach leaves if you like and/or fresh mint leaves or flat Italian parsley.
Olives - I went with Kalamata table olives here because at the time I was leaning more toward an Italian salad.
Cherry tomatoes - because no good comes from a tomato-free Italian salad, definitely not in this case.
Bocconcini cheese balls - did I mention it was an Italian salad?
Pomegranate - Stunning bright red arils and the best health benefits.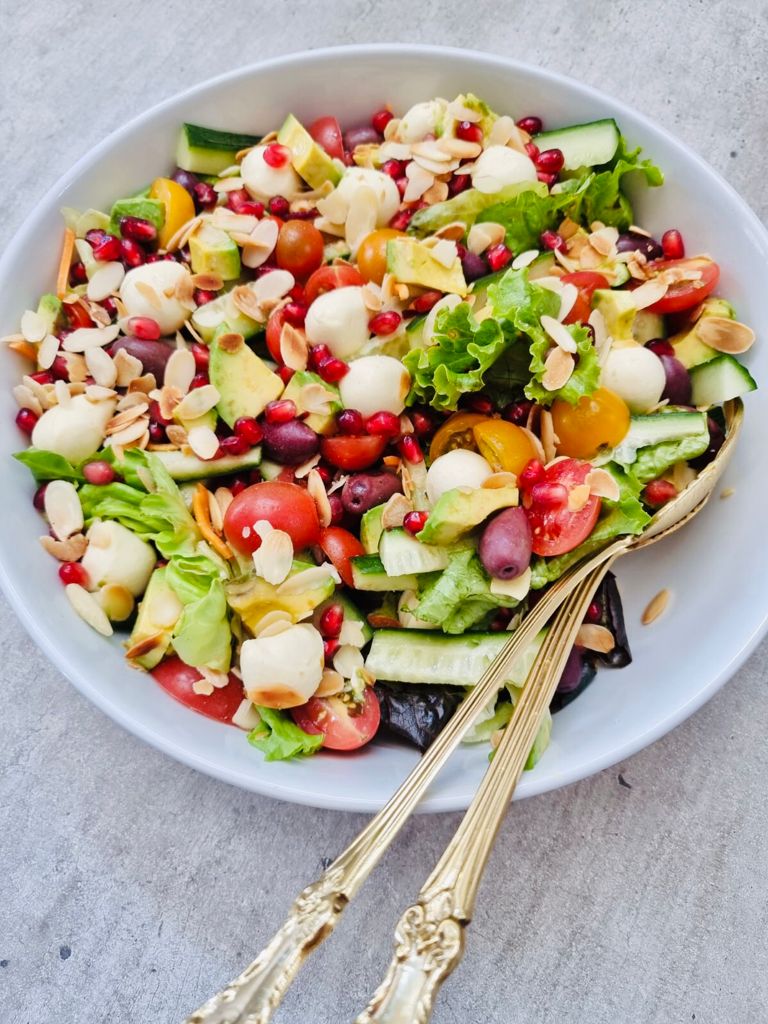 More Summer Recipes
LOOKING FOR MORE RECIPES?
Subscribe to my free newsletter and follow along Facebook, Pinterest and Instagram for updates
Shop our online store for quality all natural spices.
Recipe
Italian Summer Salad
Bringing the best of this seasonal Italian summer salad together is a variety of crunchy greens, avocado, pomegranate and toasted almonds. 
Ingredients
3

cups

a variety of mixed lettuce leaves

1

cucumber

⅓

cup

cherry tomatoes

½

Kalamata table olives

1

avocado

1

cup

bocconcini cheese balls

¼

cup

almond slivers

½

cup

pomegranate arils
Pomegranate Dressing
2

tbsps

pomegranate paste

olive oil

red wine vinegar

salt and pepper
Instructions
Mix the pomegranate ingredients into a jar, shake well and set aside.

Heat a pan for the almond slivers, once the pan is warm, drop the heat to low and toss in the almonds. Toast till a light golden brown, watch them so they don't burn!

Place them onto a clean kitchen counter or tray as long as the surface is cold so that they can stop toasting. Leaving them in the pan will over toast them.

Add all the ingredients into a large enough bowl or platter starting with the lettuce leaves to create a base for the salad.

Follow with the rest of the ingredients, and serve with the pomegranate dressing and seasoning.