This grilled chicken salad brings your table to light with color and freshness. Tender fillets, rosmarino pasta and rice which are both cooked in turmeric and other spices. Loads of flavor, delicate light greens and finished with a turmeric salad dressing.
I love this salad on a platter where the freshness and colorful layers are allowed to shine as opposed to a deep bowl where all the goodness is covered!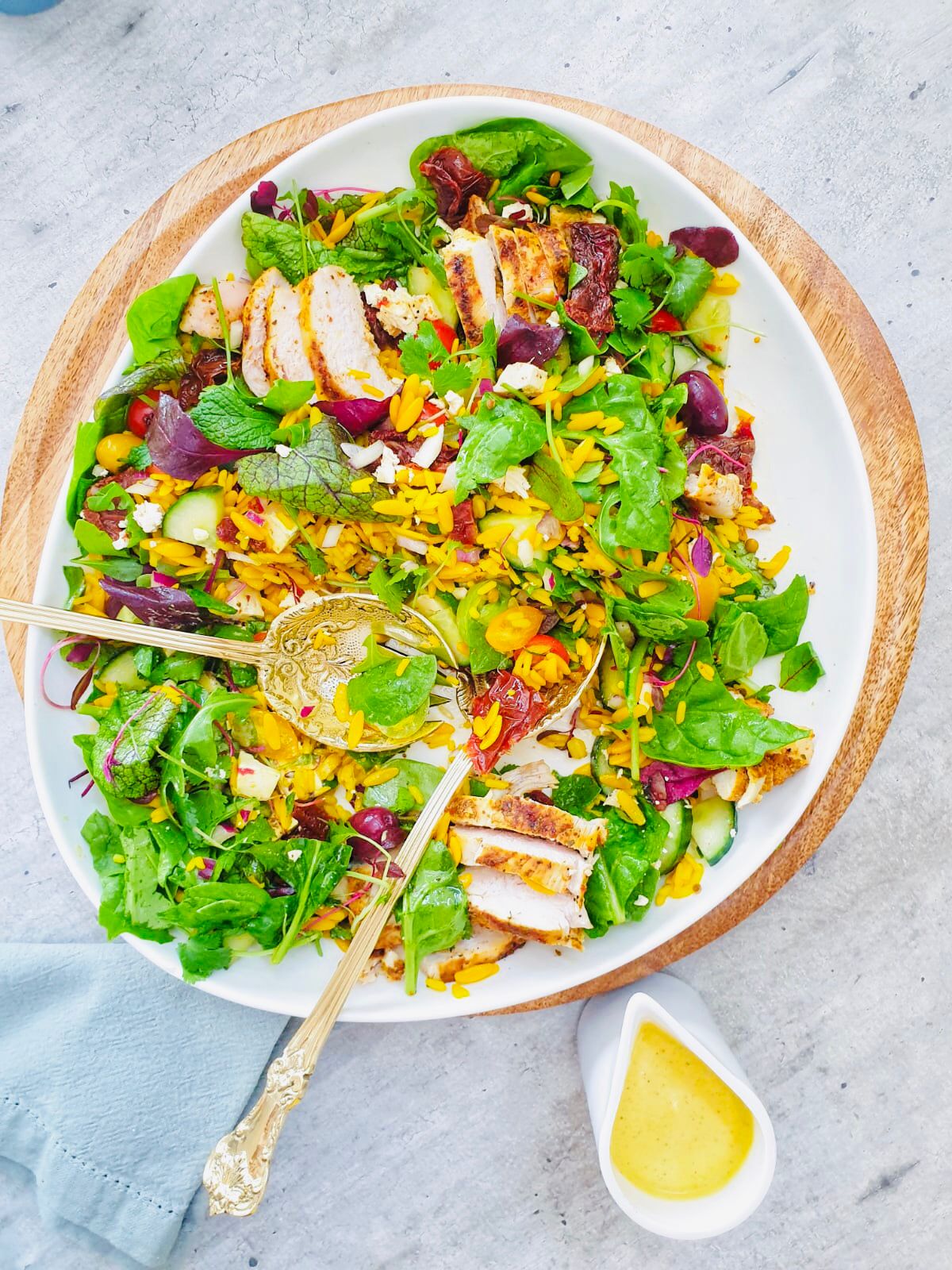 You know that saying 'if you do something enough times it becomes habit' that's true with food too. If you make enough salads your focus will be salad ingredients when you walk into the kitchen. Lots of curry same principal. Something else, salads are not just for summer. Seasonal always applies so just because there are no bright red strawberries in winter doesn't mean you cant have a salad there's a host of other winter ingredients that make wonderful salads!
Winter Vegetable Ideas
Beetroot (that's top of my mind because I LOVE IT!)
Carrots
Green onions like scallions
Broccoli
Cauliflower
Spinach
Peppers
Brussel sprouts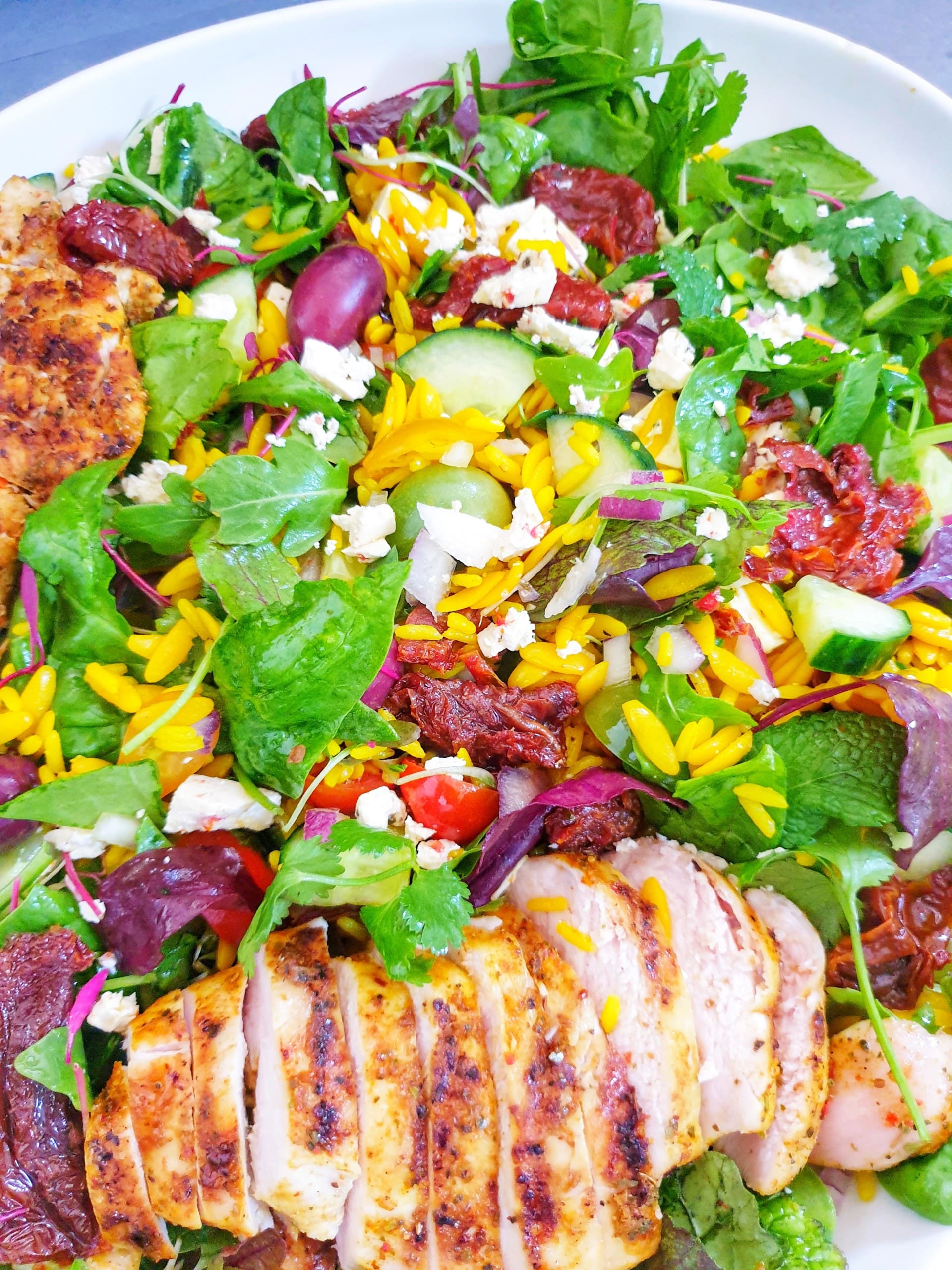 Why You Should Make This Grilled Chicken Salad
A complete and satisfying meal which can possibly eliminate hunger pangs 30 minutes later.
Starchy foods together scare you? Don't let it, remember it's all about portion control.
Did you know that starchy foods are our main source of carbohydrates? Our bodies need all foods of nutritional value not just one type.
Grilled Chicken Salad Ingredients
Chicken: Chicken breast was used here but you can make this salad with chicken thighs, drumsticks or both.
Seasoning: A salt & pepper seasoning will forever remain a classic however sometimes a little extra flavor does the trick. Try this 13 Spice Chicken Seasoning.
How To Make Grilled Chicken Salad
Cook the rice and rosmarino pasta: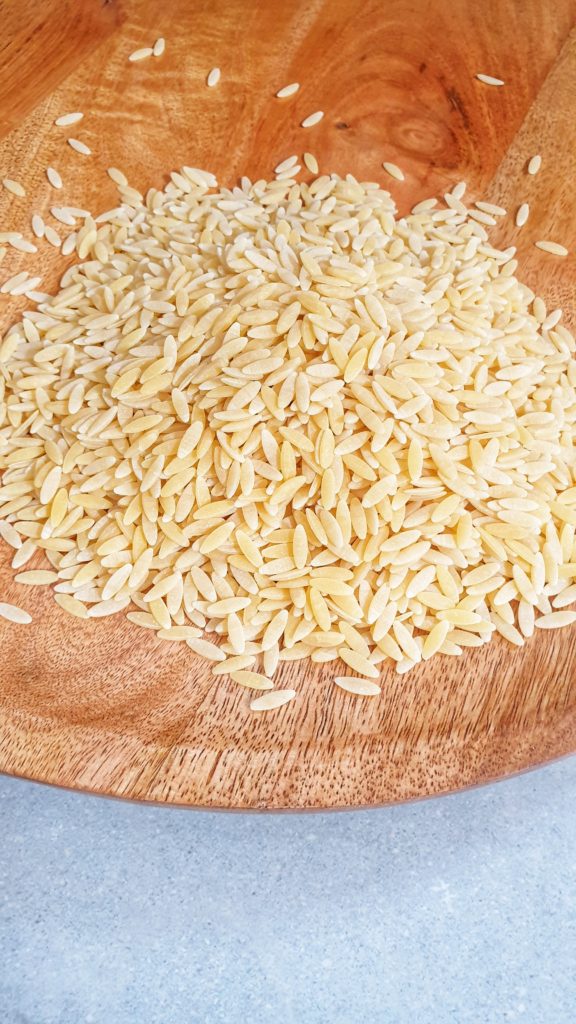 Rosmarino pasta - You can use any pasta type. Here we used this rosmarino which worked extremely well and complemented the rice.
Cook's Note: Since the rice and pasta need different times to cook, we cook them seperately. Tip: Use the same pot for less clean up and don't forget to keep the rice water if you are making the dressing.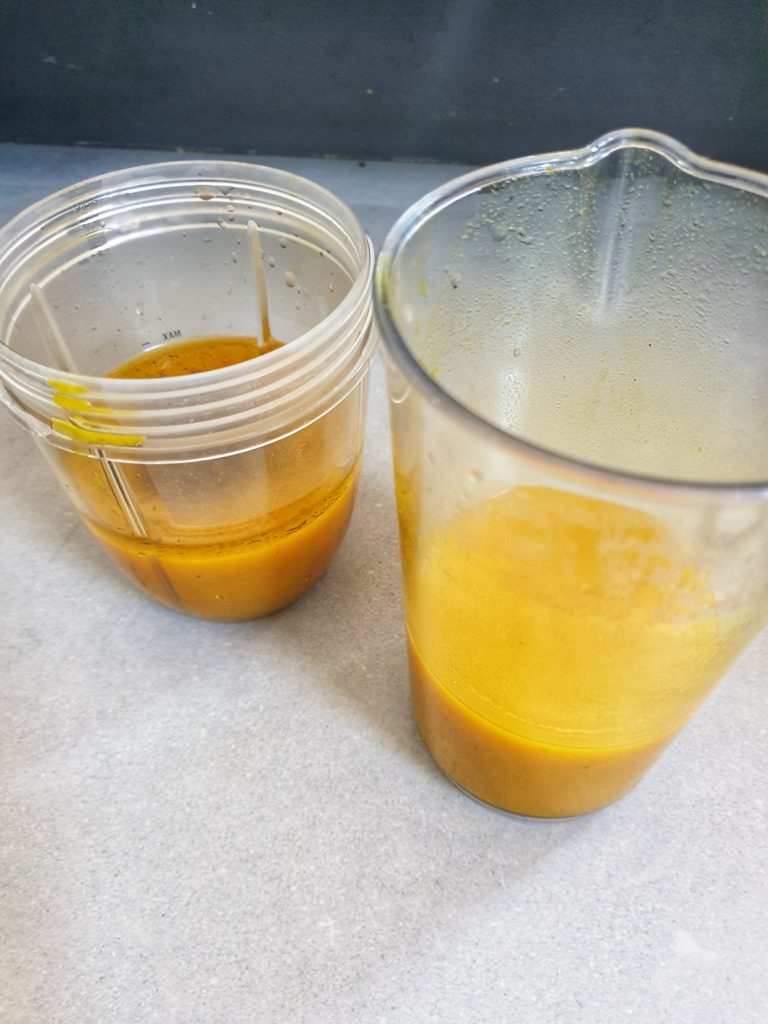 Rice - Your favorite rice just make sure you cook it in a great flavored spiced water. You can cook your rice in cumin and star anise or if you have our spice collection there are a host of spices you could cook it in starting with chicken seasoning, garlic & herb or this delicious vegetable spice.
Green leafy salad - make sure to choose a packet of fresh (very important) leafy greens that have a combination of colorful lettuce leaves, rocket and fresh mint for that wonderful summer boost. Or, if you cant find an already mixed packet simply make your own combination of greens and include those herbs 🙂
Sundried Tomatoes - Good quality bottle of sundried tomatoes and definitely some of that rich oil that it comes in.
Olives - Goes without saying that you can leave these out if you don't like them but for those who love olives, yes and yes!
Cucumber - Fresh and cut into bite sized pieces.
Cherry tomatoes - With the tomatoes, if you cant find fresh solid ones, either don't add them or use fresh whole tomatoes like romano tomatoes. Please don't use soft tomatoes, they get everything soggy and no one wants a soggy salad in summer!
Let's tie everything up!
My secret to this amazing salad dressing is making it with the rice water! And serve with fresh mint leaves. Did I say delicious and nutritious in one forkful.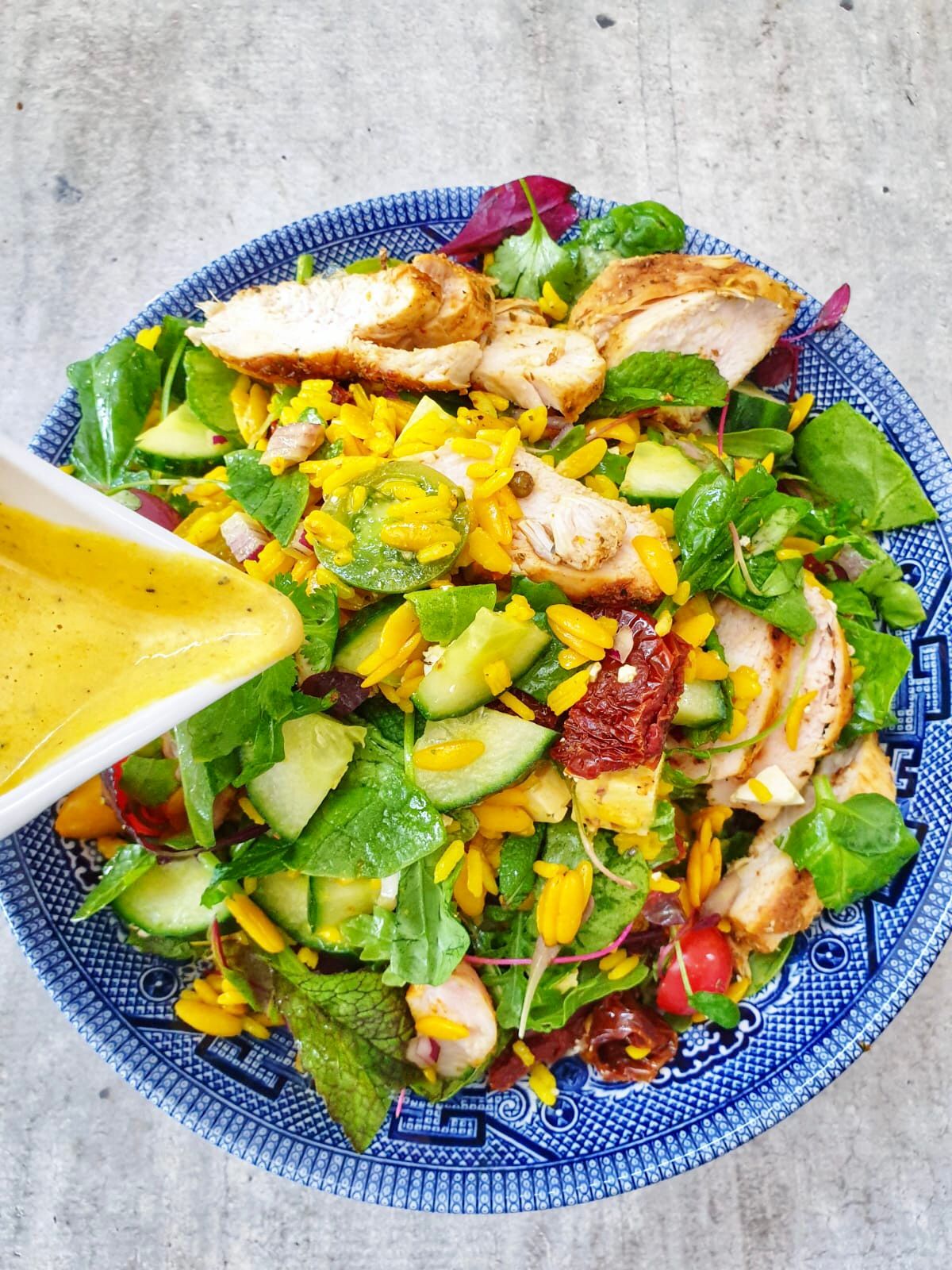 How To Serve Grilled Chicken Salad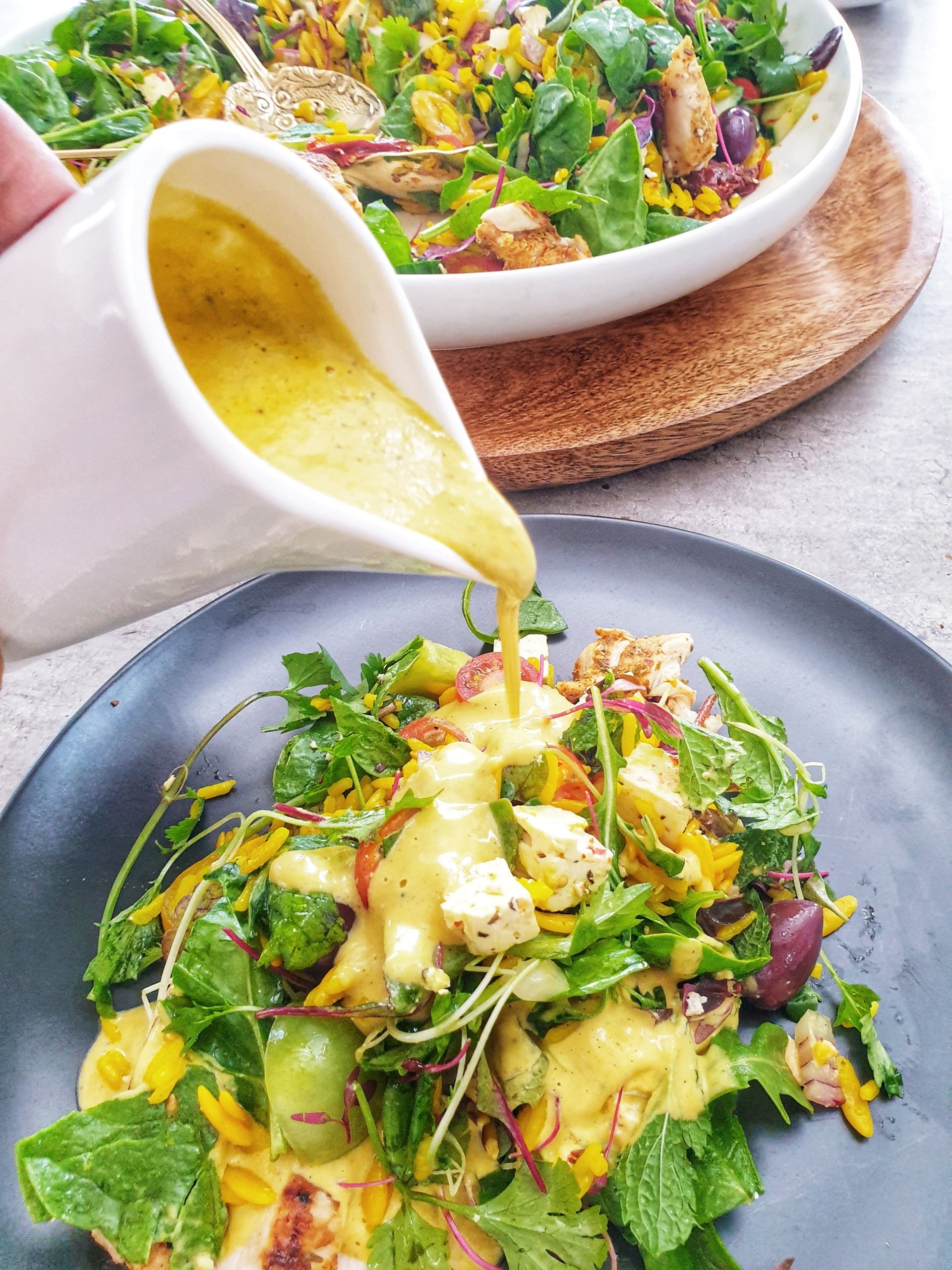 I hope that you have enjoyed my Grilled Chicken Salad!
Give it a try @anosmickitchen #anosmickitchen
If you try this recipe be sure to leave me a comment and rating below! Thank you.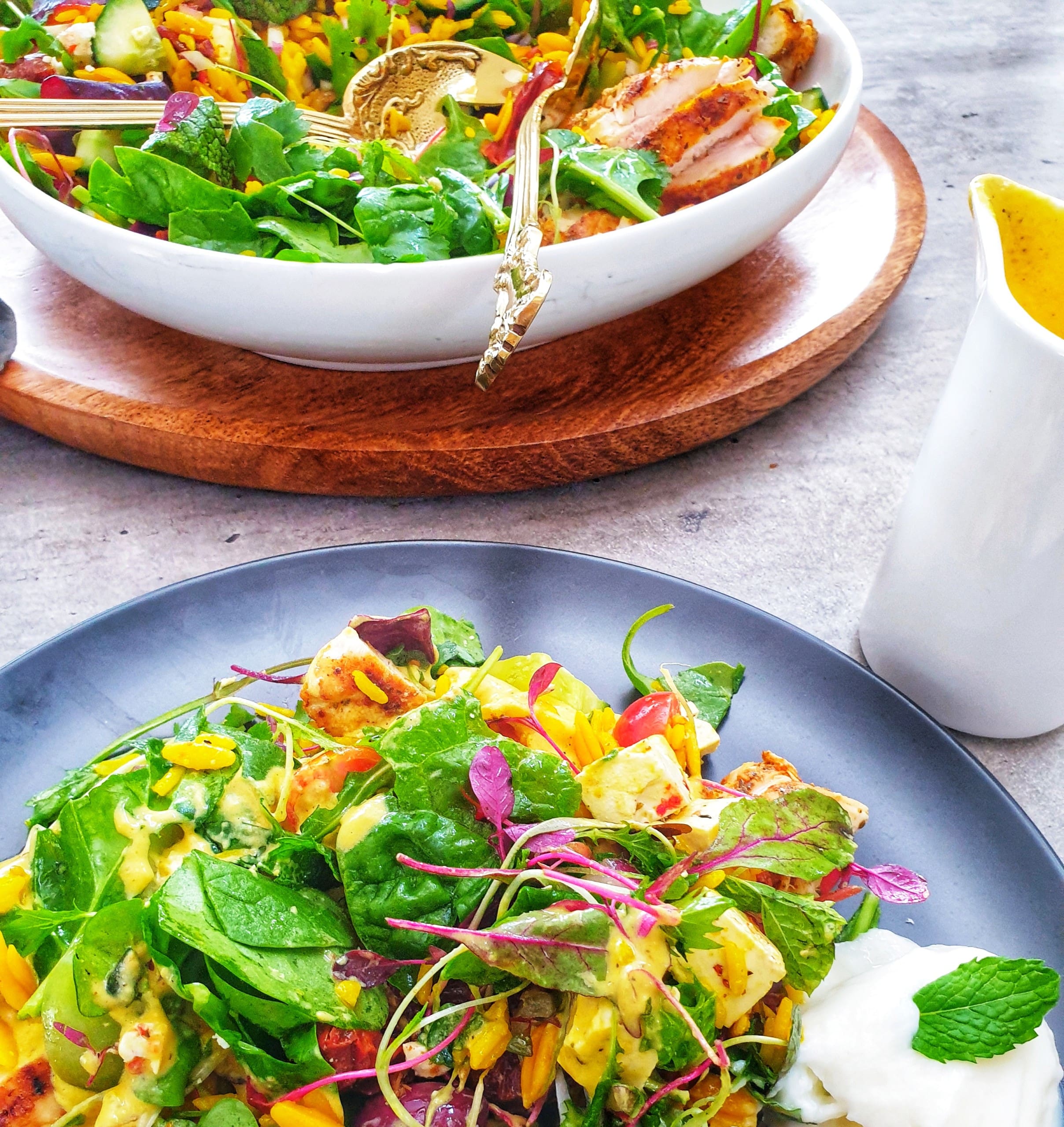 You can also find me on INSTAGRAM, PINTEREST, AND FACEBOOK and share you photos.
Recipe
Grilled Chicken Salad
This grilled chicken salad is a complete and satisfying meal. Made with rosmarino pasta, leafy greens, feta cheese, tomatoes, fresh herbs and served with a stunning turmeric salad dressing! Make the chicken on the grill outside, in a skillet on the stove or use a rotisserie. 'Revamp' it in the air-fryer with a drizzle of olive oil and extra spice, or grill the pieces for extra flavor. Either way, this salad/meal makes the perfect centerpiece!
Ingredients
Chicken
250

grams

chicken breasts (or 4 in a regular size pack)

2

tablespoon

olive oil + 1 tsp
Cook the rice
½

cup

rice + 1 cup water

½

teaspoon

turmeric

½

teaspoon

salt
Cook the rosmarino
½

cup

rosmarino pasta with water to cover

salt & pepper to taste
Salad Ingredients
mixed leafy green lettuce pack

cherry tomatoes

¼

cucumber

½

cup

feta cheese

olives

fresh mint
Turmeric Salad Dressing
2

garlic cloves, peeled and roughly chopped

¼

cup

olive oil

¼

cup

turmeric water (added by the tablespoon into the blender not all at once!)

⅓

cup

red wine vinegar

½

fresh lemon juice
Instructions
Prep the chicken: Sprinkle the 13 spice seasoning making sure that the chicken is properly coated.

Cook the chicken: Grill the seasoned chicken breasts in a skillet stove-top for about 5 to 7 minutes per side on medium to high heat without moving them around and set aside.

Cook the rice: Cover the rice in water in a saucepan, add salt and turmeric spice and bring to a boil over med to high heat. Once the water is boiling and frothy, turn the heat down low and cover with a lid. Leave it for 12 minutes without interference. Remove from the heat and leave it covered for a further 10 minutes. Fluff with a fork.

Cook the rosmarino: Cook ½ cup of rosmarino pasta with 2 cups of water and add ½ teaspoon turmeric spice. Cook uncovered, drain and reserve the turmeric water.

Combine: Rice and rosmarino once cooled down. Season well with olive oil + salt & pepper to taste.

Prep to serve the chicken salad: Add the rest of the ingredients; cucumber, feta, olives, cherry tomatoes & leafy greens. and pile them loosely onto a serving platter. Once all the ingredients are in try not to over mix. the salad! You want to maintain the fresh crunchy lettuce leaves and keep the cucumber solid and crunchy.
Turmeric Salad Dressing
Add all the dressing ingredients into a blender and blend till combined gradually adding the turmeric water until you have the consistency you want.

Please add the turmeric water a dash at a time and taste as you go otherwise it could turn out too sharp a taste.
Notes
If this is the first time that you are cooking pasta and rice simultaneously for the same recipe then I would suggest that you follow the recipe above of cooking them one after the other, for everyone else who wants to know;
Rice takes a longer time to cook than pasta so you would cook the rice first and about halfway through, lets say 9-10 minutes, add the pasta because that leaves you another 9 to 11 minutes but again, it would depend on the rice, stove heat so if you're not familiar follow the steps in the recipe. 
Once you add in the pasta, you might have to add a dash of water and a dash of turmeric (¼ tsp) and just keep checking and tasting for doneness and it you should be good. 
Nutrition
Serving:
1
bowl
Calories:
217
kcal
Carbohydrates:
19
g
Protein:
8
g
Fat:
11
g
Saturated Fat:
3
g
Polyunsaturated Fat:
1
g
Monounsaturated Fat:
6
g
Trans Fat:
1
g
Cholesterol:
19
mg
Sodium:
246
mg
Potassium:
429
mg
Fiber:
3
g
Sugar:
2
g
Vitamin A:
123
IU
Vitamin C:
6
mg
Calcium:
70
mg
Iron:
5
mg