Veggie Tofu Stir-fry that could give any takeout meal a good run for it's money so all the bets are in! Tofu sauce, sticky red onion and mushroom with broccoli makes a delicious meal all prepared in one skillet. Let's do this!
Veggie Tofu Stir-Fry
I try to eat healthy in the week (not always successfully but mostly yes) so on the weekend it's time to enjoy all the extra sauce that this tofu offers. You will feel as though you are having a takeout even though it's homemade. This VEGGIE TOFU STIR-FRY is in no way "unhealthy" but it's also not as 'clean' as maybe a Spinach and Berry Salad With A Berry Salad Dressing - you see where I'm going with this right? 100% digressing now.
Again it's always about the additions like sauces, rice, noodles etc and not the tofu that's if you are concerned about calories. 
Tofu
Some people love it and some ...... mmm.........not so much. We are not vegetarian/vegan (yes I should think so with all meat and pasta recipes on this blog!) but it's a good thing that you don't need to be in order to enjoy tofu because I love it!
Besides being a good source of protein, I believe that it can relief some symptoms of menopause, I am in 100%! My daughters always say "Mom, you've had menopause for 30 years now!" Ah well, it is what it is hey so you wait my baby and hope you don't get it as early as I did and then finally realize that it actually never really leaves you, now that's a real low life trick, I mean come on now ? Just for laughs 🙂
How To Prepare Tofu
A number of ways and here are just a few;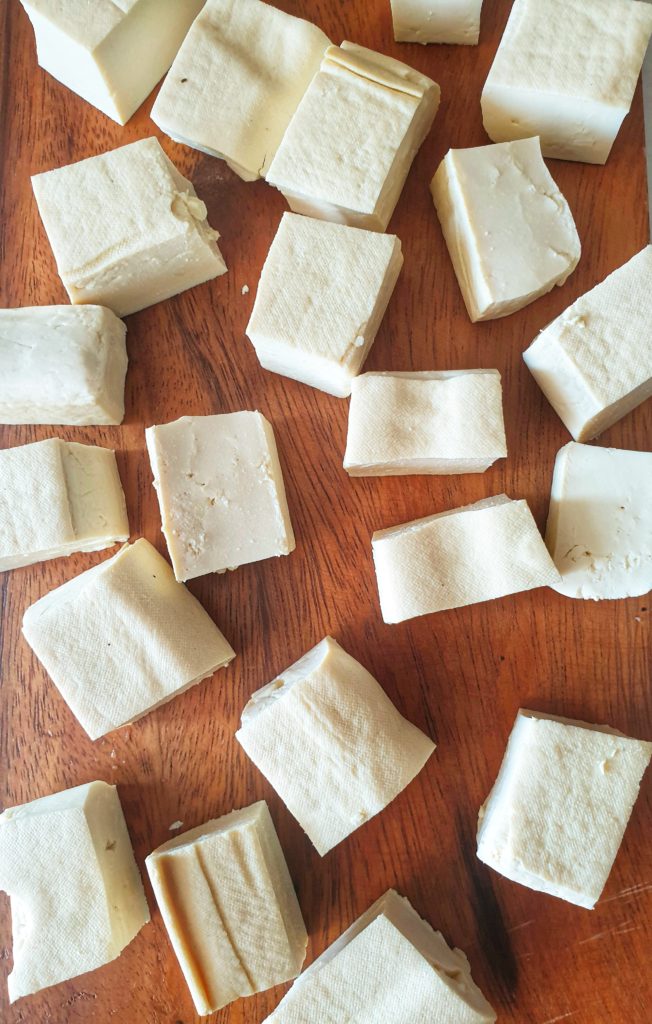 Preparation
Once your tofu is prepared and I say prepared instead of cooked because the truth is tofu doesn't really need a lot of cooking at all.
Once you have drained your tofu you can pretty much cook it the way you want, add some spice and a sauce use it in salads, bowl foods and in soup too.
Buying Tofu
This is relevant to South Africa dependent on shop and price at the time.
When buying tofu remember that there's a selection of soft, firm, extra firm and fresh. The firm is a lot more expensive than the fresh so for example, if you're buying from Woollies and want a nice firm block you're looking at about R 70.00 to R 80.00 for a 300 gram block. You can buy a 500 gram block for the same price from general stores, so just shop around. (this post was written some time ago friends so check the prices)
You also get really affordable tofu blocks from any Asian store and its normally sold fresh in water.
Here's the thing, no one can tell you which one you would prefer so shop around and try them to decide for yourself.
Should you rinse the tofu first?
Personally I rinse most foods before using and yes I rinse fresh tofu under a cold water tap. That's before I slice it or use it in any way. Just be gentle though when handling tofu it can break quite easily.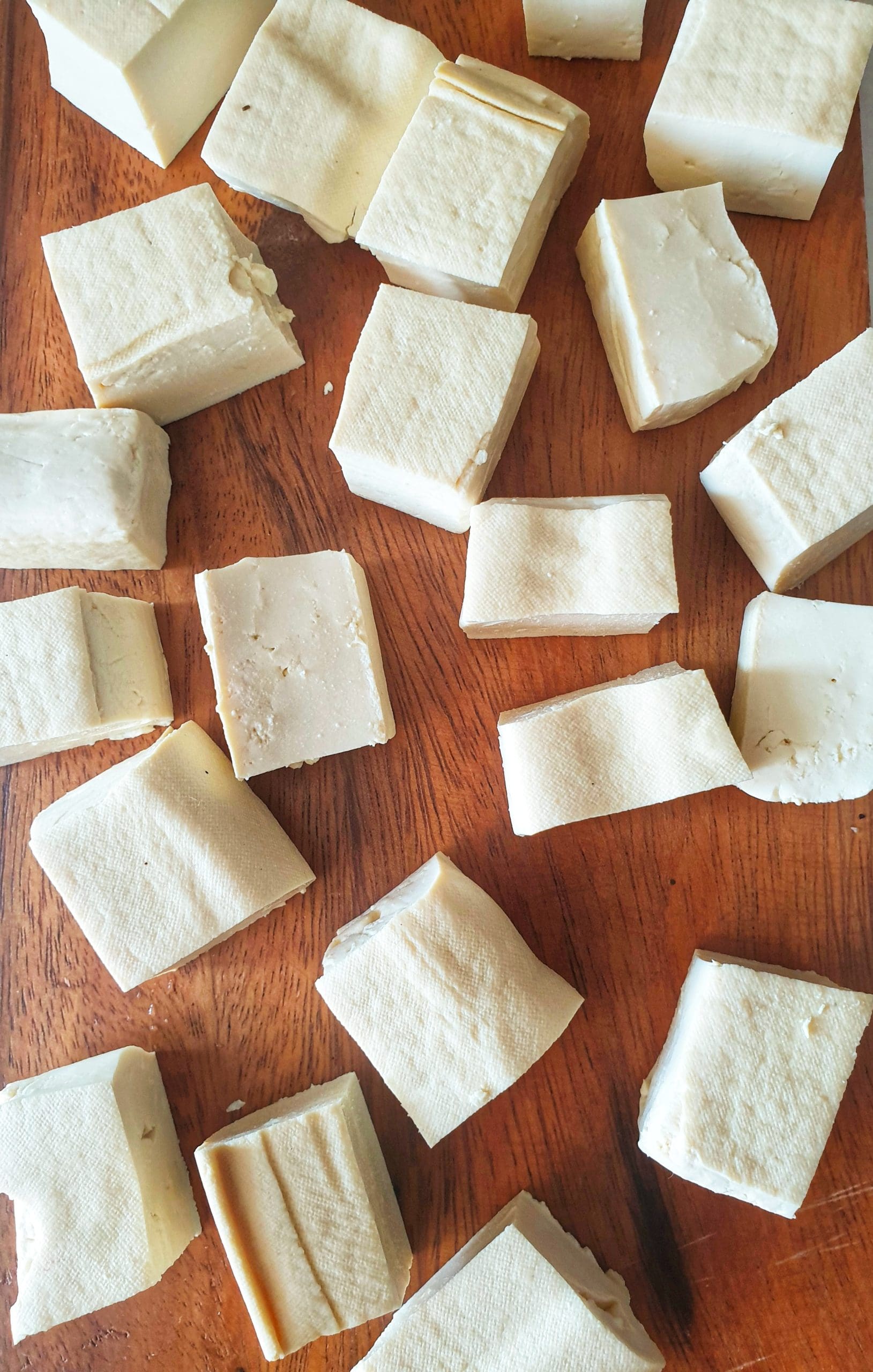 Tips & Suggestions
Even if you are not vegetarian it's always good to give your body a rest from meat so adding tofu in your diet is a good source of protein. It doesn't always have to be chicken or tuna!
It can be bought in individual packages, wrapped, sealed etc. so is easily accessible
Always simply rinse your tofu under running water before using it just to clean it from anything that might be in the water that it comes in when buying fresh tofu.
Once you have rinsed the tofu, drain it because the more water you remove the crispier the tofu will be.
Draining need not be a a dreaded task, simply lay a kitchen towel down on a board or kitchen flat surface, lay down the tofu, cover it with another kitchen towel, cover with a bread board and a heavy skillet. Done.
So many ways to serve tofu!
More Popular Recipes
DON'T FORGET TO PIN THE IMAGE BELOW?!
WHY? Because it's the most pinned and loved image on my Pinterest page!
I hope that you have enjoyed my Veggie Tofu Recipe!
Give it a try @anosmickitchen #anosmickitchen You're also most welcome to leave me a comment and rating below! Thank you.
Do follow me on INSTAGRAM, PINTEREST, AND FACEBOOK and share you photos💓
Recipe
Veggie Tofu Stir-Fry
Tofu sauce, sticky red onion and mushroom with broccoli makes a delicious TOFU STIR-FRY and all prepared using one skillet (easy clean up)


Equipment
Skillet or your favorite pan 🙂
Ingredients
1

cup

cooked rice (if serving with rice)

2

small

peeled and halved red onions

½

head

broccoli or broccoli florets

1

pkt

firm tofu or 4 small block fresh tofu

2

tbsps

coconut oil (or your preferred oil)

sesame seeds for sprinkling

½

cup

sliced mushrooms (this measurement can be adjusted to your preference of how many you want in the recipe)
SAUCE INGREDIENTS
2

tablespoon

low sodium soy sauce

½

cup

hoisen sauce

1

teaspoon

brown sugar

1

tablespoon

minced garlic

1

tablespoon

grated ginger

½

teaspoon

red chili flakes
Instructions
First things first, drain the tofu for at least 30 minutes - 2 clean dish towels, one at the bottom one over the tofu. A bread board and then a heavy skillet or even canned foods. Something heavy to help release the water. (see tips & suggestions for more info if needed)

Mix the SAUCE ingredients in a small bowl and leave it in the fridge while the tofu is draining.

After 30 minutes cut the tofu into bite sized pieces, toss into the bowl with the sauce and return to the fridge while you prepare the veggies.

Heat a skillet/pan with a tablespoon of oil and add the broccoli, red onion and mushrooms and let it all cook/braze on low to medium heat. While slow cooking add a tablespoon of the 'sauce' ingredients to caramelize the onions. This should take about 10 to 12 minutes. Place in bowls and set aside.

Same skillet/pan heat the other tablespoon of oil, add the tofu and don't fiddle, let it brown on the one side (about 2 minutes) and then using either a kitchen tongs or fork turn one at a time or even slide a large egg lifter to toss them over at once.

Once nicely browned serve with rice, veggies and sprinkle some sesame seeds while warm.
Notes
For a perfect & fluffy basmati rice recipe there's an easy post here.
YOU CAN ALSO FIND ME HERE AND DON'T FORGET TO PIN THE IMAGE BELOW?!