These Spinach Pancakes are a nutritious, gluten free and tasty option that come together in less than 30 minutes. Serve them for breakfast, brunch or even a 'breakfast for dinner' light meal with a side salad! Completely mess-free, easy to make and delicious. Made with spinach, gluten-free oat flour, eggs, and milk, these pancakes are packed with essential nutrients and fiber that will keep you energized throughout the day.
If you've never made spinach pancakes before, I think a lot of your questions will be answered in this post. First things first, no you don't taste the spinach. I wanted to say that you don't get a strong spinach taste but the truth is, there is no spinach taste, it's in the mind because of the obvious green color. I wasn't convinced so I asked my family and no, there's no real taste of spinach.
The recipe inspiration for these spinach pancakes was a long time ago when I was trying out different flour types, however recently I've been making my basic pancake recipe and decided to revisit spinach pancakes but with a salad for brunch!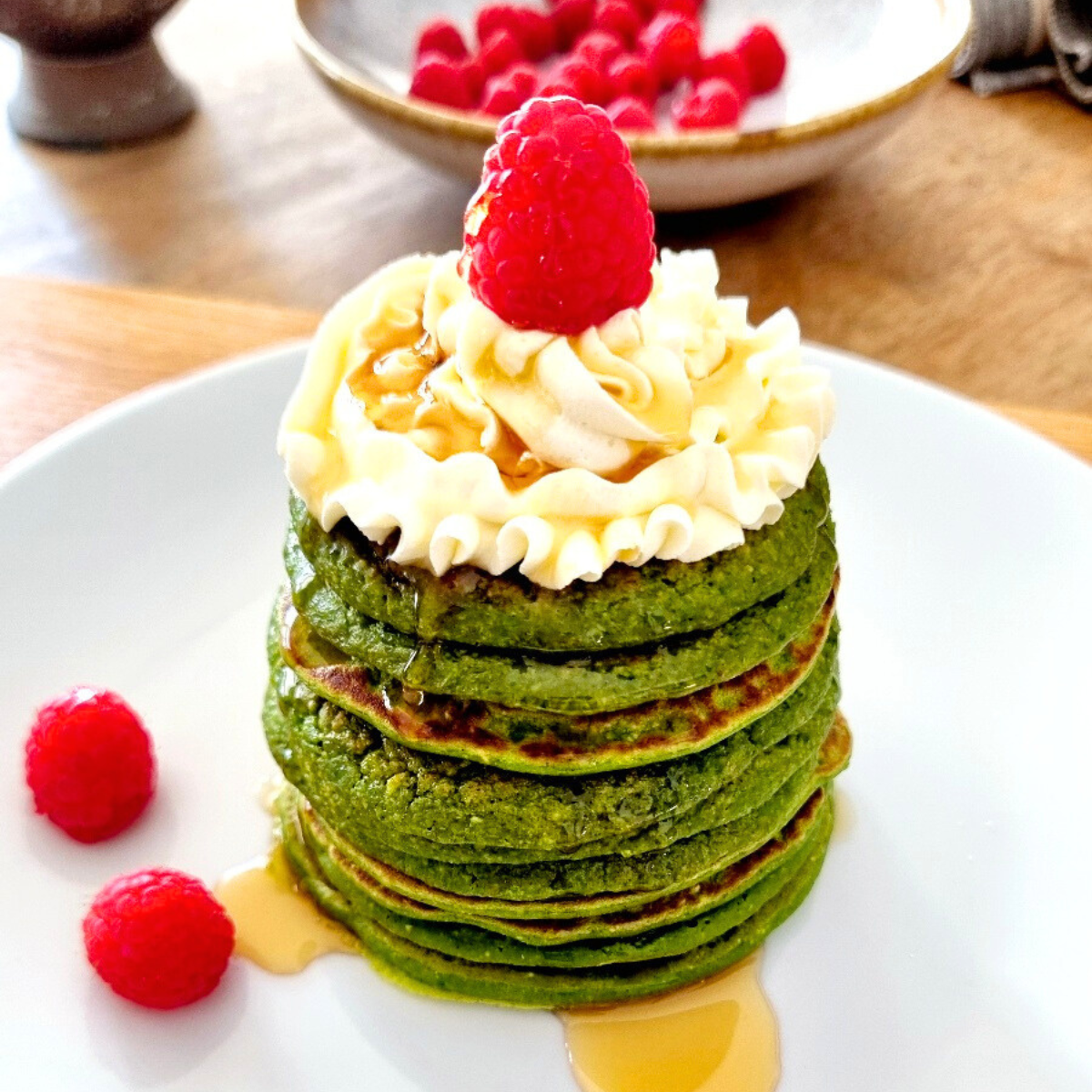 Ingredients For Spinach Pancakes
The following ingredients are needed to make these spinach pancakes. You've probably already got them on hand.
Spinach: Baby spinach is the best option, it doesn't have too much of a strong taste.
Eggs: Eggs act as a binding agent in cooking and baking and they also add a richness to the pancakes. If you make this recipe without the egg, it will probably fall apart. That's the one way I didn't try it, without eggs. If you cannot have egg, then try peanut butter for binding or even macadamia butter, is also one we've tried.
Milk: I used almond milk but use any other milk.
Oat flour: You can buy oat flour or, you can add oats into the blender and blend into a fine powder for oat flour. Here, I used gluten free oat flour because we are making a gradual process in our kitchen so some ingredients are gluten free and others not.
Baking powder: We want a rise in the pancakes.
Salt: Salt gives recipes balance and structure in my opinion and using sea salt is a great way to go. The Malden's salt is absolutely wonderful!
Sugar: Any sugar, I used brown sugar but you can use honey too. I often use coconut sugar when I have some on hand.
Nutmeg: I love this spice in this recipe but feel free to use cinnamon or leave them out.
Vanilla: We all love vanilla in our family, the pod or essence whichever you can find.
Yogurt: Feel free to use Greek yogurt or another whole yogurt.
Instructions
These spinach pancakes are easy to make but you do need a blender for a more smooth spinach puree. Having a high powered blender makes it easier and your batter is smoother within a fraction of the time, but any other blender than can make a puree, also works.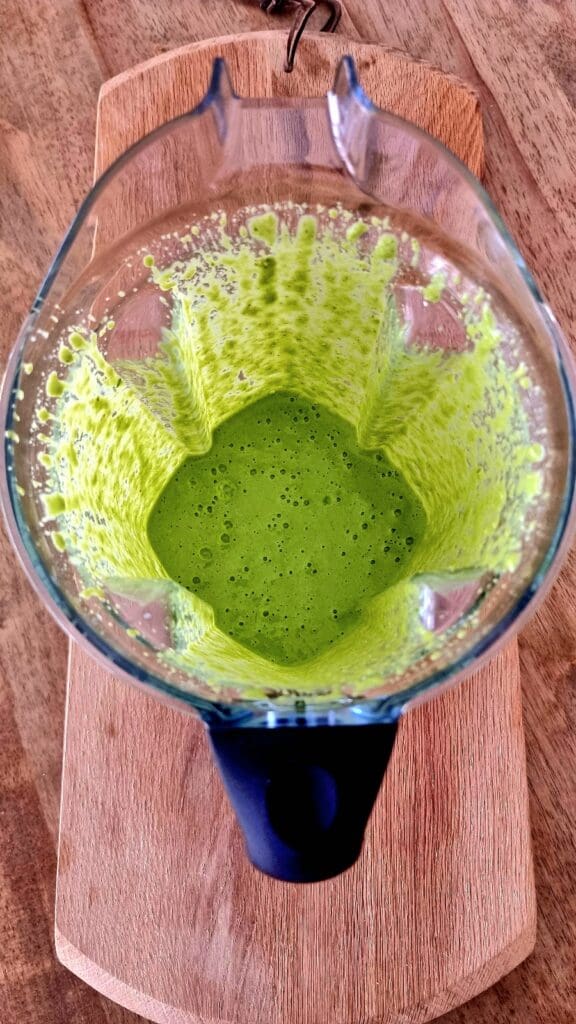 Option One
Make the spinach puree first and add it into the dry ingredients in a bowl and then whisk/fold together. This option is great if your blender is not powerful because the less work the blender has to do the better!
Option Two
Powerful Blender? Add everything into this one piece of equipment.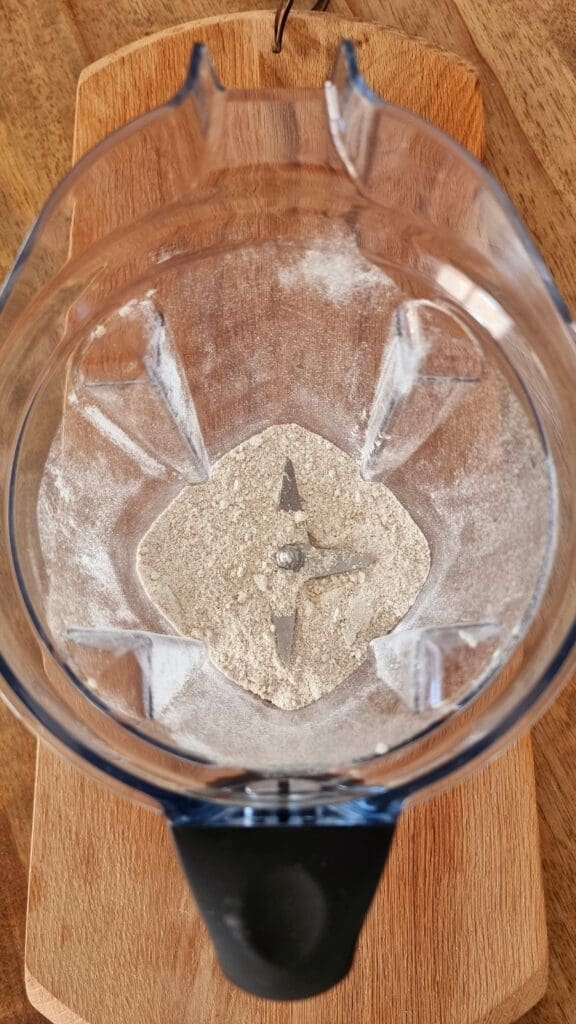 Flour: We start by blending oats into a fine oat flour or you can use store bought oat flour.
Add the rest of the dry ingredients followed by the milk and egg. I find it better to beat the egg in a jug, add the milk and pour the mix into the dry ingredients.
Pouring the milk into the blender before the spinach will give the blender a better start (liquid in first).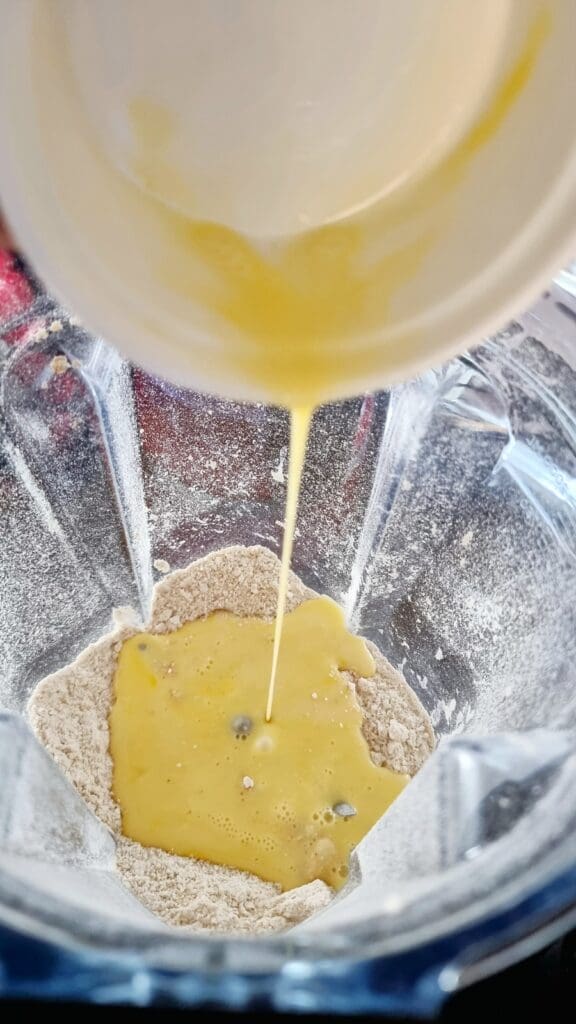 With the spinach in, blend into a smooth batter.
Add the cream and blend for 10 more seconds.
Cook The Pancakes
Cooking: Use a quarter cup measurement to pour the pancake batter onto a pan to cook. You can use a non stick pan, griddle or skillet, just remember to use a thin layer of oil or cooking spray. If you have a good quality non stick appliance, the pancakes only need cooking spray.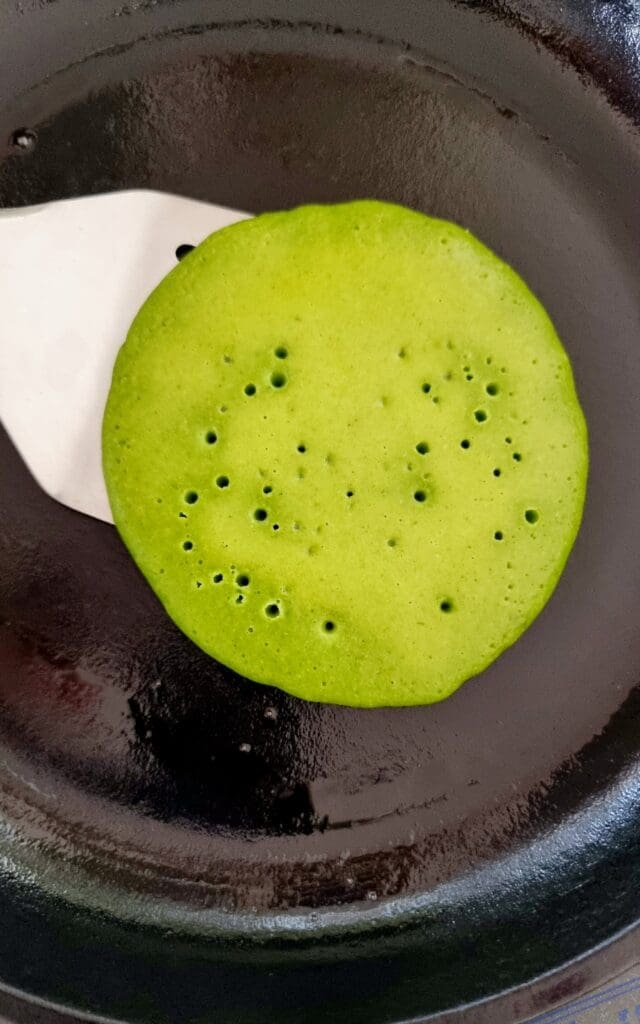 Once the batter has been poured, leave it to cook without disturbance.
Once you see small bubbles appear, turn them over.
The spatula or egg lifter that you use to turn them over should slide underneath without sticking. If you experience any sticking, lower the heat and don't be afraid to move the pan off the heat while it regulates and then continue the pancakes.
Spinach Pancakes
Flourless pancakes, green pancakes or spinach pancakes, no matter what you call them, they taste delicious and don't you simply love the natural pop of color?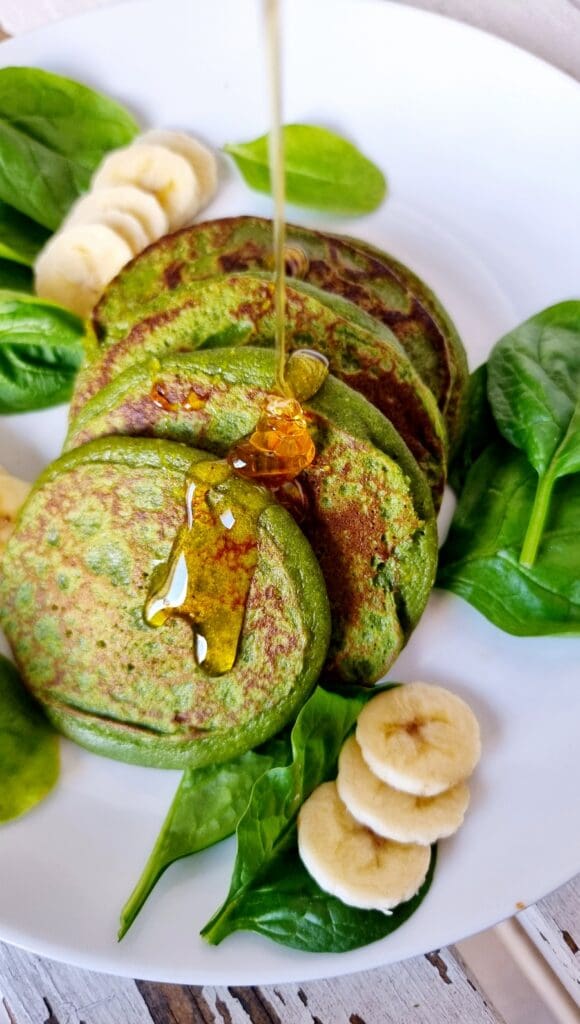 You can add banana which gives you a thicker batter but the key here is low and slow cooking otherwise they don't properly cook.
Serve with your favorite toppings. See below for topping ideas.
Benefits Of The Ingredients
Each ingredient in these spinach pancakes provides its own unique set of benefits. Here's a breakdown of the benefits of each ingredient:
Spinach – Spinach is a superfood with vitamins and minerals, including vitamins A, C, iron, and calcium. It's also a great source of antioxidants and anti-inflammatory compounds.
Eggs – Eggs are a great source of high-quality protein and healthy fats. They also contain essential vitamins and minerals, including vitamin D and choline, which are important for brain function.
Milk – This is a good source of calcium, which is important for strong bones and teeth. It also contains vitamin D, which helps your body absorb calcium.
Oat flour – It is a healthy alternative to traditional wheat flour. It's gluten-free and high in fiber, which can help regulate digestion and keep you feeling full.
Baking powder – It is a leavening agent that helps the pancakes rise and become fluffy.
Yogurt -
Salt – Salt adds flavor to the pancakes and helps enhance the other flavors in the recipe.
There are so many wonderful ways to serve pancakes! We have them with the regulars - cream and/or fruit, peanut butter, other nut butters, maple syrup, nuts, Nutella take your pick.
What about Bacon?
I say yes please and thank you and if maple syrup can make things any more delicious then go for it! Below are more serving suggestions.
More Serving Suggestions
There are many ways to serve these delicious spinach pancakes! Here are some serving suggestions to make your pancakes even more delicious:
Toppings: Top your pancakes with your favorite toppings, such as sliced avocado, chopped tomatoes, crumbled feta cheese, or a dollop of sour cream.
Sides: Serve your pancakes with fresh fruit or a small salad to round out your meal.
Pairings: These pancakes go well with a cup of coffee, a glass of fresh juice, or a cup of tea.
Leftovers: If you have any leftovers, store them in an airtight container in the refrigerator for up to 3 days. Reheat them in the microwave or on a skillet before serving.
Conclusion
These flourless spinach pancakes are a delicious, healthy breakfast option that is easy to make and packed with nutrients.
With spinach, oat flour, eggs, and milk as the main ingredients, these pancakes contain vitamins, minerals, and fiber.
They're gluten-free and can be customized with your favorite toppings and flavors. Whether you enjoy them on a lazy weekend morning or as a quick weekday breakfast, they are a great way to start your day on a healthy note.
FAQ's - Spinach Pancakes
How to make great pancakes?
Keep your heat low and the cooking slow. Patience is key and high heat can spoil a good batter.
Do pancakes need baking powder/soda?
Baking powder/soda gives pancakes a rise especially when combined with an acidic ingredient like yogurt, sour cream or buttermilk.
Can I make the pancakes without a blender?
You can add the dry ingredients into a bowl but you will still need to blend the spinach before combining. Not using a blender for the spinach will result in a different quality pancakes.
Can I use water instead of milk to make pancakes?
Milk adds flavor and texture to the batter so even though you can add water instead it's not really a substitute because water won't offer the same. You would need to add some sort of flavor by means of melted butter and vanilla.
Recommended
Storage and Freezing
Store in a container in the refrigerator, 3 to 5 days or freeze for up to 2 months. Reheat in the microwave for a quick couple of seconds and enjoy!
Freeze your pancakes in an airtight container for a month or so and simply pop them in the toaster to warm up. I've now been popping them from frozen into the air fryer on the warm up setting!
Looking For More Recipes?
Subscribe to my free newsletter for news and recipe updates.
Shop our online store for quality all natural spices.
More Pancake Recipes
BEFORE YOU GO!
If you try this recipe please tag #anosmickitchen on Instagram. You know we love to see your photos of our recipes here at My Anosmic Kitchen! Follow on Facebook, Twitter and Pinterest.
Recipe
Spinach Pancakes
These spinach pancakes are packed with nutrients, made with gluten-free flour, soft, fluffy, delicious and easy to make.
Equipment
1 Blender or mixing bowl

1 Whisk or spoon

1 Spatula

1 Non stick pan or griddle
Ingredients
1

Cup

Oat flour (ground rolled oats)

1

tbsp.

sugar - brown, white, coconut sugar, honey (any one)

½

teaspoon

baking powder

¼

teaspoon

salt

⅛th

teaspoon

nutmeg (use a pinch for an ⅛th measurement)

1

teaspoon

vanilla

1

cup

baby spinach, packed

1

egg, beaten

⅓

cup

milk

¼

cup

yogurt or buttermilk

cooking spray
Instructions
To make oat four, add the oats to a high powered blender or food processor and blend into fine oat flour (looks like a powder when you're done and it takes about 50 to 60 seconds) OR If you have oat flour, use that.

Into the blender, with the oats in, add the salt, baking powder, sugar, nutmeg and vanilla. Blend just to combine the ingredients.

Beat the egg in a small bowl, add the milk, mix with a fork and then pour it into the blender. Blend to combine.

Add the baby spinach and blend it in, another 60 seconds. You might need a little more time depending on the power of your blender. Make sure you don't have any oat flour stuck at the bottom of the blender cup.

Add the yogurt, and give it one final blend, 30 to 40 seconds.

Heat a non stick pan, cast iron, pancake pan, flat surface grill pan or whatever you think will work well. Low to medium heat, wait for the pan to be hot then use cooking spray or a light brush of oil. See notes below.

Use a quarter cup measurement to pour the batter into the pan and once you see little bubbles form on the top, (and the edges firm up a little), use an egg lifter (spatula) to slide under the pancake and flip it over to cook on the opposite side.

The first side cooks 2 to 3 minutes and the opposite side less.

Repeat until the batter is finished. This recipe made exactly 5 pancakes.

Serve with honey, maple syrup, cream or for more of a breakfast for dinner meal idea, serve with a fresh side salad.
Notes
Appliance: High powered blenders work the best so that's your first choice. A food processor or other blender can be used but don't be left feeling bad if they don't come out the same. The type of blender makes a big difference! 
Cooking spray:  Even if you are using a non stick pan, still use cooking spray or at least keep a brush and melted butter or oil next to you so that you give the pan a light coat. Personally I find the pancakes too oily with anything else but cooking spray. 
Too much oil and they will be oily, no spray or oil, they may burn if your pan is not a good quality (from experience). 
Another tip! Make sure that everything is next to you because the batter cooks rather quickly. Keep a roll of kitchen tissue paper for any spillage.
Cooking the Pancakes:
When the bubbles appear, give it a couple of seconds to cook finish. The edges will also become a bit firm just before you cook the other side.
Nutrition
Serving:
0
g
Carbohydrates:
0
g
Protein:
0
g
Fat:
0
g
Saturated Fat:
0
g
Polyunsaturated Fat:
0
g
Monounsaturated Fat:
0
g
Trans Fat:
0
g
Cholesterol:
0
mg
Sodium:
0
mg
Potassium:
0
mg
Fiber:
0
g
Sugar:
0
g
Vitamin A:
0
IU
Vitamin C:
0
mg
Calcium:
0
mg
Iron:
0
mg